Key Points:
Residential users are now limited to 1TB Priority Access data, while data over that amount is deprioritized
RV and Best Effort plans are not affected since all usage on these plans is already deprioritized
Starlink introduces off-peak times for some plans from 11pm-7am that doesn't count towards Priority Access data
Business & Commercial plans will have a hard throttle to 1 Mbps after reaching their cap
Additional Priority Access data can be purchased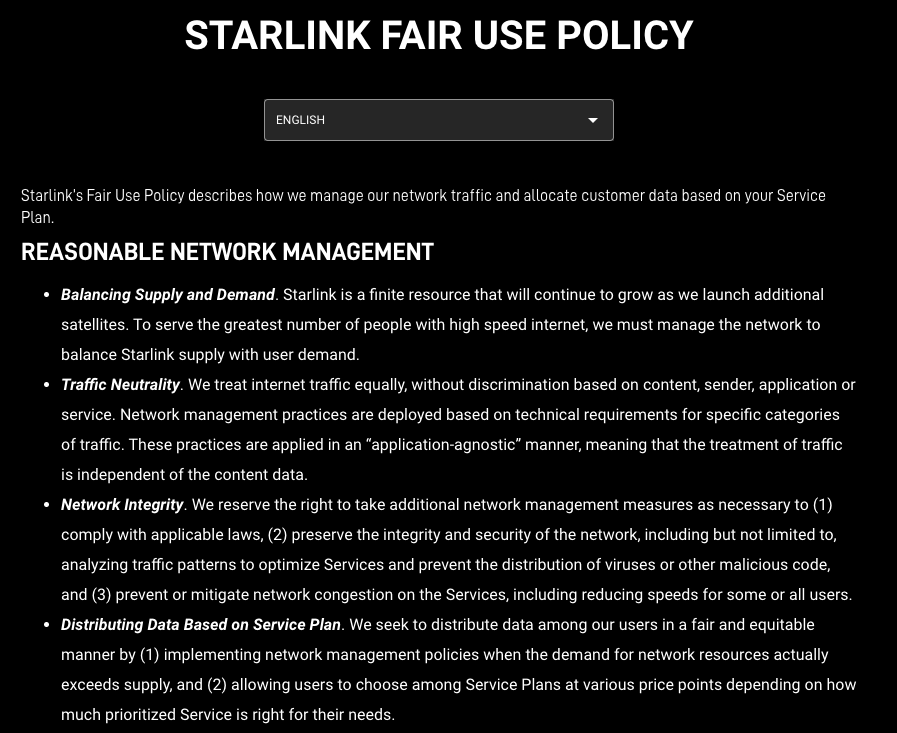 Starlink has updated its Terms of Service (TOS) which now references a new Fair Use Policy that will go into effect next month.
Up until this point, all Starlink data has been unlimited - only differentiated between Priority Access and Best Effort, depending on the particular service plan and where it was being used.
But with congestion becoming an increasing problem, Starlink is moving to better balance supply and demand with some significant new limits on usage that will particularly impact heavy users.
Essentially, SpaceX is acknowledging that "Starlink is a finite resource" and that it is not possible to deliver truly unlimited data plans without performance dragging to a crawl in too many places. To improve things, SpaceX is moving towards network management practices similar to what is commonly seen in the cellular industry.
The Starlink Fair Use Policy now goes into further detail to describe how they'll manage their network traffic based on the service plan you have.
The biggest impact for our audience will be those with Residential Starlink service plans used at a registered service address.
But big changes are coming the Starlink Business and Maritime customers as well.
Impacted customers received e-mails over the weekend letting them know that their past typical usage will be affected by the new terms.
Starlink TOS Change Video
Starlink's Fair Use Policy
Starlink's new Fair Use Policy goes into effect in December 2022 for all US & Canadian customers on all plan types, except for RV/Mobility customers who will see no change in their service. With these changes, Starlink is introducing new ways of referring to their plans.
For each type of plan (Residential, Business, Mobility) the Fair Use Policy dives deeper into more detail about Priority Access data vs Basic Access data, peak hour usage, Basic Access data impact, and how to track your overall data usage.
Most plans start with a Priority Access data pool of 1TB - and while some users may use more than this, Starlink claims this new Fair Use Policy will affect less than 10% of their user base.
We'll help you break down below how each plan is affected and if you should be aware of any changes coming to your plan.
Starlink Residential
The Starlink Residential plans, which remains at $110/month, are given 1TB of Priority Access data at the beginning of each billing cycle.
If a customer never crosses the 1TB threshold, there will be no difference in Starlink performance compared to today.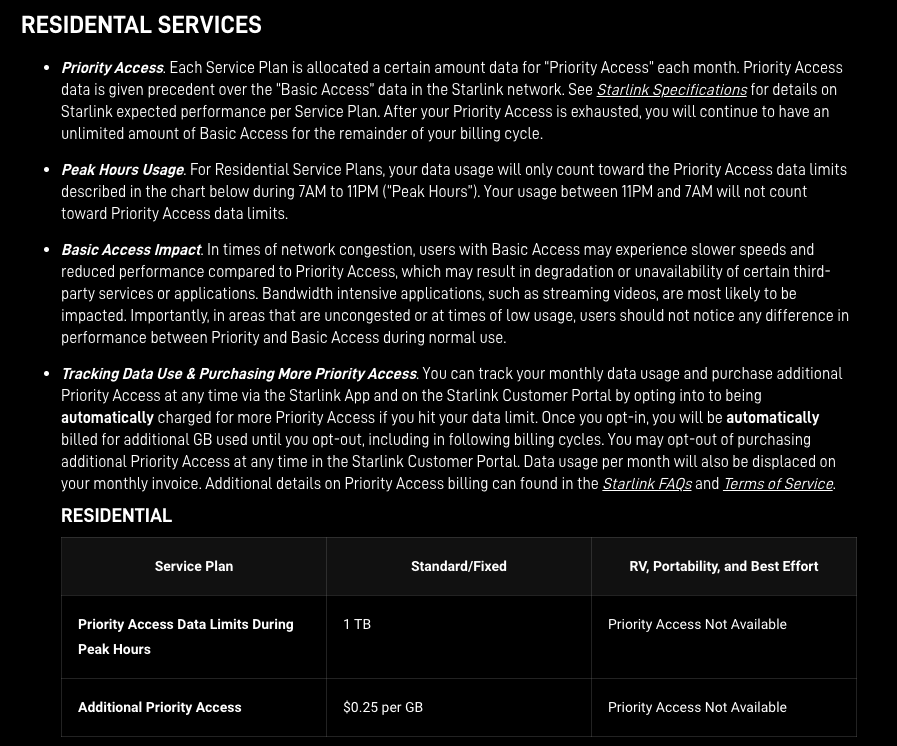 After a user crosses the threshold of 1TB of Priority Access data, they are switched to Basic Access data for the remainder of their billing month.
Basic access was previously referred to as Best Effort service.
Basic Access data under the residential plan is still unlimited data, but now data is deprioritized behind other residential users in the same area still their receiving Priority Access Data.
Basic Access Data for residential users, which is deprioritized, is similar to network management that is common on cell networks - meaning performance may be slowed down only during times of congestion.
These slowdowns are most likely to be a temporary, and most pronounced during during peak hours.
Users in non-congested areas or times of day may not even notice any difference.
Residential users with Portability enabled (for an extra $25 per month) who use Starlink away from their assigned service address will continue to have always-deprioritized data while roaming.
This roaming data should be counted as Basic Access data that doesn't count against the Priority Access data allotment.
Starlink has also added a non-peak usage time from 11pm-7am where data used during this time doesn't count against the Priority Access data pool.
Customers looking to maximize their Priority Data should use this late night time to schedule automatic backups, or large file downloads.
Starlink for RV
Starlink for RV users are not affected in any way by this new Fair Use Policy. All Starlink for RV data is already deprioritized, and these customers will continue to receive unlimited data while being deprioritized. This plan remains priced at $135/month.
However, in reading Starlink's new plan definitions we suspect that there may be an upcoming change to the name of the RV plan to "Mobility Recreational" for plans used with authorized equipment that allows in motion usage, such as the new High Performance dish. See below for more.
Starlink Best Effort
Starlink Best Effort has been offered to some residential users in congested waitlisted areas as a way to get Starlink now, but with always deprioritized service.
Since this plan offers no Priority Access data, users are not impacted. All unlimited data usage on this plan is deprioritized behind any Priority Access data from customers on other plans.
Starlink Business Fixed
Starlink Business Users are also given a pool of Priority Access data at the beginning of their billing month.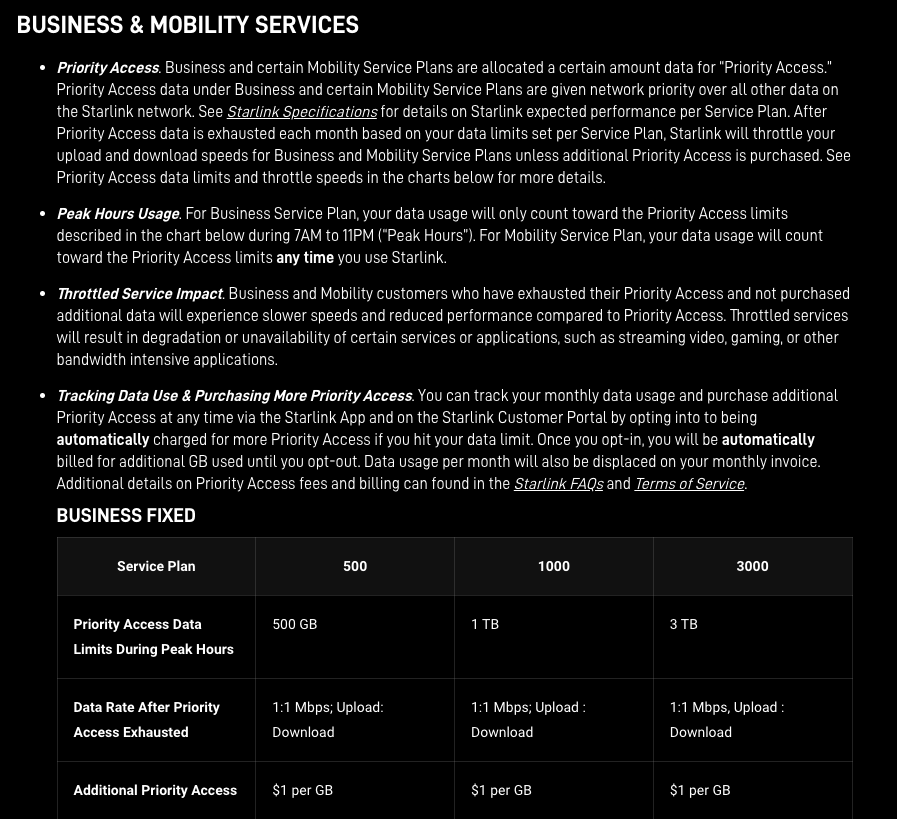 Starlink Business is now offering 3 different pools of Priority Access Data at 500GB / 1TB / 3TB service plan levels - and SpaceX refers to these as the 500/1000/3000 plans respectively.
The Starlink Business plan that has been offered up until this point for $500/mo is the Starlink 1000 plan. We have not yet seen pricing on the other new plan options.
Priority Access. Business and certain Mobility Service Plans are allocated a certain amount data for "Priority Access." Priority Access data under Business and certain Mobility Service Plans are given network priority over all other data on the Starlink network.
Starlink Business Priority Access data is at a higher priority than residential customers with Priority Access data.
However when a business user runs through their Priority Access data and converts to Basic Access data, they are hard throttled at a very painful 1 Mbps upload/download speed for the remainder of their service month.
All data between 11pm-7am doesn't count towards the Priority Access data pool for Business Users.
The elimination of unlimited data for Starlink Business users is particularly painful, and may make it impractical for businesses serving lots of people - like campgrounds and marinas - to use Starlink to power Wi-Fi networks for their own customers.
Starlink Mobility
Starlink Mobility seems to be restructuring some current plans, and introducing some new ones. Currently Starlink only offers full mobility on the RV plan and the Maritime plan with the flat high performance dish that is approved for in-motion use.
It appears from the updated TOS that there will be more options for this plan in the future that we'll cover when they are officially announced.

The Starlink Mobility plan described in the TOS has 3 service plans under Recreation, Commercial, & Premium/Maritime.
The Recreation plan which includes users with the new flat high performance dish on the RV plan have no priority service available so they are not affected by the new Fair Usage Policy changes.
The Commercial and Premium/Maritime plans offer 1TB or 5TB Priority Access pools respectively, and this data is also a higher priority than the Starlink residential users.
Both of the later plans are also restricted to the 1 Mbps upload/download speeds once you run through your Priority Access data and fall back to Basic Access data.
Starlink Mobility plans with Priority Access data do not have off peak times, so all data usage regardless of the time of day counts against the Priority Access data pool.
Purchasing More Priority Access Data
All Starlink plans with pools of Priority Access data have the option to purchase more data when their current pool of Priority Access data runs out.
Users can do this manually or opt-in to automatically purchase more priority data if they run out for a seamless transition to more Priority Data.
The price of more priority data depends on the service plan the user is subscribed to.
Residential - $0.25 per GB
Business - $1 per GB
Mobility Commercial/Maritime- $2 per GB
This is pretty expensive data - and can add up fast! So carefully consider if you want to opt into automatic overage charges. Residential users will probably want to manually choose when they purchase more Priority Access data, doing so only when the Basic Access deprioritized speeds is actually affecting them.
Remember that plans with no Priority Access data are not affected by the new Fair Use Policy, and therefore cannot purchase Priority Access data.
How to Track Your Usage
Starlink has added a new bar graph that displays your data usage by day for your current billing month and totals up the cumulative data used during that billing period.

It does show by graph color how much of that data was accessed during peak times vs off-peak times even if that doesn't affect your plan. Currently the graph does not distinguish between Priority Access and Basic Access data for those plans that could utilize Basic Access data, like the residential plan on portability.
The RV and Best Effort plans also show peak vs non peak times even though time of use has no effect on these plans.
Add-on Services
Starlink has added in two new add-on services that are available to add to certain plans.

The Fair Use Policy assigned to a user's primary Service Plan, including Priority Access data limits, will also apply when using these Add-On Services.
The FAQ describes the Transcontinental data as follows:
Transcontinental Data describes any data used outside of a customer's home continent (as defined by shipping address). Customers will pay a higher amount per gigabyte while using Transcontinental Data. This concept applies only to Starlink's Standard (with Portability add-on), Best Effort, and Recreation service plans as described by Starlink's Fair Use Policy.
There currently is no additional information on the Ocean Data add-on, including pricing. But most likely this will be an add-on to lower service plans like the RV plan being used by smaller boaters and cruisers not using the extremely expensive global coverage Maritime plan.
We will publish additional details on these new offerings when they are officially announced, and pricing is available.
Concluding Thoughts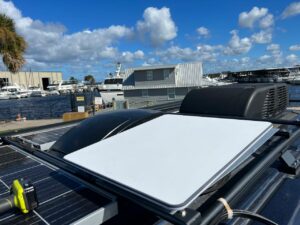 With this move, Starlink is once again proving that they take a no-contract approach seriously as a two-way street. Customers are not locked into service, and they are not afraid to adjust pricing or terms for existing customers with no grandfathering.
Starlink has become very popular in the US, and particularly in more population dense areas in the Eastern half of the US Starlink has suffered from congestion and network saturation.
For some users, speed and throughput during periods of congestion have made Starlink frustrating and sometimes even unusable.
Compared to the previous data caps implemented for French users at 250GB, the 1TB cap for the US and Canada customers is definitely far more generous - and this will more than meet the needs for a lot of users.
But of course some users will still be unhappy with any type of data cap, but overall for 90% of Residential users, the impact should be minimal.
Residential users traveling using portability, Starlink For RVs customers, and Starlink Best Effort users will see no difference in their plans going forward since these are already always deprioritized.
Potentially all Starlink customers may see some improvements in their service as some of the highest use customers will end up being deprioritized, taking some load off the network.
Taking all these latest changes into account, we continue to recommend that RVers and boaters who can qualify for a Residential Plan with portability consider this plan as the option with the greatest overall flexibility.
Our in depth guide below goes over the considerations for different use cases to help people decide which particular Starlink option might fit them best.
Related Content at the Mobile Internet Resource Center:
Related News Stories