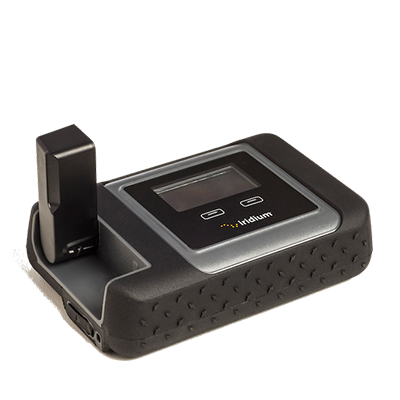 Iridium launched a satellite Wi-Fi hotspot in 2014 – the Iridium GO! – retailing at $850 (often found for $699).
The Iridium Go! is a handheld satellite powered calling, text and data capabilities.
Data plans start at $49/mo, or you can get unlimited data for $139/mo. You can activate service just when you need it, there are no contracts.
The Iridium constellation provides global coverage with 66 swarming satellites orbiting 475 miles up. Iridium is known for powering handheld satellite phones that enable voice calls anywhere on the planet, but the network does support limited data service too.
Speeds on the Iridium Go! are at a painfully slow 2.4 Kbps - so uploading a single high-resolution image might take hours, and even a basic web page might take 5–10 minutes to display.
The other big gotcha is that all data usage must go through Iridium's special apps on your phone or tablet – you cannot get a laptop online or use arbitrary apps.
This is not a device for surfing on - but it can be a great global communication option for places where there are no other consumer affordable options. It can download weather updates, place calls, do basics online and most importantly - reach help.
The option is very popular with sailors and cruisers making passages. Additional external antennas can be purchased for always on connectivity.
Specifications:
Main Function: Basic Satellite Communicator
Satellite Network: Iridium
Integration: phone, tablet
Battery: 5.5 hours of talk/data use and up to 15.5 hours of standby time
Weight: 2.16 lbs
Dimensions: 8 x 6 x 4 inches
Waterproof: IP65
Location: Accurate within 2.5 meters
Price: $850/$699 (device), $49/mo (plan)
---
Review & Testing Status:
We do not intend to obtain a setup to test.
But! Here's a great review from friends of our resource center, Gone with the Wynns: How We Stay Connected Sailing The World – Free Wifi, Phones, & Satellite
---
Potential Alternatives to Consider:
For other featured mobile satellite options:
Learn More About Mobile Satellite Options
---
This Review Contains Additional Member Exclusive Content

We are honored to be able to present the above overview for free without 3rd party advertising or sponsorships. We are not paid by the manufacturer of this product to provide this listing or review, and nor are we selling this equipment or plan (purchasing links are provided below as a courtesy and some may be affiliates).
Our members have funded this resource center and any extensive hands on time
we have spent with the product to review it.
The in-depth portions of this review are made available to them which might contain: hands on testing notes, field testing data, user interface tour, product analysis, comparison to alternatives, setup tips, video tutorial, insider tips, vendor discounts and fellow member experiences.
If you're a member, please log in to continue with this review.
If you're not a member.. please consider joining us!
Additional Reading
Related Articles
Related Guides
Purchasing Options
PredictWind (cruiser recommended for marine support) | BlueCosmo | Iridium
The guides below have been hand-picked to help further your education about mobile satellite: