Key Points:
The big new connectivity feature in Apple's new iPhone 14 lineup is emergency satellite communication, allowing emergency text messaging (and basic location tracking) far beyond cellular coverage.
As we feared was coming, Apple eliminated the physical SIM card slot entirely in favor of eSIM with the iPhone 14.
Wi-Fi 6E support remains missing for another year, though support for several important new 5G bands has been added this year.
Apple earlier today announced this year's batch of new iPhone models - the mainstream iPhone 14 and large-screen iPhone 14 Plus, and the new flagship iPhone 14 Pro and iPhone 14 Pro Max.
The big new connectivity feature this year is support for direct satellite communications, coming to market in fully functional form a full year before T-Mobile and Starlink are hoping to provide a similar capability in beta.
There are other critical details (and new features) to be aware of in the iPhone 14 lineup, too - like the elimination of the physical SIM slot, and support for several more key 5G bands.
There also remain some disappointing limitations to be found on iPhone models sold outside the United States.
Since Apple (like it or not) defines what is considered "mainstream" for mobile technology for the upcoming year, join us in our annual deep dive into just what is new from the connectivity perspective in this year's updates.
Apple iPhone Mobile Internet Analysis Video
Apple Emergency SOS Via Satellite
One of the key new features Apple integrated into the iPhone 14 is support for emergency messaging via satellite, allowing communication and calls for help anywhere you can get a clear view of the sky - regardless of cellular coverage.
This service is built in partnership with Globalstar, the company behind the SPOT trackers, and will utilize already existing satellites and existing licensed spectrum rights.
This means that Apple is able to roll out this new service right away - going live in the USA and Canada starting in November.
Apple has committed that this capability will be provided for free for two years with the purchase of an iPhone 14.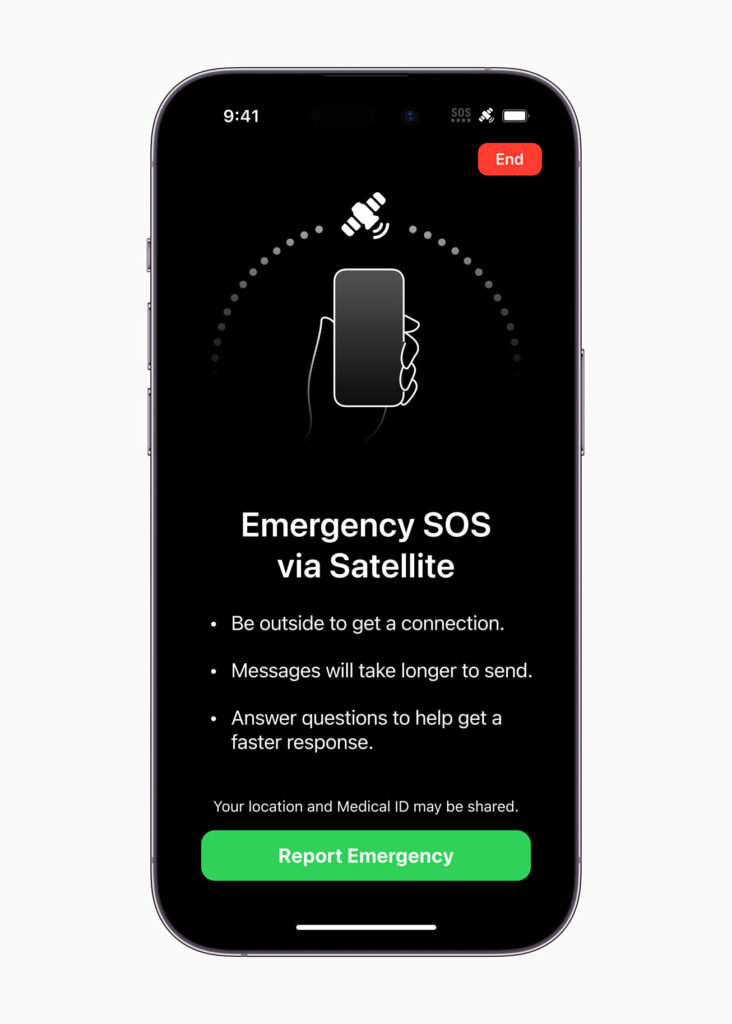 Apple described the new feature this way:
"Satellites are moving targets with low bandwidth, and it can take minutes for messages to get through. Since every second counts, with Emergency SOS via satellite, iPhone front-loads a few vital questions to assess the user's situation and shows them where to point their phone to connect to a satellite. The initial questionnaire and follow-up messages are then relayed to centers staffed by Apple‑trained specialists who can call for help on the user's behalf."
This is not currently a technology that will enable picture messaging or even casual text chat. It is for emergencies only - at least for now - and Apple says that messages might take upwards of 15 seconds to send with a clear view of the sky, and several minutes under light foliage.
Outside of emergency situations, you can also manually share location updates with your family and friends, but it seems that automatic passive tracking will not be enabled:
"This breakthrough technology also allows users to manually share their location over satellite with Find My when there is no cellular or Wi-Fi connection, providing a sense of security when hiking or camping off the grid."
At least at first - this seems to be all that the iPhone 14 satellite link can be used for.
You can not get weather forecasts, message friends, or upload photos.
These are all features that Apple may eventually support in time, but with such a low-bandwidth link, Apple will likely be extremely slow (and secretive) in rolling out new capabilities to avoid overwhelming the system.
Because of these limitations, dedicated devices like the Garmin inReach might still have their place for those needing slightly more advanced satellite connections.
Comparison With T-Mobile's Starlink Announcement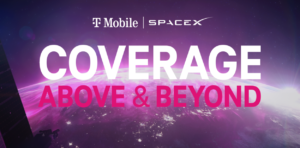 When T-Mobile and SpaceX announced their "Coverage Above & Beyond" initiative two weeks ago to enable connectivity directly to regular phones from SpaceX Starlink satellites, many speculated that they timed the announcement to try and get a jump on Apple's widely rumored satellite communications service.
There is a key difference between what Apple announced today and what T-Mobile announced two weeks ago:
Apple's Emergency SOS service is ready to go and will be available for use by millions of people starting in November 2022.
T-Mobile's has said that its system will enter a limited beta towards the end of 2023, and that schedule is dependent on T-Mobile getting the necessary FCC spectrum licenses and SpaceX getting the Starship rocket operational and beginning to launch an entirely new generation of Starlink satellites equipped with specialized large cellular antennas.
On the other hand - while Apple (at least at first) is focused on extremely low bandwidth emergency communications, T-Mobile and SpaceX are working to enable slightly higher bandwidth communications. T-Mobile has said that they will support non-emergency text chat and picture messaging, and eventually there are plans for satellite voice calls and low bandwidth data services.
And since the technology T-Mobile and SpaceX are developing will work with most existing 4G phones (it uses LTE Band 2) - if T-Mobile and SpaceX are successful, their service will, of course, work with the iPhone 14 as well.
On the other hand, Apple's service is an iPhone 14 exclusive.
Other companies are also working to connect cell phones directly to satellites too - for a rundown of the latest, see our recent article where we go over the details of the competitive landscape, explain common misunderstandings, and we give an overview of what will eventually be possible:
T-Mobile And SpaceX Starlink Partnership – "Coverage Above & Beyond" Aims To Eliminate Dead Zones
Apple & Globalstar's Satellite Future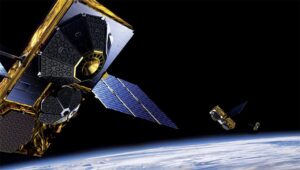 Now that the deal with Apple is public - Globalstar has been able to reveal that Apple has been the "mystery customer" that has been helping fund Globalstar operations since 2020.
Going forward - Globalstar has committed to devote 85% of its current and future satellite capacity towards Apple, and Apple is providing an influx of cash that will allow Globalstar to quickly launch an upgraded constellation of new satellites that should be fully online by 2026.
With an investment like this in play - it is clear that Apple very likely has broader future ambitions beyond just basic SOS services.
But Apple's notorious secrecy means that it is unlikely that we'll learn many more details about what is planned until new services are actually ready to be launched.
iPhone 14 Cellular Capabilities
Though we will not know with 100% certainty until the hardware starts to ship next week and the first teardowns are published, it is widely assumed that all the new iPhone 14 models are using Qualcomm X65 5G cellular modems (Update: the X65 is confirmed) - a more capable modem chip than the X55 used in the iPhone 12 series and the X60 used in the iPhone 13.
The list of officially supported 5G and LTE bands on the USA version of the iPhone 14 is impressive indeed.
New additions compared with the iPhone 13 are in bold:
Sub-6GHz 5G Bands: n1, n2, n3, n5, n7, n8, n12, n14, n20, n25, n26, n28, n29, n30, n38, n40, n41, n48, n53, n66, n70, n71, n77, n78, n79
mmWave 5G Bands: n258 (24 GHz), n260

(39 GHz),

n261

(28 GHz)

4G/LTE Bands: 1, 2, 3, 4, 5, 7, 8, 12, 13, 14, 17, 18, 19, 20, 25, 26, 28, 29, 30, 32, 34, 38, 39, 40, 41, 42, 46, 48, 53, 66, 71
Here are the details on these newly supported bands, as well as updates on others:
n14 - This is AT&T's FirstNet spectrum, and support for this band opens the door to AT&T extending its Public Safety network to be able to take advantage of enhanced 5G capabilities.
n70, n26 - These oddball chunks of spectrum are part of Dish Network's "Project Genesis" ongoing 5G rollout. With support for these two bands, the iPhone 14 is now well matched for use on Genesis now and into the future.
n53 - Rumors were buzzing last year that the iPhone 13 might support band n53, which bridges 5G cellular standards onto satellite communication spectrum owned by Globalstar. This capability may have existed last year in development form, but it is now officially launched and supported in the iPhone 14.
n77 "Andromeda" - AT&T's future 5G network expansions will largely rely on a subset of 5G band n77 that analysts have dubbed the "Andromeda" spectrum. Earlier this year, AT&T revealed that most older phones would not be compatible with this spectrum, but just recently, AT&T Executive VP Chris Sambar revealed in an interview with C-Net that AT&T found a way to enable support for this spectrum for several key older phone models, including the iPhone 12 and iPhone 13. This support will be enabled in a software update due before the end of 2022. The iPhone 14 will, of course, be compatible with Andromeda as well. For more on Andromeda, see our featured article: 5G Industry Update: Is 2022 The Year 5G Gets Interesting?
UPDATE: AT&T has now retracted the statements give to C-Net about older devices getting updated for Andromeda compatibility, and is now saying that the iPhone 14 will be the first compatible iPhone model. This makes upgrading to an iPhone 14 particularly compelling for AT&T customers.
There is one minor cellular regression compared to the iPhone 13. The 4G bands 11 & 21 that were added to the iPhone 13 to expand coverage to some legacy spectrum used only in Japan have been removed from the iPhone 14 model being sold in the USA. These two oddball bands are still found on the Canadian iPhone 14, which is also the model sold in Japan.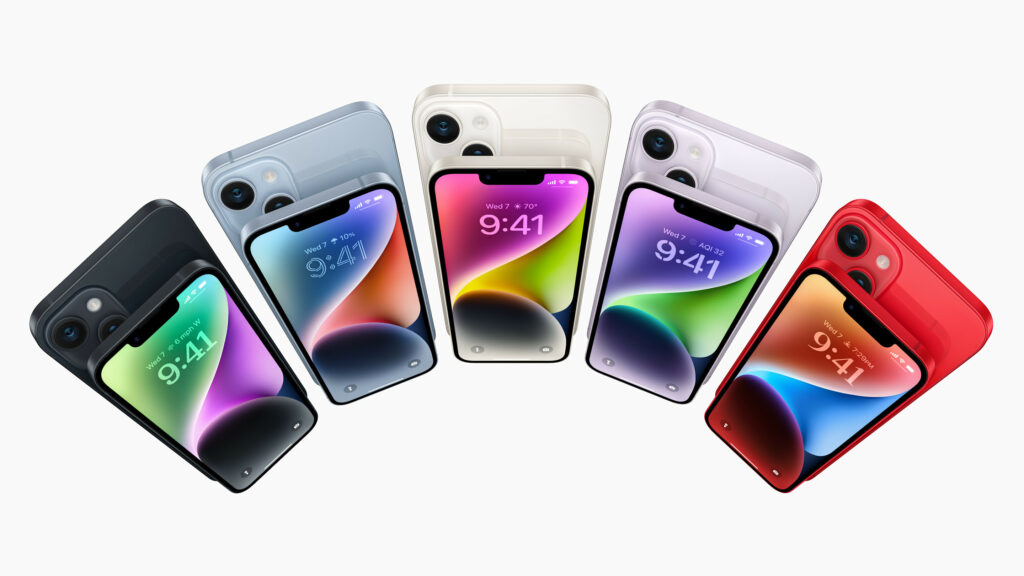 Overall, the bands supported by the iPhone 14 cover almost every 4G and 5G cellular band currently in use worldwide, making the iPhone 14 a fabulous and future-proof global roamer.
Legacy 3G UMTS networks are supported, as well as 2G GSM/EDGE networks.
Support for 3G CDMA networks was dropped in the iPhone 14, but this is no loss since these networks have been largely phased out.
There are only a few 5G bands on our radar that are missing in the iPhone 14:
n13 - Band 13 is the long-range foundation of Verizon's 4G/LTE network, and eventually, Verizon will want to switch to using this band (at least in part) for 5G. This transition is likely years away, but without band n13 support, the iPhone 14 will not be able to take advantage of this band once Verizon switches. Since Apple is likely well in tune with Verizon's plans, we can only assume that band 13 is not destined for 5G anytime soon.
n46 - This band allows the use of underutilized 5 GHz Wi-Fi spectrum for extra capacity on 5G cellular. We haven't seen any devices support 5G n46 over this spectrum yet, but many devices (including all recent iPhone models) support LTE-LAA Band 48 for layering 4G on top of Wi-Fi spectrum.
Support for these missing bands is not critical and is primarily interesting for future-proofing.
The iPhone 14 can connect to just about any network that actually exists today and in the year ahead.
In the USA - all iPhone 14 and iPhone 14 Pro models should have identical cellular capabilities, no matter which carrier you buy from. And if you buy directly from Apple, the iPhone 14 will be sold unlocked and will be capable of use on any US carrier that supports eSIM.
And unlike some previous models, the iPhone 14 Pro and the regular iPhone 14 lineups are identical when it comes to connectivity.
But just like last year with the iPhone 13 - beware of international models!
mmWave STILL Missing in iPhone 14 Models Outside the USA!
Ultra-high-frequency mmWave 5G signals enable amazingly fast performance, but the signal is exceedingly short range, and it requires multiple very specialized antenna modules to receive.
Because mmWave is expensive to implement, many lower-priced 5G devices have left this capability out entirely.
To date - Apple has only included mmWave support on models sold within the United States, and this is continuing with the iPhone 14 lineup.
Several international iPhone 14 variants will be identical to the USA version, other than cellular capability:
Canada / Mexico / USVI / Japan Model - Lacks all mmWave bands (n258 / n260 / n261), and adds Japanese 4G bands 11 and 21.
Other International Models - All lack mmWave bands and also lack 600 MHz n71 and b71 (T-Mobile's long-range coverage), 5G band n29, LTE b11 and b21, and AT&T FirstNet (Band 14 and n14). Models destined for China and Russia also drop compatibility with emergency satellite service (band n53).
The lack of mmWave support is an important consideration for Canadians who travel to major US cities where this sort of coverage might make a difference. Canadians who travel south may want to be sure to seek out the USA iPhone models for better future compatibility and resale value.
And all of the other international iPhone 14 models should be avoided by those who spend lots of time in the USA since they lack support for the 600 MHz bands that are critical for use on T-Mobile and the FirstNet band that is increasingly valuable on AT&T.
In other words - travelers who might pass through the USA should consider skipping over the Canadian models and grey-market imports when you are iPhone shopping!
Outside of the USA, mmWave has still not been widely embraced for 5G yet - but mmWave has begun slowly ramping up in both Europe and China. It seems that Apple will continue to wait before taking mmWave support internationally.
The Big Change: No More Physical SIM Slot!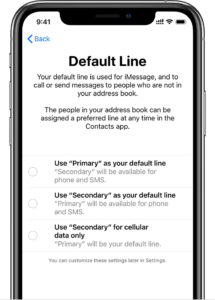 The biggest surprise with the cellular capabilities of the iPhone 14 is that Apple ditched the physical SIM slot entirely, and is now utilizing eSIM technology exclusively.
Apple does allow having two eSIMs active at once though - so you can still keep connected to two different carriers, and receive calls & texts using two different phone numbers.
This eSIM-only switch is only for iPhone models being sold in the United States - international models retain the same physical SIM slot as found on the iPhone 13.
All the major US carriers now have good support for eSIM, and Apple has made it easy to manage multiple eSIMs and to even move them between iPhones.
There are however some major downsides that come from with the iPhone 14 being eSIM only:
Swapping physical SIM cards to and from any other device is no longer possible. This could impact those on some legacy plans, or who regularly use data-only plans in their phone as their back-up carrier.
You can usually easily move an eSIM from one iPhone to another, but moving an eSIM from an iPhone to an Android will likely require help from your carrier's customer service to help.
eSIM is still not yet widely supported other than with plans directly from the major carriers - many MVNOs, resellers and prepaid plans do not yet support eSIM provisioning. This means iPhone 14 plan selection will be restricted to just those that support eSIM activation.
Many international plans and prepaid plans in US are offered by purchasing a physical SIM card in a store - use of these plans will not be supported by the iPhone 14 sold in the USA.
It would have made sense for Apple to keep focusing on pushing eSIM, but to keep the physical slot around for another year or two as a backup - but Apple is eager to force the world to embrace eSIM technology. Apple has been pushing the carriers and MVNOs to get on board with making eSIM simpler and easier for everyone - eliminating the need for physical cards, and making it easier to sign up for new plans with just a click.
But until eSIM is everywhere - it is a hard transition to be forced into, especially for nomads who have grown use to switching SIM cards often between a wide range of devices.
International Versions Have SIM Slots
Only the US model of iPhone 14 is dropping support for a physical SIM slot, the international models still retain it.
Those who are considering an iPhone 14 and who really need a SIM slot may want to consider getting a Canadian model.
You will be giving up mmWave cellular compatibility in the process through - a significant tradeoff.
Still No Wi-Fi 6E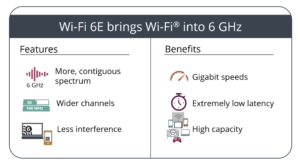 Despite some rumors to the contrary, the new iPhone 14 lineup features the same support for Wi-Fi 6 (802.11ax) as found in the iPhone 13 - and this means the iPhone 14 will not support the newer and faster Wi-Fi 6E standard.
We were really hoping that this would be the year that Apple helped take Wi-Fi 6E mainstream, but with so few routers and other devices supporting this technology, it is a feature that is probably not going to be relevant any time soon.
It seems now that most of the mobile industry may skip over Wi-Fi 6E and instead migrate directly towards the upcoming Wi-Fi 7 standard over the next year or three.
There is one other minor connectivity change to be found in the iPhone 14 - the Bluetooth radio has evolved from version 5.0 to 5.3, enabling higher quality Bluetooth audio and potentially other future features.
Concluding Thoughts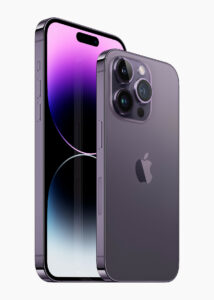 For those holding on to older devices still waiting to embrace 5G - the iPhone 14 will deliver excellent 5G compatibility and performance now and for years to come, thanks to the fourth-generation X65 cellular modem.
Gear with the X65 is worth investing in for 5G as it should be well-supported technology for years to come as 5G networks evolve.
If you already have an iPhone 13 with the X60 modem, it will be hard to find a compelling reason to upgrade for cellular connectivity reasons alone - but if you find the other new and enhanced features worthwhile, then the iPhone 14 is worth a look. Plus, it comes in purple!
The peace of mind that comes from the satellite SOS feature may be particularly compelling for any nomads who venture far from cellular coverage.
iPhone 14 Release Dates
The iPhone 14 and iPhone 14 Pro models will be available for pre-order this Friday, September 9th - and will be shipping on September 16th. The iPhone 14 Plus model will released slightly later - on October 7th.
As is the case every year, all the carriers and Apple will have promotions for the new iPhones - those interested in upgrading should do their homework and keep a keen eye on the fine print.
Most promotions will require turning in an existing phone and/or agreeing to a service commitment to "pay" for the phone via monthly bill credits.
In short, carriers intend to entice you to make a long-term commitment to their service in exchange for a free or discounted iPhone. Make sure you know what you are getting into - especially if you are the sort of geek who likes to upgrade every year.
Past iPhone Model Analysis:
Related Guides & Content: