Keeping Connected in Alaska
So, you want to explore Alaska by RV or boat - the trip of a lifetime for nomads. And you want internet access while doing so?
Staying connected in the land of the Midnight Sun, where bears and moose and mountain goats roam - where some people can see Russia from their homes (Ok, maybe not their homes, but you can actually see Russia from Alaska's Little Diomede Island) is doable - with some expectation setting and preparation.
You can successfully enjoy some of Alaska and her scenic wonders while staying decently connected.
Depending on your reliance and personal needs for mobile internet - successfully staying connected in Alaska will take some planning, flexibility, and research in advance.
We're here to help.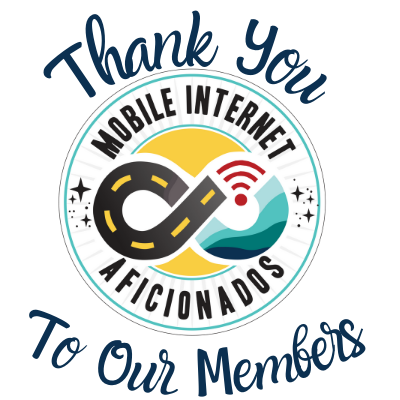 If you're a member, please log in above to access the exclusive portions of our content.
It is with huge gratitude to our members & supporters for making the free content on our site possible. We're not sponsored, you'll find no 3rd party ads and we don't sell 'stuff'.
Our members get exclusive access to our in-depth content, classrooms, vendor discounts (that can save you more than membership!), alerts, insider info and interactive guidance.
If mobile internet is an important part of your lifestyle, consider helping make MIRC possible. 
International Mobile Internet Tips Video
Our international video overviews some general tips for traveling internationally and keeping connected:
You can also use our International Resources Page to access all of our guides to international & OCONUS travel, including: Canada, Mexico, Alaska, Bahamas and Global. We even have a guide for our Canadian friends for keeping connected in Canada & the USA.
Setting Alaskan Mobile Internet Expectations
Alaska is roughly twice the size of Texas with large swaths of land where humans are scarce and Grizzly bears act as mayor, police force, and residents.
Inhabited towns are often hours apart, and some can't be reached by conventional vehicles.
Cellular companies haven't been able to successfully market their services to Grizzlies, so it's not surprising that cellular coverage is typically focused on Alaska's major cities. As most mobile internet arsenals are centered around cellular data, this can create huge dead zones of mobile internet coverage that may be frustrating - or income threatening.
Set your expectations carefully before heading up to the great northern yonder.
Be ready to plan a bit more thoroughly.
If you need to be connected at certain times, then you will need to plan your route based on available connections.
Will you be traipsing about Alaska hoping to keep up to date with watching Saturday Night Live? Yeah, that could be a problem. You may either need to accept the backlog - or plan to be in coverage on Saturday nights.
Do you require internet to earn your income? Be prepared to need to be flexible with your work hours. Many working on the road RVers report back fatigue with chasing connectivity to keep up with their work commitments, while still exploring all of the amazing that is spread out across thousands of miles during a short summer season (not to mention the 2000+ mile trip there and back with limited connectivity). How much connectivity are you willing and able to sacrifice to make your Alaska dreams come true - while still financially supporting those dreams?
When can you be without internet access? When can't you be without it?
Be ready to have a backup plan.
So you've invested in the latest viable ($$) satellite internet gear - and you've stayed within the limited areas of satellite coverage in Alaska. You go to set it up and, oops! A moose stepped on and broke your dish overnight. Best have a backup plan because it is likely you won't find a satellite tech around - and you're now without the internet to Youtube a fix-it video yourself!
Sigh. You roll into town just in time to hop on that AT&T tower to soak up some of your data for a conference call. Surprise - there's a cruise ship in port! Everyone else in town also seems to be soaking the juice off that tower - it's overloaded, and your video conference abilities have been negated. Small towns + big cruise ships = cellular saturation.
You've sought out a campground with reportedly excellent Wi-Fi, and pull in just in time to watch the season premiere of your favorite show. Surprise! Your site is just out of range of the Wi-Fi, which only reaches the first few rows of campers back from the front office. Doh!
---
Cellular in Alaska
Don't expect to be able to wander across the vast swaths of beauty that is Alaska and receive consistent cellular coverage. Be prepared to find huge areas of the state that are untouched by the arms of the cellular industry and all major carriers.
Verizon, AT&T, T-Mobile
AT&T has the longest history of offering service in Alaska as far as the major nationwide carriers go, and it has the greatest amount of established coverage.
AT&T is the carrier to have if you want the best odds of being connected.
According to WhistleOut, Alaska has 250 zip codes, and AT&T covers roughly 47.6% of them.
However, even according to their latest data analysis AT&T covers just 66,987m2 of Alaska's 587,434 m2 .
That is just 11.4% of the state
Verizon entered the Alaskan market after AT&T, and its coverage is pretty much exclusively 4G/LTE. Verizon, however, covers an even more minuscule amount of area - just 11,428 m² (1.92%).
T-Mobile? They've currently got no native coverage up in Alaska at all (0%) - which means you'll be roaming if you can connect at all. However, T-Mobile does have roaming agreements with Alaska's biggest local carrier - GCI, which claims coverage for 97% of Alaska residents - the best of any carrier (See our later section on GCI for more information). T-Mobile will roam 5G in Alaska too.
These numbers don't bode well for folks wishing to explore beyond city limits.
The potential good news is, the areas without coverage aren't easily accessible by RV anyway - so unless you're planning some serious 4x4 off-roading or backcountry exploring, you likely won't be venturing too far away from population & major roads and thus coverage opportunities. Boats, by contrast, have more freedom of movement and potentially better access to on- and off-grid areas.
Here are some screen captures from our mobile app Coverage? of just the native 4G/5G coverage of AT&T & Verizon in Alaska. These maps are current as of April 2023:
AT&T 4G/LTE/5G Coverage: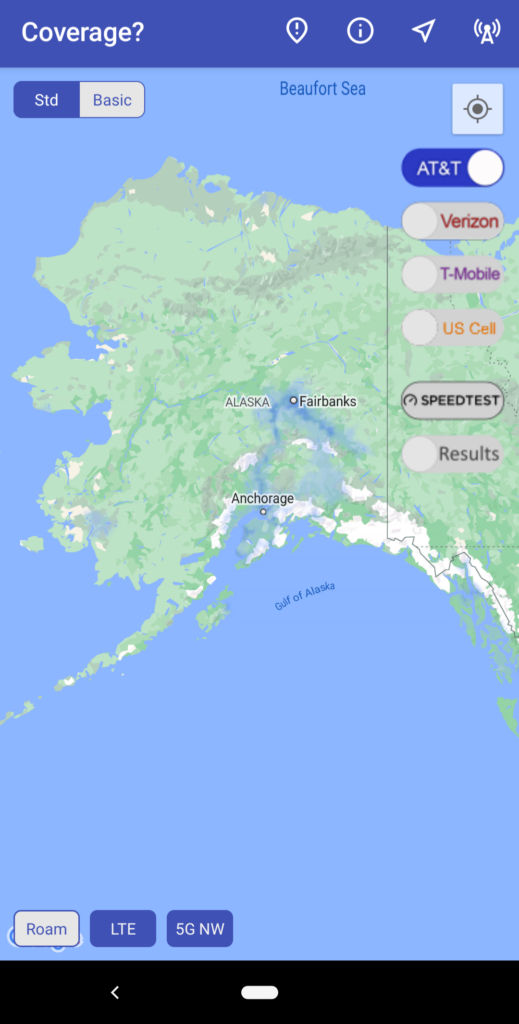 Verizon 4G/LTE/5G Coverage: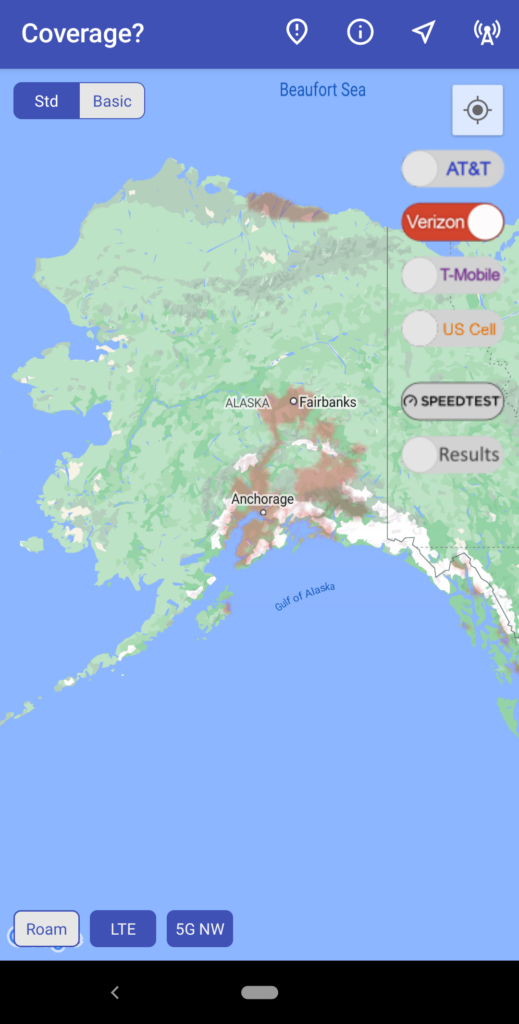 All of the major carriers offer better coverage when permitted to utilize domestic roaming agreements, especially T-Mobile, which roams on GCI (see the GCI section below).
But remember, most major carrier plans set strict domestic roaming limits and some plans don't permit domestic roaming at all. Check the roaming details of your plan before relying on roaming data!
Be sure to research your specific plan if you are thinking you may want to utilize domestic roaming coverage while in Alaska.
Cruise Ship Port City Warning
Even for folks willing to stay near named cities trouble can arise with overloaded towers.
This is especially true If you're planning to visit Alaska's coastal areas, as cellular towers at cruise ports will be overloaded when ships are in port. When the ship is in, the internet is often OUT.
Popular port cities include Juneau, Seward, Ketchikan, Skagway, Sitka, and Haines - we've linked each to the 2023 year's cruise port schedule to aid in your research.
The Local Carrier: GCI
But, enough of the 'bad news.' Let's talk about a brighter spot in Alaskan cell phone coverage: GCI.
GCI is a local carrier, with a focus on Alaskan coverage.
GCI claims to cover 97% of Alaskans. Remember, as a nomad traveling through Alaska, GCI doesn't claim to cover you. "Most" Alaskans tend to hang out in or near cities - thus GCI's 97% coverage claim.
A quick glance at the GCI coverage maps below shows that not even GCI touches large swaths of the Alaskan landscape. Remember - their claim is 97% of residents, not 97% of the state.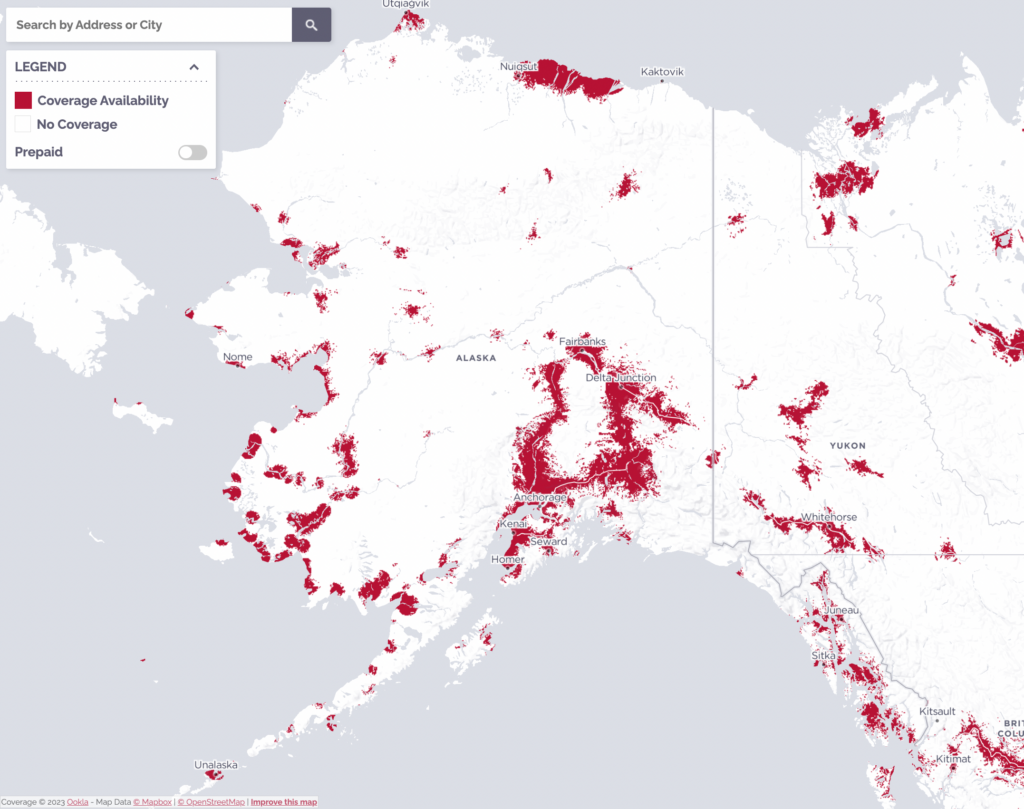 GCI is strong in comparison to the coverage of other carriers, but may still not provide coverage for the wild areas you may want to visit.
GCI also provides television and hard-wired internet and phone services to roughly 3/4 of Alaskan residents.
In April 2020, GCI launched 5G service in Anchorage, and stated that they have plans to launch it in other cities as well, though no timeline was set. As of March 2023 5G coverage is mostly around Anchorage, Palmer, Wasilla and some smaller cities along the Turnagain Arm.
So what's the point of all of this GCI talk? Well, if you rely on mobile internet, procuring a GCI SIM card is an option to look into. And if you have a T-Mobile option, GCI is a roaming partner.
We've heard several reports of folks who picked up a prepaid GCI data plan to utilize while in Alaska as their sole data source or to supplement a major carrier plan.
Current (3/2023) GCI prepaid plan pricing is not outrageously expensive - especially for the nomad who relies on the internet. Redundancy is key - maybe especially so in Alaska. Here are the current options: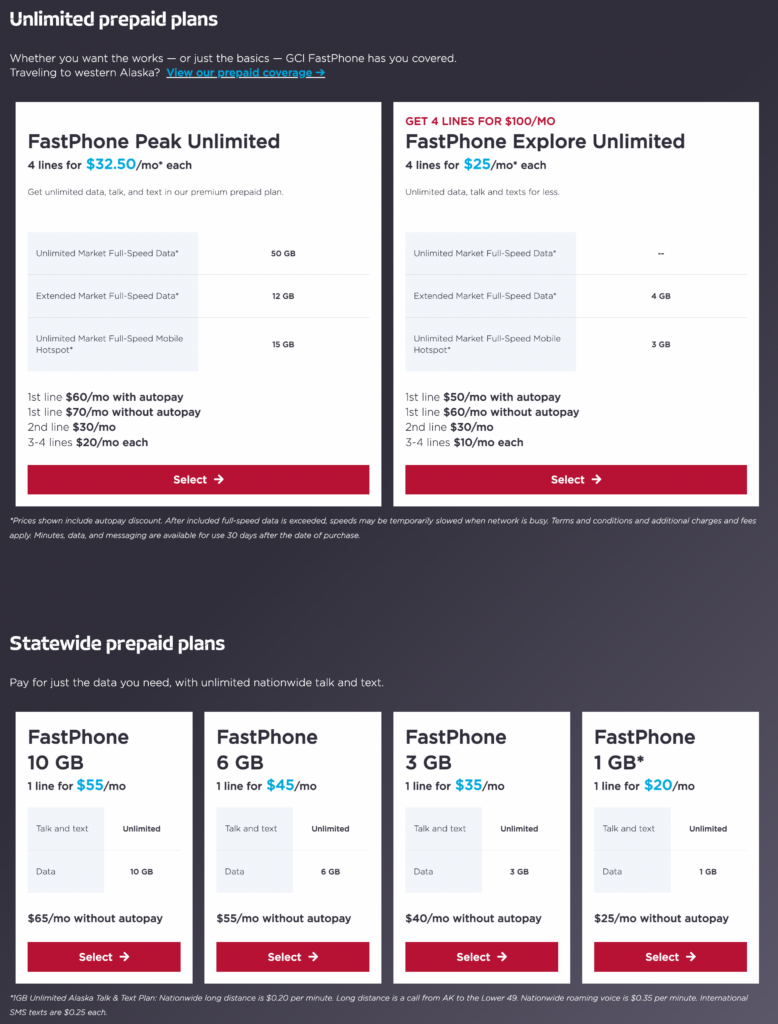 GCI will sell you a phone if you need one or let you use your own if it's compatible.
GCI also offers postpaid unlimited plans, where on-device data is (mostly) unlimited, with network management kicking in at 50GB or 100GB per line. These plans are only available in some markets.
Unlimited plans are limited in 'extended markets' (typically the more rural areas), where usage is actually limited to 4 GB to 20 GB per line/month depending on the plan.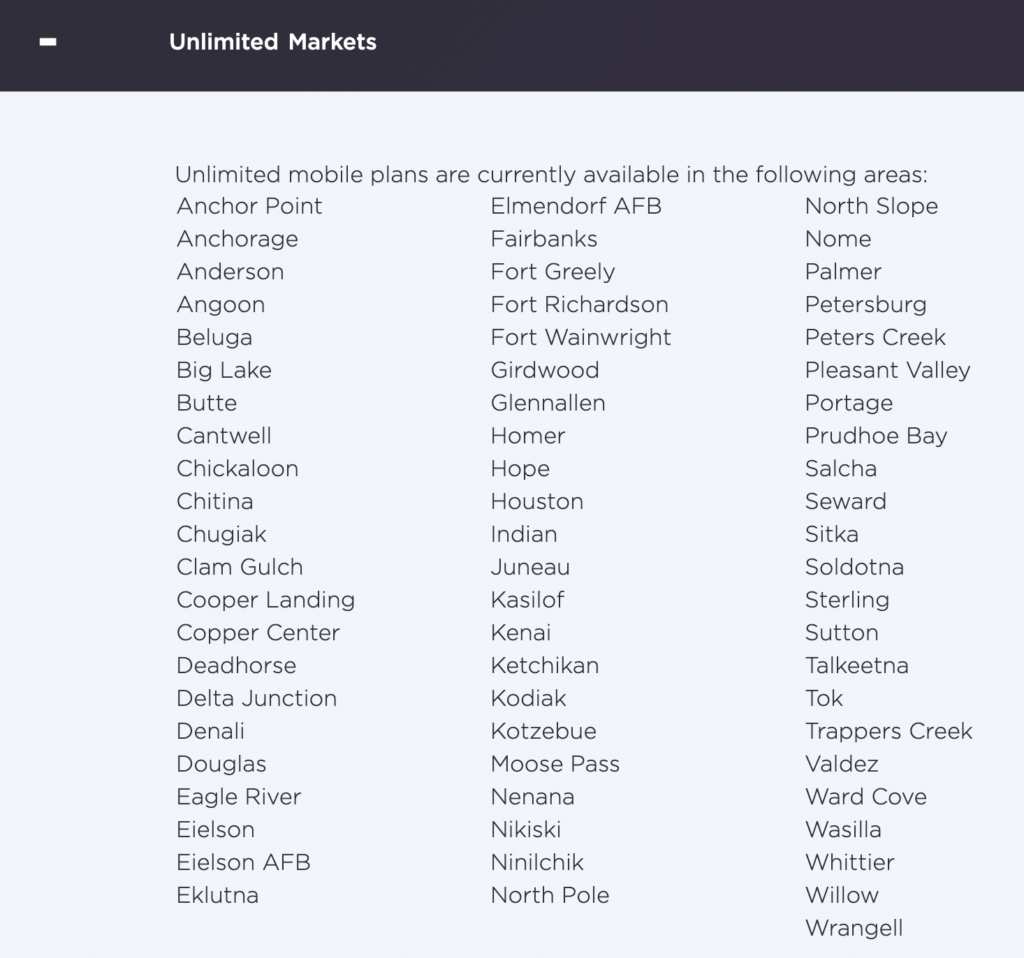 The list of 'extended markets' is nearly double that of their 'unlimited mobile markets'. Such is the reality of mobile internet in America's last frontier.
---
Satellite
Satellite internet is the mobile internet option of choice for those who enjoy being truly 'off the grid.' There is something magical and futuristic about being online and connected in the absolute middle of nowhere.
The places far beyond Wi-Fi or cellular coverage, where only a satellite far above can keep you online.
As fun as it is to fantasize about connectivity everywhere, the traditional old-school geostationary satellite options come with many tradeoffs to consider.
Latency can be an issue on geostationary satellites, equipment and service plans can be pricey, and the gear tends to be large and clunky. But, those trade-offs are worth it to many who want to wander into no man's land for extended time periods.
Those old school satellite systems aren't your only choice though.
With the introduction of Low Earth Orbit Satellite systems such as Starlink covering all of North America, satellite is becoming a viable mobile internet option and making satellite a choice to consider and much easier and cheaper to travel with.
Starlink by SpaceX

When Starlink was first released, the coverage only reached as far North as 57 degrees latitude. This covered a portion of southern Canada from East to West, but only covered a tiny sliver of Southeast Alaska. The rest of the Alaska and Northern Canada has been without coverage until now.
Starlink started rolling out in Alaska in Nov 2022, ahead of its original Q1 2023 scheduled release. However even with an early release and all of Alaska including the arctic circle now available, from reports there are still some periods of times of no satellite coverage in certain parts of Alaska leading to outages lasting from a few minutes to a couple hours that can happen at times.
Starlink is becoming a pretty good option in Alaska, but isn't perfect yet.
Overtime as more satellites launch, these coverage gaps will be filled in, but it takes time to get satellites launched to this latitude.
Another exciting aspect of this new open coverage area in Alaska up to the polar region is that the Starlink coverage this far north is compliments of Starlink's laser inter-satellite links (Space Lasers). The inter-satellite links allow the Starlink satellites to communicate with each other and cover areas of the world that it's not practical to install ground stations like polar regions and large areas over the open ocean.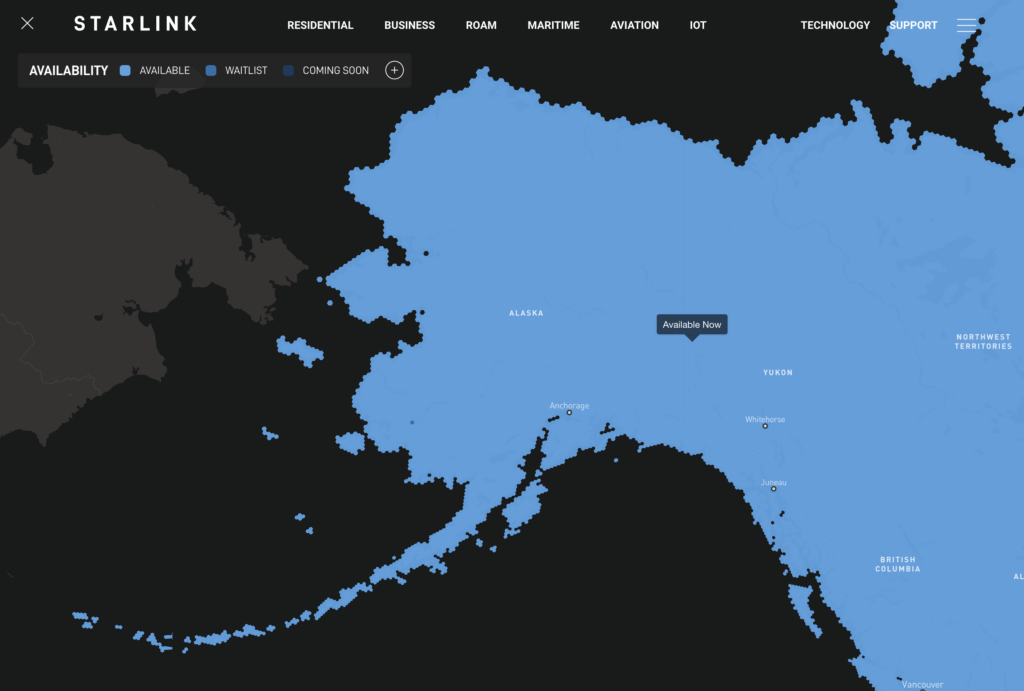 Users with Starlink Mobile or Mobile Priority plans can use their Starlink in both the US & Canada.
Users with the flat HP dish on the Starlink Mobile Priority plan can or that opt-in to it can officially use their Starlink in-motion as they travel allowing them to stay connected as they travel through vast areas with no cell coverage.
Other Satellite Options
While Starlink is quickly changing the game, there are older geostationary satellite companies that also can provide you coverage in some locations.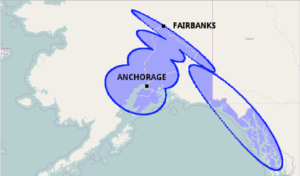 The satellite coverage maps HughesNet Gen 5 are pretty sparse, especially for those used to getting coverage darned near everywhere else in the lower 48.
If you're the proud owner of a HughesNet Gen 5 set-up, you will probably have more success than those who rely on cellular in some areas. But, in others, there is nothing to beam in.
Mobil Satellite Technologies' RVDataSAT 840 appears to have a broader coverage map than HughesNet's Gen5 and can also keep you connected on the long road through Canada.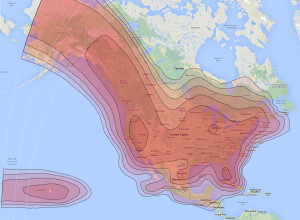 But it also comes with a much heftier price tag for equipment purchase.
But do note that the coverage map is still weaker than the continental US.
If you've already got satellite internet gear, taking it up into Alaska may be productive in getting access to mobile internet in some areas.
Keep in mind when you're that far north you will need to aim at a satellite that is located in orbit over the equator, which will have your satellite dish pointed to the southeast very low to the ground - so terrain & ground clutter can become much more of an issue than you might be used to in the lower 48.
Not to mention, you may actually need a larger dish to optimize your signal. To be sure your gear is compatible - check with a company that specializes in serving satellite customers in Alaska.
If you don't currently have satellite equipment for mobile internet, keep in mind that acquiring it just for your Alaska trip may not be overly attractive. The equipment can be expensive ($1500 - $7000) and service will usually require an 18-24 month contract.
---
Other Options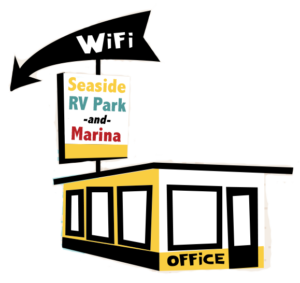 Public Wi-Fi
If you are able to schedule your internet needs around finding Wi-Fi hotspots, you should be decently successful in finding them in most populated areas of Alaska.
Using public Wi-Fi hotspots (free or for a fee) can also be a great way to accentuate a capped data plan on a local SIM (GCI), or to reduce the risk of hitting domestic roaming limits on your major carrier plan.
For some, using public Wi-Fi can simply replace the need to fight the limited coverage maps of cellular and satellite options.
There are various websites and apps available to help you find W-iFi hotspots, such as WiFiMap.io or WorkFrom. Of course, you might need to pre-plan (and note several options) before your travels if you plan on Wi-Fi being your only connectivity option.
The Milepost 2022 also provides detailed information on Wi-Fi hotspots throughout Alaska and comes in book form.
Campground Wi-Fi
Some campgrounds in Alaska will offer Wi-Fi as either part of your site fee, or for an additional fee. So long as you remember the limitations often correlated with campground Wi-Fi, some folks may be able to use this form of internet access while bopping through Alaska.
But... Remember - You ARE in Alaska!
Whether you find free Wi-Fi at a library, offered at a bar, or included with your campsite - don't assume that it will be as fast as you've gotten used to in the lower 48.
Though some towns do have relatively fast internet, some other towns are only connected to broader civilization via an old microwave link or even just via satellite - and the entire town may be sharing that one connection!
Fiber-optic lines have not stretched out to every corner of the frontier just yet, so keep your expectations adjusted accordingly.
---
Getting to Alaska
Driving Through Canada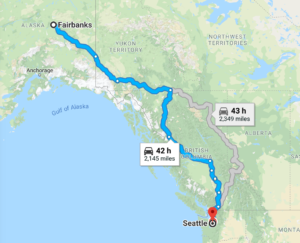 For U.S.-based nomads traveling through Canada to get to Alaska, head on over to our guide to Keeping Connected in Canada for in-depth info and options to mobile internet in Canada.
While many of the US carrier's current cellular data plans include free roaming in Canada, keep in mind that the roads to Alaska are very long and go through hundreds of miles of beautiful nothingness at a time.
Where there are no towns, there's typically no cellular signal - even on Canadian towers.
Don't anticipate much cellular connectivity at all once you leave populated areas.
Keep in mind to get to Canada you have to pass through all of British Columbia and then through Yukon Territory. Even Canadian based carriers struggle to provide coverage in these areas:
The founders of the Mobile Internet Resource Center created the Coverage? App to help fellow travelers find coverage on the routes and in their destinations. The app contains Canadian coverage maps for Telus, Rogers, and Bell and of course, roaming for the major U.S.-based carriers can also be seen on the Coverage App?
If you're going to need to access the internet where cellular is not available, you might be wise to acquire a copy of The Milepost 2023, which provides a location by location guide (updated yearly) to where there are stops along the way through Canada with possible Wi-Fi hotspots to utilize.
And you may want to consider a satellite text communicator (like the Garmin inReach) or satellite phone if you must be reachable or want emergency communication.
By Cruise Ship, Boat, or Blue Canoe (aka the Alaska Ferry)
Cruising up the Inner Passage will give you more opportunities for cellular access while passing small cities. These cities are usually part of Alaska, and thus US-based cellular companies (not Canadian).
Check coverage maps to see what carriers offer service and remember that service can often reach a dozen or so miles out to sea. BUT, remember that the cell towers at ports of call on cruise ship days are often overloaded - meaning your experience could be massively slow, or non-existent.
If you're on a cruise ship, be mindful of roaming onto 'Cellular at Sea' when out of reach of your carrier's tower - this can result in pricey roaming charges.
Satellite internet service may be offered on board as well, but this tends to be expensive, so be wary of what you're purchasing.
---
International Roaming Data Plan Options
Here are the cellular data plans we're tracking that are more readily available within the US that have decent to awesome international roaming allowances.
Browse our Cellular Plan Entries
---
Summary: Set Expectations and Plan
If you want to explore Alaska by RV or boat - and you want (or need) internet access, be sure to set realistic expectations, and be prepared to do some planning. Depending on your reliance upon and personal needs for mobile internet, successfully staying connected in (and to/from) Alaska will also take some flexibility and some serious research in advance. But it is possible!
---
Explore the Resource Center
Join our 'Library Desk':
Internet for RVers & Cruisers Facebook Group
We cross post news articles and guides, and can help point you in the right direction to our content here on the resource center.
It is with gratitude to our premium members that we're able to offer our free content - and for that, they also have access our private Q&A areas for more in-depth guidance.
The MIA is our premium membership - designed for those who consider mobile internet an important part of their lifestyle.
In thanks for making content like this possible, we offer a bunch of additional perks. From interactive guidance, in-depth member exclusive content, discounts, alerts, classroom and more. 
We totally understand that a membership isn't right for everyone.
However you can still support this content with our supporter level for just $25/year. 
With our gratitude, you'll get access to all our free content without the 'nags'. 

Stay In the Know
We're constantly tracking the industry and analyzing new developments for mobile travelers. If you'd like to receive updates, we offer several ways: