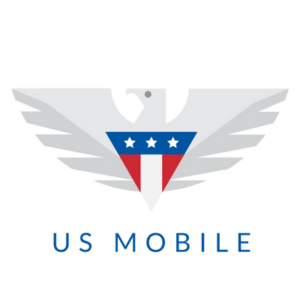 US Mobile is an MVNO with plans on the Verizon and T-Mobile networks.
Their plans run on either Verizon (Warp 5G) or T-Mobile (GSM 5G).
AT&T may be added as a network partner in the future.
Currently Available Plans:
Unlimited Premium - $50/month
Unlimited Essentials - $40/month
Unlimited Starter - $25/month
Prices include taxes and fees.
Plan Specifications:
Carrier Networks Used: Verizon (Warp 5G), T-Mobile (GSM 5G)
Carrier Relationship: MVNO
Plan Types Available: Phone
Device Types Permitted: Phones
Unlimited: Yes, but with high speed data caps
High-Speed Mobile Hotspot Use:

Unlimited Premium - 50GB
Unlimited Essentials - 10GB

Throttling: Yes, speeds may be slowed down to 1 Mbps after premium data cap

Unlimited Premium - After 100GB
Unlimited Essentials - After 50GB
Unlimited Starter - After 30GB

Network Management: Yes
Video Streaming Resolution: Not specified
5G Access: Yes, with a 5G compatible device and in an area where 5G service is available
eSIM: Yes
Device Purchase Required: No
Plan Period: Monthly
International Roaming:

Unlimited Premium: 10GB included
Unlimited Essentials and Starter: Available for purchase - Global by US Mobile

Domestic Roaming: No
Data Roll Over: None
Overage Charges: None
Lines permitted per account:
Extras: With 3 Premium lines, 1 free subscription of your choice from 10+ audio, streaming, and gaming services.
---
News, Videos & Status:
---
---
Purchasing Options