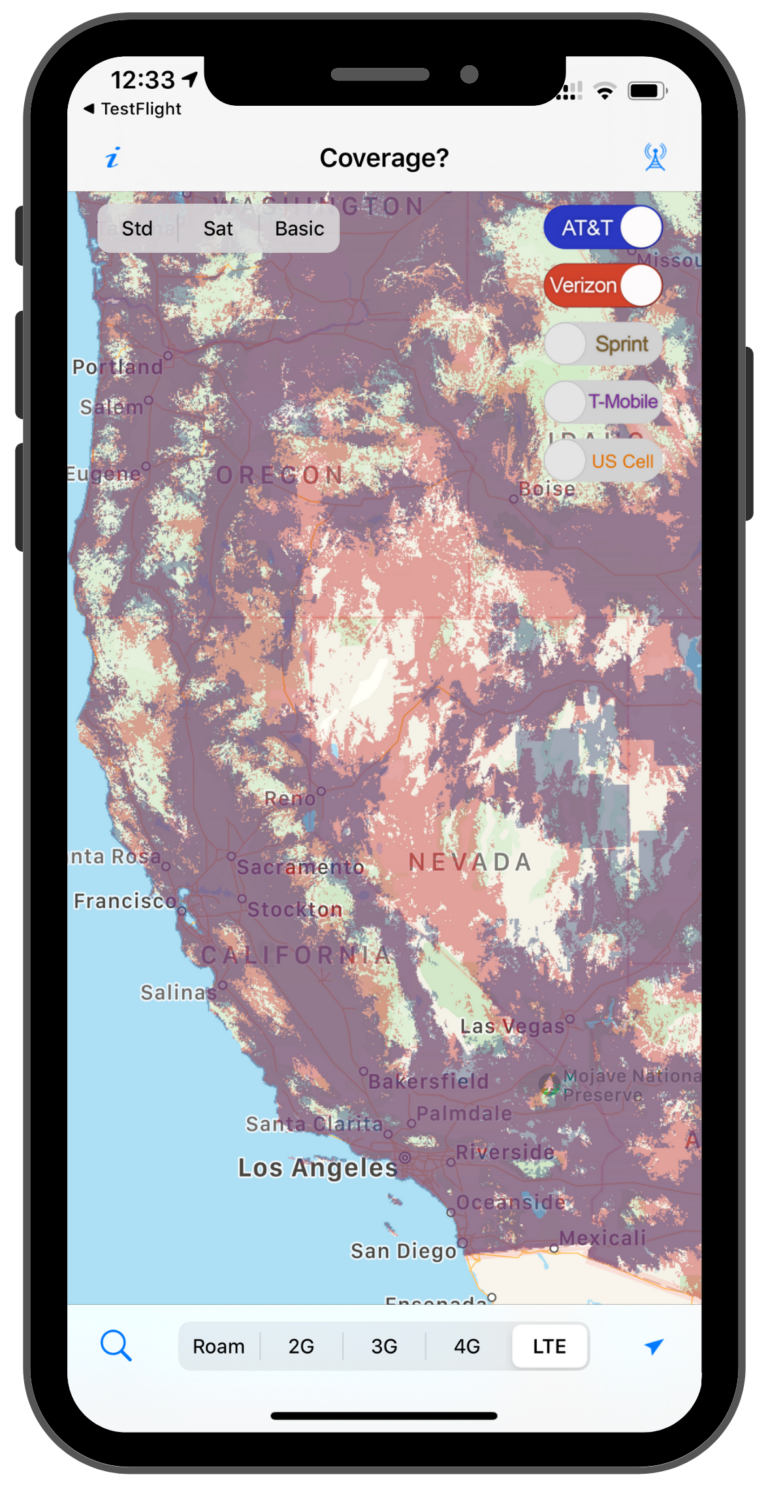 Coverage? allows you to directly overlay multiple cellular carriers coverage maps on a single map so you can compare cellular carrier coverage maps.
Coverage? was created by the Mobile Internet Resource Center to help nomads find cellular coverage as they roam.
Use Coverage? to determine which direction is best to head towards, or which route is likely to keep you the most connected in your travels.
Key Features
Easily know before you go: Avoid having to check each provider's coverage map individually to know where you're most likely to keep connected.
No internet needed: All maps are stored locally, so you can see where coverage next is most likely even when you have none.
Urban and rural maps: Maps cover the entire continental USA for Verizon, AT&T, Sprint, T-Mobile and US Cellular. Also, new in summer 2020 - Canadian carriers Bell, Telus and Rogers.
Know where to roam: view LTE, '4G', 3G, 2G and roaming areas as separate overlays, focus on the coverage type you need.
Unlocked Paid Version includes free standard resolution map updates
In App annual subscription includes quarterly HD Map updates with 4x the resolution, plus use of satellite imagery in the background
Specifications
Carriers: Verizon, AT&T, T-Mobile, Sprint
Generations: LTE, '4G', 3G, 2G

Retail Price:

Free / $2.99 / In-App subscription
Testing Status: We created this product and are constantly testing it.
This Review Contains Additional Member Exclusive Content!
We are Honored to be Member Funded!
No ads, no sponsors, no selling (but may contain affiliate links)
Our members fund our in-depth independent reviews.
This entry may contain additional member exclusive content such as testing notes, field testing data, user interface tours, comparisons to alternatives, analysis, tips, videos and discounts.
Members also get interactive guidance, alerts, classroom and more.
Purchasing Options