Researching Cellular & Wi-Fi Before You Arrive
You've got the gear to connect. You've got the data plans. Now you need to plan your RV or boat travels around finding cellular signal to get a reliable mobile internet experience.
A critical part of successfully navigating a mobile lifestyle and keeping connected is knowing where along your routes you'll have the best chance of getting online with the gear and plans you have chosen to carry with you.
For those who rely on mobile internet, it can be very important to research what to expect for connectivity before heading out to a new location.
While there is no single source that will give you a definitive answer, there are tools available to help. Finding cellular signal in your travels becomes a lot easier when you learn how these tools are best used together.
Doing a bit of research in advance can go a long way to making sure you'll be able to get online once you arrive at your next stop.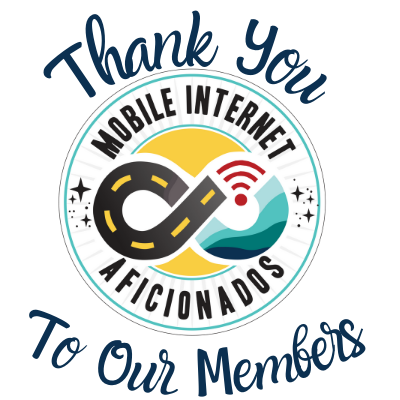 If you're a member, please log in above to access the exclusive portions of our content.
We are honored to be able to present a bunch of our content for free.
Our resource center is brought to you by funding from our premium members. We don't accept 3rd Party Advertising, we're not sponsored and we don't sell stuff.
Our members have exclusive access to in-depth content, classrooms, discounts, alerts, insider info and interactive guidance.
If mobile internet is an important part of your lifestyle, you can help make this possible:
---
Finding Cellular Signal Video Overview
Here is our quick video covering our top tips for finding cellular and Wi-Fi signals in your RV or boat travels:
---
Here are some handy resources for tracking this sort of information down:
Carrier Cellular Coverage Maps
Each of the carriers publishes their coverage maps on their websites to make it easier for finding cellular signal. Some carrier coverage maps contain more information than others.
Here's where each carrier keeps their maps:
Cautions
Keep in mind, just because a carrier claims to have coverage - it doesn't necessarily mean you'll get it, or that it'll be usable signal. Nor do carrier maps promise a minimum data speed you can expect.
Many things can impact your signal - the gear you travel with, local terrain, weather, tower congestions and more. Carrier maps are derived from computer modeling of the towers they have transmission gear installed on, and they don't usually account for those variables that can affect your signal.
Carrier maps can sometimes be a bit.. umm.. optimistic, as their maps are also used for marketing purposes too.
But the coverage maps are still a good place to start to at least get an idea of where your carrier claims to have signal available. If your carrier claims to have coverage in a certain area, with the right gear, you probably can find a way to get online.
---
Coverage? App for Finding Cellular Signal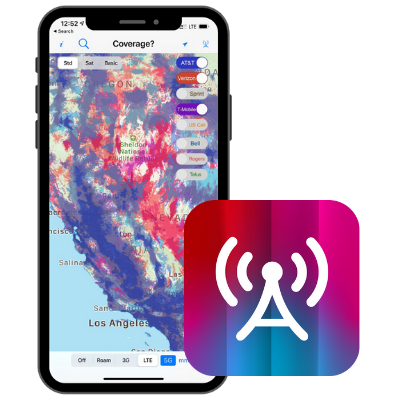 Although we can go to each carrier's maps individually, we decided to make it easier by bringing the major carriers' maps to your smartphone or tablet.
Get maps for Verizon, AT&T, T-Mobile, Sprint, US Cellular in the US, and Rogers, Telus and Bell in Canada.
Yep, we wrote an app for that!
Coverage? (available for iOS and Android) allows you to overlay regional or city-level resolution versions of the carriers' maps so you can create a personalized coverage map for the carriers you travel with, and the minimum coverage type (mmWave, 5G Nationwide, LTE, 3G, roaming) you seek.
The maps are stored on device after downloading the app, so you don't need to be online to find out which direction to head when you're looking for a signal.
It's also useful for planning your next stop - you can look ahead to see if your carriers will have service in the areas you're planning to travel to.
Learn more about Coverage? in our Gear Center - or download it from your app store:
Cautions
Do keep in mind, just because the carrier claims to have coverage, it doesn't mean you'll necessarily be able to get it. Many thing can impact actual signal like obstacles, distance to the tower, your modem, signal enhancing gear, and tower congestion.
---
FCC Coverage Map
In August 2021, the FCC published their own 4G LTE coverage map supplied by all of the carriers online - giving consumers another tool for finding a cellular signal.
Again, keep in mind that carrier-provided coverage maps don't guarantee that you'll be able to get a signal.
---
Crowdsourced Coverage Maps
There are resources out there that aggregate crowdsourced cellular signal and speed reports.
Crowdsourced apps and websites use actual real-world user signal reports to build a coverage map for finding cellular signal and anticipated speeds. And then this information might be used by more advanced crowdsourced tools to geolocate where cell towers might be located.
These resources rely on user data, so to aid in collecting that data, they often utilize a smartphone app that measures signal on your device, and then reports that back to the database.
If you're interested in fleshing out if where you're planning to be will have signal - and what towers are nearby, crowdsourced tools add depth to your intel.
Here are the major (and free!) crowdsourced tools and apps:
Cautions
Of course, with crowdsourcing, the maps are only as useful as the data they collect from users of their apps.
These resources tend to have good data for urban areas where they have a strong user base. But, when you get to smaller cities, the maps can show no coverage at all (even when there is coverage!)
Also, it's important to note that these apps may not be representative of the actual signal or data performance you'll get in a location. The reports are based off of the gear used for collecting the data. The gear you have could give you better or worse results simply because of the modem specifications, external antennas or boosters you might have in your mobile internet arsenal.
For those venturing off the beaten path, it's wise to also supplement crowdsourced maps with the carriers' maps and campground/marina reviews.
Uber Geek Resources
One little-understood aspect of cellular networks is that carrier frequency licenses are not nationwide but vary by location. So even though a carrier may support a particular cellular band, they might not have a license to operate that band in every part of the country, or may only have access to parts of the band.
Spectrum Omega's Spectrum Ownership Map is a resource for uber-geeks who want to dig down to see who has licensed the spectrum in a particular area. This level of detail is of limited usefulness for travel planning, but may still be interesting and useful for those who understand the intricacies of cellular spectrum.
---
Campground/Marina Reviews
Many RVers and boaters also depend on a solid internet connection, therefore you'll frequently find reports of cellular coverage (and Wi-Fi performance) hidden within campground reviews.
Here are some of our favorites:
RV & Camping Sites:
Marina & Anchorage Sites:
Cautions
With crowdsourced reviews, the information is only as useful as the information being shared.
User submitted reports can have a lot of variability and could require parsing through a lot of written text about a campground. Details about a mobile internet connection could be hidden amongst reports on the bathhouse or playground.
Also not everyone has the same mobile internet needs, therefore what is one camper's great experience may not be yours.
For instance, some may report in very general terms like 'I was able to work' or 'I was able to stream Netflix'. Or a review may report a solid connection if it was possible check e-mail, but not mention video conferencing. And some may include what gear they have that made a connection possible, which can have a huge influence on performance.
Also keep in mind when the review was made, cellular technology is rapidly advancing and things can change in a matter of months in some locations.
And of course, don't just read reviews - leave your reviews to help other travelers plan!
---
Conclusion: Research In Advance
If it's important to you to know where along your route you'll have a good signal, advance planning is important. There are plenty of research tools available to help you, including carrier maps, our Coverage? app, crowdsourced apps, as well as online campground and marina reviews.
There's unfortunately not a one stop shop for knowing exactly what to expect at a particular location, but using multiple of these resources together can help.
Which is why we consider the most essential tool in your arsenal is having REDUNDANCY of options to try at each location.
Learn More: The Importance of Mobile Internet Redundancy
Additional Reading
Cellular Data Guides
Cellular data is a BIG topic, and there's a lot to understand to pick the right combination and gear, plans and signal enhancing options for your needs.
Check out some of these further resources we offer:
For More Cellular Data Plans:
For more on selecting cellular data gear:
For more on getting the best cellular service:
Explore the Resource Center
Join our 'Library Desk':
Internet for RVers & Cruisers Facebook Group
We cross post news articles and guides, and can help point you in the right direction to our content here on the resource center.
It is with gratitude to our premium members that we're able to offer our free content - and for that, they also have access our private Q&A areas for more in-depth guidance.
The MIA is our premium membership - designed for those who consider mobile internet an important part of their lifestyle.
In thanks for making content like this possible, we offer a bunch of additional perks. From interactive guidance, in-depth member exclusive content, discounts, alerts, classroom and more.
We totally understand that a membership isn't right for everyone.
However you can still support this content with our supporter level for just $25/year.
With our gratitude, you'll get access to all our free content without the 'nags'.

Stay In the Know
We're constantly tracking the industry and analyzing new developments for mobile travelers. If you'd like to receive updates, we offer several ways: