Mobile Routers & Local Area Networking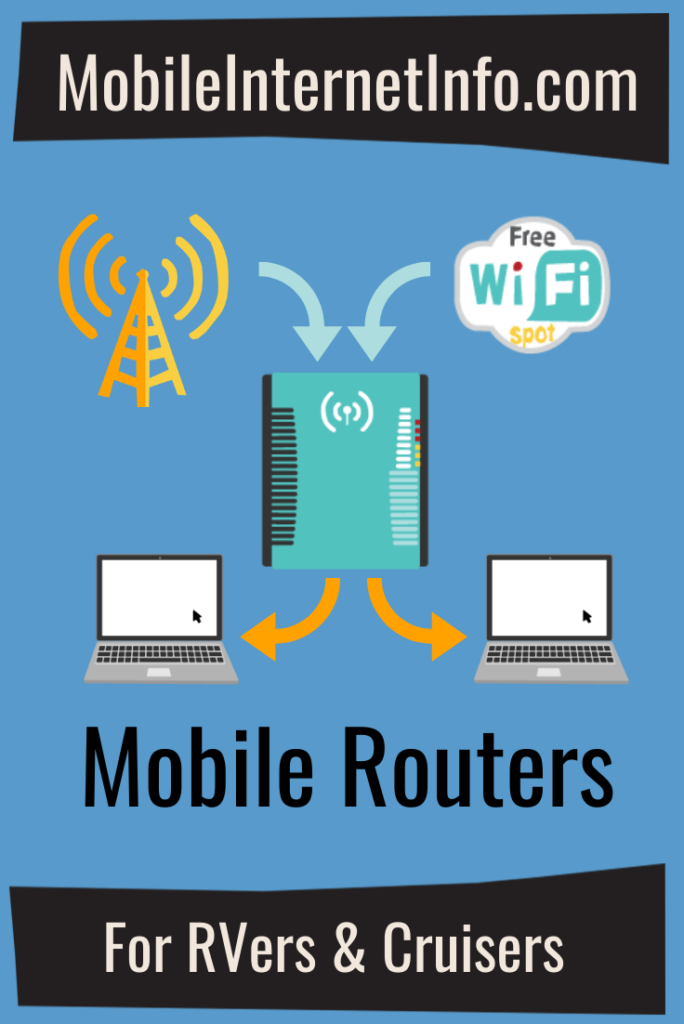 Routers serve as the central conductor on any network, acting as a gateway between the Local Area Network (LAN - your devices) and the Wide Area Network (WAN - 'the internet').
If you want to have more than one device taking advantage of a single upstream internet connection, or you want to connect your local devices together to share files or functionality, you need a router.
Typical residential routers often connect to a cable or DSL modem for the WAN uplink, and create a local Wi-Fi and wired Ethernet network LAN for all the local devices in a home to connect to and share this upstream connection.
But on the road or water, cable modems and DSL lines are rarely found.
Instead - upstream connection opportunities vary between cellular and public Wi-Fi options - and it takes a special kind of router to be able to interface with and share these connections.
Typical home and office routers are just out of their element in a mobile environment.
This Guide Brought to You by Our Members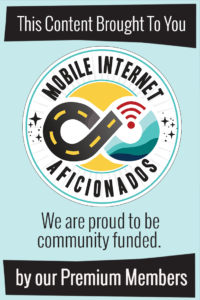 We are honored to be able to present the basic sections of this guide for free without 3rd party advertising.
This content is brought to you by funding from our premium members.
Our members have access to the entirety of this guide, interactive guidance, product reviews, alerts, vendor discounts and more.
If you're a member, please log in above to see the member exclusive portions of this guide.
If mobile internet is an important part of your lifestyle, here are ways you can help:
---
Video Introduction
Here's a quick introduction to mobile routers, what they are, why you might consider one and what styles they come in:
---
How is a Mobile Router Different than a Home/Office Router?
The core features that set nomad friendly mobile routers apart from traditional home routers is support for at least some of the following features:
Cellular Support: Utilizing cellular sources of internet is a core feature of many mobile routers. They do this by either providing a USB port that can control a USB cellular modem or tether to a cellular mobile hotspot allowing for a cellular connection to be shared. Or a mobile router might have an integrated cellular modem inside of it, with the ability to insert SIM cards directly (bypassing the need for a MiFi, smartphone, or USB stick).
WiFi-as-WAN: A router with this feature can connect to an external Wi-Fi network upstream (such as a campground Wi-Fi hotspot), and at the same time create a private Wi-Fi network downstream for your local devices to share in that connection. This allows all of your personal devices to always connect to your own router, and lets the router worry about what is the best upstream connection option at your current location.
External Antennas & Radios: Getting an antenna out a window or up on your roof can drastically increase your ability to bring in a solid connection from afar. An external Wi-Fi antenna & radio can reach hotspots further away (such as across the RV park or marina), and a cellular antenna port can provide for a stronger cellular signal by using an outdoor antenna, without needing a cellular booster.
Flexible Power Inputs: Many nomadic home dwellers want to be able to optimize for 12V power to run off their house battery systems when off-grid. A hallmark of mobile routers is the ability to run off 12V DC directly, though many can also run off 110V AC wall current.
Do keep in mind that not every mobile router will support all of these features, but without explicit support for some sort of cellular connection or WiFi-as-WAN a router may not be of much use on the road.
---
Do you NEED a Dedicated Mobile Router?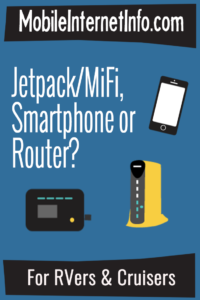 The most basic function of a router is taking an upstream network connection and sharing it with multiple downstream devices over either wireless Wi-Fi or wired Ethernet.
If you never intend to share a single connection across multiple devices, you do not need a router. A simple USB modem plugged directly into a laptop or a hotspotting off a phone or tablet can save you headaches.
And if you only have a few devices that you want to share a connection with, you can probably just use the routing capabilities built into the personal hotspot feature on your smartphone or a dedicated mobile hotspot.
If, on the other hand, you have an entire collection of devices that you'd like to get online, potentially via multiple upstream connections, as well as enabling your devices to talk to each other, you almost certainly would benefit from having a router sitting at the heart of your network.
In some mobile homes, everything from the lightbulbs to the bathroom scale is Wi-Fi enabled, and a router is an absolute necessity!
Before you dig too deep into the more advanced mobile routers described in this guide, you should first decide if you really need one.
This article compares the advantages and disadvantages of connecting via a smartphone, mobile hotspot, or a router:
If your needs are simple - you may decide that a dedicated router is overkill.
Advantages of a Mobile Router
Here are some of the reasons that travelers select a more advanced mobile router:
Uses Mobile Internet Sources: Allowing you to connect to cellular and public Wi-Fi as upstream WAN sources, in addition to Ethernet input sources (such as a cable or satellite modem).
Single SSID (Wi-Fi Network Name): You do not need to change the Wi-Fi connection settings on all your laptops/tablets/streaming devices each time you are using a different internet source. A router allows you to provide a single SSID that your devices can connect to, and you change your current best working internet upstream connection from within the control panel. You can often even configure a router to "failover" from a primary to a secondary WAN connection automatically.
Stronger Broadcasted Wi-Fi Signal: Providing a stronger Wi-Fi LAN signal if you have a larger area you want to be able to cover than a MiFi or smartphone alone can reach (this is in addition to getting a stronger signal to a Wi-Fi source, like a campground.)
Ethernet / Hard Wired Network: If you have wired Ethernet devices (such as game systems or network attached storage drives), a router can often share your upstream connection with a local wired Ethernet network.
Navigating Captive Portals: Some mobile routers geared towards RVers and cruisers have specific features to better be able to utilize Wi-Fi networks provided by marinas and campgrounds, that sometimes require special logins and/or acknowledging a terms of use page.
Advanced Features: Many routers support advanced network management features - such as usage tracking and limits, ability to host a server on your private network, or load balancing and auto-failover.
Downsides of a Mobile Router
On the other hand, here are some considerations that might not make a mobile router as attractive to some:
More Complicated: While a properly setup network can streamline your connectivity and local area networking, getting there can be a complicated process. Many routers are designed for IT professionals to set up and manage, and not for most consumers. If you're not comfortable with technology, you may want to stick to a more consumer-focused setup... or commit yourself to upping your technology knowledge.
Pricey: Some mobile routers can get quite pricey - so they become a major investment in your mobile internet setup. Makes sure you fully understand the features so you're best future proofed so that investment lasts longer.
Embedded Cellular Modems Get Outdated: The component of a mobile internet setup that is likely to be advanced most rapidly is the cellular modem. Pro-grade cellular modems tend to be updated infrequently and are often a generation or two behind their consumer mobile hotspot equivalents.
Limited Data Plan Options: Mobile routers are best paired with a high-capacity or unlimited cellular data plan, which can be difficult or expensive to find. Additionally, some data plans offered by carriers and resellers may allow usage on a mobile hotspot device, but not a cellular-embedded router. You will need to carefully research your data plans to ensure they will work with your chosen device and profile sufficient data for your needs.
There are a lot of mobile router options on the market ranging from small basic travel routers up to professional grade equipment offering very high end features at a very high end price. See our product overview grid at the bottom of this guide for the ones we're tracking.
The Simplest Mobile Router: A Mobile Hotspot Device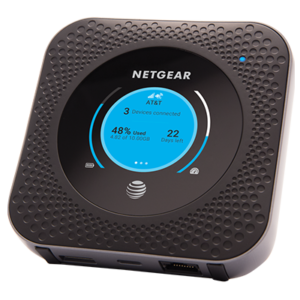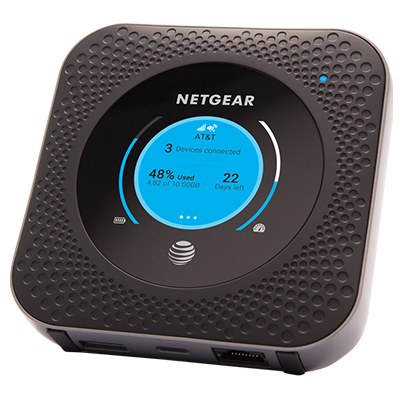 The most basic mobile router is a Mobile Hotspot Device - often referred to as a MiFi or Jetpack. They're also fairly affordable at around $200.
These devices have a built-in cellular modem serving as the WAN connection, and they create a private local Wi-Fi LAN supporting 5-15 devices connected at a time. Some even offer Ethernet out support.
A smartphone creating a "Personal Hotspot" is doing the same in software, acting as a router and sharing its cellular WAN connection with other nearby devices.
For more information on this type of device, check out these links:
Selecting Mobile Hotspots & Gear Guide
For many RVers and cruisers, one or two mobile hotspot devices might be all that is needed to keep all your tech connected.
But if you need more capability or flexibility than a simple mobile hotspot can provide, more advanced router options are out there - which the rest of this guide covers.
---
Additional Member Only Content :

Has this guide been helpful so far?
Well.. there's a lot more below available to our members - as well as dozens of other guides like this, videos, a classroom, forums, webinars and more. All specifically created for helping keep RVers, cruisers and nomads online.
---

Hopefully you've noticed that our content isn't cluttered with 3rd party advertising, we're not sponsored and we're not reliant on selling you plans or gear to make our content possible.
We are instead community funded via our premium membership program - allowing us to focus on creating unbiased quality, in-depth, constantly updated content.
If mobile internet is an important part of your lifestyle, here are ways you can help:
Become a Member Support this Content
If you're already a member, please log in to see the rest of this guide.
Here's a sneak peak at the member exclusive topics in this guide:
Wi-Fi Features & Standards
Almost all mobile routers will have broadcast Wi-Fi support in some fashion - this section goes over Wi-Fi antennas, radios and WiFi as WAN feature of mobile routers so you can better select the right gear.
Cellular Features
Being able to share a cellular-powered internet connection is one of the most critical features many nomads seek out in a router. This section goes over features to look for including tethering vs. embedded modems, signal enhancing, SIM card sizes and band locking. We also discuss the coming era of 5G cellular.
Wired Networking
A core feature of a router is the ability to create a wired network in your RV or boat. This section goes over the benefits of wired vs. wireless networks.
Special Features: Data Tracking, Failover, Load Balancing, Bonding
This section overviews some additional features that might be found on mobile routers.
Travel Routers
Aside from full-fledged routers, there's also smaller scale travel routers that are for use in extending Wi-Fi range.
Overview Video
Archived from a member exclusive webinar, this video recaps the content in this guide.
---
Mobile Routers Product Guide
The grid below features popular Mobile Routers we are tracking on the market that might be of interest to RVers and cruisers.
Many of these routers we have tested extensively, and we offer free basic reviews, as well as in-depth analysis available to our premium members. Our members are also invited to share reviews and commentary of their own.
---
Summary: Mobile Routers Necessary for Connecting Multiple Devices
On the road or water, cable modems and DSL lines are rarely found - which is why mobile routers may become an important part of your mobile internet arsenal.
Routers serve as the central conductor on any network, acting as a gateway between the Local Area Network (LAN - your devices) and the Wide Area Network (WAN - 'the internet').
If you want to have more than one device taking advantage of a single upstream internet connection, or you want to connect your local devices together to share files or functionality, you need a router.
---
The guides below have been hand-picked to help further your education about selecting & using mobile routers.
Explore the Resource Center
The MIA is our premium membership - designed for those who consider mobile internet an important part of their lifestyle.
In thanks for making content like this possible, we offer a bunch of additional perks. From interactive guidance, in-depth member exclusive content, discounts, alerts, classroom and more.
We totally understand that a membership isn't right for everyone.
However you can still support this content with our supporter level for just $25/year.
With our gratitude, you'll get access to all our free content without the 'nags'.

Have Questions? Stay In the Know
Join our 'Library Desk':
Internet for RVers & Cruisers Facebook Group
We cross post news articles and guides, and can help point you in the right direction to our content here on the resource center.
It is with gratitude to our premium members that we're able to offer our free content - and for that, they also have access our private Q&A areas for more in-depth guidance.
Stay in the Know
We're constantly tracking the industry and analyzing new developments for mobile travelers. If you'd like to receive updates, we offer several ways: