Key Points:
Winegard has acquired WiFiRanger.
WiFiRanger will continue to operate as an independent brand - with distinct products.
Over time the two companies will be sharing a lot of technology and expertise.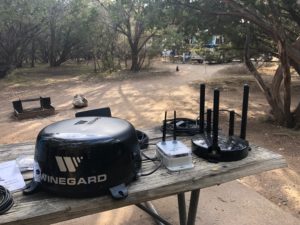 Two of the biggest names in RV connectivity have become one today as long-range Wi-Fi leader WiFiRanger has now become a part of Winegard, a company with an unmatched legacy in antenna design.
What does this mean for the industry as these two former rivals bury the hatchet and come together?
How will current customers and product lines be impacted?
What does this mean for the Winegard ConnecT 2.0, and the WiFiRanger Converge series - both current top pick mobile routers?
We were briefed on this acquisition in advance, and have some thoughts to share...
Video Version

Subscribe to our YouTube Channel
Winegard & WiFiRanger History
John Winegard invented the first multi-channel Yagi antenna way back in 1946, and founded Winegard corporation in 1953 to commercialize his designs. In the years since, Winegard has designed more than 1,000 antenna models and been granted more than 90 U.S. patents - and was even recognized by NASA for contributions to the Apollo 11 mission.
Winegard's focus for much of its history had been on broadcast TV antennas, expanding over time to satellite television and now more recently incorporating Wi-Fi and cellular into the mix too. Along the way, Winegard became a leading provider of satellite and terrestrial TV antennas to the RV industry.
WiFiRanger has been around (in its current form) since 2010 - designing and selling products to help RVers keep connected via long-range Wi-Fi, USB tethered cellular, and more recently - via integrated cellular.
As offering connectivity options has become more and more important to RV manufacturers - the two companies often found themselves competing for space on the roof of new RVs. WiFiRanger was venturing into Winegard's turf by offering RV manufactures the option of integrating a television antenna into the WiFiRanger Converge Teton. And Winegard started offering an upgrade path to add cellular and Wi-Fi to the Winegard Air 360+ TV antenna.
The two companies were on a collision course.
But with complimentary areas of expertise, why not work together?
Winegard + WiFiRanger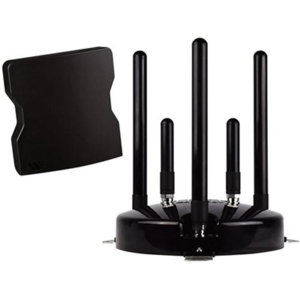 Winegard has always excelled at antenna design, but ever since we first looked at the original Winegard ConnecT back in 2016 (our story) we've been underwhelmed with Winegard's software and unfriendly and overly basic user experience.
WiFiRanger on the other hand has focused on providing more advanced features and a relatively intuitive and simplified user experience, and has really focused on local and long-range Wi-Fi performance and USB tethering. But we've yet to be impressed with WiFiRanger's ability to integrate internal cellular capabilities or easy to manage data plans.
If you were to combine the two companies, things start to get interesting.
Winegard's antenna design expertise and much larger economies of scale combined with WiFiRanger's software and experience with more advanced features like load balancing and the Safe Surf integrated VPN will make for some interesting future products, for sure.
Grant Whipple, Winegard President and COO, shared some of what he is looking forward to:
"I am thrilled to welcome WiFiRanger into the Winegard family. We've worked together for some time now, and they're phenomenal partners. WiFiRanger brings so much networking and cloud computing experience to the team. This depth of knowledge is going to make us stronger as we continue growing in areas such as 5G, AI, low-earth-orbit technologies, and more."
5G and low-earth-orbit satellite, integrated into a single roof-mounted receiver?!
Sign us up!
No Changes For Existing Customers, Yet...
There is definitely some interesting future potential that is likely to emerge from these combined teams - but there is nothing new to announce just yet.
WiFiRanger will continue to operate as a stand-alone brand supporting all the existing and upcoming Converge products, and the Winegard ConnecT and Air 360+ lines line will also continue on, as-is.
But in time we expect the two product lines will begin to, uhm, converge.
WiFiRanger's CEO Kelly Hogan tells us:
"We want to find the best of both teams, and implement them into a unified solution. That will take time."
And Winegard's Grant Whipple assures us that:
"Both platforms will see enhancements in features and performance."
WiFiRanger tells us that they already have their software running on Winegard ConnecT hardware, and that a migration path to WiFiRanger software (with additional features) is even being considered as an offering for existing ConnecT customers.
Concluding Thoughts
There is definitely a lot to like about what might come from a converged Winegard and WiFiRanger - or WineRanger, as we like to call it.
But of course - there is also a potential for less competition and innovation when competitors merge.
We're eager to see what comes from this newly combined company, and will be tracking to see what other competitors rise up with their own alternatives in response too.
Related News Stories
Related Guides