T-Mobile offers several postpaid plan options. This guide focuses on the Global Plus 15GB add-on for smartphones option - a Top Pick plan add-on for mobile data seekers.
For info on all of T-Mobile's direct postpaid options, see our guide:
Guide to T-Mobile Postpaid Plans
---
T-Mobile Magenta Global Plus 15GB Plan Details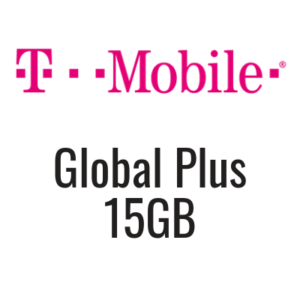 T-Mobile's Magenta smartphone plans are eligible for a $50 add-on called Global Plus 15GB.
Global Plus 15GB adds 15GB of high-speed international on device use (5GB of international hotspot data use), with 5GB of data use in Canada/Mexico.
Most alluring is that while in the U.S., the plan includes unlimited high-speed mobile hotspot use.
Do be aware that there is a fair use statement connected to the plan: "If you are a Heavy Data User and use a device as a mobile hotspot for the majority of your use over an extended period of time, we may contact you to discuss your plan and your options."
Global Plus 15GB Specs
Plan Specifications
Carrier Networks Used: T-Mobile
Carrier Relationship: Direct
Plan Types Available: Phone
Devices Permitted: Phone
Unlimited: Yes
High-Speed Mobile Hotspot Use:

Unlimited in the U.S.
5GB in Simple Global countries.
Tethering use is always at a lower priority than on device usage.

Throttling: None
Network Management: After 50GB
Video Streaming Resolution: HD (1080p) in U.S. & abroad
5G Access: Yes, with a compatible device
Device Purchase Required: No
Plan Period: Monthly
International Roaming:
Domestic Roaming: Yes
Data Roll Over: None
Overage Charges: None
Lines Permitted Per Account: 10
Extras:

Unlimited Gogo In-Flight Wi-Fi, usage, Voicemail to text, and name ID
Pricing Comparison Grid
Pricing Grid - Comparison of Currently Available Direct Postpaid T-Mobile Unlimited Plans
---
News, Videos & Status
---
Potential Alternatives to Consider:
Some of our TOP PICK Cellular Data Plans to also consider:
Learn More About Selecting Cellular Data Plans Explore Our Comparative Pricing Grid
---
This Review Contains Additional Member Exclusive Content!
We are Honored to be Member Funded!
No ads, no sponsors, no selling (but may contain affiliate links)
Our members fund our in-depth independent reviews.
This entry may contain additional member exclusive content such as testing notes, field testing data, user interface tours, comparisons to alternatives, analysis, tips, videos and discounts.
Members also get interactive guidance, alerts, classroom and more.
Purchasing Options
Purchasing Links Provided as a Courtesy
We do not sell any gear or equipment. These links are provided to make your shopping easier. While some may be affiliate links, our primary source of funding comes from our premium members.
Members, please do check your Member Discounts before placing an order.
T-Mobile's Global Plus 15GB Plan Page
Selecting the right cellular data plan for your mobile internet needs is only one part of the equation. Here's some further guides on understanding the selection process as well as the additional gear you might need.