Key Points:
T-Mobile has launched new data-only plans for hotspots & routers, including a 100GB plan for $50/month
They are also debuting the Inseego Mifi M2000 - their first high-end hotspot that is also 5G compatible
The carriers have also renamed their mid-band 5G coverage to 'Ultra Capacity' to differentiate it from their long-range 600 MHz coverage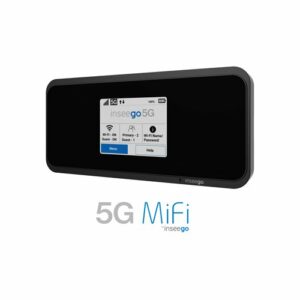 T-Mobile this morning went from having some of the worst mobile hotspot offerings direct from a major carrier to perhaps having the best with the introduction of new data plans and the Inseego 5G MiFi M2000 mobile hotspot.
T-Mobile now boldly claims to offer the "Industry's Best Hotspot Plans", saying:
"Today, the Un-carrier is demonstrating — again — just how powerful its industry-leading 5G network is by launching the industry's BEST standalone hotspot plans for your connected devices, including an absolutely WILD deal for 100GB of mobile internet data for just $50. T-Mobile is also launching the company's first 5G mobile hotspot with the ability to connect up to 30 devices — so customers can take those Wi-Fi-rivaling Ultra Capacity speeds on the go for connected devices."
T-Mobile's new data plans are exciting indeed - making it easier and more affordable than ever to add T-Mobile to your connectivity arsenal.
But, of course, there are some significant limitations lurking in the fine print...
Video Version
Subscribe to our YouTube Channel
T-Mobile's New Data-Only Plans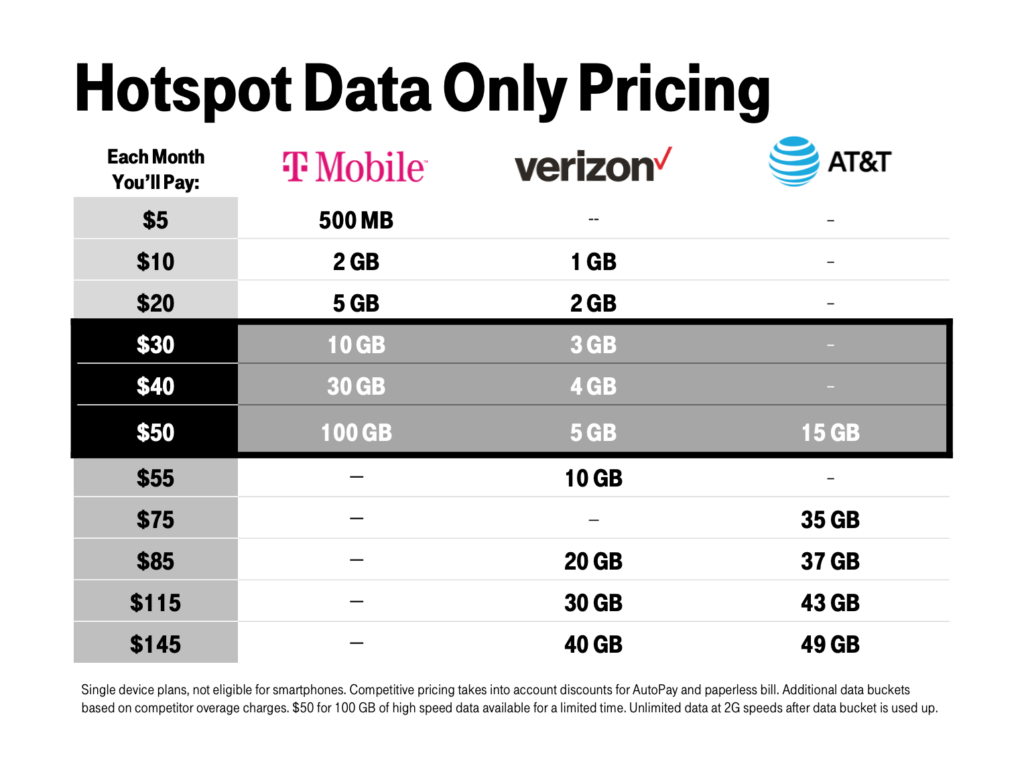 Up until now, T-Mobile has only offered paltry data only options with their top data plan being 22GB of high-speed data for $85/month.
T-Mobile's new hotspot data plans are available starting next week:
"Starting December 13, T-Mobile customers can get 5 GB of mobile internet data, including Ultra Capacity 5G speeds, for just $20 a month (with autopay), saving $30 over Verizon for that much data. Or get 10GB for $30, 30GB for $40 … or an incredible 100GB for just $50 a month (with autopay) for a limited time."
The 100GB plan is especially attractive, even beating out the 100GB for $60/month plan that T-Mobile retired from the Sprint line-up over the summer.
But there are some limitations in the fine print to be aware of.

First - though a companion T-Mobile voice line is NOT required, it seems that it may be necessary to get these advertised prices. Updated: We have multiple reports of the $40 surcharge not being charged.
The fine print for the 100GB plan says there will be an additional charge of:
"Up to $40 more per line/mo. without qualifying voice line."
Next - video streaming is throttled to 1.5 Mbps (480p "DVD Quality" Resolution) - meaning that sites like YouTube and Netflix will be limited - though of course, your data will last MUCH longer than if full speed 4K was allowed.
And of course - this is NOT an unlimited plan. Speeds are throttled across the board to just 128kbps for the remainder of the month once your data allotment is used up:
"Mobile hotspot plans include high-speed data up to allotment, and then max 2G speeds."
And these plans are subject to network management during times of congestion:
"During congestion, customers on the $50 hotspot plan may notice speeds lower than other customers and further reduction if using >100GB/mo. (>50GB/mo. for other hotspot plans), due to data prioritization."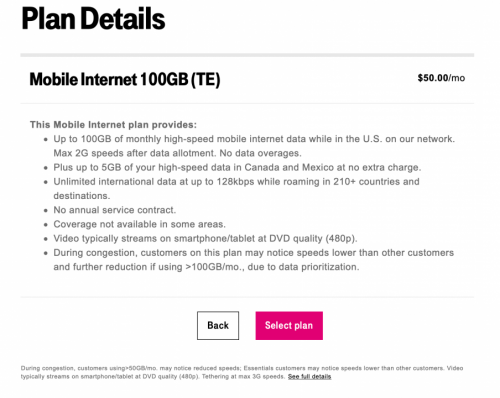 Roaming is also limited - with no data in Canada or Mexico included like on some other T-Mobile plans, and domestic roaming on other carriers is limited to a party 200 MB/mo. Edit to update: Now that the plan details are up on T-Mobile's site - the plans do include 5GB/mo of Canada/Mexico access at full speed, and unlimited data worldwide at 128 Kbps.
PC Magazine has also reported that you will now be able to add a hotspot device onto a T-Mobile Unlimited family plan, getting 50GB of "high speed" data and potentially unlimited but de-prioritized data afterward. If this bears true, it will fully make T-Mobile the leader in direct-from-the-carrier hotspot data plans at the current time. Edit to update: A T-Mobile representative confirmed to us that this is not true - the plan has the same data limit terms of service whether it is a standalone plan or added to a family plan.
It appears the new data-only plan will be available for T-Mobile branded hotspot devices, and it seems like unlocked hotspot devices from other carriers will be supported too.
But it is still unclear whether T-Mobile will allow this new plan to be activated on cellular routers, like the Pepwave MAX Transit. T-Mobile's press release explicitly welcomes AT&T and Verizon customers (and the plan will presumably work with unlocked hotspots from these carriers), but the fine print warns: "Not available for some devices." (Updated: routers seem to be supported!)
Also important to note - the 100GB plan is "available for a limited time" with no retirement date disclosed.
These plans -including the promotional 100GB plan - have also been made available via T-Mobile Prepaid for the same pricing scheme. Do note that T-Mobile prepaid customers are prioritized behind postpaid customers at all times.
Dec 15, 2020 Update: The plan is still not available online, but can be activated in stores and over the phone. The price is $50/month for the 100GB plan, and there does not seem to be a $40 surcharge for not having a phone line. Also, we have reports of the data plans being able to be directly activated on Pepwave routers, including Cat-18 variants. Also, the plans do include 5GB of Canada/Mexico usage a month, and unlimited international at 128kbps.
What Is "Ultra Capacity" 5G?
Also new today - T-Mobile has debuted a new marketing term "Ultra Capacity 5G", which is T-Mobile's new way of distinguishing its fast 5G from its "Extended Range" 5G.
T-Mobile explains it this way:
"T-Mobile's 5G network is America's largest with Extended Range (low-band) 5G that covers 270 million people over 1.4 million square miles — 2x more square miles than AT&T and 3.5x more than Verizon. And with Sprint now part of T-Mobile, the Un-carrier is lighting up mid-band Ultra Capacity 5G at a never-been-done-before pace to bring this super-fast 5G experience — than can bring download speeds around 300 Mbps and peak speeds up to 1 Gbps — to even more customers."
T-Mobile's very limited high-band mmWave 5G deployments are being lumped under the "Ultra Capacity" label as well:
"Ultra Capacity 5G includes mid- and/or high-band 5G signals."
For the first time, T-Mobile has updated its coverage maps to show where you might hope to be able to connect to this much faster "Ultra Capacity" network: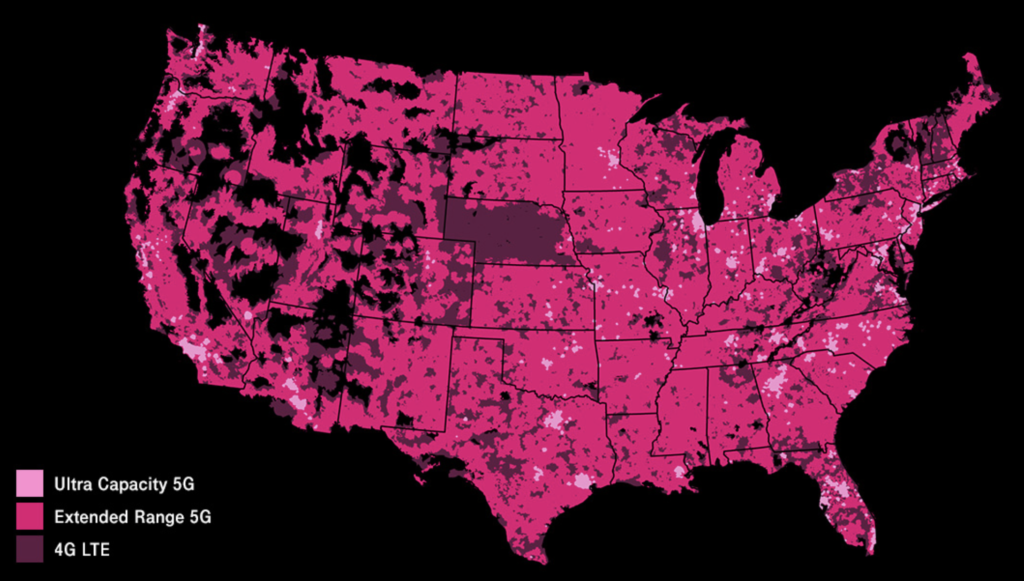 The Inseego 5G MiFi M2000B: No mmWave For You!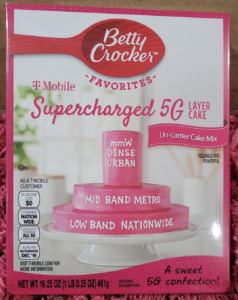 T-Mobile today also announced its first 5G mobile hotspot, perfect for taking advantage of these juicy new data plans: the Inseego 5G MiFi M2000.
This is a close relative to Verizon's flagship Inseego MiFi M2100 hotspot, but we were surprised to discover that T-Mobile has cut costs by leaving out mmWave high-band compatibility.
T-Mobile has made a big deal about being the only carrier to be pursuing a "three layer cake" 5G strategy - with low-band nationwide 5G providing broad coverage, mid-band 5G for capacity and speed, and high-band mmWave spectrum for really insane speeds in a few key areas.
But it seems that T-Mobile has decided to leave the topper off of the M2000 cake, shipping the M2000B variant that leaves the expensive mmWave antennas out.
But considering how extremely limited mmWave 5G coverage is at the moment (especially on T-Mobile), this is really not that much of a practical concern.
The Inseego 5G MiFi M2000 on T-Mobile is $336, or you can order it for 50% off (just $189) if you agree to be a part of T-Mobile's equipment installment program and keep a line active, and paying the hotspot off over a 24-month term.
Other than the lack of mmWave 5G and antenna ports - the M2000 is a very full-featured mobile hotspot, with impressive features even when outside of a 5G coverage area:
Wi-Fi 6 801.11ax support for Wi-Fi LAN - with up to 30 connected devices supported.
USB-C port for tethering and charging.
The USB-C port can also be used to charge external devices.
Guest Wi-Fi network support.
Up to 24 hours of claimed battery usage - plus there will be an optional even larger expansion battery pack available later this year directly from Inseego.
Integrated VPN support.
The cellular bands the M2000B officially supports are:
Sub-6 GHz 5G: n2 (1900 MHz), n41 (2500 MHz), n66 (1700/2100 MHz), n71 (600 MHz)
LTE Bands: 1, 2, 3, 4, 5, 7, 8, 12, 13, 14, 17, 25, 26, 28, 29, 30, 38, 39, 40, 41, 42, 46, 48, 49, 66, and 71
Do be aware however - because the M2000 is based on the Qualcomm X55 cellular modem, it will not be able use carrier aggregation to combine 5G on bands n41 and n71 since they use two different kinds of signals. Future 5G devices starting with the X60 modem in 2021 will have this capability, which should do a lot to increase T-Mobile's overall performance in many areas.
For more on understanding all of these 5G technologies, and the roadmap ahead:
But there are some major downsides to the M2000 to be aware of.
In particular, the M2000 does NOT have antenna ports, or an ethernet port - both significant limitations.
TIP: For more on why Wi-Fi 6 is such a big deal, see our news story on the technology. Be aware that the M2000 supports Wi-Fi 6, not the new and recently approved Wi-Fi 6E.
Concluding Thoughts

Up until today T-Mobile only offered extremely low-end Category 4 mobile hotspot devices, and rather poor data plans to go along with them.
It is great to see that changing substantially - it is about time that T-Mobile began to take mobile data users more seriously.
100GB of data a month may not be close to household usage, but it sure can help bridge the gap when combined with other plans - or be ideal for those who can keep their usage within the cap.
This plan is a new Top Pick Data Plan, with cost per GB the lowest we've seen in a long while.
It also appears that you potentially can add the new M2000 hotspot onto a T-Mobile Unlimited family plan, getting 50GB of "high speed" data and potentially unlimited by de-prioritized data afterward.
If this does indeed prove to be true, T-Mobile may suddenly be the most attractive option for those with heavy data needs. And the plan may just spark some competition with the other carriers to offer better data-only plans.
Related News Stories
Related Guides