Key Points:
T-Mobile's Mobile Internet 100GB for $50/month postpaid data plan for hotspots, tablets, and routers is back!
This plan is available through customer service representatives by phone, chat, or in a store - but not directly online.
The M2000 hotspot is also on promotion for free via bill credits for 24-months.
Over the past week, we've heard rumblings that T-Mobile's Mobile Internet 100GB/$55 ($50 with autopay!) postpaid data plan would be making a comeback. That comeback has been confirmed.
For $50/month with autopay, customers can lock in access to 100GB of 4G or 5G high-speed T-Mobile data. This price includes taxes and fees.
The Inseego M2000 5G mobile hotspot device is also being offered as a promotion with the plan for free via bill credits issued over 24-months.
Video Story
Subscribe to our YouTube Channel
Plan Details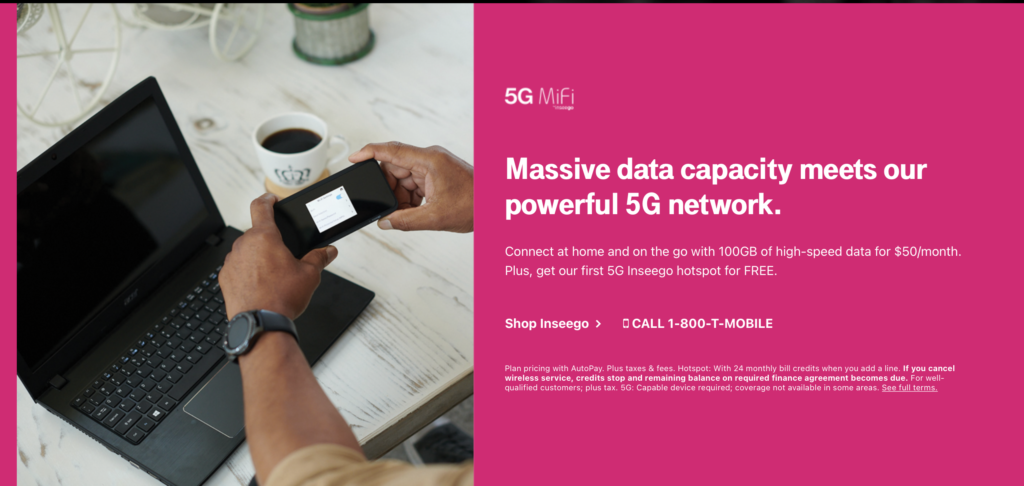 T-Mobile's 100GB/$50 plan offers customers 100GB of high-speed data. The plan costs $50 per month on autopay ($55 without), taxes and fees included. This is available through T-Mobile's postpaid only. (Prepaid's highest plan continues to offer only 50GB for the same price.)
This is presumed to be a limited-time offer again, although no end date has been disclosed.
Video streaming on this plan is noted to be at 480p "DVD Quality" resolution. This means that sites like YouTube and Netflix will be limited in quality, although your data will last much longer than if full-speed 4K streaming were permitted.
After 100GB of data is used, speeds are throttled across the board to 128 kbps for the remainder of the month. Data after 100GB is also subject to network management.
The plan includes 5GB/month of data access while in Canada/Mexico and unlimited data in 210+ countries worldwide at 128 kbps. Domestic roaming is limited to 200MB/month.
Plan History
This plan now has a short history of popping up - then disappearing.
A promotional Mobile Internet 100GB for $50 was initially announced - along with the debut of the M2000 mobile hotspot - in December of 2020. No end date for the data plan promo was noted at that time. (Our news story.)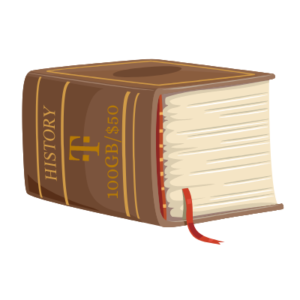 Spoiler!
That initial 100GB/$50 promo ended in late May 2021. We were able to alert MIAs with a few days of notice regarding the impending termination of the promo. At that time, the 100GB/$50 promo was immediately replaced by a 50GB for $50 plan for any device, or a 100GB for $60 specifically for the M2000 hotspot and select 5G tablets. (Our news story.)
During the first iteration of the promo, the mobile internet 100GB/$50 plan was also made available via T-Mobile Prepaid. The prepaid version was retired in March 2021 and replaced with a 50GB option. As of publishing, the latest 100GB for $50/mo promo is not available on T-Mobile prepaid.
The plan has never been available online. Instead, it has required activation through a customer service representative via phone, chat, or in-store. This remains true during the current promo as well.
As of June 23, 2021, the 100GB 5G for $60/month, first offered in May 2021, is no longer available. It has been replaced by the cheaper 100GB for $50/month promo plan. (No tears here!)
If you are on either the 50GB/$50 plan or the 100GB 5G for $60 plan which were available from May 21st through June 23rd, 2021, we recommend calling T-Mobile to adjust your pricing to that of the current 100GB for $50 4G or 5G promo.
Device Compatibility
This plan is available for any T-Mobile compatible hotspots, router or tablet - and SIM swapping is allowed.
If you're thinking of activating the Mobile Internet 100GB for $50 promo plan on a router, we recommend having a customer service representative run the IMEI on your device (or on an identical device) to confirm compatibility.
M2000 Promo
Along with the 100GB/$50 plan promo, T-Mobile is also offering their M2000 for free (previously it was offered at 1/2 off). This is T-Mobile's flagship 5G mobile hotspot device, however, the M2000 does lack antenna ports for signal enhancing.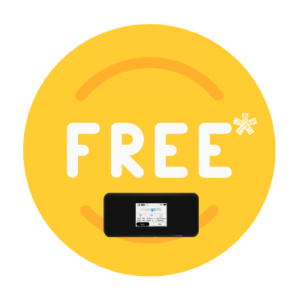 This promotion provides the M2000 (valued at $336) for free but ties you into a 2-year equipment installment plan (EIP). T-Mobile will credit your bill each month to cover the payment. There is no upfront cost, however, if you cancel your line before the 2-year time period has elapsed you will be charged the balance of the device.
See our Gear Center Guide for the M2000 for more information on the device itself:
T-Mobile 5G MiFi M2000 by Inseego
Thoughts on Getting this Plan
100GB of data a month may not encompass typical household data usage, but it sure can help bridge the gap when combined with other plans - or can be ideal for those who can keep their usage within the cap.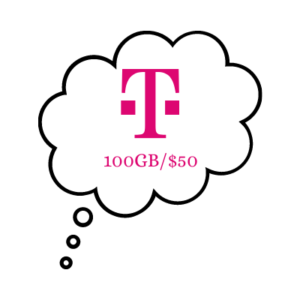 This plan has returned to our lineup of Top Pick Data Plans. During its hiatus, its 50GB/$50 and 100GB 5G for $60 replacements made appearances there in its stead.
If you missed out on this plan when the promo initially ended in May 2021 - go grab it before it disappears again.
If you snagged the 50GB for $50/mo plan in the past month, contact T-Mobile to switch to this new promo and double your data.
And, if you went for the 100GB 5G for $60/mo plan that locked you into the M2000, contact T-Mobile to switch to this current promo and reduce your costs and allow for SIM swapping.
This plan continues to be unavailable through T-Mobile's postpaid website. To get the Mobile Internet 100GB plan for $50 (with autopay) you need to contact T-Mobile directly by phone, online chat, or by moseying into a store.
Related Stories:
Further Reading & Related Guides: