This device or plan has been discontinued or we consider it obsolete. While current owners of this device or plan may continue to find performance to be adequate for the foreseeable tech-future, we do not recommend upgrading to or purchasing it.
The Netgear Fuse AC779S is a basic mobile hotspot compatible with Sprint's LTE network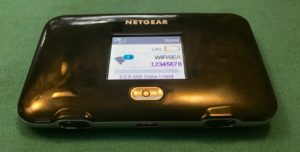 Most commonly found sold via Sprint's Boost Mobile prepaid brand, the Fuse has also occasionally been offered by Sprint's nonprofit service resellers in the past.
The one bright spot of this very basic device is that it has support for external antennas.
Specifications
# of Connected Devices:

10 Wi-Fi / Supports USB Tethering
Tethering failed in testing.
Control Panel: http://192.168.1.1 or http://MyHotSpot/
Default Password: "admin"

Networks supported:
LTE Bands: 25, 26, 41 (aka "Sprint Spark")
3G: No 3G fallback. Global roaming locked out.

LTE Performance Category:

Category 3
(Max Theoretical Speed: 100Mbps Down / 50Mbps Up)

Wi-Fi Technology / Frequencies:

802.11 b/g/n - 2.4GHz

Dimensions:

4.42" x 2.67" x 0.6" / 5.82 oz
Battery:
SIM Card Type: 3FF / Micro SIM

Retail Price:

$168
---
Review & Testing Status
We have obtained a Fuse for testing via the 4G Community unlimited Sprint based plan, and have shared our hands-on experiences and tips below.
---
Potential Alternatives to Consider:
For other popular mobile hotspots on the market - here are our featured options:
---
This Review Contains Additional Member Exclusive Content!
We are Honored to be Member Funded!
No ads, no sponsors, no selling (but may contain affiliate links)
Our members fund our in-depth independent reviews.
This entry may contain additional member exclusive content such as testing notes, field testing data, user interface tours, comparisons to alternatives, analysis, tips, videos and discounts.
Members also get interactive guidance, alerts, classroom and more.
Purchasing Options
Battery Purchase:
The guides below have been hand-picked to help further your education about selecting mobile hotspots and best utilizing them in your mobile internet setup.