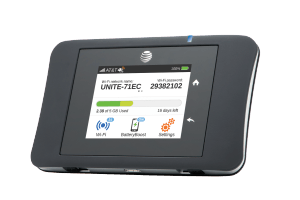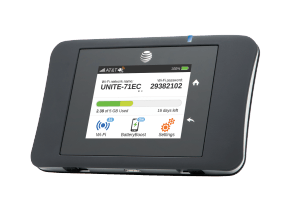 The Unite Pro was AT&T's flagship mobile hotspot from September 2014 until it was replaced by the Unite Explore in April 2016. In its day, it was a great hotspot and earned a place as one of our top picks.
When first released, this was overall the easiest to use and most feature-rich hotspot we had ever used, on any network.
It even addressed some of the little annoyances that plagued many previous mobile hotspots.
Specifications
# of Connected Devices:

15 Wi-Fi / Supports USB Tethering
WiFiRanger Tethering: Tested & Works
Pepwave Tethering: Tested & Works (not officially supported)
MoFi Tethering: Tested & Works
Control Panel: http://192.168.1.1 / http://attunitepro
Default Password: "attadmin"
Networks supported:
LTE Bands: 2, 4, 5, 17
4G/3G: HSPA+ 850/1900/2100MHz - Global roaming supported.
2G: GSM EDGE - NOT supported!

LTE-Advanced Carrier Aggregation:

Yes (2x 10MHz channels)


LTE Performance Category:

Category 4
(Max Theoretical Speed: 150Mbps Down / 50Mbps Up)

Cellular Antenna Ports:

2x MIMO / TS9 Connectors (Right is Primary)

Wi-Fi Technology / Frequencies:

802.11 b/g/n - Simultaneous 2.4GHz and 5GHz

Dimensions:

4.41" x 2.68" x 0.75" / 5.82 oz
Battery:

SIM Card Type:

3FF / Micro SIM

Retail Price:

$199
---
Review & Testing Status
Netgear provided us a review unit in September 2014 and we have extensively used this device as our primary AT&T mobile hotspot since.
The Review in a Nutshell: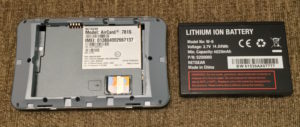 If you are looking for a hotspot on AT&T's network, this is a great option.
It may cost a bit more up front, but in the long run this is a solid choice with support for AT&T's future network technologies that will keep delivering increasing performance over the coming years as the other hotspot models are left behind, stuck in the slow lane and increasingly obsolete.
The rest of our in-depth review below in the member section includes these topics:
*new*

Video Overview and Tutorial
Cool Unite Pro Features
AT&T's Most Future-Proof Option - LTE-Advanced Arrives
SIM Compatibility
Unite Pro Bugs, Glitches, and Annoyances
Performance Results
Unite Pro Alternatives
---
For other popular mobile hotspots on the market - here are our featured options:
---
This Review Contains Additional Member Exclusive Content!
We are Honored to be Member Funded!
No ads, no sponsors, no selling (but may contain affiliate links)
Our members fund our in-depth independent reviews.
This entry may contain additional member exclusive content such as testing notes, field testing data, user interface tours, comparisons to alternatives, analysis, tips, videos and discounts.
Members also get interactive guidance, alerts, classroom and more. 
Purchasing Options
Replacement Battery:
Mobile hotspot devices are small, self-contained units that receive a cellular data signal and transform it into an internet connection. They are a cellular modem and router combined. Most can create their own personal Wi-Fi network.
They are typically designed with a specific cellular carrier in mind and require a suitable cellular data plan of their own to operate. You might see them called Jetpacks (Verizon's term for them) or MiFi (Inseego's name for them).
Here's a quick video going over the features of a hotspot, and what makes one better than another:
The guides below have been hand-picked to help further your education about selecting mobile hotspots and best utilizing them in your mobile internet setup.