This device has been discontinued or we consider it obsolete. While current owners of this device may continue to find performance to be adequate for the foreseeable tech-future, we do not recommend upgrading to or purchasing this device.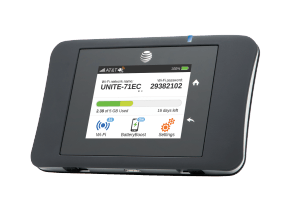 The Unite Pro was AT&T's flagship mobile hotspot from September 2014 until it was replaced by the Unite Explore in April 2016. In its day, it was a great hotspot and earned a place as one of our top picks.
When first released, this was overall the easiest to use and most feature-rich hotspot we had ever used, on any network.
It even addressed some of the little annoyances that plagued many previous mobile hotspots.
Specifications
# of Connected Devices:

15 Wi-Fi / Supports USB Tethering
WiFiRanger Tethering: Tested & Works
Pepwave Tethering: Tested & Works (not officially supported)
MoFi Tethering: Tested & Works
Control Panel: http://192.168.1.1 / http://attunitepro
Default Password: "attadmin"
Networks supported:
LTE Bands: 2, 4, 5, 17
4G/3G: HSPA+ 850/1900/2100MHz - Global roaming supported.
2G: GSM EDGE - NOT supported!
LTE-Advanced Carrier Aggregation: Yes (2x 10MHz channels)


LTE Performance Category:

Category 4
(Max Theoretical Speed: 150Mbps Down / 50Mbps Up)

Wi-Fi Technology / Frequencies:

802.11 b/g/n - Simultaneous 2.4GHz and 5GHz

Dimensions:

4.41" x 2.68" x 0.75" / 5.82 oz
Battery:
SIM Card Type: 3FF / Micro SIM

Retail Price:

$199
---
Review & Testing Status
Netgear provided us a review unit in September 2014 and we have extensively used this device as our primary AT&T mobile hotspot since.
The Review in a Nutshell: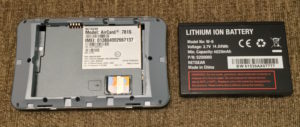 If you are looking for a hotspot on AT&T's network, this is a great option.
It may cost a bit more up front, but in the long run this is a solid choice with support for AT&T's future network technologies that will keep delivering increasing performance over the coming years as the other hotspot models are left behind, stuck in the slow lane and increasingly obsolete.
The rest of our in-depth review below in the member section includes these topics:
*new*

Video Overview and Tutorial
Cool Unite Pro Features
AT&T's Most Future-Proof Option - LTE-Advanced Arrives
SIM Compatibility
Unite Pro Bugs, Glitches, and Annoyances
Performance Results
Unite Pro Alternatives
---
Potential Alternatives to Consider:
For other popular mobile hotspots on the market - here are our featured options:
---
This Review Contains Additional Member Exclusive Content

We are honored to be able to present the above overview for free without 3rd party advertising or sponsorships. We are not paid by the manufacturer of this product to provide this listing or review, and nor are we selling this equipment or plan (purchasing links are provided below as a courtesy and some may be affiliates).
Our members have funded this resource center and any extensive hands on time
we have spent with the product to review it.
The in-depth portions of this review are made available to them which might contain: hands on testing notes, field testing data, user interface tour, product analysis, comparison to alternatives, setup tips, video tutorial, insider tips, vendor discounts and fellow member experiences.
If you're a member, please log in to continue with this review.
If you're not a member.. please consider joining us!
Purchasing Options
Replacement Battery:
The guides below have been hand-picked to help further your education about selecting mobile hotspots and best utilizing them in your mobile internet setup.