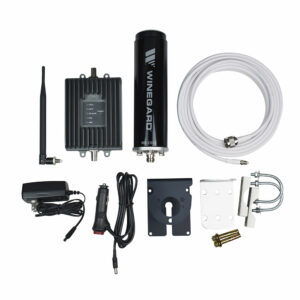 Winegard is most known for their TV antennas, and has been diving into the world of mobile internet with their roof top cellular embedded Wi-Fi units.
In November 2020 they move further into mobile internet by offering the Winegard RangePro- which they list as powered by SureCall. It is based on the Fusion2Go 3.0 RV booster kit, released by SureCall in March 2018.
The kit is now also licensed to Winegard, and offered at $50 above the same kit branded by SureCall.
Specifications
Model #: WB-1035
Gain: 50dB
Max Uplink Power: 29 dBm
Impedance: 50 Ohm
# of Devices Boosted: Multiple
LTE Bands Supported: 12, 17, 13, 5, 2, 25, 4
Uplink Frequency Range (MHz): 698-716 / 776-787 / 824-849 / 1850-1915 / 1710-1755 (G Block Included)
Downlink Frequency Range (MHz): 728-746 / 746-757 / 869-894 / 1930-1995 / 2110-2155 (G Block Included)
Carriers Supported: Verizon, AT&T, T-Mobile, Sprint and US Cellular
Internal Antenna: SC-120 'ducky' whip antenna
Wire Lengths: Exterior - 40'
Range of Interior Coverage: 3-10'
In Motion Usage: Yes
Power Supply: DC Car Charger - 6-15V and AC power supply
Power Consumption: <10w
Connectors: FME Male (both ends)
Booster Dimensions: 5.625" x 4" x 1.125"
Warranty: 3 Year
Price: $499.00
---
News, Video & Status
We reviewed the SureCall Fusion2Go 3.0 (full review) when it was first released.

Members can also dive deep into our field testing results in our Testing Lab:
---
Potential Alternatives to Consider:
For other booster options on the market worth comparing this model to - here are our featured options:
Learn More About Selecting Cellular Boosters
---
This Review Contains Additional Member Exclusive Content!
We are Honored to be Member Funded!
No ads, no sponsors, no selling (but may contain affiliate links)
Our members fund our in-depth independent reviews.
This entry may contain additional member exclusive content such as testing notes, field testing data, user interface tours, comparisons to alternatives, analysis, tips, videos and discounts.
Members also get interactive guidance, alerts, classroom and more.
Your Exclusive Member Content
The content below has been created just for YOU - our premium members. This content is part of your exclusive perks.
In respect of your fellow members who make this all possible, please don't share the details below outside of member spaces.
You are welcome however to SHARE A LINK to this page anywhere - non members will be able to view the public/free content contained above, with teases of the content below.
Thoughts & Analysis
Favorite Features:
Based on a solid - albeit not top performing - booster by SureCall.
Potential Downsides:
Priced $50 more than SureCall branded booster with seemingly no value add.
While the Fusion2Go 3.0 performed well against the then equivalent weBoost Drive 4G-X RV kit, there are more options that have been released since then.
Other than Winegard branding, there nothing new about this booster kit that we haven't already covered in our SureCall review.
Share YOUR Experience!
The MIA is a community, and together we learn!
As our team has not had hands on time with this product or plan, please share your experience.
Join in the conversation below in the comments, and let's help each other.
Purchasing Options
Links Provided for Convenience
We do not sell any gear or equipment. These links are provided to make your shopping easier, and we do not endorse any specific vendor. Unless otherwise disclosed, only Amazon links are affiliate links (see our disclaimer).
To remain unbiased as possible, our primary source of funding comes from our premium members, and we have negotiated higher discounts from some vendors instead of accepting affiliate relationships.
Cellular boosters can be quite useful for boosting the signal to a smartphone to get a more solid phone call. But when it comes to enhancing cellular data performance, things get more complicated.
Because of a technology called MIMO (multiple in multiple out) that is essential to LTE and 5G data, often times the internal antennas on a smartphone or hotspot don't benefit from an amplified signal. Boosters also only cover a handful of the frequency bands the carries use for data.
But a booster can play a role in a mobile internet arsenal - as they excel during times when you are really far from a tower, or where upload speeds are important (such as video broadcasting).
For more on understanding boosters vs. MIMO - check out video:
For more on signal enhancing, including understanding boosters and the many forms they come in - follow up with our guides: