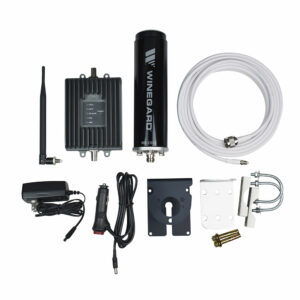 Winegard is most known for their TV antennas, and has been diving into the world of mobile internet with their roof top cellular embedded Wi-Fi units.
In November 2020 they move further into mobile internet by offering the Winegard RangePro- which they list as powered by SureCall. It is based on the Fusion2Go 3.0 RV booster kit, released by SureCall in March 2018.
The kit is now also licensed to Winegard, and offered at $50 above the same kit branded by SureCall.
Specifications
Model #: WB-1035
Gain: 50dB
Max Uplink Power: 29 dBm
Impedance: 50 Ohm
# of Devices Boosted: Multiple
LTE Bands Supported: 12, 17, 13, 5, 2, 25, 4
Uplink Frequency Range (MHz): 698-716 / 776-787 / 824-849 / 1850-1915 / 1710-1755 (G Block Included)
Downlink Frequency Range (MHz): 728-746 / 746-757 / 869-894 / 1930-1995 / 2110-2155 (G Block Included)
Carriers Supported: Verizon, AT&T, T-Mobile, Sprint and US Cellular
Internal Antenna: SC-120 'ducky' whip antenna
Wire Lengths: Exterior - 40'
Range of Interior Coverage: 3-10'
In Motion Usage: Yes
Power Supply: DC Car Charger - 6-15V and AC power supply
Power Consumption: <10w
Connectors: FME Male (both ends)
Booster Dimensions: 5.625" x 4" x 1.125"
Warranty: 3 Year
Price: $499.00
---
News, Video & Status
We reviewed the SureCall Fusion2Go 3.0 (full review) when it was first released.

Members can also dive deep into our field testing results in our Testing Lab:
---
Potential Alternatives to Consider:
For other booster options on the market worth comparing this model to - here are our featured options:
Learn More About Selecting Cellular Boosters
---
Thoughts & Analysis
Favorite Features:
Based on a solid - albeit not top performing - booster by SureCall.
Potential Downsides:
Priced $50 more than SureCall branded booster with seemingly no value add.
While the Fusion2Go 3.0 performed well against the then equivalent weBoost Drive 4G-X RV kit, there are more options that have been released since then.
Other than Winegard branding, there nothing new about this booster kit that we haven't already covered in our SureCall review.
Share YOUR Experience!

The MIA is a community, and together we learn!

As our team has not had hands on time with this product or plan, please share your experience.
Join in the conversation below in the comments, and let's help each other.
Purchasing Options