First announced in November 2015, the SureCall Fusion2Go began shipping in mid-2016, addressing many of the prior model's TriFlex2Go limitations.
The Fusion2Go supports five-bands simultaneously, and works with all the major carriers.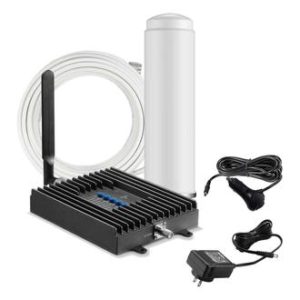 The original Fusion2Go requires manual adjustment of gain on each of the five supported bands. This potentially means that the booster will need to be tweaked in each new location, but the manual adjustments may prove beneficial to fine tune which bands you're picking up.
There is also a RV kit available for the Fusion2Go that includes the basic vehicle kit, plus adds on a higher gain building antenna, internal 'ducky' antenna that attaches directly to the booster and an AC adapter.
In mid-2017, SureCall released the Fusion2Go 2.0, which removed the manual dials - but SureCall tells us it is otherwise identical.
Specifications
Gain: 50dB
Impedence: 50 Ohm
# of Devices Boosted: Multiple
Exterior Antenna: 'Trucker Antenna' or 'Magnetic Mount' Options - 12' Cable, or the RV edition includes the SC-288W omnidirectional antenna with 40' of included low loss Coax cable.
Internal Antenna: Patch Antenna for vehicle kit, or the RV kit includes the SC-120 .
Range of Interior Coverage: 3-10'
In Motion Usage: Yes
Power: 5-15vDC
Power Consumption: <10w, <25w
Dimensions: 5.625" x 4" x 1.125", 7-7/8" X 5" X 1-3/16"
Warranty: 3 Year
List Price: $449 | RV Edition: $549
---
Review & Testing Status
RepeaterStore.com sent us the SureCall Fusion2Go-RV version for testing, which we included in our May 2017 testing round direct against weBoost 4G-X, Smoothtalker and Cel-Fi Go M. Our members have access to our field testing results here: Cellular Signal Enhancing Field Testing Results (2nd Quarter 2017)
Here is our unboxing video:

---
---
---
Purchasing Options
SureCall | 5GStore | UberSignal | RepeaterStore
REMINDER: In early 2018 this model was discontinued, and replaced with a newly redesigned Fusion2Go 3.0 with a lower price and more uplink power. Our gear guide page with the details on the new model is here.
---
Related News: