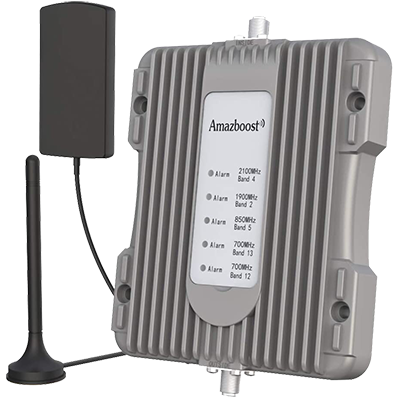 Amazboost is a line of boosters sold on Amazon that is based on a rebranded SolidRF amplifier. They sell several booster kits for home/office locations, and one for vehicles.
This entry will focus on the vehicle booster kit.
Specifications
Model: Amazboost Vehicle Booster
Gain: 45-50dBm
Max Uplink Power: 26dBm
Impedance: 50ohm
# of Devices Boosted Simultaneously: Multiple
LTE Bands Supported: 2/4/5/12/13/25
Exterior Antenna: Varies by Kit
Internal Antenna: Varies by Kit
Range of Interior Coverage: Not specified
In Motion Usage: Yes
Power: 12V DC
Connecters: Not specified
Booster Dimensions: 7.16" x 6.1" x 1"
Warranty: 1Year
List Price: $199.99
---
News, Videos & Status
We do not have any plans to test this booster.
Related News:
---
---
Boosters are NOT the right choice for all applications.
They make the most sense for devices without antenna ports (like smartphones and tablets), or when in weak signal areas. However, for devices with antenna ports in mild to moderate signal areas - a direct-connected antenna can outperform a booster. And boosters can actually DECREASE data speeds in some conditions - never assume you need a booster on all the time - always test at each location!
Purchasing Options