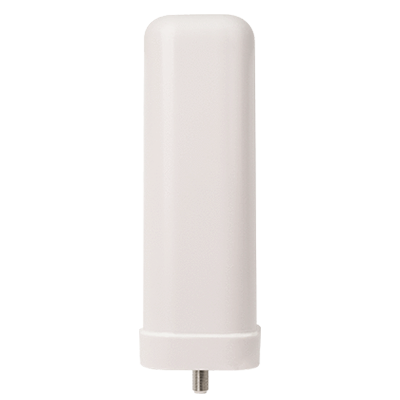 The weBoost 4G Omni-Directional antenna has been available as an option with weBoost's residential boosters for a while now. It was also kitted as the 'outdoor antenna' with the original weBoost Drive 4G-X RV cellular booster kit (is now the weBoost Drive X RV kit with a different style antenna).
Traditionally, it is an omni-directional antenna meant for building installations.
Specifications
Model:

304421
# of Antennas: Single

Direction:

Omni-directional
Frequency Range: 698-960 / 1710-2700 MHz

Impedance:

75 ohms

Cable Type & Length:

20'

Connector:

F- Female to SMA Male with adapter

Internal Ground Plane:

Yes (no external needed)

Dimensions:

7.5 x 2.6 x 2.6 in
Weight: 0.77 pounds

Mounting:

pole or wall
Outdoor Rated: Yes

Frequency / Gain:

698-960 MHz - 2dBi
710-2700 MHz - 4dBi

Retail Price:

$79.99
---
News, Videos, & Status
We tested the 4G-X RV cellular booster kit, and also the Omni Building antenna directly against the 4" Mag Mount and 24" 4G OTR antennas that come with the other 4G-X kits.
Here are testing rounds that this antenna can be found in:
More information on our initial impressions of this antenna (and the 4G-X kit) can be found here: weboost Launches Drive 4GX RV Cellular Booster Antenna Kit
---
---
Purchasing Options
Buy Direct from weBoost: