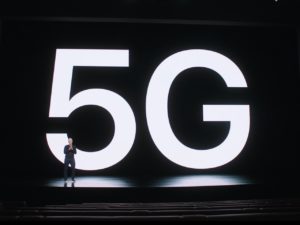 A month later than usual - Apple yesterday announced this year's batch of new iPhone models - the iPhone 12 mini, iPhone 12, iPhone 12 Pro, and iPhone 12 Pro Max.
And as expected - the headline feature this year is Apple moving the entire lineup to embrace fifth generation (5G) cellular technology.
Apple is going all-in with 5G cellular technology in the iPhone 12 - bragging about supporting more 5G bands than any phone in the world, peak download speeds of up to 4.0 Gbps, and support for both Sub-6 GHz and mmWave 5G frequency bands too.
Apple is not the first phone maker to embrace 5G - it never is the first to jump on new cellular technologies.
But because the iPhones are the best selling phones in the world - now that Apple is on board 5G is about to become a lot more mainstream. By this time next year, 5G support will be common on even mid-range phones from other manufacturers, and not just something found on high-end flagships.
So just what is new on the mobile internet front in the new iPhones?
And are there any iPhone 12 models to avoid - like how last year's basic iPhone 11 with 2x2 MIMO proved to be a disappointment when compared to the iPhone 11 Pro's 4x4 MIMO antenna?
Video Version
Subscribe to our YouTube Channel
iPhone 12 Cellular Capabilities
Though we will not know for certain until the hardware starts to ship next week and the first teardowns are published, it is assumed that all the new iPhone 12 models are using Qualcomm 5G cellular modems - either the X55 that has been used in most of this year's Android flagships, or perhaps the upcoming more power efficient X60.
UPDATE: Teardowns have confirmed that the iPhone 12 is using the X55 modem.
But despite using the same 5G chip as others, Apple has done completely custom 4x4 MIMO antennas, and is claiming to have support for more 5G bands than any other phone to date.
The list of supported 5G and LTE bands is impressive indeed:
Sub-6GHz 5G Bands: n1, n2, n3, n5, n7, n8, n12, n20, n25, n28, n38, n40, n41, n66, n71, n77, n78, n79
mmWave 5G Bands: n260

(39 GHz),

n261

(28 GHz)

4G/LTE Bands: 1, 2, 3, 4, 5, 7, 8, 12, 13, 14, 17, 18, 19, 20, 25, 26, 28, 29, 30, 32, 34, 38, 39, 40, 41, 42, 46, 48, 66, 71
This covers essentially every 4G or 5G cellular band currently in use in the world - making the iPhone 12 an unprecedented global roamer. Legacy 3G CDMA and UMTS networks are supported, as well as 2G GSM/EDGE networks.
Basically - the iPhone 12 can connect to just about anything.
In the USA - all iPhone 12 models should have identical cellular capabilities, no matter which carrier you buy from.
And unlike last year, the Pro and the regular iPhone 12 lineups should be identical when it comes to connectivity.
But beware of internationals models!
Missing mmWave Outside USA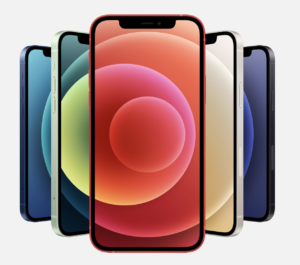 Ultra-high-frequency mmWave 5G signals enable amazingly fast performance, but the signal is exceedingly short range and it requires multiple very specialized (and expensive) antenna modules to receive.
Because mmWave is expensive to implement - many lower priced 5G phones have left this capability out entirely. Most analysts expected Apple to do the same - including mmWave only on the more expensive iPhone 12 Pro.
To the surprise of many, Apple has actually included mmWave support on every iPhone 12 model - somehow cramming this into even the tiny iPhone 12 mini, already the smallest 5G phone in the world.
But Apple is only offering mmWave in the USA.
Outside of the USA mmWave has not been widely embraced for 5G yet - so Apple has just left the mmWave parts out entirely.
There are several international iPhone 12 variants that will be identical to the USA version, other than cellular capability:
Canada / Japan Model - Lacks mmWave bands n260 / n261.
Other International Models - Lacks mmWave bands n260 / n261, and also lacks 600 MHz n71 and b71, and b14 (FirstNet).
This is an important consideration for Canadians - who may want to make sure to seek out the USA model for better future compatibility and resale value.
And the other international iPhone 12 models should definitely be avoided since they lack support for the 600 MHz bands that are critical for use on T-Mobile, and the FirstNet band that is so valuable on AT&T.
In other words - avoid Canadian models and grey-market imports when you are iPhone shopping!
Mid-Band 5G Support?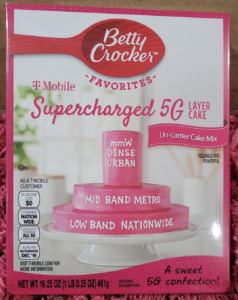 There are many devices on the market compatible with T-Mobile's mid-band 5G, known as band n41 - and the new iPhone 12 is of course compatible too.
But what about the other carriers, and their mid-band plans?
Will the new iPhone 12 be compatible with all the new spectrum that is being auctioned off this year?
AT&T and Verizon are both planning big 5G expansions onto mid-band spectrum in the years ahead, and they will likely be bidding heavy to acquire this spectrum in the FCC's C-Band auction that begins on December 8th.
If all goes as planned - this spectrum will likely start to become critical for 5G on AT&T and Verizon roughly this time next year.
Will an iPhone 12 purchased today be compatible?
Probably.
And according to some industry sources - the iPhone 12 may actually even be the first device with this future-proof capability, and the first Android devices that will be C-Band compatible will not hit the market until Spring 2021.
This means that the iPhone 12 "May Be the Only Future-Proof 5G Phone" currently available - though nothing is guaranteed in technology when forecasting that far out.
For more on the upcoming C-Band auction, see our recent story:
5G Cellular: Verizon & Dish Are Big Winners In CBRS Spectrum Auction, C-Band Auction Looms
iPhone 5G "Smart Data Mode"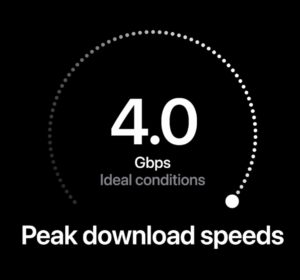 Also newly announced from Apple is a new operating system feature called Smart Data Mode that is designed to enable 5G performance without a huge impact on battery life.
Apple describes it like this:
"iPhone 12 models feature Smart Data mode, which extends battery life by intelligently assessing 5G needs and balancing data usage, speed, and power in real time."
Apple claims that 5G performance can be engaged instantly when needed, and it is all handled automatically behind the scenes.
It will be interesting to see just how well this works in real-world testing.
Personal Hotspot Defaults to 5GHz
One notable change is that the personal hotspot feature on the iPhone 12 will now use 5GHz Wi-Fi instead of 2.4GHz to broadcast the phone's Wi-Fi signal for other devices.
5GHz is faster and uses a less-crowded Wi-Fi frequency, so this change might provide a performance improvement in some cases. However, 5GHz Wi-Fi has a shorter range than 2.4GHz, so that is a tradeoff to be aware of. Additionally, some devices still don't support 5GHz Wi-Fi.
To account for this, the personal hotspot section of the phone interface has a new "Maximize Compatibility" selection. Enabling this will cause the phone to use 2.4GHz to broadcast the phone's Wi-Fi personal hotspot.
iPhone 12: Time To Upgrade?
Other than the major jump up to 5G, the new iPhone 12 lineup features the same connectivity capabilities as last year's iPhone 11: Dual SIM (nano and eSIM), Wi-Fi 6 (802.11ax) (but no Wi-Fi 6E yet this year), and Bluetooth 5.0.
Is it worth upgrading an older iPhone, just for 5G?
If you've got a relatively recent iPhone with support for 4x4 MIMO and the key LTE bands that matter to your carrier, rushing to get on 5G will probably not reveal much real benefits at all until the various 5G networks have had more time to mature.
Verizon has only launched its 5G Nationwide network this week, and AT&T's long-range 5G is still at best "very good 4G" and is in many places actually slower than 4G.
So unless you plan to be in those few areas where mmWave has been deployed, 5G will most likely not be all that exciting just yet.
The one potential exception is T-Mobile - which has a big head start in rolling out mid-band 5G that is aiming to cover 100 million Americans with truly next generation performance by the end of this year using the extensive mid-band spectrum holdings T-Mobile acquired by purchasing Sprint.
If T-Mobile is able to deliver on its 5G network promises (still a big IF), having 5G compatible device on T-Mobile might be worthwhile sooner than on the other carriers.
But of course - thought there is no reason to rush to get 5G, there is no longer any reason to avoid 5G. And even outside of 5G coverage - the new iPhone should be absolutely exemplary as a 4G device.
If you are tempted by any of the other features of the iPhone 12 (the 4x harder screen, nifty blue case, faster CPU, and better camera are all tempting) - the 5G is just a bonus that will eventually pay off down the road.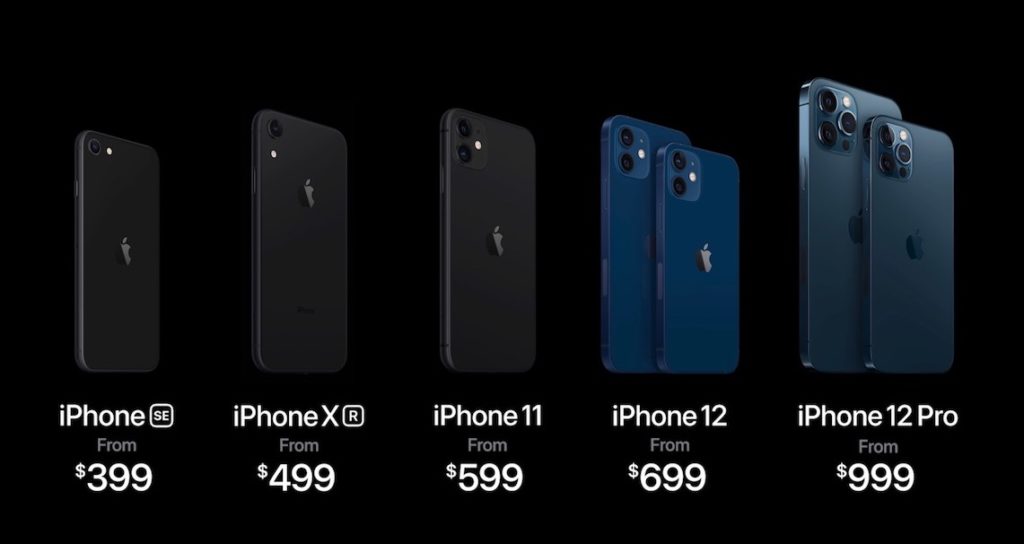 The iPhone 12 and iPhone 12 Pro will be available for pre-order this Friday (October 16th), shipping a week later.
The diminutive iPhone 12 mini and the hefty iPhone 12 Pro Max (with its major camera improvements) will be available for pre-order on November 6th, shipping on the 13th.
Value Tip: Since Apple has now discontinued the iPhone 11 Pro line, the iPhone 12 models are the only iPhones in Apple's current lineup that feature 4x4 MIMO cellular antennas. So from a connectivity standpoint, the value-priced second generation iPhone SE is especially attractive. It is basically most of the guts and the cellular capabilities of the iPhone 11, but in an older style case which still uses Touch ID (works with a mask on!) instead of Face ID. It is rare to find such a fast and modern phone for such a mainstream price.
Past iPhone Model Analysis:
Related Guides & Content: