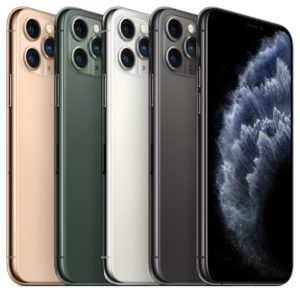 Apple announced the new iPhone 11, 11 Pro, and 11 Pro Max models last week - focusing on major advancements in photography and promising a surprisingly huge jump in battery life.
But Apple also announced "Faster Cellular" across the board, and there are a few other very interesting mobile internet advancements lurking deep in the specs too.
In typical Apple fashion a lot of the deeper details will only be revealed once the first phones ship and are dissected, but here is a rundown of what we know so far.
There is a lot to like, and for the base model iPhone 11 - a major disappointment.
This is our annual analysis of the latest iPhone release, specifically for it cellular modem performance and impact in a mobile internet setup.
Video Version
"Faster Cellular"
Apple didn't reveal the specific details of the modem chipset the new iPhone is using other than the say it is "faster" - but since Qualcomm and Apple only recently settled their feud there has very likely NOT been enough time for Apple to switch from an Intel modem to a Qualcomm modem, meaning that Apple will still lag slightly behind the peak capabilities of a few recent Qualcomm-powered Android flagships..
The most likely modem candidate for the new iPhone 11 line is the brand new Intel XMM 7660 modem, a Cat-19 cellular device capable of peak theoretical speeds of 1.6Gbps down and 150Mbps up, with 7x carrier aggregation.
This is a pretty substantial jump over the 1Gbps peak of last year's iPhone XS, though on most real world networks today you will be hard pressed to find situations where you will see more than a roughly 20% expected speed difference.
The USA model phones support very nearly every LTE Band in active use:
1, 2, 3, 4, 5, 7, 8, 12, 13, 14, 17, 18, 19, 20, 25, 26, 29, 30, 34, 38, 39, 40, 41, 42, 46, 48, 66, 71
This is almost the exact same list of bands as last year - with two interesting changes:
LTE Band 42 In, LTE Band 32 Dropped - A very minor shift in European roaming.
LTE Band 48 (CBRS) - This is potentially a big deal. CBRS is a new LTE Band (see our glossary for more) that is just now getting approved for use, and it allows for LTE networks to be deployed on this band without getting a government license. Multiple carriers will cooperatively share the CBRS airwaves (similar to how devices share Wi-Fi spectrum), and there is even the potential for private CBRS networks that use LTE technology but which do not rely on a commercial carrier at all. It is still very early days in the rollout of CBRS, but Verizon is aiming to use this band soon for extra capacity and it is nice to see that the iPhone is ready for whatever else is to come.
With so many bands supported, the iPhone will remain one of the best devices out there for global roaming.
ALERT: Apple is making a single iPhone 11 / 11 Pro / 11 Pro Max model that works with every carrier in the USA. This means, unlike in some past years, there is no worry about tracking down an AT&T or Verizon model for best performance. Phones purchased from a carrier may be initially locked to that carrier, but if you buy directly from Apple you can get an unlocked iPhone on day #1.
But - beware of international or Chinese iPhone 11 models. The models being sold overseas have almost identical cellular capabilities, but are missing out on key domestic LTE bands like AT&T's LTE Band-14 "FirstNet" and T-Mobile's extended range LTE Band 71. International models also lack the CDMA radio needed for 3G fallback on Sprint and Verizon too.
Dual SIM / Dual Standy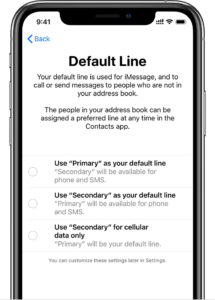 Just like last year, the new iPhone 11 models have a physical SIM slot and also support an eSIM - allowing you to have two plans active and connect to two carriers at once.
This is a very handy feature - we tend to keep Verizon and AT&T plans active in our phones to guarantee the best possible coverage.
Read our in depth coverage from last year's launch for more details on how this works.
4x4 MIMO on the Pro Only
One very disappointing detail has now been confirmed - the base model iPhone 11 will only have a 2x2 MIMO cellular antenna.
Only the Pro models will have four cellular antennas to unlock the 4x4 MIMO goodness, enabling the Intel modem to work at its best.
This means peak theoretical speeds on the iPhone 11 are likely only 1Gbps, and in real world usage this means you might see 20% slower speeds on average compared to the two Pro models.
And in some situations - without 4x4 MIMO cellular speeds may even be cut in half!
No 5G (This Year)
As expected, Apple is waiting until 5G is more fully baked before offering a 5G model.
Rumors point to Apple switching to Qualcomm 5G modems for the 2020 iPhone models, especially since Apple's partner Intel is getting out of the modem business having fallen behind Qualcomm in moving to 5G.
Apple however recently hired Intel's entire modem team and is reportedly now working on a custom 5G modem of its own.
That custom modem will take several years to be ready however - in the meantime Apple will be in sync with the same Qualcomm modems that the other flagship Android phones tend to use.
Faster Wi-Fi Too - 802.11ax Wi-Fi 6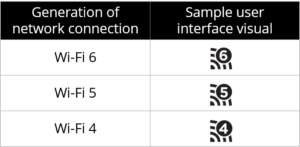 The new iPhone 11 models are the first Apple devices to support the next generation Wi-Fi standard - "Wi-Fi 6" which is also known as 802.11ax.
Wi-Fi 6 compatible routers are still exceedingly rare, but as this new technology begins to go mainstream it will allow for substantially improved Wi-Fi performance, particularly in congested areas.
For a lot more on Wi-Fi 6, see our story from last year when the spec was finalized:
Wi-Fi Alliance Eliminating 802.11 Alphabet Soup – "Wi-Fi 6" Coming Next Year
Ultra Wideband Chip?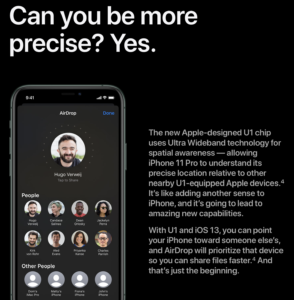 There is one other new addition to the "Cellular and Wireless" section of Apple's spec sheet - referring to a new Ultra Wideband chip.
Other than to say that the chip is for "spatial awareness" and to enable future features, Apple has not revealed many details about this new U1 chip's capability at all.
The best guesses are that Apple will soon launch their own small tracking tags (similar to Tile) that you can stick onto things you do not want to lose.
The Ultra Wideband chip will be able to communicate with these tiny devices - and will be able to calculate the exact direction and distance to them so you can zero in on them.
This chip will also allow for very precise indoor location sensing - imagine indoor GPS that is accurate to within a millimeter.
Details around tracking range and any potential for fast data transmission over this ultra wideband channel remain unknown - but it sounds like there might be some neat stuff brewing.
Ultra Wideband technology has been in the works for decades, and so far has only been used in a few industrial applications.
But some analysts think that Apple standardizing it might unleash an Ultra Wideband revolution the same way that Apple standardizing on Wi-Fi in the iBook in 1999 launched the Wi-Fi everywhere era.
Conclusion: Solid Phones, Cheaper Starting Price
The iPhone 11 Pro and 11 Pro Max have the same starting prices as last year's XS models, but the iPhone 11 is $50 less than last year's iPhone XR it is replacing in the lineup - starting at just $699 this year.

Considering that the iPhone 11 has the same CPU and nearly the same core capabilities as the 11 Pro models that cost at least $300 more, this is a pretty serious value. You even get the same Ultra Wideband U1 chip, ultra-wide-angle camera capabilities, pro quality video features, and only miss out on the telephone lens and ultra-sharp HDR screen.
And, of course, the 4x4 MIMO antenna.
If you don't mind being a year behind the curve, last year's iPhone XR is dropping $150 to $599, and the iPhone 8 (two years old) is dropping to just $449. Apple in the past has tended to drop old models by just $100 a year, so it is refreshing to see the starting prices coming down for everyone who does not lust after the pricey Pro.
We will leave it to other sites to discuss the camera and other features - but as far as pocket connectivity powerhouses, the new iPhones remain very worthy contenders.
Now you just have to ask yourself - is waiting another year for 5G going to ultimately be worth it?
Past iPhone Model Analysis:
Related Guides: