Smartphone or Jetpack?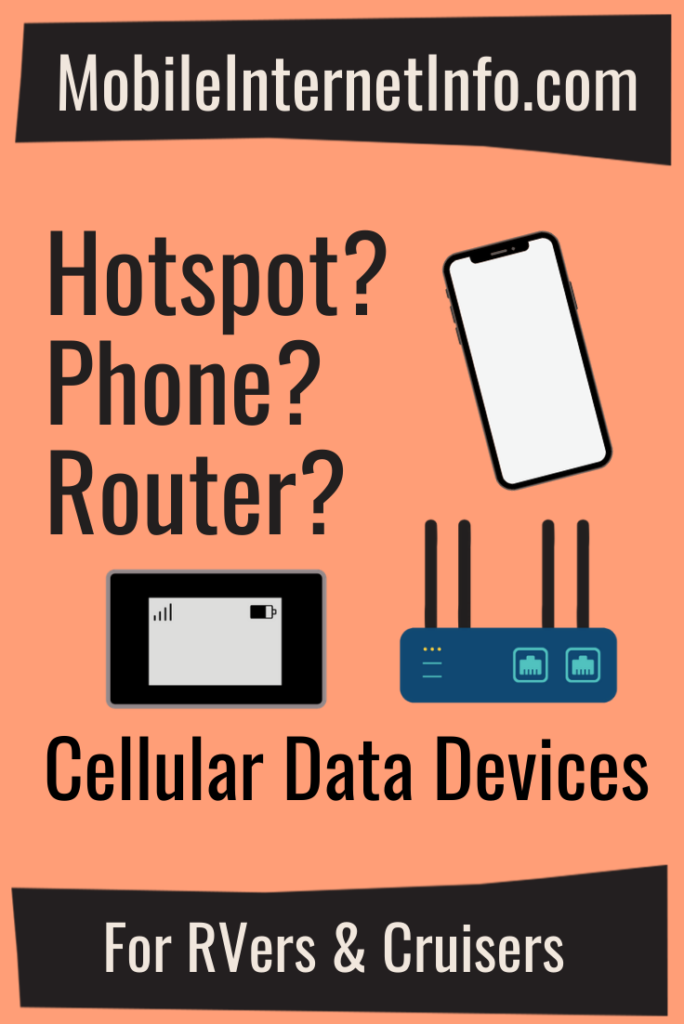 Cellular data is a popular choice for RVers and boaters for online mobile connectivity.
Once you decide on the carrier(s) you want in your arsenal, you have to decide what specific equipment makes the most sense for getting online.
Most typically, to use cellular data you need a device that can share a cellular connection with the devices you want to get online. This is generally done either by creating a Wi-Fi hotspot or via directly connecting devices together via USB or ethernet.
The basic options include devices that are purpose built for this including mobile hotspot devices & cellular embedded routers - or putting cellular connected tablets and phones to work serving double duty by providing an internet connection. And there are all-in-one solutions available that integrate in other features.
Keep in mind you'll also need a compatible data plan for the type of device you want to use in your setup.
What are the advantages and drawbacks of each? Those are the questions this guide is written to answer.
This Guide Brought to You by Our Members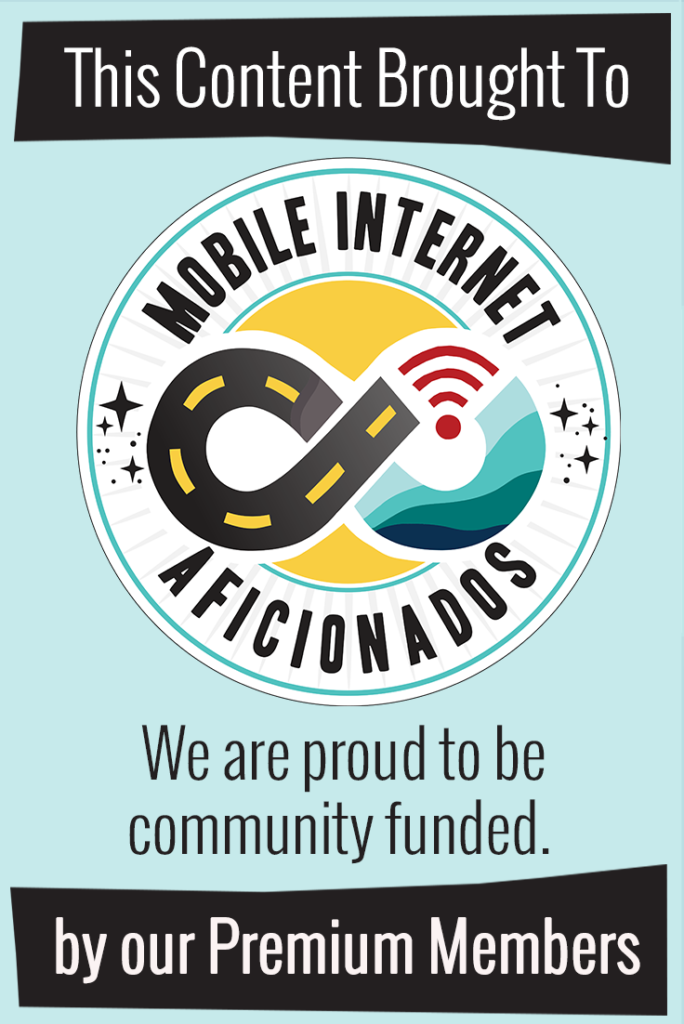 We are honored to be able to provide this guide for free - without 3rd party advertising, sponsorships or trying to sell you stuff.
In thanks for funding this resource center, our premium members also get access to all of our in-depth guides, classrooms, reviews, Q&A forums, discounts and more. But we understand, membership isn't for everyone - there are lots of ways to support our content.
If mobile internet is an important part of your lifestyle, here are ways you can help:
Video Overview
Pros & cons of smartphones and mobile hotspots:
---
Smartphone/Tablet Personal Hotspot & Tethering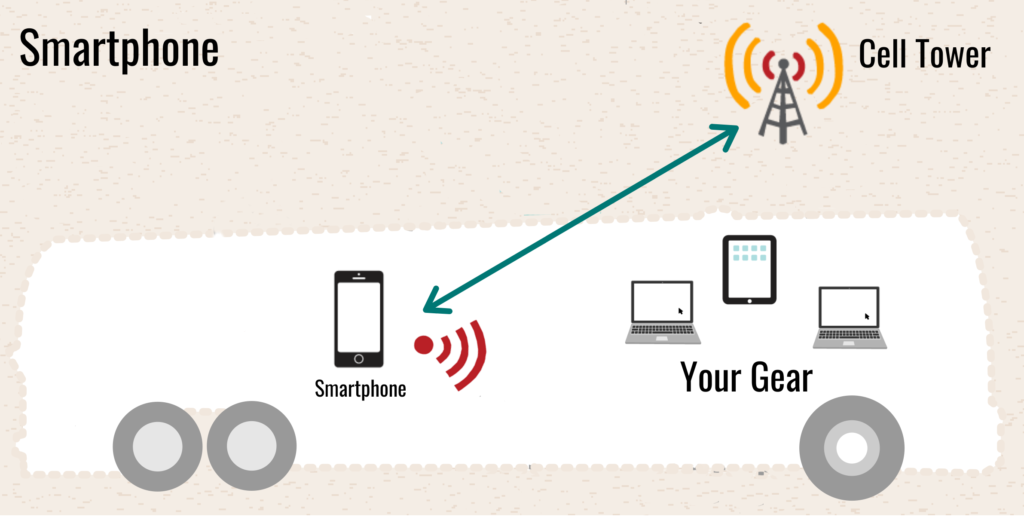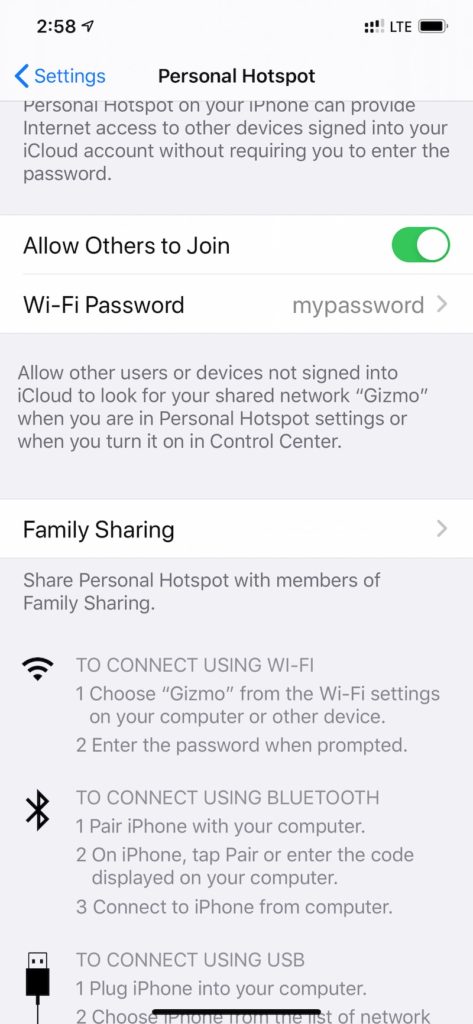 The simplest way that many utilize cellular data is by using the built-in personal mobile hotspot or tethering feature provided by most smartphones & tablets.
Most smartphones and cellular-enabled tablets can create a Wi-Fi hotspot and/or be directly tethered to a device, like a laptop, to get online.
Personal Hotspot is when you create your own Wi-Fi hotspot.
Tethering is when you connect directly with a USB cable.
The carriers treat both of these uses the same and classify it as mobile hotspot use. On most smartphone and tablet plans, there are different limits for mobile hotspot use than there are for "on-device" use.
Each device will be different in how you turn this feature on, but for many, it's just an option in the device's settings called Personal Hotspot – and you can easily configure a network name and password to protect the connection.
Tip: Some mobile routers even support USB tethering if you want to integrate a smartphone into your local area network.
Advantages
Super simple - Most people carry a smartphone anyway, so this can reduce the amount of gear you carry.
Data Plan Support - Mobile hotspot/tethering support is usually included at no extra cost on many plans, but there are generally limitations regarding hotspot/tethering use:

On most tiered data plans direct with the carriers that utilize a shared pool of data for devices, mobile hotspot is typically included at no extra fee.
On carrier direct postpaid "unlimited" data plans there are usually caps on how much data is available for mobile hotspot use at high/full speed. These tend to range from 10-100GB depending on the plan.
Some budget level data plans don't include any hotspot use, or only at super slow speeds.
Some prepaid and reseller plans don't officially include mobile hotspot use, and some may charge an extra fee.

Dual SIM - Newer dual SIM phones allow you to carry multiple data plans on a single phone, giving you carrier redundancy on one device.
On-Device Usage - Smartly using your phone or tablet can take advantage of unlimited data plans by using on-device data whenever possible. A lot of tasks can be done on-device, including data-intensive tasks like video conferencing and streaming (you can even mirror your stream to TV or larger screen.)
Disadvantages
High-Speed Mobile Hotspot Caps - Most "unlimited" smartphone data plans have caps on high-speed mobile hotspot use, which can make these plans great for a back-up option, but not a primary home internet replacement.
Not Ideal for Multi-Person Households - What happens if the person with the hotspot-enabled smartphone takes it with them to run errands? Everyone else needs to switch internet sources, which makes relying on smartphone hotspotting not ideal as a primary internet source.
Conflicting Functions - Phones and tablets and not primarily designed for hot-spotting, and sometimes utilizing the phone or tablet can interfere if you're trying to hotspot at the same time. For example, talking on your phone can sometimes take your devices offline or greatly reduce the network data-connection speed.
Not Always On - Many devices go to sleep when there's no activity, including turning off the personal hotspot feature. You'll need to wake your phone or tablet, and then re-enable the hotspot. This also makes this option not ideal for a connection you leave behind for remote access or monitoring.
Wi-Fi Confusion - Smartphones and tablets can also connect to other Wi-Fi networks to get their internet connectivity, and many try to default to this when available to save your data usage. When connected to other networks, the personal hotspot is disabled.
Battery Usage & Wear - Hotspotting drains the battery pretty quickly, so make sure the device is plugged in. Prolonged use may also not be recommended, as it can result in battery swelling due to excessive heat.
No Antenna Ports - Smartphones don't have antenna ports - which means you can't use external antennas with them, which are a great method for signal enhancing. An expensive cellular booster (which often isn't the best choice for data performance) is the only signal-enhancing option.
Limited Wi-Fi Hotspot Range - Most smartphones can only create a low powered hotspot utilizing 2.4 GHz Wi-Fi, which can often be congested and slower than more advanced 5 GHz Wi-Fi. Some flagship newer smartphones are coming with the option to utilize 5 GHz.
Recommended for:

Solo travelers
Those not dependent on internet for critical tasks
Those who want access to a secondary or back-up cellular network
Mobile 'out and about' internet access away from home
---
Mobile Hotspot Devices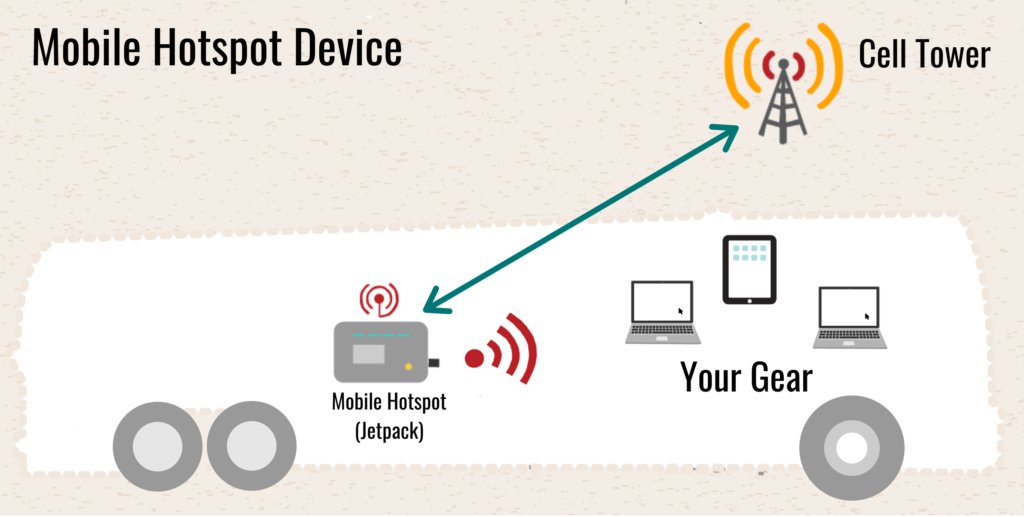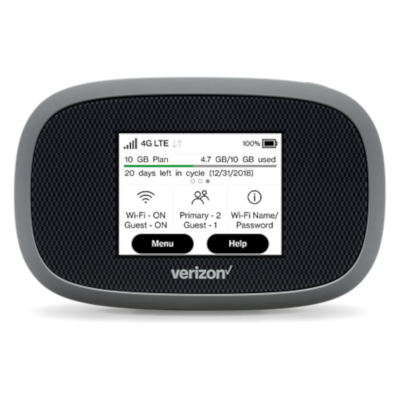 Also sometimes referred to as a Jetpack or MiFi (they're just marketing brand names for the same thing - kinda like Kleenex or Puffs for facial tissues), mobile hotspot devices are small self-contained units that receive a cellular signal and then broadcast a Wi-Fi hotspot that enables your other devices to get online.
They combine a cellular modem and Wi-Fi router, and, unlike smartphones, they can't make voice calls or do much else except provide access to the internet using cellular data.
Most mobile hotspots provide an internet connection to 5–15 devices at once via Wi-Fi. Most have a battery built into the device, which allows you to take it with you when on the go, and some even allow you to use the battery charge other devices.
They can usually be connected directly to a computer or mobile router with a USB or Ethernet cable (depending on the device). When connected to a router, they can become part of your local area network and connect many more devices.
Advantages
Self-contained - You can take your internet with you, even away from the RV or boat. These devices are portable, self-powered with a battery, and can be used anywhere there is a usable cell signal.
Plug-n-Play - These are fairly simple plug-and-play devices that are ideal for users who don't want to have to learn to manage other more complex options.
Dedicated to Data - These are dedicated devices that have one purpose - provide a mobile cellular data connection. They can be left in your tech cabinet or desk and, when plugged into power, create an always-on data connection.
Antenna Ports - Many hotspots have antenna ports, allowing you to connect antennas to enhance the signal, giving you more options for getting better data performance in addition to a cellular booster.
Consumer Pricing - Mobile hotspot devices tend to be more affordable than more advanced devices like cellular embedded routers. Mobile hotspot devices are generally priced from $50-500 retail.
More Wi-Fi & Connection Options - Many hotspot devices can transmit their Wi-Fi network over 2.4 or 5 GHz frequencies, giving you more options for higher speeds and/or avoiding Wi-Fi congestion. Some hotspots even have built-in ethernet ports for direct connections to a computer or router, and almost all support USB tethering to mobile routers or your computer.
Up to Date Tech - Newer cellular technology is usually available earlier on mobile hotspot devices than other types of devices, so this is one of the easiest and most affordable ways to update a mobile internet arsenal and to stay current, including 5G.
Disadvantages
Additional Device & Data Plan - You'll have the expense of a hardware purchase in addition to the smartphone you might carry with you already, and the device will need its own data plan.
Complex Firmware - Mobile hotspots aren't as complex as smartphones, but they do have a good amount of complex software (called firmware) installed inside them to allow them to function as a router and create a hotspot. A bad firmware release can potentially create issues that the manufacturer & carrier are slow to fix.
Limited Wi-Fi Range - Their Wi-Fi range will reach most areas of typical sized RVs and boats and sometimes outside, but range is still limited because the Wi-Fi radios don't have a lot of power compared to a dedicated router. This solution isn't optimal for those who want a solid signal further away than the size of a moderate household room.
Limited Data Plan Options - Check your cellular data plan carefully - carrier direct plans on these devices usually have capped high-speed data (even when added to "unlimited" plans) - so you'll need to obtain more affordable plans via alternative means (more: Top Cellular Data Plans for RVers & Cruisers)
Swollen Batteries - Some models with batteries require the battery to be inserted to operate, which means you'll need to regularly inspect the health of the battery for optimal operation, and potentially replace once or twice a year. Keeping the hotspot plugged in to provide an always-on connection can shorten battery life considerably. (more: How to Check Your Hotspot, Prolong Battery Life & Battery Replacement Guide)
Carrier Specific - Most hotspot devices are optimized for a specific carrier and the cellular frequency bands they utilize, so you'll likely need one device for each carrier you want. There is some cross over support however that can work in a pinch (more: Using a Carrier Specific Cellular Device on Another Carrier)
Recommended for:

Multi-person or multi-device households
Those who depend on cellular data for critical tasks
Those who want access to the latest network technology
Those who don't want to fiddle with tethering from a smartphone
Those who need their RV to have internet access even while they're away (such as remoting in to check on home automation systems).
Variations:
The Pantech UML295 'USB Stick'

USB stick device (or older style Express Card): These need to plug into something in order to be functional – either your computer or a compatible router. If you're traveling solo and just need to keep a laptop online, this may be an ideal solution on its own. If you plan to keep it plugged into a router most of the time anyway, it makes for a very elegant solution.

Connected Car: Some vehicles have a mobile hotspot built-in, perhaps as part of safety and information services, such as OnStar. The hotspot allows the vehicle to connect to the internet to provide safety, telematics, and concierge services, but it can also provide an internet connection for passengers.

The ZTE Mobley Connected Car Device.

For vehicles without this built-in feature, there are also devices that plug directly into the vehicle's diagnostic port (OBD-2) that enable this functionality. The downside is, in order to utilize the connection - generally the ignition has to be on, making it less than ideal for an RV connection when parked.
To learn more about selecting a mobile hotspot device and view the current top recommended models for each carrier:
Selecting Mobile Hotspot Devices
---
Mobile Routers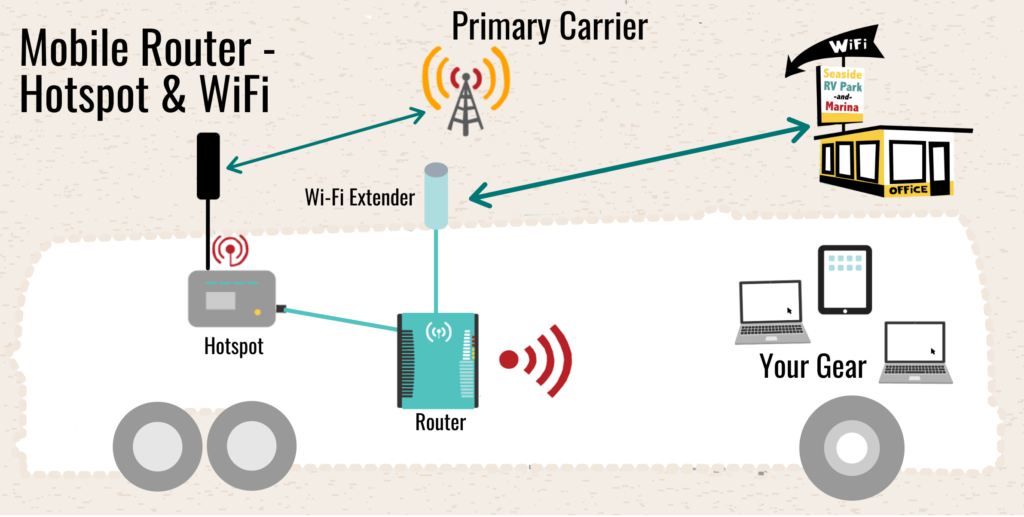 Mobile routers are used for creating a local area network that can bring together multiple internet sources, allowing your local gear to only need to connect to a single network (yours), provided by the router.
Router options range from basic to advanced and come with a range of features and pricing.
Most home & office based networking routers designed for wired internet connections don't include features that mobile consumers are likely to encounter and need - such as integrated cellular modems, USB tethering support, and Wi-Fi access points.
Here are the basic flavors that mobile routers come in:
The WiFiRanger Spruce can tether mobile hotspot devices & smartphones.

Tetherable Mobile Routers: Routers with this feature can be connected directly to smartphones and mobile hotspot devices to share the device's internet connection to your local laptops, tablets, gaming devices, printers, and streaming devices through the router.

Cellular Integrated Router:

Some routers come with one or more built-in cellular modems, allowing them to connect directly to cellular networks without the need for another device like a smartphone or Mifi.

The Pepwave MAX Transit Duo has two cellular modems - allowing you to be connected to two networks at once.

Options range from consumer-grade to enterprise-grade with some even supporting multiple carriers in one device.
Advantages
Advanced Networking - Ability to create a more robust local area wired and/or wireless network - with the ability to support printers, streaming devices, remote monitoring, back-up servers and any other network devices.
Centralizing Multiple WAN Connections - Mobile routers can combine and/or distributing multiple internet sources, acting a central gateway and potentially simplifying the individual login information needed for your devices that need internet access.
Extended Wi-Fi Range - Mobile routers have more powerful WiFi radios that can provide a connection further than what a smartphone or mobile hotspot device alone can provide.
Carrier Agnostic - Cellular embedded mobile routers tend to have modems that can utilize any carrier's network.
Dual SIM/Modem - Some models have dual SIM slots, so you can more easily switch between carriers or plans. And some models even have two (or more) modems, so you can use multiple carriers at once.
Disadvantages
Slower to Update - Cellular-integrated routers tend to be updated infrequently, so they often lag a year (or more) behind mobile hotspot devices and smartphones in supporting the latest cellular frequency bands and technologies. These will, for example, likely be the last class of device to see 5G compatibility.
Advanced - Utilizing a dedicated router may require some networking knowledge - some manufacturers, especially enterprise-level gear, design their systems and interfaces for professional IT staff and not end consumers. The user interface may be non-intuitive and consumer level support may not be offered.
Expensive - Higher costs of acquisition - anticipating the starting point of cellular embedded mobile routers to be around $350 and going up to around $5000. There are many suitable options below $1000 however. Tetherable routers will be less expensive, but of course also still require an external hotspot device for a cellular connection.
Limited Data Plan Options - Mobile routers are best paired with a high-capacity or unlimited cellular data plan, which can be difficult or expensive to find. Additionally, some data plans offered by carriers and resellers may allow usage on a mobile hotspot device, but not a cellular-embedded router. You will need to carefully research your data plans to ensure they will work with your chosen device and profile sufficient data for your needs.
Recommended for:

Those who need to connect many devices to the internet
Those who desire or need a local network
Those who have more complex networking or connetivity needs
Those who are a bit more tech savvy and comfortable with basic networking.
For a list & full overview of current Mobile & Integrated Router options, check our guide:
---
All-in-One Integrated Systems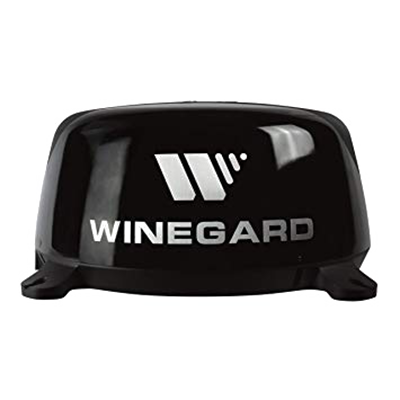 Integrated systems combine several mobile internet and "connected" features into a single, unified package. Some of these systems are designed for RV or boat manufacturers and may include "smart" features similar to "smart home" automation to allow remote control and monitoring of various systems.
Other systems are more exclusively focused on mobile internet and can combine a router, wi-fi extender, antennas, and a cellular modem into a single package.
Here are some common features that may be included in an integrated system:
Wi-Fi Extending
Mobile Router
Cellular Modem
Antennas (cellular and/or Wi-Fi)
Specialized software/apps
Remote control and monitoring:

Climate control systems
Lights, awnings, vents
Tank/propane levels
Remote troubleshooting and customer service
Geolocation services (Find/track your RV, theft recovery)
Remote monitoring (cameras, temperature)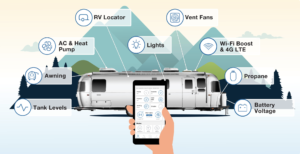 Advantages
Simplicity - An all-in-one package can provide a multitude of capability in a package that is simple to install and use with a single interface or mobile app.
Cost - An integrated system can often be cheaper than purchasing separate components and building your own system.
Non-Techy Friendly - Most integrated systems are designed for people who aren't into technology.
Integration - Automation, remote control, and monitoring features can be very handy.
Easy Data Plan Activation - These systems tend to come with special data plans that are easy to activate through the manufacturer or the device itself. Sometimes these plans can be very advantageous, sometimes super expensive.
Disadvantages
Lack of Upgradability - Many systems are all-in-one units with components that can't be upgraded. So if you want or need to upgrade one part of the system, you'd need to replace the entire unit, a potentially complicated installation.
Lackluster Technology - Most of these systems use lower-end technology to keep the price down, and lack features many will want, especially more advanced users.
No Customization - You get what you get - there is little-to-no option to customize features or hardware.
Inevitable Compromises - A one-size-fits-all solution will always come with compromises. They are general-purpose systems and a master of none.
Growing Pains - Integrated systems are relatively new and not yet fully developed. The systems may have bugs and other issues that cause frustration and affect usability.
Recommended for:

Those who are not tech-savvy
Those who don't need the best performance but want an easy, all-in-one solution.
For a list & full overview of current Integrated Internet System options, check our guide:
Connected Cars, RVs & Boats – Integrated Mobile Internet Systems
---
Cellular Data Resources & Sample Setups
Understanding cellular data gear and resources is big and complicated, with a lot to understand. For more on utilizing cellular in your mobile internet setup - including shopping for gear, data plans and signal enhancing - head on over to:
Our members also have access to examples setup to interactively explore with current featured options for each component (click to head on over!):
---
Conclusion: Keep Your Equipment Up To Date
Regardless of which method you decide on, for maximum coverage and speed we recommend purchasing the newest cellular devices you can and plan on replacing your hardware as often as every year or two to stay current.
All of the carriers are expanding their networks, and newer equipment is what gets you access to the latest frequencies and bands.
Mobile hotspot devices are small, self-contained units that receive a cellular data signal and transform it into an internet connection. They are a cellular modem and router combined. Most can create their own personal Wi-Fi network.
They are typically designed with a specific cellular carrier in mind and require a suitable cellular data plan of their own to operate. You might see them called Jetpacks (Verizon's term for them) or MiFi (Inseego's name for them).
Here's a quick video going over the features of a hotspot, and what makes one better than another:
The guides below have been hand-picked to help further your education about selecting mobile hotspots and best utilizing them in your mobile internet setup.
Explore the Resource Center
The MIA is our premium membership - designed for those who consider mobile internet an important part of their lifestyle.
In thanks for making content like this possible, we offer a bunch of additional perks. From interactive guidance, in-depth member exclusive content, discounts, alerts, classroom and more.
We totally understand that a membership isn't right for everyone.
However you can still support this content with our supporter level for just $25/year.
With our gratitude, you'll get access to all our free content without the 'nags'.

Have Questions? Stay In the Know
Join our 'Library Desk':
Internet for RVers & Cruisers Facebook Group
We cross post news articles and guides, and can help point you in the right direction to our content here on the resource center.
It is with gratitude to our premium members that we're able to offer our free content - and for that, they also have access our private Q&A areas for more in-depth guidance.
Stay in the Know
We're constantly tracking the industry and analyzing new developments for mobile travelers. If you'd like to receive updates, we offer several ways: