Key Points:
Future Wi-Fi devices will be able to take advantage of this spectrum to vastly increase Wi-Fi networking capacity.
In practice - the amount of useable Wi-Fi spectrum has WAY more than doubled!
New hardware will be required - so keep an eye out for Wi-Fi 6E compatibility later this year and in 2021.
The FCC last week approved the use of Wi-Fi technology over the 6 GHz spectrum band - more than doubling the amount of airwaves available for Wi-Fi networking.
This new 6 GHz band adds on to the existing 2.4 GHz and 5 GHz Wi-Fi frequency bands - and should go a long way towards reducing Wi-Fi network congestion and slowdowns.
The new 6 GHz Wi-Fi standard will be called "Wi-Fi 6E" - and the first Wi-Fi 6E compatible gear is expected to come to market later in 2020.
Even though it may take awhile before Wi-Fi 6E is widely supported - this new spectrum is indeed a big deal, and it has the potential to vastly improve Wi-Fi networking for everyone in the years ahead.
Video Version

Subscribe to our YouTube Channel
Just What Is Wi-Fi? Why Is More Spectrum Important?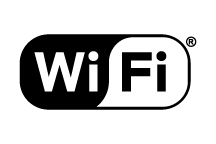 "Wi-Fi" is the friendly name for the IEEE 802.11 series of technical protocols commonly used for creating wireless local area networks.
When Wi-Fi emerged into the world in the late 90's, it opened the door to connecting computers to the internet and each other without needing to physically connect every device to wired networking cables.
It was revolutionary technology!
Instead of using wires, a Wi-Fi access point creates a local network by broadcasting over pre-defined unlicensed channels, hosting a network that nearby devices can connect to if they know the network's name and password.
For more on Wi-Fi basics, see our guide: What's the Difference Between Wi-Fi & Cellular?
Wi-Fi technology mostly works great for local networking - but if there are multiple nearby Wi-Fi networks trying to use the same channels at once, things get slower for every overlapping network.
More spectrum devoted to Wi-Fi means more channels, and that means less congestion and faster networking for everyone. That is why the Wi-Fi 6E news is such a big deal.
Read on to better understand why.
Wi-Fi Frequency Bands & Channels Explained
Most wireless standards traditionally uses licensed airwaves - such as FM radio, over the air television, and cellular. Whoever owns a license to a chunk of spectrum (a channel) in a particular area has exclusive rights to use it.
This makes for very controlled airwaves, with every transmitter centrally managed and synchronized to avoid broadcasting on top of anyone else.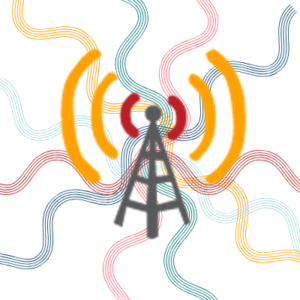 This is in sharp contrast to the short-range unlicensed chaos of Wi-Fi - where anyone can create a network, and all devices need to put up with the congestion and interference that comes from neighboring networks potentially broadcasting on top of each other over the same channels.
To keep this cacophony under control - the FCC has limited Wi-Fi usage to a small range of unlicensed channels, and the Wi-Fi technical standards include strict rules over how strong broadcasts can be (limiting overall range) and how competing signals need to deal with sharing the airwave with each other fairly.
Years ago, the FCC set aside two chunks of airwaves for unlicensed Wi-Fi usage - and broke each chunk into multiple channels to better allow neighboring networks to co-exist.
Here's an overview of these two Wi-Fi bands:
2.4 GHz Wi-Fi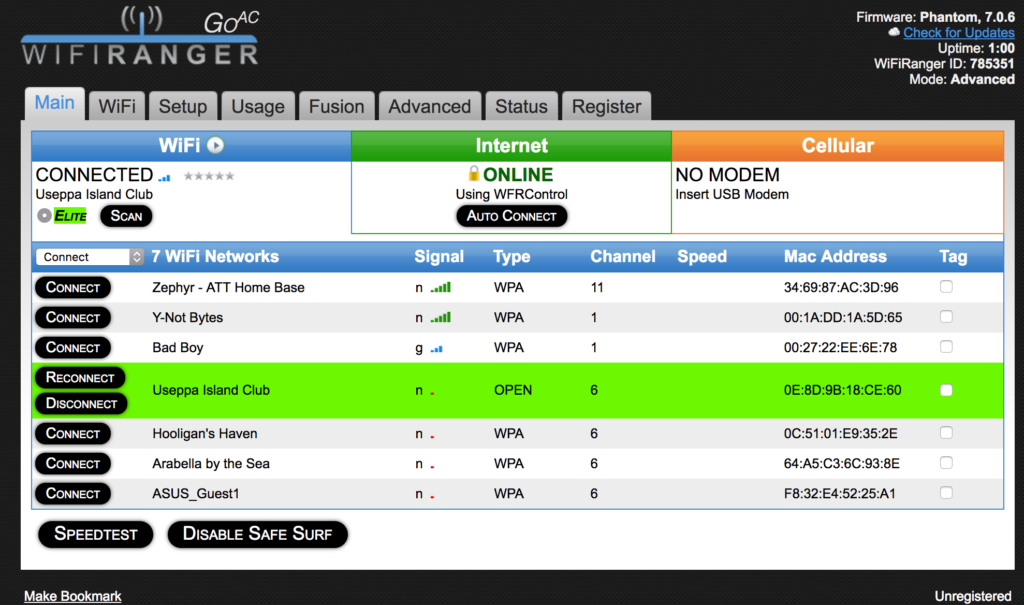 This is the original and still most widely used Wi-Fi frequency band, and it consists of 72 MHz of wireless spectrum broken up into 11 channels, each 20 MHz wide.
TIP: Think of a 20 MHz wide channel like an invisible 20-lane highway through the sky.
But the 11 channels actually overlap - so in practice, there are only three non-overlapping 2.4 GHz Wi-Fi channels available.
This makes it hard for Wi-Fi gear to avoid picking a channel that isn't already in use by a neighbor.
This same chunk of unlicensed spectrum is also used by Bluetooth devices, many cordless phones, baby monitors, garage door openers, drones, and more. And muddying up this spectrum further - microwave ovens also cause massive interference on these 2.4 GHz channels when in use.
It is amazing that Wi-Fi works as well as it does over 2.4 GHz, all things considered. But this frequency band can easily become so overwhelmed when in congested places like popular RV parks or apartment buildings as to be nearly unusable.
All things being equal - 2.4 GHz Wi-Fi is capable of substantially longer range than 5 GHz Wi-Fi because lower frequencies travel further. But because there are so few 2.4 GHz channels available to avoid overlap, Wi-Fi devices attempting to communicate over longer range often just end up interfering with each other.
5 GHz Wi-Fi
The FCC also set aside 685 MHz of 5GHz spectrum for unlicensed use in America, allowing for 28 non-overlapping 20 MHz channels - vastly more capacity than the three channels available on 2.4 GHz.
But over the years Wi-Fi networking standards evolved to also support 40 MHz, 80 MHz, and 160 MHz wide channels for vastly faster speeds compared to the original 20 MHz Wi-Fi standard - and suddenly those 28 non-overlapping 20 MHz channels are now just six 80 MHz channels, or two 160 MHz channels.
5 GHz Wi-Fi had evolved to get extremely fast, but Wi-Fi was once again at risk of congestion!
We used to describe 5 GHz Wi-Fi as "an uncrowded expressway" compared to the cacophony of 2.4 GHz. But not anymore.
Ever since the Wi-Fi standards evolved with 802.11ac (Wi-Fi 5) and 802.11ax (Wi-Fi 6) to take better advantage of 5 GHz Wi-Fi and to use wider channels for faster speeds, this band has grown increasingly congested too.
Particularly in offices, schools, and apartment buildings - 5 GHz Wi-Fi is starting to become just as saturated as 2.4 GHz with so many devices and so many networks all competing for the airwaves.
And with more and more devices broadcasting on the same limited 5 GHz channels, things start to get slower and slower for everyone.
NOTE: Complicating things further - a major chunk of the 5 GHz Wi-Fi spectrum conflicts with weather radar, and the Wi-Fi standard automatically disables these conflicting channels when weather radar is detected in operation nearby. When radar interference potential is factored in, 5 GHz Wi-Fi actually only has two fully "safe" 80 MHz channels, leading to an even more urgent need for more spectrum to avoid congestion!
Wi-Fi 6E: A Massive Spectrum Expansion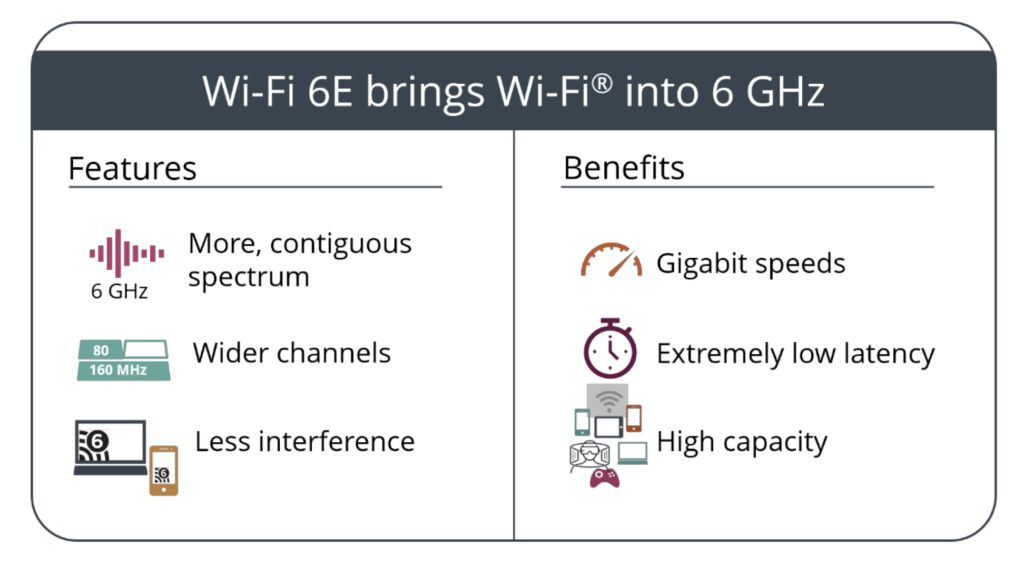 Seeing the need for more Wi-Fi capacity - the FCC has now authorized an additional 1.2 GHz of unlicensed spectrum for Wi-Fi use in the 6 GHz band (5.925-7.125 GHz).
Think of this as a massive 1,200 lane highway through the sky - now open to Wi-Fi traffic!
This equates to 59 new basic 20 MHz channels, or fourteen fast 80 MHz channels, or seven turbo-speed 160 MHz channels.
The 6 GHz standard is primarily focused on low-power and indoor broadcasts too - intentionally limiting range to reduce congestion even further too.
Overall - it will hopefully take a very long time before the 6 GHz band becomes overly saturated.
And in the meantime, as newer equipment comes out that takes advantage of 6 GHz Wi-Fi, even current devices on 5 GHz may benefit from having less competing traffic to deal with as newer devices start to use 6 GHz instead of 5 GHz.
"Wi-Fi 6E" vs "Wi-Fi 6" vs "Wi-Fi 5"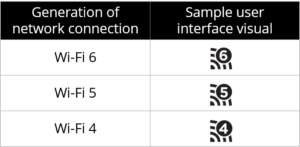 One unfortunately confusing thing about the new 6 GHz Wi-Fi standard is the marketing name that it will be known by.
Devices compatible with 6 GHz Wi-Fi will be labeled as supporting "Wi-Fi 6E", presumably because 6 GHz support is an extension of the currently available 802.11ax "Wi-Fi 6" standard.
Wi-Fi 6E devices will be able to do it all - 2.4 GHz, 5 GHz, and 6 GHz.
But to make things a bit more confusing - the current sixth-generation "Wi-Fi 6" runs on 2.4 GHz and 5 GHz. And fifth-generation "Wi-Fi 5" standards run over just 5 GHz.
Just what is up with all these names?
You see - in 2018 (our story) the Wi-Fi Alliance trade organization decided to give consumer-friendly marketing names to the various IEEE 802.11 technical standards that defined Wi-Fi networking, hoping to make it easier for people to tell which devices supported the most advanced standards.
For most people - all you need to know is that "Wi-Fi 6" is more advanced than "Wi-Fi 5", and both are more advanced than "Wi-Fi 4".
And as for "Wi-Fi 6E" - it is just Wi-Fi 6 with access to a lot more spectrum. Yay!

But if you want to get geeky - here are the key generational differences between the Wi-Fi standards still in common use:
802.11n (aka "Wi-Fi 4") – The 802.11n standard (finalized in 2009) increased the maximum raw Wi-Fi connection speed to 150 Mbps, and 4-stream MIMO allowed compatible devices to achieve as much as 600 Mbps using multiple antennas. The 802.11n standard supports both 2.4 GHz and 5 GHz frequency bands, but 5GHz support is optional, and many 802.11n "Wi-Fi 4" devices only support 2.4 GHz. And some 802.11n routers that offer support for 5 GHz only allow one frequency band to be used at a time – meaning that enabling 5 GHz means locking out all your 2.4 GHz equipment. Routers and hotspots that support "simultaneous dual-band" usage can connect to both 2.4 GHz and 5 GHz clients simultaneously - a key feature to look out for in this generation.
802.11ac (aka "Wi-Fi 5") – The 802.11ac standard (finalized in 2013) provides for Wi- Fi speeds well over a gigabit on 5 GHz. Most 802.11ac gear also simultaneously supports 802.11n on 2.4GHz for backward compatibility.
802.11ax (aka "Wi-Fi 6") – This is the latest full generation of Wi-Fi technology, with the standard only finalized in 2019. One key goal of 802.11ax is substantially improving performance even when the wireless network is heavily congested - targeting real-world performance 4x what 802.11ac "Wi-Fi 5" is capable of. The 802.11ax standard supports both 2.4 GHz and 5 GHz, and opens the door to other frequency bands being used for Wi-Fi as well - hence the expansion onto 6 GHz with Wi-Fi 6E.
Every generation remains backward compatible with the earlier technologies, so there is never a reason not to look for gear with the most advanced Wi-Fi standards support possible.
Wi-Fi 6E & 5G Cellular

Despite Wi-Fi and cellular being completely different technologies, there is one area where they are destined to overlap - when using a mobile hotspot or a phone to share a fast 5G cellular connection with all of your other devices.
And this is where Wi-Fi 6E may prove to be especially important!
After all, what good is being able to get over a gigabit of speed on a 5G cellphone if your local Wi-Fi network is too slow and saturated to share that raw performance with your other devices?
As 5G cellular technology matures and goes mainstream - we expect to see Wi-Fi 6E becoming a key enabler for actually sharing those connections.
When 5G hotspots and routers begin to become widely available, keep an eye out for Wi-Fi 6E support.
What Does Wi-Fi 6E Mean For Mobile Users?
With so much additional spectrum being opened up - 6 GHz Wi-Fi is inevitably going to be a big deal for everyone. But it will take a while.
You see - it is not as simple as just doing a software update to add 6 GHz support. New radio hardware IS required to utilize Wi-Fi 6E.
And since new hardware is required - it will take a LONG time before compatible routers and client devices are widely deployed, and even longer for public Wi-Fi networks to evolve to offer any sort of access using the new 6 GHz Wi-Fi band.
The emergence of Wi-Fi 6E will potentially be faster than the slow evolution from Wi-Fi 5 to Wi-Fi 6 though, because the jump from 6 to 6E only requires relatively minor modifications to the current Wi-Fi 6 chipsets to support 6 GHz usage.
Most Wi-Fi radio manufacturers are expected to embrace Wi-Fi 6E support very quickly - and by the middle of 2021 Wi-Fi 6E might be commonly found on the latest flagship phones, tablets, and laptops.
So how quickly will Wi-Fi 6E matter for mobile users?
It all depends on how you plan to use it...
Use #1: Local Area Networking
As 5G cellular becomes prevalent in mobile hotspots and cellular routers, having support for Wi-Fi 6E to take advantage of that increased speed will become more critical for creating your own local area network in your RV or boat.
Hopefully as devices roll out that support 5G cellular, they come equipped with Wi-Fi 6E.
Residential mesh-networking routers will also likely be quick to embrace 6 GHz Wi-Fi 6E - using 6 GHz as the backbone between the various access points on the mesh while 5 GHz and 2.4 GHz remains the primary channels for connected devices.
If you need a very fast local area network, and are often in congested locations, Wi-Fi 6E will definitely be something to start to seek out!
Use #2: Using Public Wi-Fi (via Wi-Fi as WAN)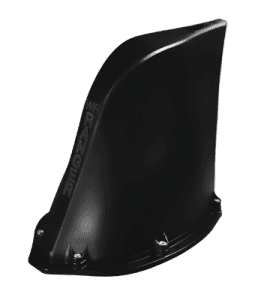 The other primary way mobile users take advantage of Wi-Fi is using public networks to connect to as their upstream source via Wi-Fi-as-WAN.
For those that utilize the Wi-Fi networks in this fashion at campgrounds, marinas, and other public places - needing compatibility with Wi-Fi 6E is still a long way off.
Most public networks are actually still 2.4 GHz only - and we are only the past few years seeing some move to embrace broadcasting over 5 GHz with Wi-Fi 4 or Wi-Fi 5 technology.
Those 5 GHz public networks are usually a vast improvement over the saturated 2.4 GHz band, so it makes sense to seek Wi-Fi as WAN gear that supports both 2.4 GHz and 5 GHz.
But public infrastructure tends to evolve slowly and gets upgraded rarely -so expect it'll be a long while before public access points have any 6 GHz channels that Wi-Fi 6E devices will be able to take advantage of.
Concluding Thoughts
Overall - for most everyday mobile users, "Wi-Fi 6E" will be a "nice to have" and not a "must have" technology, for now.
Only once there is a widely deployed ecosystem of Wi-Fi 6E equipment will it be really worth seeking out compatible routers to take advantage of it.
For the time being, even Wi-Fi 5 support is still rarely seen in mobile gear, let alone Wi-Fi 6 - so it feels premature to start holding off most purchases hoping for Wi-Fi 6E compatibility anytime soon.
But technology advancing is always a good thing - and a few years from now when Wi-Fi 6E is widespread, we will all be thankful for the extra speed and capacity to be had.
More Wi-Fi Related News
Peplink Product Line Update: Major Changes to the MAX Transit Line, MAX BR1 Pro 5G Hands-On, New Maritime Antennas, and More! Posted on: November 10, 2021
onSpot Marina Wi-Fi Service Banning Some Wi-Fi Extenders Posted on: July 8, 2021
New Peplink Hardware Coming Soon: MAX BR1 Pro 5G Router, AP ONE AX Lite Access Point, and Puma 421 7-in-1 Antenna Posted on: May 28, 2021
WiFiRanger Converge Everest: Ready At Last, With Upgraded Modem Options and New Pricing Posted on: April 23, 2021
Wi-Fi Technology Evolves: 6 GHz "Wi-Fi 6E" More Than Doubles Wi-Fi Network Capacity Posted on: April 27, 2020
Related Guides: