Key Points:
The iPhone 13 lineup looks superficially similar to the iPhone 12 line - but there are some critical key changes to be aware of related to 5G cellular capabilities.
Dual eSIM is a new feature of iPhone 13 which may eventually pave the way for the elimination of physical SIM cards entirely.
The new iPad mini is surprisingly capable. It has the same CPU as the iPhone 13, and is available with nearly identical cellular capabilities.
March 2022 Update: See updated sections below for information on AT&T's Andromeda spectrum, and the new third generation iPhone SE.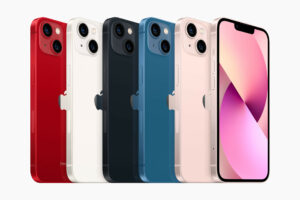 Apple yesterday announced this year's batch of new iPhone 13 models - the iPhone 13 mini, iPhone 13, iPhone 13 Pro, and iPhone 13 Pro Max.
Last year Apple moved the entire lineup to embrace fifth generation (5G) cellular technology. The jumps this year on the mobile internet front are a lot less dramatic.
But there are still some critical details (and new features) to be aware of in the iPhone 13 lineup - like support for dual eSIM, and several more key 5G bands.
And deep below the hood - the enhanced support for 5G carrier aggregation is likely to give the iPhone 13 substantial real world performance advantages over the iPhone 12 and all other older pre-2021 5G devices.
There are also some disappointing key limitations that remain on iPhone models sold outside the United States.
Also exciting and new - the iPad mini has been substantially updated, and it is now in many ways a miniature version of the iPad Pro, including support for 5G for the first time.
Since Apple (like it or not) defines what is considered "mainstream" for mobile technology for the upcoming year, join us in our annual deep dive into just what is new from the connectivity perspective in this year's updates.
iPhone 13 Video Analysis
Subscribe to our YouTube Channel
iPhone 13 Cellular Capabilities
Though we will not know with 100% certainty until the hardware starts to ship next week and the first teardowns are published, it is widely assumed that all the new iPhone 13 models are using Qualcomm X60 5G cellular modems - a more capable and significantly more power efficient modem chip than the X55 used in the iPhone 12 series.
UPDATE: TechInsights has published the first deep dissection of an iPhone 13, and as expected - it does indeed feature the Qualcomm Snapdragon X60 5G modem.
The list of officially supported 5G and LTE bands on the iPhone 13 is impressive indeed.
Additions from the iPhone 12 are in bold:
Sub-6GHz 5G Bands: n1, n2, n3, n5, n7, n8, n12, n20, n25, n28, n29, n30, n38, n40, n41, n48, n66, n71, n77, n78, n79
mmWave 5G Bands: n258 (24 GHz), n260

(39 GHz),

n261

(28 GHz)

4G/LTE Bands: 1, 2, 3, 4, 5, 7, 8, 11, 12, 13, 14, 17, 18, 19, 20, 21, 25, 26, 28, 29, 30, 32, 34, 38, 39, 40, 41, 42, 46, 48, 66, 71
The new 4G bands (11 & 21) aren't particularly interesting - they expand coverage to some legacy 2G spectrum in Japan that is being transitioned to provide extra 4G capacity.
More interesting are the new 5G bands:
n29 - This downlink-only band is currently used for extra AT&T 4G downlink capacity, and if/when AT&T transitions this band from 4G to 5G, the iPhone 13 will be ready. This band is also slated to be used for Dish Network's upcoming 5G network.
n30 - This slice of mid-band spectrum (2.3 GHz) is currently also used for AT&T 4G, and this paves the way for AT&T eventually transitioning this spectrum over to 5G as well.
n48 - The flexible CBRS spectrum is typically used to create private 4G networks, and by carriers (particularly Verizon) to offer extra capacity to their broader networks. Adding 5G support for this band allows for this spectrum to be used for 5G stand-alone networks, as well as for 4G+5G hybrids.
n258 - This mmWave spectrum has not been deployed yet anywhere, but AT&T and T-Mobile have future plans to take advantage of this band for short-range crazy-fast cellular networking. This mmWave band is also likely to become important in Europe.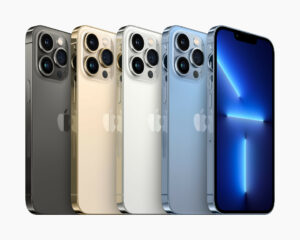 Overall - the bands supported by the iPhone 13 cover essentially every 4G or 5G cellular band currently in use in the world - making the iPhone 13 an even better global roamer than its predecessor, and even more future-proof.
Legacy 3G CDMA and UMTS networks are supported too, as well as 2G GSM/EDGE networks.
The only bands of note missing are the following:
n70, n26 - These are oddball chunks of spectrum that are expected to be part of Dish Network's upcoming "Project Genesis" 5G rollout. Without full support from the iPhone 13 for Genesis, Dish may stumble upon launch. But it will be unclear until Dish's network actually launches just how important these bands will eventually be.
n13 - Band 13 is the long-range foundation of Verizon's 4G/LTE network, and eventually Verizon will want to switch to using this band (at least in part) for 5G. This transition is likely years away, but without band n13 support the iPhone 13 will not be able to take advantage of this band once it switches.
n46 - This band allows the use of underutilized 5 GHz Wi-Fi spectrum for extra capacity on 5G cellular. We haven't seen any devices support 5G n46 over this spectrum yet, but many devices (including all recent iPhone models) support LTE-LAA Band 48 for layering 4G on top of Wi-Fi spectrum.
n53 - Rumors were buzzing over the past few weeks that the iPhone 13 might support band n53, spectrum that is owned by Globalstar - the company behind SPOT satellite messengers. The rumor mill was speculating that the iPhone 13 might actually use this spectrum in partnership with Globalstar to enable emergency-only satellite-based text messaging. The rumors caused Globalstar stock to spike - but Apple has (so far) made no mention at all of hidden satellite capabilities lurking inside the iPhone 13.
March 2022 Update: AT&T's "Andromeda Spectrum" subset of 5G band n77 that will be coming online in the summer of 2022 will NOT be supported in the iPhone 13. This key spectrum for AT&T will require an X65 generation modem, and will likely first be supported in the iPhone 14. For more on Andromeda and the X65 modem, see our featured article: 5G Industry Update: Is 2022 The Year 5G Gets Interesting?
Support for most of these missing bands is primarily interesting for future-proofing.
The iPhone 13 can connect to just about any network that actually exists today.
In the USA - all iPhone 13 models should have identical cellular capabilities, no matter which carrier you buy from. And if you buy directly from Apple, the iPhone 13 will be sold unlocked and will be capable of use on any US carrier.
And unlike with the iPhone 11 (the non-Pro model was lacking 4x4 MIMO), the iPhone 13 Pro and the regular iPhone 13 lineups should be identical when it comes to connectivity.
But just like last year with the iPhone 12 - beware of internationals models!
mmWave Still Missing in iPhone 13 Models Outside the USA!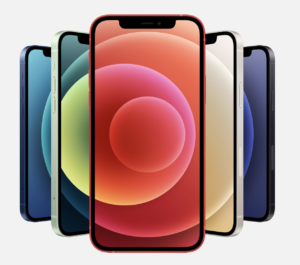 Ultra-high-frequency mmWave 5G signals enable amazingly fast performance, but the signal is exceedingly short range and it requires multiple very specialized antenna modules to receive.
Because mmWave is expensive to implement, many lower priced 5G devices have left this capability out entirely.
To the surprise of many, Apple actually included mmWave support on every iPhone 12 model last year - somehow cramming the radios into even the tiny iPhone 12 mini, the smallest 5G phone in the world.
But Apple only offered mmWave in the USA. And things are NOT changing with this year's iPhone 13 update.
There are several international iPhone 13 variants that will be mostly identical to the USA version, other than cellular capability:
Canada / Mexico / Japan Model - Lacks all mmWave bands (n258 / n260 / n261), but is otherwise identical.
Other International Models - Lacks all mmWave bands, and also lacks 600 MHz n71 and b71 (T-Mobile's long range coverage), 5G band n29, LTE b11 and b21, and LTE b14 (AT&T FirstNet).
The lack of mmWave support is an important consideration for Canadians who travel to major US cities where this sort of coverage might make a difference. Canadians who travel south may want to be sure to seek out the USA iPhone models for better future compatibility and resale value.
And all of the other international iPhone 13 models should be avoided by those who spend lots of time in the USA since they lack support for the 600 MHz bands that are critical for use on T-Mobile, and the FirstNet band that has become increasingly valuable on AT&T.
In other words - travelers who might pass through the USA should avoid Canadian models and grey-market imports when you are iPhone shopping!
Outside of the USA, mmWave has not been widely embraced for 5G yet - but mmWave will begin ramping up soon in both Europe and China. It seems that Apple will be waiting until the iPhone 14 before taking mmWave international.
The Big Feature: Enhanced 5G Carrier Aggregation on iPhone 13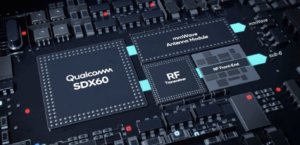 The additional 5G bands are actually not the biggest cellular change with the iPhone 13.
Assuming the speculation proves true and Apple is indeed using the Qualcomm X60 modem - the real key cellular feature of the iPhone 13 is support for enhanced 5G carrier aggregation.
In addition to being much more power efficient, the big jump between the X55 and X60 modems revolves around improved 5G carrier aggregation - allowing the modem to better combine multiple signals on different frequency bands.
To get deeper into the nitty gritty of why this is (and why we've encouraged many to consider waiting for the X60), see our featured story from June 2021:
5G Industry Update: 5G Routers, Hotspots & Antennas Are Here – But Should You Wait?
In a nutshell - the X60 is just more adept at combining long range and short range 5G signals.
For example, the X60 can combine super short range mmWave with longer range mid-band or low-band 5G, helping to compensate for mmWave's range limitations.
A more specific example: the X60 will allow T-Mobile's long-range low-band band n71 and super-fast mid-band n41 to be used by the modem simultaneously. This will give many T-Mobile customers the range of n71, without sacrificing the speed of n41.
And another example - Verizon or AT&T will be able to combine their upcoming C-Band deployments (n77) with their longer range Sub-6 GHz 5G signals in ways that the X55 is just not capable of.
Basically - because of this ability to more flexibly combine bands, the X60 should enable faster 5G connections over a much longer range than the X55 will be capable of.
This is an absolutely key need for performance-hungry RVers and cruisers who tend to connect from more fringe signal areas - and is an area where the X55, and current devices that use it, may fall well short in the future.
We suspect that the reason no cellular router manufacturers have been able to debut the X60 yet is that Apple might have bought up literally every X60 chip that Qualcomm has been able to build in preparation for the iPhone 13 launch.
It might take a while for cellular networks to evolve enough for the X60's advantage to really show - but over time, it should prove to have some significant advantages.
Also New: Dual eSIM Support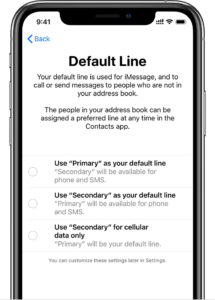 In addition to the new cellular modem, the iPhone 13 also debuts another unique new feature: dual eSIM support.
Apple first enabled dual-SIM support in the iPhone XS in 2018, enabling "Dual SIM, Dual Standby" to allow you to have two active plans (and numbers) on one phone.
Every iPhone model since has maintained this incredibly handy feature, making it exceptionally easy for nomads to switch between a plan on a physical SIM and a plan on an electronic SIM (eSIM). For example - easily switching between AT&T and Verizon for your data connection, without risking missing phone or text messages.
And just like you can have multiple physical SIMs with activated cellular plans in your wallet, and choose which you plug in to be your current phone number - you can keep multiple cellular plans activated in your virtual wallet on your phone and choose which is currently active for eSIM. Making for a quick way to switch between lots of different cellular plans, and having two lines alive at once.
But the catch has been that you could only have one physical SIM and one eSIM enabled at once.
New in the iPhone 13 - you can have two eSIMs enabled, or a physical SIM and an eSIM (but not all three at once).
This is really handy if you have your primary number on an eSIM, and you want to activate another plan over eSIM (such as Verizon's prepaid Visible, which now allows you to instantly activate a new plan on eSIM using their mobile app, or activating T-Mobile Test Drive for a free 30-day trial).
Supporting two eSIM's at once is a small change - but a nice usability improvement. It will become even more handy as more data plans enable remote eSIM activation via an app.
And with this more versatile eSIM support - Apple will actually no longer even be including physical carrier SIM cards with iPhones purchased directly from Apple.
This move is potentially paving the way toward future devices that might eliminate the physical SIM slot entirely.
Going forward, you will be able to activate your iPhone with your carrier of choice entirely electronically.
Still No Wi-Fi 6E - Other Wireless Features Unchanged on iPhone 13 Lineup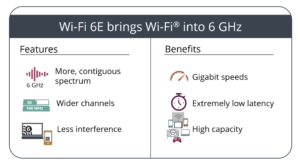 Other than the advancement in cellular capabilities and the new support for dual eSIM, in all other connectivity ways the iPhone 13 appears to be identical to the iPhone 12 and iPhone 11.
The new iPhone 13 lineup features the same support for Wi-Fi 6 (802.11ax) (but still no Wi-Fi 6E this year), and Bluetooth 5.0.
We were really hoping that this would be the year that Apple helped take Wi-Fi 6E mainstream, but with so few routers and other devices supporting this technology it is a feature that is probably not going to be relevant any time soon.
iPad mini Gets a Mega Upgrade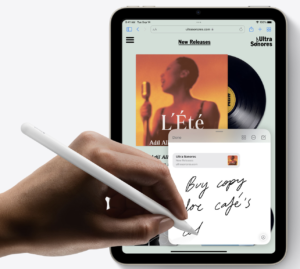 Also announced yesterday - Apple debuted a new basic value-priced iPad model (available with 4G cellular), and a huge update to the diminutive iPad mini - including a jump to 5G.
The new iPad mini actually includes the same brand new A15 CPU and 5-core GPU as the iPhone 13 Pro, and seemingly nearly the same exact wireless features (and, we suspect, X60 modem).
The only key cellular feature missing is mmWave, which remains exclusively on the iPhone and the much-more-expensive iPad Pro.
For anyone looking for a cellular video conferencing powerhouse capable of taking advantage of unlimited tablet data plans, the iPad mini with 5G cellular seems like a very future proof option - starting at $699 with the cellular option add-on.
UPDATE: It seems to be confirmed that the new iPad mini does indeed feature the Qualcomm Snapdragon X60 5G modem.
March 2022 Update: Third Generation iPhone SE
In March of 2022, Apple announced a new third generation iPhone SE that crams most of the guts of the iPhone 13 into a more affordable package - starting at $429.
This includes the same exact CPU and 5G X60 cellular modem as the flagship iPhone 13. But the value-priced iPhone SE makes some major cellular compromises!
In particular - like the international iPhone 13 models, the iPhone SE leaves out mmWave 5G support. This is not a surprise - since mmWave costs a lot to integrate, and is still rarely used.
But a much more disappointing surprise - the iPhone SE only has a 2x2 MIMO cellular antenna, cutting the potential 4G and 5G performance in half compared to the iPhone 12 and iPhone 13.
5G in particular really benefits from 4x4 MIMO, so it is really disappointing to see Apple skimping on the antennas like this.
If you are tempted by the iPhone SE - it will certainly still be a great performing phone, but do keep these trade-offs in mind.
Concluding Thoughts
For those holding on to older devices waiting to embrace 5G - the iPhone 13 and the latest Android flagships using the Snapdragon 888 CPU (which also contains the X60 modem) mark the end of the early growing pains era of 5G technology.
Gear with the X60 gets our green light for investing in - and should be well supported technology for years to come as the 5G networks evolve.
But if you already have an iPhone 12 - unless you are craving the battery life improvements or camera upgrades, it may be hard to find a compelling reason to upgrade this year.
The iPhone 13 and iPhone 13 Pro models will be available for pre-order this Friday (September 17th), shipping a week later.
If you are interested - do your homework and check out the compelling promotions being offered by all of the carriers that can make your iPhone purchase feel almost free - but keep a keen eye to the fine print. Many of the promos are being locked in via multi-year monthly bill credits in attempt to keep customers tied to a carrier longer. It's not the same as old-school contracts, but the impacts if you want to move service before you've paid off your balance might feel similar.
The new iPad mini is already available for pre-order, and will also be shipping on September 24th. And there's even a $200 cash-back (via prepaid MasterCard, not bill credits) from T-Mobile/Sprint if you activate a 10GB or higher data plan.
Making for a busy Apple week coming up - iOS 15 and iPadOS 15 will be released on September 20th, bringing a range of software update to most existing Apple devices.
We will update this post once the final details of the new iPhone models are confirmed, and we know the modem being used with 100% certainty. UPDATE: X60 has been confirmed.
Past iPhone Model Analysis:
Related Guides & Content: