Key Points:
The Insty Connect Explorer 4G12 package combines an indoor 802.11ac Wi-Fi router with an outdoor Cat-12 cellular modem that is mounted into the same enclosure as the 2x2 MIMO antennas.
The Insty Connect is designed to make it easy to lock to different cellular bands to optimize performance.
The company behind Insty Connect is newly launched, founded by a fellow RVer.
The Insty Connect Explorer is a new mobile cellular connectivity system designed by part-time RVer Nick of the YouTube channel We Can Explore It in response to his frustrations with the limitations of the MoFi 4500 cellular enabled router he had been using for the past several years to keep his family connected.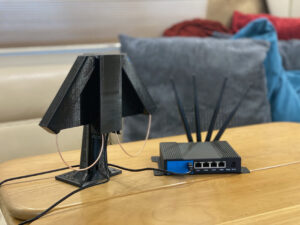 The "Insty Connect" bundle combines an indoor 802.11ac (aka WiFi 5) router, coupled via USB with an outdoor cellular modem that is tightly integrated into a custom 3D printed "Angel Wing" MIMO antenna enclosure.
Layered on top of it all is a custom mobile-friendly software interface that aims to make it easy to lock to particular cellular bands and even to manually select different cell towers.
The Insty Connect was first teased on YouTube in January 2021, and the 4G12 model it is currently available for pre-order, shipping in late March, for a package price of $499. A 5G-ready version is also pre-announced, coming late this summer.
Insty Connect has just sent us one of the first systems to check out.
For many RVers, the Insty Connect sure seems to check a lot of key boxes. But it is important that potential customers understand what the Insty Connect is well suited for, and what it is not.
First Look Overview Video
Subscribe to our YouTube Channel
Insty Connect Explorer: What Makes This Interesting?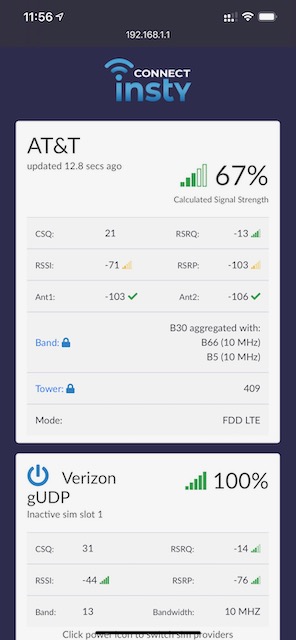 It absolutely makes sense to have a cellular modem and antennas closely integrated outdoors. We've long advocated this type of design that optimizes getting the best signal while minimizing signal loss over an antenna cable.
But up until now there have only been outdoor options with low-end Cat-4 or Cat-6 modems like the Winegard ConnecT ($369) or WiFiRanger Converge ($250-$950), or high-end options beyond normal consumer price points like the Peplink HD1 & HD2 Dome ($1500 + indoor router costs).
Having an outdoor mid-range Cat-12 modem integrated with 2x2 MIMO external antennas coupled with a relatively capable indoor router at a mainstream price point hits a potential sweet spot.
Indoors, the Insty Connect router hardware should be more than capable of handling even demanding local networking needs, with a dual-band (2.4 GHz and 5 GHz) 802.11ac Wi-Fi and gigabit ethernet ports. The rugged metal shell makes it well suited for use in a vehicle, and it comes with both a 12V DC and an AC power adapter.
The outdoor omnidirectional "Angel Wing" is a custom designed & 3D printed 2x2 MIMO antenna with a modem slot. It can be pole mounted or you can purchase the 12" 3D-printed pole-mount to screw into your RV roof for $15.
A 15' outdoor rated USB cable is included, and a second 15' extension is also available for $20 if you need more distance between the indoor router and the outdoor antenna.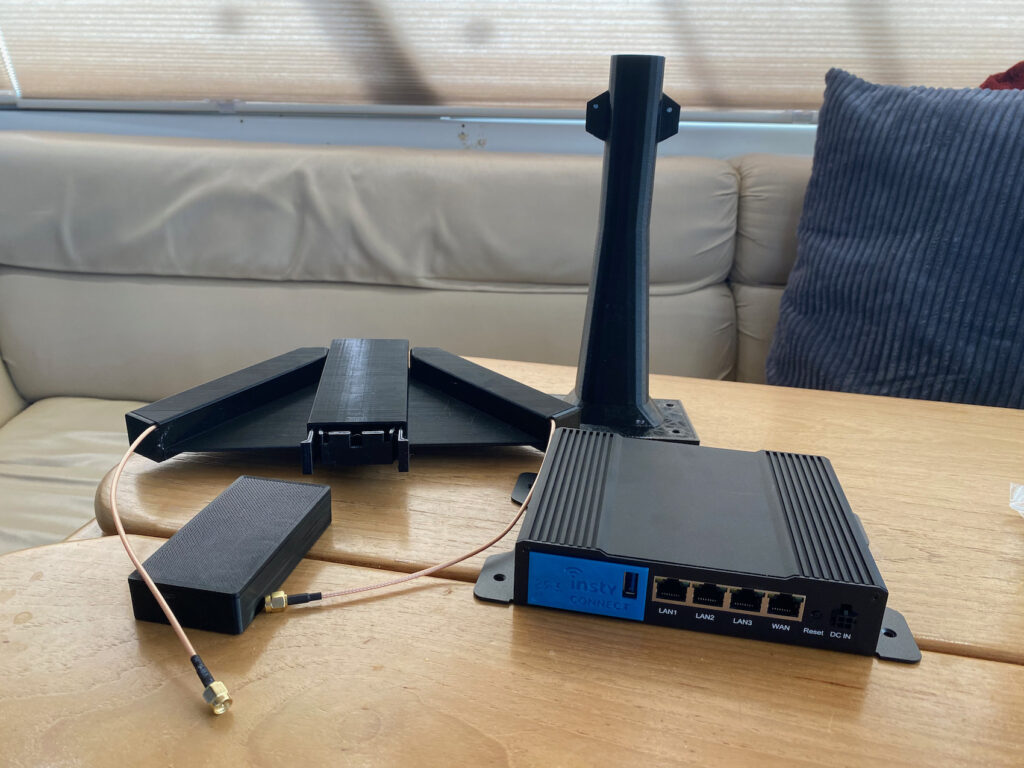 The cellular modem module nestles between the "Angel Wings" in a custom designed 3D-printed cartridge. Two antenna cables are externally exposed from each antenna to screw into the ports of the modem, leaving the dangling wires a potential snag point for tree branches.
The modem shipping with the 4G12 kit is a Category 12 4G/LTE device capable of 3x carrier aggregation, and peak theoretical speeds of 600 Mbps down and 150 Mbps up.
Bands Supported: B1, B2, B3, B4, B5, B7, B8, B9, B12, B13, B14, B17, B18, B19, B20, B21, B25, B26, B28, B29, B30, B32, B38, B39, B40, B41, B66
This supports most of the LTE bands in use by the major US carriers, but do note that the 600 MHz LTE Band 71 that is important for T-Mobile's longest range coverage is NOT supported.
Insty Connect Limitations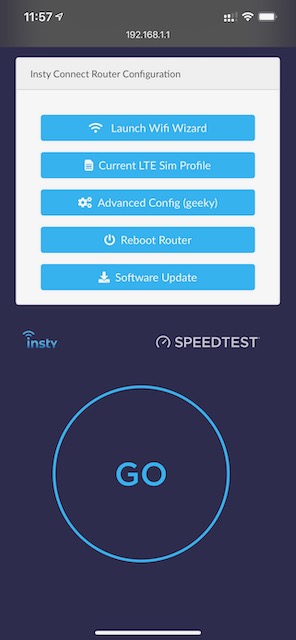 The Insty Connect is really focused on cellular connectivity - and the user interface lets you pick between two cellular SIM cards (only accessible outdoors, hidden in the modem module), and then you can experiment with locking the band or tower you are connecting with for potentially better performance.
And that is about it.
There are no top-level features focused on using multiple internet sources - such as Wi-Fi as WAN to connect to an upstream campground Wi-Fi network, or tethering other cellular devices like mobile hotspots or smartphones.
The Insty Connect also does not have all the raw advanced capabilities that more advanced routers like Pepwave offer - including bonding, load balancing or local network management.
The Insty Connect's goal is to make sharing a single cellular connection simple - and not much else.
But...
The Insty Connect does not hide that it is built on top of the open source OpenWrt router firmware, and advanced users who want to explore are presented with an "Advanced Config (geeky)" button that will let them open up a Pandora's box of potential configurations and settings to experiment with.
Raw OpenWrt is incredibly flexible, but it is NOT for everyone!
Perhaps over time, some of these advanced capabilities may end up incorporated into the more friendly top level Insty Connect interface too.
5G Version: Coming "Late Summer" 2021
In addition to the 4G12 Insty Connect Explorer launching this spring, a Category 20 LTE 4G+5G 5G20 version with a 4x4 MIMO "quad angel wings" antenna system is expected to be available sometime in "Late Summer 2021" for $999, and you can even pre-order this next-generation system now.
Also in the works later this year, the optional $79/year "Insty Connect Care System" will give you these extras:
InstyVPN! - Secure VPN to protect your web surfing wherever you are
Insty "Express Lane" upgrades and updates
Personal, specialized one-on-one support
Special upgrade pricing on new developing tech (like 5g)
Concluding Thoughts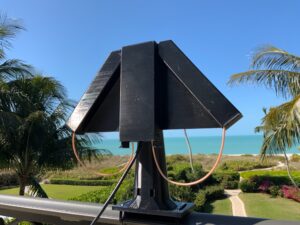 The Insty Connect Exploer is indeed an interesting combination - offering a decently high-end cellular modem, integrated antenna system, solidly specced indoor router, and a user interface distilled down to be focused on the basic needs of many mobile users focused on cellular data.
All at a rather attractive package price.
But anyone considering Insty Connect should keep in mind that the Insty Connect Explorer is only the first of a new wave of cellular routers coming to market in 2021, and the small family business has yet to establish a proven track record of being able to handle distribution, ongoing support, and updates.
But - it is great to see a system designed by RVers, for RVers.
That sort of personal experience baked into the design is really hard to find in other products designed for a broader market.
Now that we have an Insty Connect Exploer on hand, we will be getting more experience with it - and will be sharing our more in depth thoughts and comparative analysis with other similar products with our MIA members.
Bonus Member Only Content Available!
We go extra for our premium members - who make this resource center possible (did you notice the lack of 3rd Party advertising?). We have included some additional information in this news article just for our members - analysis, guidance and/or insider tips.
If you're not yet a member, please consider joining us. Extra content like this is one of the many perks we offer - in-depth content, guidance, discounts, alerts, classroom and more.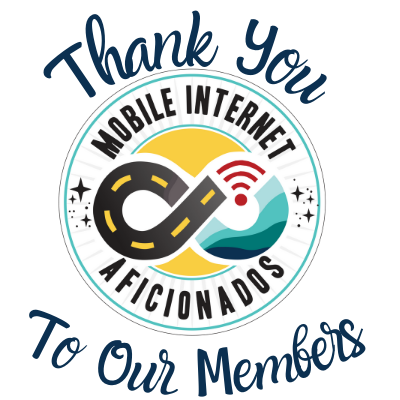 If you are already a member, please log in above to see the special content we have prepared for you.
Related News Stories

Related Guides