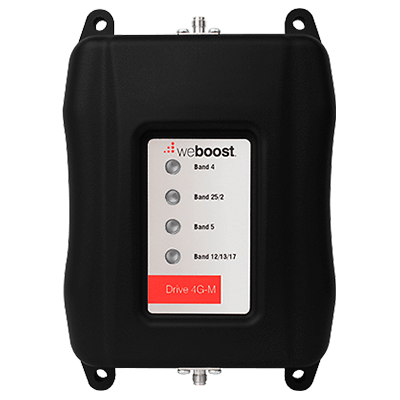 The weBoost Drive 4G-M is the original mobile booster offered by weBoost and pre-dates the Drive 4G-X released in 2015 with several antenna combinations available.
It is more powerful than the cradle style weBoost Drive Sleek with a full 50db of gain, and supports multiple devices connected on multiple networks at once. However while it has the same 50db gain as the 4G-X, it has less uplink transmit power - which is most noticeable in upload data speed performance.
The 4G-M is encased in a hefty metal case, and comes with a DC power supply brick, a small magnetic roof antenna (that requires a ground plane if you don't have a metal roof), and an interior patch antenna with a long flexible cord to increase your placement options.
Note: Before Wilson Electronics re-branded as weBoost, the weBoost Drive 4G-M was known as the Wilson Mobile 4G. We've been told by weBoost that other than the change to the external case color, the new and old version are identical.
---
Specifications
---
Included in this Review
Free/Public:
Member Exclusive Content / Review:
---
Review & Testing Status
We've had the original Wilson Mobile 4G in our testing arsenal since it was originally released in the Summer of 2014, and we have extensive hands-on experience with it in a range of testing locations.
Summary recap review: The 4G-M is a solid performing all around booster. For those who consider upload speeds to be critical, we do recommend paying the premium price for the 4G-X - as this is where the higher transmit power can shine. But if upload speeds are not a focus, the 4G-M is a solid choice.
We brought the 4G-M back into active testing in 2018 for comparison to several new booster options on the market.
Members can access our raw field testing results here:
---
Potential Alternatives to Consider:
For other booster options on the market worth comparing this model to - here are our featured options:
---
Related News Articles:
A Full Review of this Product is Available to our Members

We are honored to be able to present the above product overview for free without 3rd party advertising.
In thanks for funding this resource center our members have access to the in-depth unbiased review of this product based on our extensive hands-on time and testing.
If you're a member, please log in above to read the review.
Purchasing Options
Amazon: weBoost Drive 4G-M | Amazon: Wilson Mobile 4G
Powerful Signal | 3G Store | Wilson Amplifiers | weBoost Direct | RepeaterStore
Deal Alert: The Wilson Electronics Mobile 4G is the older version of this booster but in a blue case (otherwise electronically identical), and it is still occasionally found for sale at a substantial discount.
Note, the 4G-M comes standard with a 6v power supply that plugs in to a DC socket (ie. auto / cigarette lighter style). If you won't have a DC socket available and prefer to run this off of 110 AC power, you will also need to obtain a certified AC/DC power supply.