This device or plan has been discontinued or we consider it obsolete. While current owners of this device or plan may continue to find performance to be adequate for the foreseeable tech-future, we do not recommend upgrading to or purchasing it.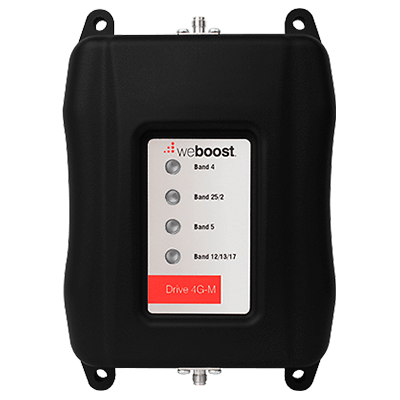 The weBoost Drive 4G-M is the original mobile booster offered by weBoost and pre-dates the Drive 4G-X released in 2015 with several antenna combinations available, and the Drive Reach debuted in May 2019. With the launch of the Reach, weBoost has discontinued the 4G-M.
It is more powerful than the cradle style weBoost Drive Sleek with a full 50db of gain, and supports multiple devices connected on multiple networks at once. However while it has the same 50db gain as the 4G-X, it has less uplink transmit power - which is most noticeable in upload data speed performance.
The 4G-M is encased in a hefty metal case, and comes with a DC power supply brick, a small magnetic roof antenna (that requires a ground plane if you don't have a metal roof), and an interior patch antenna with a long flexible cord to increase your placement options.
Note: Before Wilson Electronics re-branded as weBoost, the weBoost Drive 4G-M was known as the Wilson Mobile 4G. We've been told by weBoost that other than the change to the external case color, the new and old version are identical.
---
Specifications
Model: 470121
Max Downlink Gain: 50dB
Max Uplink Gain: 21.4 dBm
Impedance: 50 Ohm
# of Devices Boosted: Multiple
LTE Bands Supported: 12 (17), 13, 5, 4, 2, 25
Exterior Antenna: 4.175" Magnetic Mount - 12.5' Cable (301126)
Internal Antenna: 4G Slim Low Profile - 10' Cable (314401)
Range of Interior Coverage: 6" - 4'
In Motion Usage: Yes
Power: 12v
Connectors: SMA Female
Booster Dimensions: 4.5 x 6.5 x 1.5 in
Warranty: 2 Year
List Price: $379
---
Included in this Review
Free/Public:
Member Exclusive Content / Review:
---
Review & Testing Status
We've had the original Wilson Mobile 4G in our testing arsenal since it was originally released in the Summer of 2014, and we have extensive hands-on experience with it in a range of testing locations.
Summary recap review: The 4G-M is a solid performing all around booster. For those who consider upload speeds to be critical, we do recommend paying the premium price for the 4G-X or Reach - as this is where the higher transmit power can shine. But if upload speeds are not a focus, the 4G-M is a solid choice - and while it's still available at retailer, it's a great price point.
We brought the 4G-M back into active testing in 2018 for comparison to several new booster options on the market.
Members can access our raw field testing results here:
---
Potential Alternatives to Consider:
For other booster options on the market worth comparing this model to - here are our featured options:
---
Related News Articles:
This Review Contains Additional Member Exclusive Content!
We are Honored to be Member Funded!
No ads, no sponsors, no selling (but may contain affiliate links)
Our members fund our in-depth independent reviews.
This entry may contain additional member exclusive content such as testing notes, field testing data, user interface tours, comparisons to alternatives, analysis, tips, videos and discounts.
Members also get interactive guidance, alerts, classroom and more.
---
Purchasing Options
Special 5% Savings for
Mobile Internet Resource Center Readers
Use 'weboostMIRC2021' at checkout at weBoost.com
While this site is not reliant on affiliate funding, our weBoost links are affiliate links (only way they'd offer us a discount code, and their gear is constantly the top performer in our extensive field testing) - the little extra ka-ching if you use our link/discount is a nice thank you to support our work!
Save 5% at weBoost - Discount Code: weboostMIRC2021
Direct from weBoost:
Discontinued - No Longer Directly Available

Note, the 4G-M comes standard with a 6v power supply that plugs in to a DC socket (ie. auto / cigarette lighter style). If you won't have a DC socket available and prefer to run this off of 110 AC power, you will also need to obtain a certified AC/DC power supply.
---
Related News:
The guides below have been hand-picked to help further your education about the complicated topic of signal enhancing and utilizing cellular boosters.