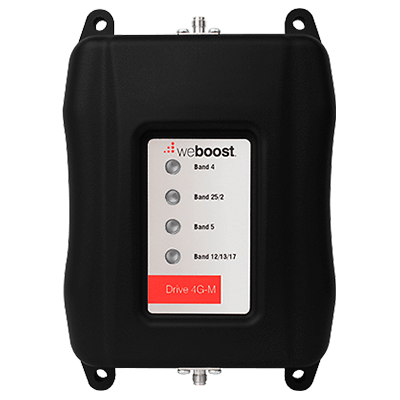 The weBoost Drive 4G-M is the original mobile booster offered by weBoost and pre-dates the Drive 4G-X released in 2015 with several antenna combinations available, and the Drive Reach debuted in May 2019. With the launch of the Reach, weBoost has discontinued the 4G-M.
It is more powerful than the cradle style weBoost Drive Sleek with a full 50db of gain, and supports multiple devices connected on multiple networks at once. However while it has the same 50db gain as the 4G-X, it has less uplink transmit power - which is most noticeable in upload data speed performance.
The 4G-M is encased in a hefty metal case, and comes with a DC power supply brick, a small magnetic roof antenna (that requires a ground plane if you don't have a metal roof), and an interior patch antenna with a long flexible cord to increase your placement options.
Note: Before Wilson Electronics re-branded as weBoost, the weBoost Drive 4G-M was known as the Wilson Mobile 4G. We've been told by weBoost that other than the change to the external case color, the new and old version are identical.
---
Specifications
---
---
Included in this Review
Free/Public:
Member Exclusive Content / Review:
---
Review & Testing Status
We've had the original Wilson Mobile 4G in our testing arsenal since it was originally released in the Summer of 2014, and we have extensive hands-on experience with it in a range of testing locations.
Summary recap review: The 4G-M is a solid performing all around booster. For those who consider upload speeds to be critical, we do recommend paying the premium price for the 4G-X or Reach - as this is where the higher transmit power can shine. But if upload speeds are not a focus, the 4G-M is a solid choice - and while it's still available at retailer, it's a great price point.
We brought the 4G-M back into active testing in 2018 for comparison to several new booster options on the market.
Members can access our raw field testing results here:
---
---
Related News Articles:
---
Purchasing Options
Note, the 4G-M comes standard with a 6v power supply that plugs in to a DC socket (ie. auto / cigarette lighter style). If you won't have a DC socket available and prefer to run this off of 110 AC power, you will also need to obtain a certified AC/DC power supply.
---
Related News: