Key Points:
The New Unlimited Plus option for connected devices allows for 30GB of high-speed LTE hotspot data before throttling
The plan includes Unlimited 5G Ultra Wideband data, just subject to network management after 50GB
Available for $15 or $30 a month when added to unlimited smartphone plans, or $90 as a standalone plan
Late yesterday Verizon announced an upgrade to their data plan options for connected devices such as mobile hotspots, routers, tablets, and connected laptops.
The new option is called "Unlimited Plus". It offers 30GB of high-speed LTE mobile hotspot data and also includes unlimited 5G Ultra-Wideband (UW) on device and hotspot data.
Video Overview
Subscribe to our YouTube Channel
Connected Device History
Ever since Verizon released their unlimited postpaid smartphone plans in February of 2017, they've offered the option to add lines to existing phone plans for various data-only devices including Jetpacks, tablets, connected laptops, and others for just $20/month.
For customers without existing smartphone lines, this data option could be activated as a standalone plan at the full single line pricing of $80/month.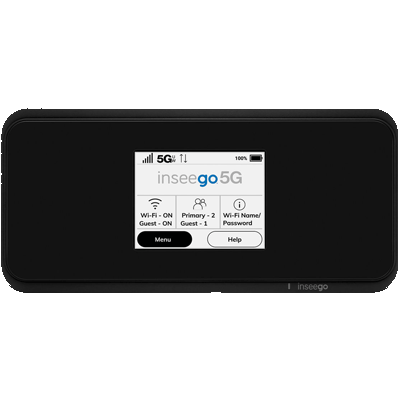 However, the "unlimited" portion of these plans doesn't apply to Jetpacks and routers - as they only include 15GB of high-speed mobile hotspot data before being hard-throttled for the rest of the billing period to 600kbps.
Tablets do receive unlimited on-device data, just subject to network management, though hotspot usage off the tablet is still limited to 15GB.
When Verizon rolled out their mix-and-match unlimited smartphone lineup in August 2019, the Get More and Do More options included a built-in discount, allowing you to add lines for data-only devices at half price, just $10/month.
Verizon further tweaked these plans in late August 2020.
Then, just last week, Verizon launched 5G versions of their connected device plans in conjunction with the rollout of their new MiFi M2100 5G mobile hotspot. The updated connected device plans add 5G Ultra Wideband network access with an increased price of $30/month (or $15 on the Get More and Do More plans) or $90/month as a standalone line of service.
However, last week's 5G UW plan variation did not include unlimited high-speed mobile hotspot data - speeds were throttled down to 600 kbps after 50GB of 5G usage for those who added a device to an existing smartphone plan. Customers who purchased the plan standalone had much better terms: after 50GB of 5G UW use, network management deprioritization would kick in but with a guaranteed minimum speed of 3 Mbps.
The substantially different terms for the same plan was both annoying and confusing.
4G/LTE service remained the same, with a strict limit of just 15GB of high-speed hotspot data usage before throttling to 600 kbps.
Now, just a week later, Verizon has updated these plans again and added a new name to them.
"Unlimited Plus" for Connected Devices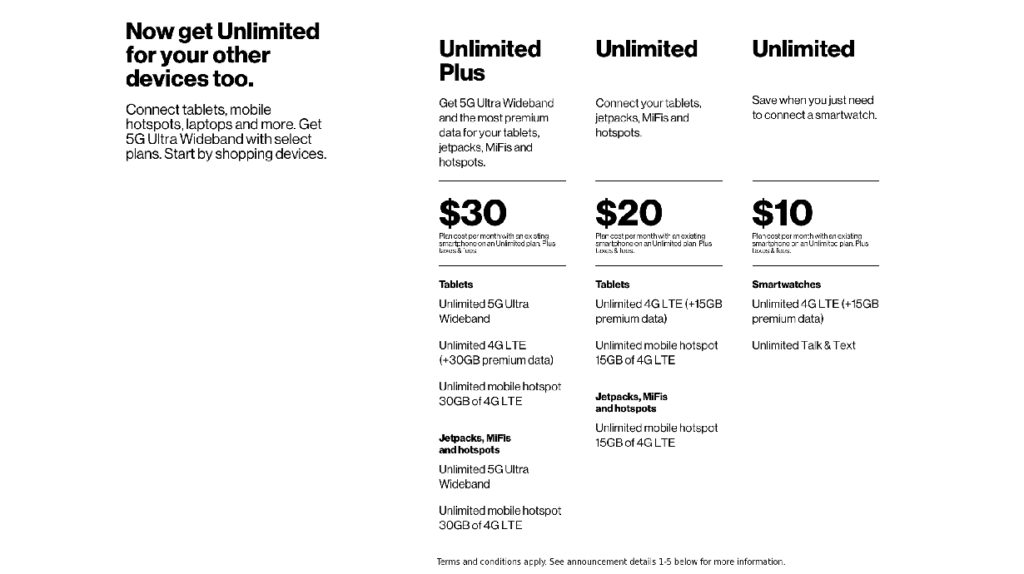 It's not clear why Verizon decided to change the connected device plan terms after only a week. Perhaps they recognized that consumers need more usable bandwidth.
Whatever the case, the new option with 5G UW is now called "Unlimited Plus," and while it is superficially similar to the 5G plan released last week, there are some major differences as pertain to our nomadic audience.
The 15GB LTE data device 'Unlimited' option is still available - and has not changed.
Both LTE and 5G connected device lines can be added as Unlimited or Unlimited Plus to Verizon's current line-up of unlimited Smartphone plans, or they can be activated as a standalone line.
Unlimited Plus Changes
The major change is that the Unlimited Plus connected device plan includes 30GB of high-speed 4G/LTE mobile hotspot data - double that of the 'Unlimited' 15GB of data that Verizon previously offered. On Unlimited Plus, after 30GB, speeds are throttled to Verizon's now-standard throttle speed of 600kbps.
Similarly, tablets and laptops added under Unlimited Plus also get 30GB of high-speed mobile hotspot data, and on-device data gets 30GB of priority data before being subject to network management deprioritization.
Unlimited 5G Ultra Wideband access is only included on the top-tier Unlimited Plus connected device plan, not the Unlimited option. 5G UW access requires a compatible 5G data device. Keep in mind that Verizon's Ultra Wideband 5G is currently available only in tiny parts of 36 cities.
The second major change for the Unlimited Plus plan versus last week's 5G plan is that after 50GB of 5G UW usage, network management kicks in for the rest of the month but users should always get at least 3 Mbps while on the 5G UW network. This now applies to both add-on and standalone devices, an improvement over last week's confusing terms.
5G UW service also includes support for 4K video streaming when connected to the 5G UW network.
Do More & Get More Discount Confusion
Although Verizon's press release states that Unlimited Plus lines added to the Get More and Do More plans will receive the advertised 50% discount (from $30 to $15/month), some fine print in the release seems to indicate this discount is only available to those who signed up for the latest iteration of these plans which were released on August 20, 2020.
If true, this would mean that current customers on the original versions of Get More and Do More that were released in August 2019 are not eligible for the 50% discount, despite that discount being an advertised plan feature.
We are inquiring with Verizon for clarification on this.
Update: Customers with the Get More or Do More plans acquire before August 20th have reported they were able to get the 50% discount - so the fine print in Verizon's press release appears to be incorrect.
Future 5G Nationwide Access?
Verizon's press release notes that "connected device plans will include access to our upcoming 5G Nationwide network."
The 5G "nationwide" network will be Verizon's low-band 5G network that will reach many more areas than the current millimeter-wave based Ultra Wideband network. Longer range 5G frequencies come with slower speed more akin to 'good LTE' - and will be deployed with a combination of Dynamic Spectrum Sharing over existing LTE and on Verizon's new CBRS spectrum.
Nationwide 5G is the coverage that matters most to our audience of RVers, cruisers, and nomads who travel the country - as the 5G UW only exists in a handful of core urban areas.
The press release does not give any details about terms and limitations for access to the future 5G nationwide network by these connected devices. Given that Verizon has been clearly labeling the current unlimited terms as for the 5G Ultra Wideband network only, nationwide 5G network access terms could be substantially different.
Customers should not sign-up for this plan and assume that the same terms for the current 5G UW network will apply to the future 5G nationwide network.
Unlimited '15GB' Plan Remains
The longstanding 15GB high-speed 4G/LTE mobile hotspot option (labeled 'Unlimited' in Verizon's Connected Device plan line-up) with no 5G access remains the same at just $20/month ($10 with the Get More or Do More plans), or $80 standalone.
And as per Verizon's press release, any existing unlimited smartphone customers should be able to add or upgrade to Unlimited Plus for their connected devices (we're assuming that doesn't apply to the original legacy gUDP lines from 2011 however, which have never allowed the addition of connected devices.).
Still Not Truly Unlimited - But an Improvement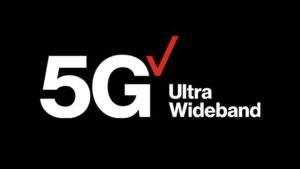 These connected device plans are called 'Unlimited' and 'Unlimited Plus' but they are definitely not unlimited plans for Jetpacks & routers thanks to throttled data after only 15GB or 30GB of high-speed 4G/LTE hotspot data use.
It's like getting a new RV with unlimited fuel, but you find out that the top speed slows to 6mph after you've only driven it 30 miles.
15GB or 30GB of high-speed data may be great for someone needing a back-up option to a primary home internet connection, but it's simply not enough high-speed data to serve most household's primary needs.
Additionally, while the 5G Ultra Wideband access provides more premium data and a minimum speed of 3 Mbps, the coverage map for this network is tiny, covering only portions of a few major urban cores. That is simply too limited for travelers.
Even with these issues and concerns, a $5-10/month increase in price for double the amount of 4G/LTE hotspot data is a welcome, if ultimately insufficient, improvement. This is especially true considering the lackluster AT&T data plans going live today with the launch of their new 5G mobile hotspot device, the Nighthawk 5G Mobile Hotspot Pro.
Finally, when considering an LTE data-only plans without currently having or needing other lines of service, Verizon does offer their Prepaid Jetpack and Tablet plans for $65/month with a 30GB high-speed cap before throttling to 600 kbps.
Related News Stories
Related Guides