Key Points:
Plans are better in some ways, worse in others.
Major Improvement: No more hard throttle after 15 GB or 30 GB of personal hotspot usage!
Jetpacks & Tablets retain hard throttling after 15GB of usage.
Significant tweaks to how streaming video is handled.

Verizon today announced new "Mix-and-Match" postpaid smartphone plans which are based on the lineup of Get More, Do More, Play More & Start Unlimited Plans that are currently available.
While the new plan names remain the same, there are a few changes to the details of the plans that are significant - some significant improvements, and some major downgrades.
These new plans will be available on August 20 - so if you want to grab the outgoing plans before they are gone, you need to get grandfathered fast.
Here is the new plan chart Verizon released today with the new plan details: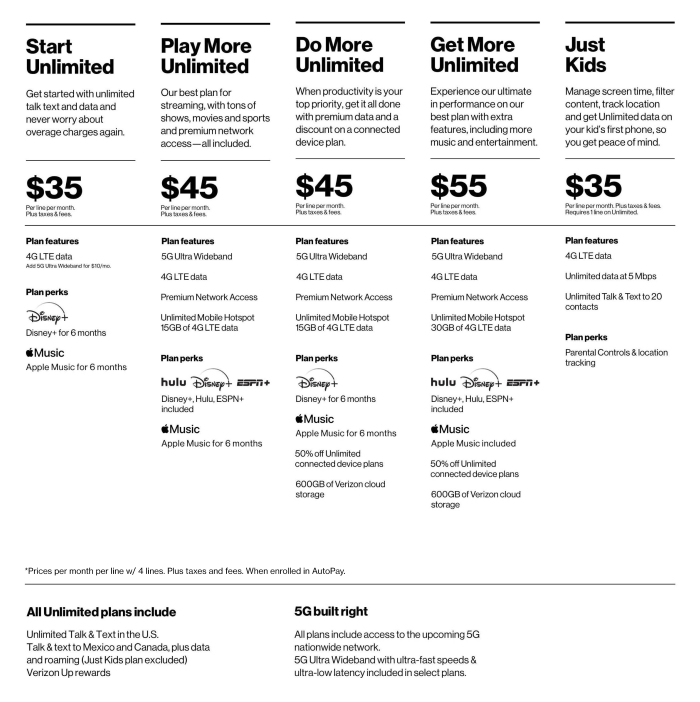 Video Version
Subscribe to our YouTube Channel
Negative: Less Premium Data on Get More Unlimited
All of the new Verizon plans (other than the "Just Kids" and "Start Unlimited") include 50GB of "Premium Network Access".
After you have burned through this data, the fine print explains:
"In times of congestion, your data may be temporarily slower than other traffic after exceeding 50 GB/mo/line."
One of the major differences of the outgoing Get More Unlimited Plan was this threshold being at 75 GB of "Premium" data usage. Losing the extra 25 GB of headroom on the Get More plan is a pretty big downgrade.
However, Play More actually benefits with a 25GB increase from its previous 25GB threshold.
Positive: Personal Mobile Hotspot Hard Throttle Eliminated!
The outgoing Get More comes with a hard 30 GB cap on high speed mobile hotspot use, and the Do More and Play More Plan have a 15 GB limit.
Under the outgoing plans, after you have crossed those limits, personal mobile hotspot speeds are reduced to 600 Kbps for the remainder of the month - no matter how uncongested the network happens to be.
However, with these new plans the fine print in the announcement has changed to read:
"In times of congestion, Mobile Hotspot speeds may be temporarily slower than other traffic and reduced to 600 Kbps (only after 15 GB/mo on Play More and Do More Unlimited plans and after 30 GB/mo on the Get More Unlimited plan)."
The wording is a bit unclear as to what exactly this means. One interpretation could be that all hotspot data is subject to network management, and then still hard throttled after the cap is reached. Or, it could be read to mean that there is no longer hard throttling after the cap, which would be a huge win.
We reached out to Verizon spokesperson Andrew Kameka for a statement, and he confirmed:
"Customers get 15GB of Mobile Hotspot. If you have used more than that in a billing period and you are in an area of network congestion, you may get 600Kbps. Again, this is after you've used 15GB in Play More or Do More, or 30 GB in Get More Unlimited."
This eliminates a huge pain point for Verizon customers - getting stuck permanently in the slow lane for the remainder of the month should now be a thing of the past.
But the question remains - just how will this new policy play out in practice?
On 8/20/2020 the new plans were released. However the fine print on the plans still state a hard throttle to 600 Kbps after reaching the cap. Andrew Kameka, Verizon's Communication Manager has confirmed the hard throttle remains and apologizes for the confusion.

Will hotspot usage become unusably slow after your limit has been crossed only during prime evening times, or will the network often be so congested as to allow hotspot usage only during the wee hours of the morning?
NOTE: Verizon also confirmed with us that the change in terms ONLY applies to personal mobile hotspot off of smartphone lines. Jetpacks and tablets added to accounts are still subject to the same hard throttling policies at 15GB as before.
Positive: 5G Access
All of the new Verizon plans will support Verizon's upcoming Sub-6 5G Nationwide network, which Verizon plans to launch later this year.
The Get More, Do More and Play More will also include unlimited access to Verizon's much faster (but very short range) 5G Ultra Wideband network - which is currently available in parts of 30 cities.
Mobile hotspot use on the 5G Ultra Wideband network is unlimited too.
Mixed: Video Streaming Resolution
The current Get More Unlimited has video streaming capped at 720p, and Do More and Play more are limited to 480p.
Going forward, all plans will have 480p as the default, but all three plans will have the option to manually turn on 720p support if it is desired. And when on 5G Ultra Wideband, you can even opt into 1080p or 4K.
Verizon states that customers will have the ability to easily make this change from within the Verizon app.
Requiring manual control of video resolution reminds us of AT&T's Stream Saver feature.
Mixed: Bundled Services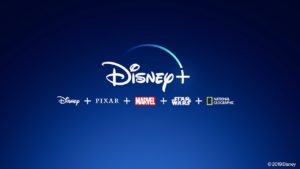 Verizon is also making some tweaks to the bundled services that come with each plan.
In October 2019, Verizon announced that all unlimited accounts would receive a one-year subscription to Disney+.
Going forward, Verizon is including Disney+ access in a Disney Bundle, which also includes Hulu and ESPN+.
The Disney Bundle is being offered with the Get More and Play More plans. Do More will still receive Disney+, but only for 6 months (and does not get access to Hulu or ESPN+).
Current customers who are already receiving the 12-month promotion of Disney+ will have two choices. They can move to the new Play More or Get More plans that include Disney+ with the Disney Bundle, or they can stay on their current plan, with the option of adding access to Hulu and ESPN+ for $6/month.
Currently, Apple Music is included on the Get More and Play More plans, and offered with the Do More plan for 6 months. Going forward, only Get More will get Apple Music long-term. Do More and Play More will receive Apple Music for only 6 months.
Summary
Going forward, it's going to be confusing when talking about these new plans and the outgoing plans which all have the same name but have slightly different benefits.
If you've been considering a Verizon unlimited postpaid plan and the higher priority data cap is important to you - you'll want to act fast to lock in Get More before Thursday.
If you currently have one of these plans and utilize personal mobile hotspot - it may be worthwhile considering switching to the newer plans to drop the hard throttling on that feature. You will lose 25GB of priority data on the Get More plan, or gain 25GB on Play More.
And it's of course disappointing that data only lines of service added on will continue to carry a hard 15GB high-speed cap.
Related News Stories

Related Guides: