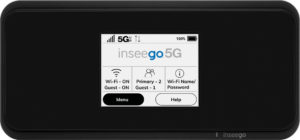 Verizon has officially released it's newest 5G compatible mobile hotspot device - the Inseego MiFi M2100 5G UW.
The M2100 is Verizon's second-generation 5G mobile hotspot, and will replace the M1000 which was released in July 2019.
The M1000 was a very limited and expensive first-generation 5G device with limited appeal. The new M2100 is a more practical and future-proof option that might at last be worth consideration as an alternative to the long standing flagship 4G/LTE MiFi 8800L, our current top Verizon hotspot pick that was first released nearly two years ago.
But at twice the cost of the 8800L, and with some disappointing limitations, is the MiFi M2100 offering enough to make jumping on Verizon's 5G train worthwhile?
Video Overview
Subscribe to our YouTube Channel
MiFi M2100 Hardware: 5G Cellular and Wi-Fi 6
The MiFi M2100 advances the state of the art in mobile hotspots on both the cellular and Wi-Fi fronts.
On the Wi-Fi side - the M2100 is the first mobile hotspot to support the Wi-Fi 6 (aka 802.11ax) standard.
Wi-Fi 6 can theoretically provides a 4x increase in data throughput per user over the local Wi-Fi network when compared to Wi-Fi 5 (802.11ac), especially when the local Wi-Fi environment is congested and there are multiple devices connected at once.
TIP: For more on Wi-Fi 6, see our news story on the technology. Be aware that the M2100 supports Wi-Fi 6, not the new and recently approved Wi-Fi 6E.
Speaking of having multiple devices connected - the M2100 can support 30 Wi-Fi clients at once (using both 2.4 GHz and 5 GHz Wi-Fi bands), as well as USB Tethering for a wired connection.
But the headline feature for the MiFi M2100 is 5G cellular.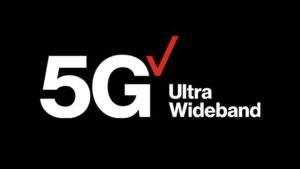 The M2100 supports Verizon's current insanely fast mmWave Ultra Wideband (UW) network deployed in "parts of" 36 cities, as well as Verizon's upcoming Sub-6 GHz network which should enable slower but nationwide 5G coverage sometime later this year.
This sets the M2100 apart from the M1000, which was essentially obsolete from the start since it launched with only mmWave support and no capability to ever tap into longer range 5G.
The 5G bands the M2100 officially supports are:
Sub-6 GHz: n2 (1900 MHz), n5 (850 MHz), n66 (1700/2100 MHz)
mmWave: n260 (39 GHz), n261 (28 GHz)
But there is a catch with bands n2, n5, and n66 - these bands are already in use for 4G/LTE, and layering 5G on top will in general only be capable of delivering a "slightly better than really good 4G" experience.
For something that truly feels "next generation" different - Verizon will need to expand its mmWave coverage, or find some more spectrum to use.
But will the M2100 even be able to support these future 5G expansions?
Missing Mid-Band 5G?
Surprisingly - according to the manual and FCC certification, the M2100 does not seem to have support for 5G over any mid-band spectrum, which is what will eventually be key to fast mid-range 5G that delivers a vastly improved experience over what 4G/LTE is capable of.
Verizon is currently lacking mid-band spectrum, but it planning to move into offering this in the future. Verizon was just the big winner in the CBRS spectrum auction, and is expected to be bidding heavily in the upcoming C-Band spectrum auction later this year.
Would the M2100 be unable to take advantage of all this juicy spectrum that Verizon will roll out in the future? Based on the published specs, it would appear so.
We reached out to our contacts at Inseego - and they let us know that the M2100 actually has hidden hardware support for 5G band n78 too. This is a huge chunk of mid-band spectrum ranging from 3.3 GHz - 3.8 GHz, fully encompassing the CBRS band and much of the C-Band Verizon will be bidding on.
We are seeking confirmation that Verizon and Inseego are committed to unlock this n78 capability in the M2100 once this spectrum is licensed and deployed. If so, this makes for a much more future-proof hotspot than we initially feared.
But if these 5G bands prove to be impossible to be enabled via a software update, the long-term 5G capability of the M2100 might prove to be limited.
For more on understanding all of these 5G technologies, and the roadmap ahead:
Peak 4G/LTE Capabilities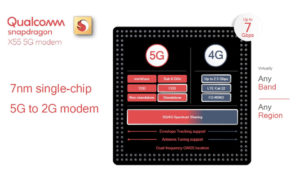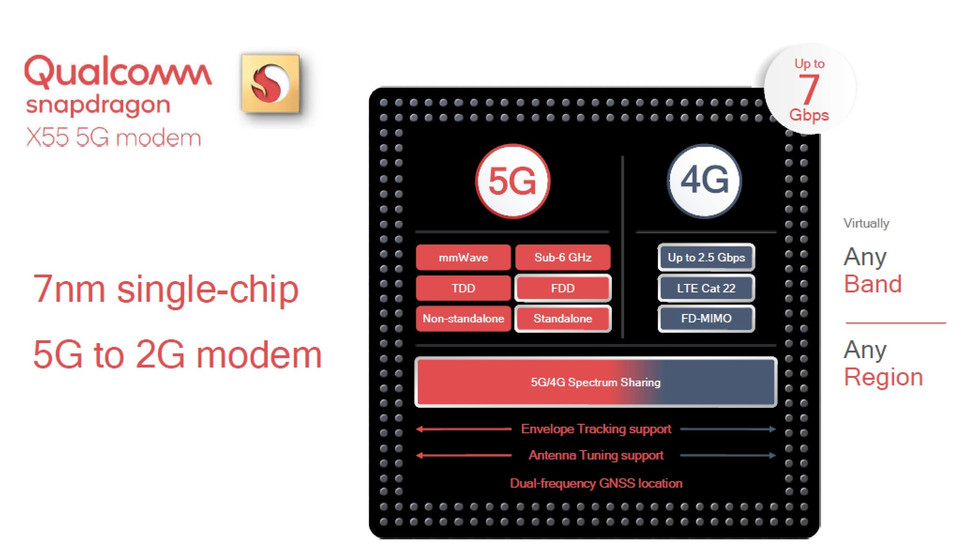 On the 4G/LTE front, the M2100 is a beast - with the LTE Category 22 modem capable of 7-way carrier aggregation and peak theoretical speeds of 2.5 Gbps.
This is pretty much the peak of what is possible with pre-5G technology.
The 4G/LTE bands supported are: B1, B2, B3, B4, B5, B7, B12, B13, B14, B17, B20, B28, B46, B48, B66
At least on the 4G front - the M2100 is equipped to take advantage of every bit of Verizon's 4G network, which will continue to be around for a long time to come.
For more on understanding the trade-offs of different cellular frequencies, check out our guide:
Other M2100 Features
The M2100 comes with many features one would expect with any flagship-level mobile hotspot device, including:
USB-C port for tethering and charging.
The USB-C port can also be used to charge external devices.
Guest Wi-Fi network support.
Up to 24 hours of claimed battery usage - plus there will be an optional even larger expansion battery pack available later this year.
Integrated VPN support.
But while the M2100 is technologically vastly more advanced than the 8800L and M1000 that came before it, it is also missing some key capabilities...
Missing Features - Antenna Ports & Ethernet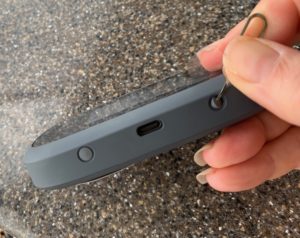 The biggest surprise with the M2100 is that it lacks the external antenna ports found on the 8800L and 7730L - which allowed for those hotspots to use external antennas to vastly improve signal strength and performance in fringe areas.
The M2100 seems to have done away with external antennas capability entirely, and instead relies on its internal 4x4 MIMO antennas for LTE and Sub-6 GHz 5G and special 2x2 MIMO antennas for mmWave.
The very nature of mmWave 5G is incompatible with external antennas anyway - so Inseego seems to have focused on optimizing its internal antenna system instead. They told us they are "confident with the performance of the device and proprietary internal antenna design" and that they expect few will miss the external antenna capabilities.
But no matter how good internal 4x4 antennas are, there will always be some locations where external antennas are preferable. Especially on RVs and boats which might have metal construction that blocks signal - external antennas are often pretty much essential.
The other feature missing on the M2100 is an Ethernet port, which was present on the M1000 but not on previous Verizon hotspots. An Ethernet port makes it easier to bridge the mobile hotspot into an existing network that might not have support for USB tethering - like for use with many Pepwave or residential style routers.
Inseego tells us that they have other future devices in the works that might better meet all of these needs.
Here's a look at how some of the most interesting Verizon hotspots compare: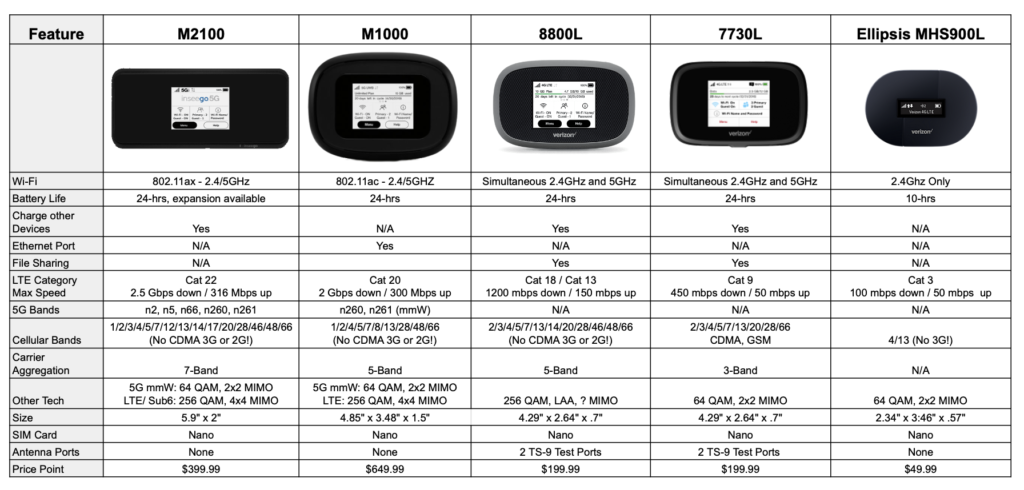 Verizon's 5G Data Plan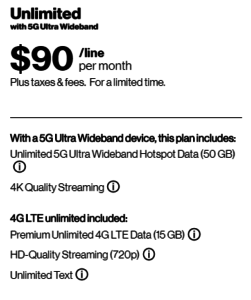 At launch, there is just a single standalone 5G data-only plan available from Verizon, which costs $90/month.
Or - customers can add a 5G hotspot line on to an existing Verizon unlimited voice plan, but the data usage limitations are substantially different from the standalone plan.
Customers can also activate the M2100 on 4G/LTE only plans which do not include any 5G access. This might be an attractive option for anyone who wants to capitalize on the LTE capabilities while waiting for Verizon's nationwide 5G network to roll out.
Standalone 5G Ultra Wideband Service Terms
The $90/mo standalone plan includes truly unlimited 5G Ultra Wideband data for 30 days. After 30 days, 5G data remains unlimited but is subject to a 50GB network management threshold. Once this threshold is passed, speeds may be slowed due to congestion for the rest of the month, but users will always get at least 3Mbps on the 5G network.
5G service also includes 4K video streaming when connected to the 5G Ultra Wideband network.
Add-a-Line 5G Jetpack Terms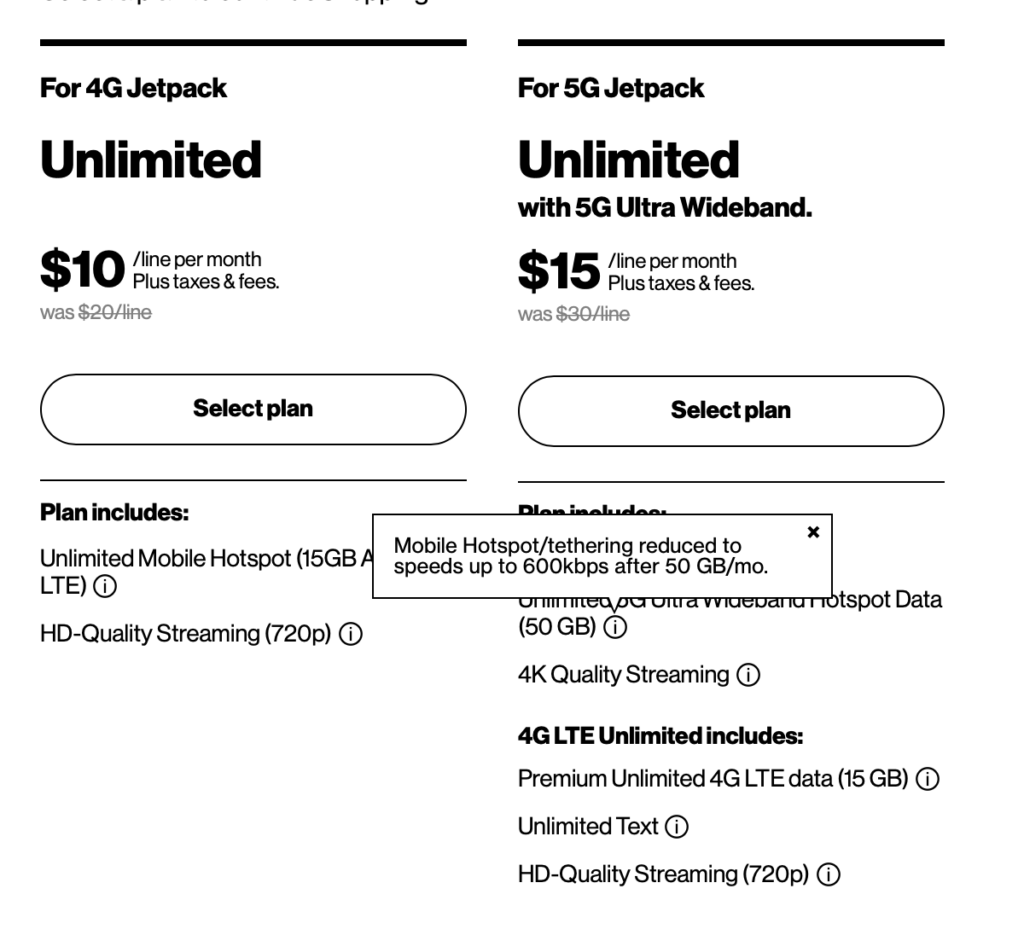 Verizon also allows "5G Jetpacks" to be added on to an existing unlimited voice plan for just $30/month (or $15 on their top end plans), but while the price is attractive the usage cap for hotspot data switches to a hard throttle to 600 kbps after 50GB, instead of a much more flexible network management slowdown and 3 Mbps minimum promise.
4G/LTE Service terms
The above data limits apply only when connected to Verizon's Ultra Wideband 5G network, which is presently only found in small parts of 36 cities.
When out and about in 4G/LTE areas, the M2100 will have the same typical limitations that Verizon enforces on 4G mobile hotspots. And there is no indication on which terms will apply to their upcoming Sub-6 Ghz nationwide 5G service.
When on the 4G/LTE network, the following terms apply:
15GB of high-speed data a month followed by unlimited data at 600kbps.
Video streams capped at 720p resolution.
The rest of Verizon's standard terms for mobile hotspots on unlimited 4G/LTE plans apply.
This is pretty disappointing, and we can only hope that Verizon will be looking at increasing thee limits once the nationwide Verizon 5G network launches later this year.
But at least at first, Verizon's Nationwide 5G will be layered on top of the current 4G/LTE network - so Verizon might not actually have enough network capacity available to expand usage limits until future mid-band spectrum comes online.
Is The M2100 A Worthwhile Upgrade?
If you already have an 8800L - there is probably no reason to rush out to get an M2100.
Verizon's nationwide 5G network has not even launched yet - so take your time, and wait for the network to mature, hands-on reviews to come out, and even potentially other new hotspot options to emerge.
But if you don't already have a Verizon flagship hotspot - the M2100 is an intriguing future-proofing proposition.
Although the lack of antenna ports might make the $399 investment, twice the cost of the 8800L, a consideration if signal enhancing options are important to you.
Inseego tells us that they will be getting us an M2100 review unit next week, and we will be sharing our hands-on experience with our members as soon as we are able.
If you do want to jump on the M2100 now - it is now available for order at Verizon.
---
Member Exclusives Below:
Bonus Member Only Content Available!
We go extra for our premium members - who make this resource center possible (did you notice the lack of 3rd Party advertising?). We have included some additional information in this news article just for our members - analysis, guidance and/or insider tips.
If you're not yet a member, please consider joining us. Extra content like this is one of the many perks we offer - in-depth content, guidance, discounts, alerts, classroom and more.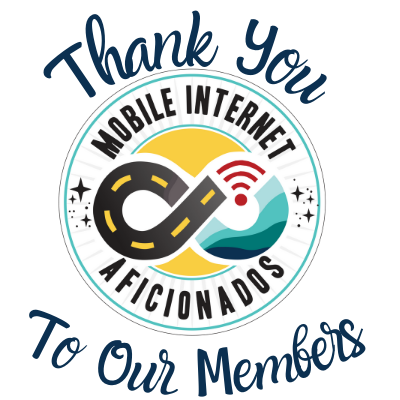 If you are already a member, please log in above to see the special content we have prepared for you.
Related News Stories
Related Guides