Verizon Prepaid offers a hotspot device (Jetpack) data only plan that is worth a second look for folks needing a decent sized bucket of shareable, Verizon based data.
Verizon is a major US cellular carrier.
For those who want a flexible plan or are not eligible for a postpaid account, Verizon's direct prepaid accounts are available for data-only devices.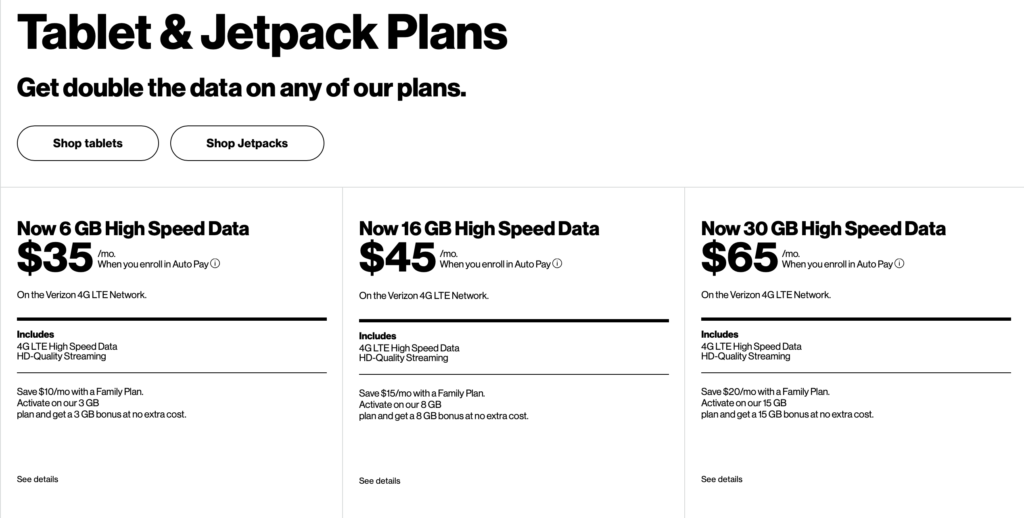 Currently Available Prepaid Jetpack Plans:
30GB (15GB + 15GB bonus) Tablet/Hotspot Device: $65 ($70 w/o autopay) **TOP PICK**

16GB Tablet/Hotspot Device: $45 ($50 w/o autopay)
6GB Tablet/Hotspot Device: $35 ($40 w/o autopay)
1GB Tablet/Hotspot Device: $30
---
Testing Status
We have tested, and keep a (now grandfathered) Verizon Prepaid Unlimited Hotspot Device plan in our arsenal.
Policies & Perks:
Carrier Networks Used: Verizon
Carrier Relation: Direct, prepaid
Plan Types Available: Data only
Device Types Permitted: Hotspots, Routers, Tablets

Hotspot (Jetpack) Devices: Can be added as a line on an account for the full price of line, including as the only line on the account, except for the 500mb plan.

Device Purchase Required: No, but can purchase a device
Mobile Hotspot Use: Hotspot/Jetpack and Tablet devices are permitted to use all data via hotspot.
Throttling: After the data bucket on most tiered plans is used, on-device speeds and hotspot speeds are throttled to 2G/128kbps for the remainder of the cycle - except for the 30GB (15GB +15GB bonus) Jetpack plan, which is throttled to 3G/600kbps.
Network Management: All prepaid plans are always subject to deprioritization behind postpaid customers on congested towers.
International Roaming: None - and no option to add TravelPass
Domestic Roaming: Some - but not full. Verizon prepaid utilizes most of Verizon postpaid domestic roaming for calls or data when you are off their network domestically. To view the disparities, see Verizon's map comparisons here. There are no additional charges for domestic roaming when it is supported - but you may see slowed data speeds (3G/2G speeds).
Plan Period: 30 days
Data Roll Over: No
Overage Charges: There are no overage charges on prepaid plans.
Streaming: No streaming services are provided with prepaid accounts. All video streaming is capped at 1080p for tablets, 720p for hotspot devices, and 480p for phones.

Unlimited Data Plans:

None currently available. pUDP Jetpack lines were retired to new customers on May 21st, 2019, but those who maintain those lines can utilize unlimited, network managed hotspot data from their hotspot device.
Lines permitted per account:

10 lines are allowed per account.
Additional lines after the first are eligible for up to a $20/month discount depending on device and plan.
A family plan allows for the ability to mix-and-match line types on a single account.

Family Plan Discounts:

1GB Tablet/Hotspot Device: $30

No discount on Family Account

6GB Tablet/Hotspot Device: $40 ($35 w/ autopay)

Save $10/month on Family Account

16GB Tablet/Hotspot Device: $50 ($45 w/ autopay)

Save $15/month on Family Account

30GB Tablet/Hotspot Device: $70 ($65 w/ autopay)

Save $20/month on Family Account
Related Articles:
This Review Contains Additional Member Exclusive Content

We are honored to be able to present the above overview for free without 3rd party advertising or sponsorships. We are not paid by the manufacturer of this product to provide this listing or review, and nor are we selling this equipment or plan (purchasing links are provided below as a courtesy and some may be affiliates).
Our members have funded this resource center and any extensive hands on time
we have spent with the product to review it.
The in-depth portions of this review are made available to them which might contain: hands on testing notes, field testing data, user interface tour, product analysis, comparison to alternatives, setup tips, video tutorial, insider tips, vendor discounts and fellow member experiences.
If you're a member, please log in to continue with this review.
If you're not a member.. please consider joining us!
---
Potential Alternatives to Consider:
For other featured cellular data plans ideal for RVers and Crusiers - here's some other options to consider:
Learn More About Selecting Cellular Data Plans Explore Our Comparative Pricing Grid
---
Purchasing Options
Selecting the right cellular data plan for your mobile internet needs is only one part of the equation. Here's some further guides on understanding the selection process as well as the additional gear you might need.