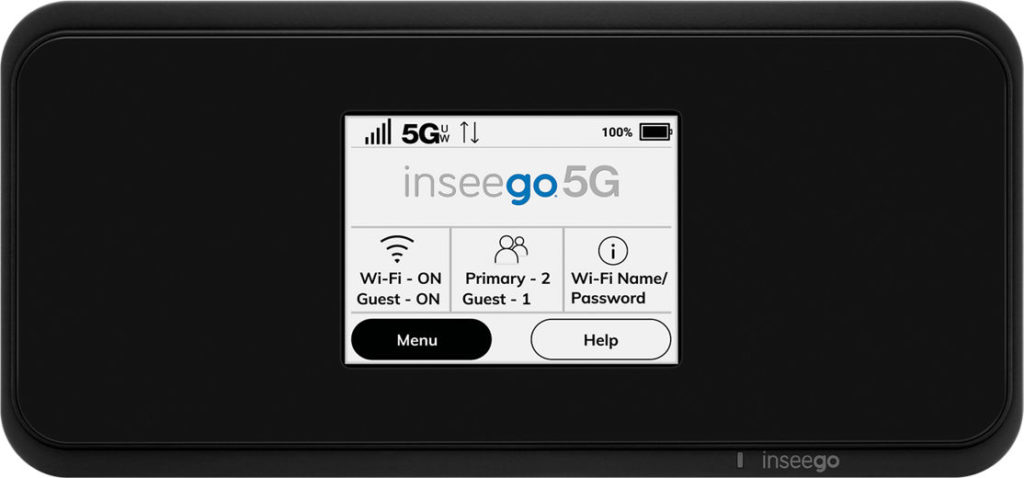 The Inseego MiFi M2100 hotspot is Verizon's flagship 5G mobile hotspot, released in early September 2020 (our news story) with support for Verizon's Sub-6GHz low band 5G Nationwide network as well as Verizon's insanely fast mmWave Ultra Wideband network.
It is also, of course, fully backward compatible with 4G/LTE.
On paper at least, this is the most capable hotspot available on Verizon's network.
But it does have some significant limitations, including unknown future support for Verizon's future mid-band 5G spectrum coming in 2022.
Specifications
Model Number: M2100
# of Connected Devices: Up to 30
Control Panel and Default Password:
Control Panel: http:/my.jetpack/ or http://192.168.1.1
Default Password: Initially, it is the same as the default password for your M2100 primary network. Tap Wi-Fi Name/Password on the Home touchscreen of your M2100 to view the password.
USB Tethering Support: Yes
Supported Networks and Bands:
Sub-6GHZ 5G: n2, n5, n66
mmWave 5G: n260, n261
4G/LTE: 1, 2, 3, 4, 5, 7, 12, 13, 14, 17, 20, 28, 46, 48, 66
LTE-Advanced Carrier Aggregation: Yes, 7-band
MIMO Support: 4x4 MIMO Sub6, 2x2 MIMO mmW
Other Ports: USB Type C
Wi-Fi Technology / Frequencies: Wi-Fi 6 - 802.11 a/ac/b/g/n/ax - 2.4GHz and 5GHz
Battery: 3500mAh (Removable)

Claimed Battery Life: Up to 24hrs, battery expansion available
Can Be Powered Without a Battery: No.
Battery Part #: 40123134 (Inseego model#: 160007)
Battery Purchase: American Battery / eBay / Amazon

Dimensions: 5.9" x 2.2" x 0.7"
SIM Card Type: Nano
Retail Price: $399.99
---
News, Videos, & Status
Inseego sent us an evaluation unit in early October 2020. Members can read our hands-on testing notes below as well as our guidance:
Related News Stories & Videos:

FAA vs FCC Drama: Verizon and AT&T Delay C-Band 5G Launch Two More Weeks Posted on: January 4, 2022
MoFi 5500 5G - Hands On First Look & The Current State of 5G Cellular Routers Posted on: December 9, 2021
Peplink Product Line Update: Major Changes to the MAX Transit Line, MAX BR1 Pro 5G Hands-On, New Maritime Antennas, and More! Posted on: November 10, 2021
Verizon and AT&T Delay C-Band 5G Launch to Address FAA Aviation Safety Concerns Posted on: November 8, 2021
A 3G Shutdown Update - Verizon, AT&T, T-Mobile & Sprint Posted on: October 26, 2021
---
---
Member Content Below:
Deep Dive

5G Assessment
Missing Features
Performance Comparison
Wi-Fi 6
Getting a M2100

Summary - Should you get a M2100?
---
Purchasing Options