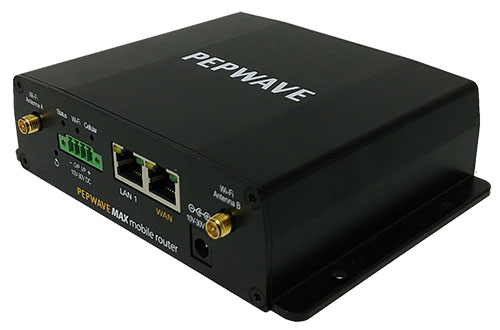 Peplink is a large and well respected company in the mobile networking space - primarily focused on high end applications ranging from providing cellular connectivity for fleets of vehicles to enabling whole-building network installations for hotels and offices.
While Peplink's Pepwave routers are not specifically designed with individual mobile users in mind, they do offer many solid and well supported products that many advanced users have grown to rely on.
In particular - we've long had the Pepwave MAX BR1 on our radar as an enticing option for those looking for a router with an integrated cellular modem, particularly once it was updated in 2015 to have a "universal" cellular radio which could be easily toggled between Verizon, AT&T, T-Mobile, and even Sprint.
The MAX BR1 MK2 update in late 2017 makes the BR1 even more compelling - and addresses many of the weaknesses and missing features of the earlier models.
NOTE: The Pepwave MAX lineup features many different routers, and they have evolved substantially over the years. This writeup is focused primarily on the late 2017 MAX BR1 MK2 - though other models are referenced and the key differences are explained.
If you are shopping for a MAX router - make sure that you know what you are getting!
As of early 2019 Pepwave has begun dropping hints that a new series of routers may be coming to market soon with AT&T FirstNet (LTE Band 14) support, and very likely support for T-Mobile's LTE Band 71 too.
No other details are yet available - but seeing as Pepwave has fallen several modem generations behind Cradlepoint we can only hope that a substantial jump is in the works. A MK3, perhaps?
Table Of Contents
---
Pepwave MAX BR1 MK2 Overview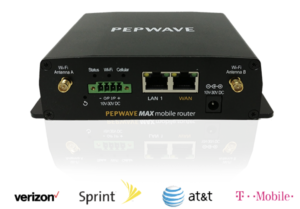 The BR1 is a tiny box with a lot of built in capabilities - including a WiFi-as-WAN capable Wi-Fi router, wired ethernet ports, and a built in cellular modem, all capable of being powered directly off of vehicle DC power.
Though it does have some limitations and frustrating software issues, overall the Pepwave MAX BR1 is very worthy of consideration and is deservedly a Top Pick.
Specifications
Wi-Fi Router: Yes

5GHz Wi-Fi: 802.11 ac/a/n - 900Mbps Max (2x2 MIMO)
Wi-Fi Antenna: 2x RP-SMA/Female Antenna Port, 5dBi Antennas Included
Wi-Fi as WAN: Yes
Guest Wi-Fi Network: Yes

Integrated Cellular Modem: Yes

Carriers:

Verizon, AT&T, T-Mobile, Sprint (Auto Switching)

LTE Bands:

1-5, 7, 8, 12/17, 13, 20, 25, 26, 29, 30, 41

4G/3G:

HSPA+ 850/1900/2100MHz

2G:

No
LTE-Advanced Carrier Aggregation: Yes (2x 20MHz)

LTE Performance Category:

Category 6
(Max Theoretical Speed: 300Mbps Down / 50Mbps Up)

Cellular Antennas:

2x SMA/Female Antenna Ports, Basic Indoor Antennas Included
SIM Slots: Dual Mini-SIM (2FF)

Special Features:

Data Usage Tracking, Auto Faillover, Integrated GPS, Band Locking

Power Source:

10V - 30V Direct DC Input, 110V AC Adapter Included

Dimensions:

5.8" x 5.0" x 1.6"

Outdoor Rated:

No

Retail Price:

$699.99
---
Review & Testing Status
We now have years of experience with the 2015 edition of the MAX BR1, and featured the MAX BR1 MK2 in our Spring 2018 Testing Round.
Members have access to an in depth review of this device below.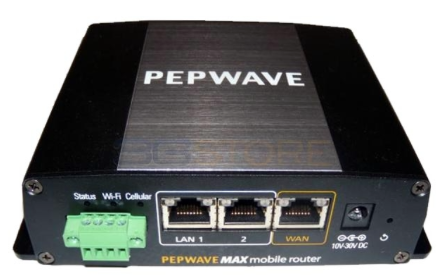 We have had the 2015 "Classic" version of the Pepwave MAX BR1 in our ongoing testing collection, and have used it extensively as one of the core components of our mobile internet arsenal for years now.
In late 2017 Peplink sent us the new MAX BR1 Mk2 to add to our testing collection, and we have been using it as one of our primary devices ever since.
In particular - we have been using it head to head in comparison with the similarly configured Cradlepoint IBR-900, as well as comparing it with the former Mk1 (aka 'Classic') MAX BR1.
Our raw field testing results can be found here for our members who want to follow along:
Unboxing Video & First Impressions
Here is our unboxing video and first impressions of the MAX BR1 Mk2 that Peplink sent us for evaluation in December 2017:
Based on over 6 months of extensive use and head-to-head testing, we have deeper thoughts and analysis of the MAX router below for members of this site.
---
Potential Alternatives to Consider:
For other popular mobile routers on the market we are tracking - here are our featured options:
Learn More About Selecting Mobile Routers
---
More Information Available to our Members

We are honored to be able to present the above overview for free without 3rd party advertising.
In thanks for funding this resource center our members have access to any further notes, analysis, insider info, member experiences and/or our full in-depth review of this product or offering.
If you're a member, please log in above to read the review.
Purchasing Options
Members - be sure to check the Member Discounts page for some potentially substantial savings on purchasing these items.
WARNING: Before the product line was updated in February 2015 to have a "universal" cellular radio, the MAX BR1 was available in several different versions locked to different cellular carriers. And when Peplink updated to LTE-A modems in 2017, older devices with more limited modems were kept in the product line too at lower prices.
If you are buying a used/older model, make sure that you know what you are getting and don't end up with a device that is incompatible with your preferred networks or that is lacking in LTE-A capabilities!
Related News Center Articles
The guides below have been hand-picked to help further your education about selecting & using mobile routers.