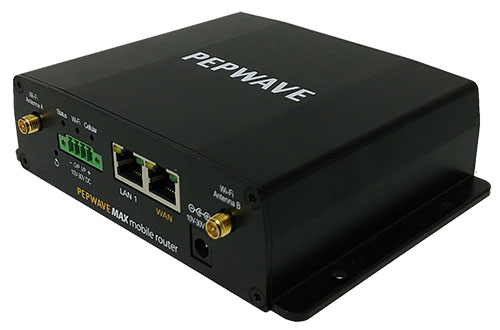 Peplink is a large and respected company in the high-end mobile networking space, particularly well known for providing cellular connectivity for everything from fleets of vehicles to cruise ships to dispersed corporate offices.
While Peplink's Pepwave cellular integrated routers are not specifically designed with individual mobile users in mind, Peplink does offer solid and well-supported products that many advanced users have grown to rely on.
In particular - we've long pointed to the Pepwave MAX BR1 as an enticing option for those looking for a good all-around router with an integrated cellular modem.
The MK2 was released in 2017, and has fallen behind in technology - but the upcoming MAX BR1 5G will bring this product line back to the peak of single modem mobile router technology, but at a significant price increase. And the MAX BR1 ENT offers a different take on the form factor with a USB port for tethering devices, but no support for Wi-Fi.
For an overview of the full Pepwave product line (and a look at some of the software features in common across different devices), see our gear center entry:
Product Lineup: Pepwave by Peplink
---
Product Variations
Pepwave has released multiple versions of this router over the years.
---
News, Videos & Status
MobileMustHave has sent us the new MAX BR1 5G that is meeting up with our team to put in to testing - we will have a first look video out soon, and will follow up with hands on experience for our members.
We also have the 2015 "Classic" version of the Pepwave MAX BR1 and the MAX BR1 MK2 in our ongoing testing collection.
Members have access to an in-depth review of this device below.
Our raw field testing results can be found here for our members who want to follow along:
Unboxing Video & First Impressions
Here is our unboxing video and first impressions of the MAX BR1 MK2 that Peplink sent us for evaluation in December 2017:
Related News Center Articles
---
Potential Alternatives to Consider:
For other popular mobile routers on the market we are tracking - here are our featured options:
Learn More About Selecting Mobile Routers
---
Member Exclusive Content Below
Deep Dive

MAX BR1 Pro 5G Guidance
Hands on Testing Notes
User Interface Tour
SIM Card Switching Notes
Different Versions Comparison Chart
Alternatives to Consider
Purchasing Options
Members - be sure to check the Member Discounts page for some potentially very substantial savings on purchasing Pepwave routers.
MobileMustHave
TechnoRV - MK2
5G Store
WiFi In Motion (formerly SinglePoint) - Not listed on the website, but is available via phone, chat, or email.
Amazon
WARNING: Pepwave doesn't tend to give their products new model numbers when they refresh them, and they also tend to keep older models around for a while. Make sure that you know what you are getting by checked specs carefully and don't end up with a device that is incompatible with your preferred networks or that is lacking capabilities!
If you are buying a used/older model, make sure that you know what you are getting and don't end up with a device that is incompatible with your preferred networks or that is lacking in LTE-A capabilities!