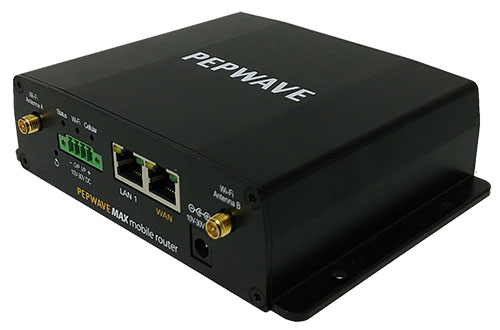 Peplink is a large and respected company in the high-end mobile networking space, particularly well known for providing cellular connectivity for everything from fleets of vehicles to cruise ships to dispersed corporate offices.
While Peplink's Pepwave cellular integrated routers are not specifically designed with individual mobile users in mind, Peplink does offer solid and well-supported products that many advanced users have grown to rely on.
In particular - we've long pointed to the Pepwave MAX BR1 as an enticing option for those looking for a good all-around router with an integrated cellular modem.
But the MAX BR1 MK2 is just one of many options in the diverse Pepwave MAX product line - and depending on your needs there are several others that may prove to be even more appealing.
For an overview of the full Pepwave MAX product line (and a look at some of the software features in common across different devices), see our gear center entry:
Product Lineup: Pepwave MAX Series by Peplink
---
MAX BR1 MK2 In Depth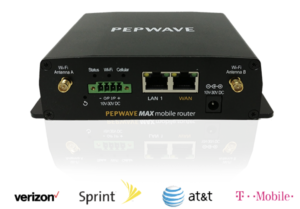 The MAX BR1 MK2 is a tiny box with a lot of built-in capabilities - including a WiFi-as-WAN capable Wi-Fi router, wired ethernet ports, and a built-in cellular modem, all capable of being powered directly off of vehicle DC power.
This product had earned our Top Pick status up until mid-2019, but we have removed it until this product line is refreshed to a more modern LTE modem. At just a Cat-6 - this product is now lagging behind current technology.
Other Pepwave routers may have additional hardware or software features, but for the most part, the user interface will be the same across all of them.
Specifications
Model: MAX BR1 MK2
Router Specs:

# of Connected Devices: Not specified

Wi-Fi Router:

Yes

5GHz Wi-Fi: 802.11 ac/a/n - 900Mbps Max (2x2 MIMO)
Wi-Fi Antenna: 2x RP-SMA/Female Antenna Port, 5dBi Antennas Included
Wi-Fi as WAN: Yes
Claimed Wi-Fi Range: Not specified
Guest Wi-Fi Network: Yes

Control Panel and Default Password: Not specified
USB Tethering Support: No

Cellular Modem Specs:

Supported Networks and Bands:

Verizon, AT&T, T-Mobile, Sprint (Auto Switching)

LTE Bands:

1-5, 7, 8, 12/17, 13, 20, 25, 26, 29, 30, 41

4G/3G:

HSPA+ 850/1900/2100MHz

2G:

No

LTE-Advanced Carrier Aggregation: Yes (2x 20MHz)
MIMO Support:

LTE Performance Category:

Category 6
(Max Theoretical Speed: 300Mbps Down / 50Mbps Up)

Cellular Antennas:

2x SMA/Female Antenna Ports, Basic Indoor Antennas Included
SIM Slots: Dual Mini-SIM (2FF)

Dimensions: 5.8" x 5.0" x 1.6"

Other Ports:

Power Source:

10V - 30V Direct DC Input, 110V AC Adapter Included

Outdoor Rated:

No
Special Features: Data Usage Tracking, Auto Failover, Integrated GPS, Band Locking

Retail Price:

$599.99
"Classic" BR1 vs BR1 MK2 vs MAX Mini
In July 2019 Peplink updated the "Classic" MAX BR1 (our story) to feature the same LTE modem found in the MAX BR1 MK2 and the LTE-A version of the MAX BR1 Mini.
To avoid getting stuck with older technology, make sure that you specify the LTE-A models.
Here are the basic differences between these most interesting versions of the MAX-BR1:
"Original" Classic
Mid-2019 Classic
MK2
MAX Mini
LTE-A Carrier Aggregation
No
Yes (2x 20Mhz)
Yes (2x 20Mhz)
Yes (2x 20Mhz)
Performance Category
Category 3
(Max Theoretical Speed: 100Mbps Down / 50Mbps Up)
Category 6
(Max Theoretical Speed: 300Mbps Down / 50Mbps Up)
Category 6
(Max Theoretical Speed: 300Mbps Down / 50Mbps Up)
Category 6
(Max Theoretical Speed: 300Mbps Down / 50Mbps Up)
LTE Bands
2, 4, 5, 13, 17, 25
1, 2, 3, 4, 5, 7, 8, 12/17, 13, 20, 25, 26, 29, 30, 41
1, 2, 3, 4, 5, 7, 8, 12/17, 13, 20, 25, 26, 29, 30, 41
1, 2, 3, 4, 5, 7, 8, 12/17, 13, 20, 25, 26, 29, 30, 41
Wi-Fi
2.4GHz 802.11 b/g/n
2.4GHz 802.11 b/g/n
Dual Band 802.11 b/g/n/a/ac
2.4GHz 802.11 b/g/n - WiFi-as-WAN costs $100 extra!
Ethernet
3x Fast (100 Mbps)
3x Fast (100 Mbps)
2x Gigabit (1,000 Mbps)
2x Fast (100 Mbps)
List Price
$549
$549
$599
$399
---
Review & Testing Status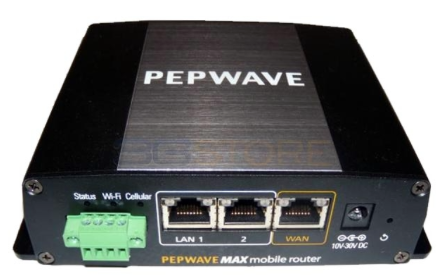 We have had the 2015 "Classic" version of the Pepwave MAX BR1 in our ongoing testing collection, and have used it extensively as one of the core components of our mobile internet arsenal for years now.
In late 2017 Peplink sent us the then-new MAX BR1 MK2 to add to our testing collection, and we have been using it as one of our primary devices ever since.
We featured the MAX BR1 MK2 in our Spring 2018 Testing Round and have had it in near-daily use ever since.
Members have access to an in-depth review of this device below.
In particular - we have been using it head to head in comparison with the similarly configured Cradlepoint IBR-900, as well as comparing it with the original MK1 (aka 'Classic') MAX BR1 and in September 2019 to the new PrimeCare MAX Transit Duo.
Our raw field testing results can be found here for our members who want to follow along:
Unboxing Video & First Impressions
Here is our unboxing video and first impressions of the MAX BR1 MK2 that Peplink sent us for evaluation in December 2017:
Based on over 6 months of extensive use and head-to-head testing, we have deeper thoughts and analysis of the MAX router below for members of this site.
---
Potential Alternatives to Consider:
For other popular mobile routers on the market we are tracking - here are our featured options:
Learn More About Selecting Mobile Routers
---
This Review Contains Additional Member Exclusive Content!
We are Honored to be Member Funded!
No ads, no sponsors, no selling (but may contain affiliate links)
Our members fund our in-depth independent reviews.
This entry may contain additional member exclusive content such as testing notes, field testing data, user interface tours, comparisons to alternatives, analysis, tips, videos and discounts.
Members also get interactive guidance, alerts, classroom and more.
Purchasing Options
Members - be sure to check the Member Discounts page for some potentially very substantial savings on purchasing Pepwave routers.
MobileMustHave
SinglePoint - The SinglePoint 'WiFi in Motion' bundles are built around the Pepwave MAX routers, bundled with RV-friendly antennas, service plans, and support.
WARNING: WARNING: Pepwave doesn't tend to give their products new model numbers when they refresh them, and they also tend to keep older models around for a while. Make sure that you know what you are getting by checked specs carefully and don't end up with a device that is incompatible with your preferred networks or that is lacking capabilities!
If you are buying a used/older model, make sure that you know what you are getting and don't end up with a device that is incompatible with your preferred networks or that is lacking in LTE-A capabilities!
Related News Center Articles
The guides below have been hand-picked to help further your education about selecting & using mobile routers.