Peplink is a large and respected company in the high-end mobile networking space, particularly well known for providing cellular connectivity for everything from fleets of vehicles to cruise ships to dispersed corporate offices.
This Gear Center entry covers Peplink's most affordable Pepwave MAX "mini" routers, which come in two major flavors:
The Pepwave MAX BR1 Mini is a stripped down version of the popular Pepwave MAX BR1 (our review) with WiFi-as-WAN, Ethernet WAN, and failover features disabled - though you can unlock these features later for $100 if needed. It is available with either a Cat-4 or Cat-6 cellular modem. There is also a "Core" version available for $50 less, with Wi-Fi and GPS functionality removed entirely.
The Pepwave MAX Transit Mini is, despite the name, more closely related to the Pepwave MAX BR1 Mini than the full-size Pepwave MAX Transit line. The MAX Transit Mini is currently the only Pepwave device with support for T-Mobile's LTE Band 71 and it also supports AT&T FirstNet Band 14. But it is currently only available with a limited Cat-4 LTE modem.
For an overview of the full Pepwave MAX product line (and a look at some of the software features in common across different devices), see our gear center product line overview:
Product Lineup: Pepwave MAX Series by Peplink
---
Pepwave Minis - In Depth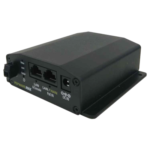 The MAX BR1 Mini and MAX Transit Mini routers are (in name) the little brothers of two of our top picks: The Pepwave MAX BR1 (our review) and Max Transit (our review).
The BR1 Mini and Transit Mini share a lot more in common with each other than their big brothers however. They are really just two variants of the same basic device, and they share most of their features in common.
Even their sturdy metal cases are nearly identical.
In general, the Mini routers are smaller, less expensive, and less capable than the full MAX BR1 - and substantially less capable than the MAX Transit.
But they also cost a lot less, which makes them a good potential value buy.
Here are the essential differences from the Mini's big brothers, the MAX BR1 and MAX Transit:
The Minis are physically smaller.
By default the Minis can only use cellular as an upstream connection. WiFi-as-WAN, Ethernet WAN, and failover features are disabled in the Minis - but these features can be unlocked with an extra fee:

MAX BR1 Mini: A one-time $100 licensing fee will unlock these features.
MAX Transit Mini: A Primecare subscription ($49/year) is required to unlock these features - one free year of Primecare is included with the router purchase.

The Ethernet ports are Fast Ethernet (100Mbps).
The Minis only come with single-band 802.11n 2.4GHz Wi-Fi, and the Wi-Fi radio is less powerful.
The Mini routers are capable of peaking routing throughput of 100Mbps, the same as the MAX BR1 but way less than the 400Mbps the MAX Transit is capable.
Difference between the MAX BR1 Mini and MAX Transit Mini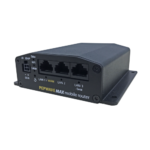 Overall, the routers are very similar.
Here are the key differences:
The MAX BR1 Mini has a choice of a Cat-4 or Cat-6 internal cellular modem. The MAX Transit Mini only comes with a Cat-4 modem. In many circumstances a Cat-6 modem can double the download speeds over a Cat-4 modem.
The MAX Transit Mini has support for Band 14 (AT&T's FirstNet) and T-Mobile's long range LTE Band 71. The MAX BR1 Mini lacks support for these two bands.
The MAX Transit Mini has 3 Ethernet ports, to the compared to the MAX BR1 Mini's 2.
The MAX BR1 Mini uses a round DC power plug, the MAX Transit Mini utilizes a 4-prong connector.
---
Specifications
Model: MAX BR1 & Transit Mini
Router Specs:

# of Connected Devices: Up to 60 (recommended)

Wi-Fi Router:

Yes

5GHz Wi-Fi

: None
Wi-Fi Antenna: 1x RP-SMA/Female Antenna Port
Wi-Fi as WAN: Available for an additional fee
Claimed Wi-Fi Range:
Guest Wi-Fi Network: Yes

Control Panel and Default Password: Not specified
USB Tethering Support: No USB Port
Ethernet Ports:

BR1 Mini: 2x 100Mbps Fast Ethernet - 1x LAN/Console and 1x LAN/WAN
Transit Mini: 3x 100Mbps Fast Ethernet - 1x LAN, 1x LAN/WAN, 1x LAN/Serial

Cellular Modem Specs: Yes

Supported Networks and Bands:

Verizon, AT&T, T-Mobile, Sprint

BR1 Mini:


LTE Bands (Cat-4 Version):

2, 4, 5, 12/17, 13

4G/3G Bands (Cat-4 Version):

HSPA+: Bands 2, 5

LTE Bands (Cat-6 Version):

1, 2, 3, 4, 5, 7, 8 , 12/17, 13, 20, 25, 26, 29, 30, 41

4G/3G Bands(Cat-6 Version):

WCDMA/HSPA+/DC-HSPA+: Bands 1, 5, 8
2G: No

Transit Mini:

LTE Bands (Cat-4 Version):

2, 4, 5, 12/17, 13, 14, 66, 71

4G/3G Bands (Cat-4 Version):

WCDMA/HSPA+/DC-HSPA+: Bands 2, 4, 5
2G: No

LTE-Advanced Carrier Aggregation: Yes (only on Cat-6 Version)
MIMO Support: No

LTE Performance Category:

Category 4 or Category 6
(Cat-4 Max Theoretical Speed: 150Mbps Down / 50Mbps Up)
(Cat-6 Max Theoretical Speed: 300Mbps Down / 50Mbps Up)

Cellular Antennas:

2x SMA/Female Antenna Ports
SIM Slots: Dual Mini-SIM

Dimensions: 4.1" x 4.3" x 1.2" - 0.54lbs
Other Ports:

Power Source: 12V – 28V Direct DC Input
Outdoor Rated: No

Special Features:

Data Usage Tracking, Integrated GPS

Retail Price:

$299 (Cat-4 BR1 Mini) - $399 (Cat-6 BR1 Mini and Transit Mini) - $249 (BR1 Mini Core - Cat-4, No Wi-Fi)
---
Review & Testing Status
We have years of first-hand experience with the MAX Mini's big brother, the MAX BR1 (our hands-on review).
The MAX line of routers shares the same software foundation and user interface, so details on that aspect of the Mini can be found in the BR1 review.
We have had some brief hands on time with a MAX BR1 Mini and MAX Transit Mini - additional testing and review notes will be found in the member section below.
---
Potential Alternatives to Consider:
For other popular mobile routers on the market we are tracking - here are our featured options:
Learn More About Selecting Mobile Routers
---
This Review Contains Additional Member Exclusive Content

We are honored to be able to present the above overview for free without 3rd party advertising or sponsorships. We are not paid by the manufacturer of this product to provide this listing or review, and nor are we selling this equipment or plan (purchasing links are provided below as a courtesy and some may be affiliates).
Our members have funded this resource center and any extensive hands on time
we have spent with the product to review it.
The in-depth portions of this review are made available to them which might contain: hands on testing notes, field testing data, user interface tour, product analysis, comparison to alternatives, setup tips, video tutorial, insider tips, vendor discounts and fellow member experiences.
If you're a member, please log in to continue with this review.
If you're not a member.. please consider joining us!
Purchasing Options
Members - be sure to check the Member Discounts page for some potentially substantial savings on purchasing Pepwave routers.
MobileMustHave
SinglePoint - The SinglePoint 'WiFi in Motion' bundles are built around the Pepwave MAX routers, bundled with RV-friendly antennas, service plans, and support.
WARNING: Pepwave doesn't tend to give their products new model numbers when they refresh them, and they also tend to keep older models around for a while. Make sure that you know what you are getting by checking specs carefully and don't end up with a device that is incompatible with your preferred networks or that is lacking capabilities!
Related News Center Articles
The guides below have been hand-picked to help further your education about selecting & using mobile routers.