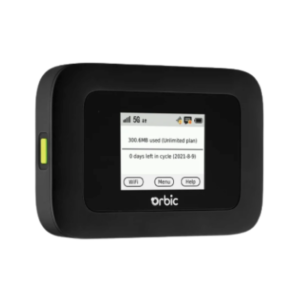 Verizon has officially released its newest 5G compatible mobile hotspot device - the Orbic Speed 5G UW. This is Verizon's third 5G mobile hotspot and will likely replace the Inseego MiFi M2100 5G UW as their flagship, which was released in September 2020.
The Orbic Speed 5G UW comes with several advantages over the M2100, for a lower price of $299, making the Orbic the obvious choice for those looking for a Verizon 5G mobile hotspot and have a plan with 5G UW access.
This new flagship device also signals a change for Verizon which, for the previous five years, has consistently turned to Inseego to provide its carrier-exclusive flagship level mobile hotspots. Verizon has used other manufacturers, including Orbic, for its lower-end devices.
Orbic Speed 5G UW First Look Video
Orbic Speed 5G UW Hardware
The Orbic Speed 5G UW utilizes the same Qualcomm X55 cellular modem that is found in most new 5G data devices today, including the Inseego M2100 and Netgear's 5G Nighthawk along with the modems used in 5G cellular routers.
The Orbic, unlike the M2100, supports all of Verizon's 5G cellular bands including Verizon's new C-band n77 and mmW.
The Orbic also comes with other features one would expect in a flagship-level device, including dual-band Wi-Fi 6 and an Ethernet-out port that provides a wired connection option.
Cellular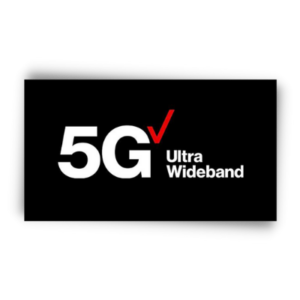 Here are the bands the new Orbic Speed 5G UW supports:
Sub-6GHz 5G: n2, n5, n48, n66, n77, n78
mmWave 5G: n260, n261
4G/LTE: 2, 4, 5, 12, 13, 48, 66
These cover all of Verizon's core cellular bands but miss bands important for AT&T and T-Mobile. This is not surprising as the Orbic is a Verizon-exclusive device.
The Orbic does use the X55 modem and comes with all the limitations of that modem design, primarily the inability to combine low and mid-band frequencies for carrier aggregation.
What gives the Orbic a clear advantage over the Inseego M2100 is support for n77. This is Verizon's newest band rolled out last month (see our story for details). This is mid-band spectrum that bridges the gap between speed and range and will be one of Verizon's most important cellular bands going forward.
For more on cellular modem generations and 5G, see our latest 5G status update article.
For LTE, the Orbic speed covers all the core Verizon bands, but we wish there was support for some additional useful bands like 29, 30, and 46. It's possible that those will be enabled in the future.
No Antenna Ports
One downside of the Orbic 5G for mobile users is a lack of external cellular antenna ports. Antenna ports are very handy as they provide the option to improve the cellular signal with a higher-gain antenna.
Although disappointing, this omission is not surprising. Antenna ports are a rare feature, particularly for 5G mobile hotspots that support millimeter-wave frequencies.
LAN Connectivity
The Orbic Speed 5G UW comes with local network connectivity features that one would expect in a flagship-level device.
The Orbic supports the Wi-Fi 6 standard (802.11ax) standard and can connect up to 30 devices. It offers simultaneous dual-band connectivity on both 2.4 and 5GHz Wi-Fi frequencies, even for the guest network.
A very nice additional feature is the Gigabit Ethernet-out port which allows users to connect the hotspot to a router, computer, or other Ethernet devices. This allows the hotspot to be used as an additional WAN source on almost any router with an Ethernet-in port.
Other Hardware Features
Here are some of the other features of the Orbic 5G:
USB-C charging port that is also used for tethering to another device
A removable battery with a claimed usage time of 12 hours. It's unknown if the Orbic will work without a battery.
A color touch-screen allows direct access to many of the hotspot's functions and configuration options.
Comparison to the Inseego M2100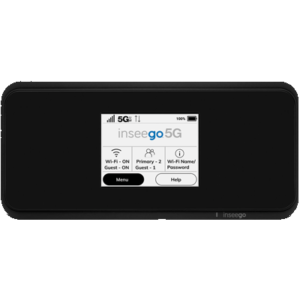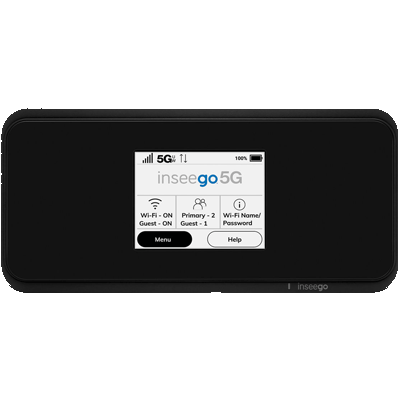 With the release of the Orbic Speed 5G UW, there is really no reason to consider the older Inseego M2100. Although based on the same chipset, the M2100 does not support - and likely will never support - Verizon's new and important C-band n77 spectrum.
The Orbic also comes with an Ethernet port, a very handy connectivity option for integrating cellular connectivity into a LAN.
Additionally, the Orbic hotspot at $299 is $100 less than the M2100.
On the downside, the Orbic has less battery life - 12 hours compared to 24 hours.
The Orbic also supports fewer LTE cellular bands. The Orbic is missing many key bands for AT&T and T-Mobile and would be a poor choice to use on other networks.
Orbic Speed 5G UW Firmware
At press time, details of the firmware were not available. The Orbic does appear to have the typical suite of features that are commonly found in flagship-level mobile hotspots.
Many functions can be accessed via the on-device touchscreen and the hotspot also has more advanced configuration options available by logging into the device admin panel.
Concluding Thoughts
At $299 the price is surprisingly reasonable for a mobile hotspot that supports low, mid, and high-band 5G - making it a good value. The Orbic is $100 less than the Inseego M2100, over $200 less than AT&T's 5G Netgear Nighthawk, and it's also less than the Inseego M2000 on T-Mobile which costs $336.
The main concern and unknown is that this is Orbic's first flagship-level mobile hotspot device and only the second mobile hotspot device they've made (The entry-level Orbic Speed was the first). Bugs and issues with new mobile hotspot devices are relatively common, even from established companies like Netgear and Inseego. Until we get one in for testing, we won't know if Orbic has made a quality, bug-free device.
However, if you do want to jump on the Orbic Speed 5G UW now, it can be ordered direct from Verizon for both Prepaid and Postpaid compatible data plans.
Member Exclusives Below:
Bonus Member Only Content Available!
We go extra for our premium members - who make this resource center possible (did you notice the lack of 3rd Party advertising?). We have included some additional information in this news article just for our members - analysis, guidance and/or insider tips.
If you're not yet a member, please consider joining us. Extra content like this is one of the many perks we offer - in-depth content, guidance, discounts, alerts, classroom and more.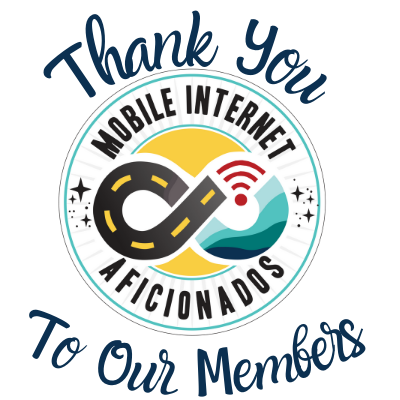 If you are already a member, please log in above to see the special content we have prepared for you.
Further Reading
Related News: