Key Points:
The Nighthawk M6 Pro (Model MR6550) is the unlocked, multi-carrier version of the AT&T Nighthawk M6 Pro mobile hotspot.
The MR6550 uses the Qualcomm X65 modem and supports both sub-6GHz 5G and short-range millimeter-wave (mmWave) 5G networks.
The unlocked Nighthawk M6 Pro supports advanced features like Wi-Fi 6E, a 2.5Gbps Ethernet port, and two antenna ports.
Today Netgear released an unlocked, multi-carrier version of its flagship mobile hotspot, the Nighthawk M6 Pro 5G, model number MR6550.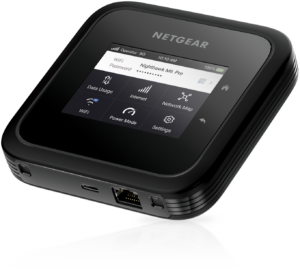 This new hotspot comes seven months after Netgear released the MR6150, an unlocked multi-carrier 5G hotspot using the X62 modem with fewer features than the MR6550 released today.
The MR6550 is part of the M6 series of mobile hotspots, which all share a common design but have some significant differences.
The MR6550 is the same as the AT&T exclusive M6 Pro, but it comes unlocked and supports the cellular bands for all three major carriers, not just AT&T. Like the AT&T M6 Pro, this new hotspot uses the 4th generation Qualcomm X65 cellular modem and also supports mmWave 5G frequencies.
The MR6550 comes with many features, and combined with the X65 modem, it is the most advanced and capable multi-carrier mobile hotspot available today. But that capability comes at a jaw-dropping $999.99 price, making it the most expensive 5G mobile hotspot ever released.
Nighthawk M6 Pro Video Overview
Netgear Nighthawk M6 MR6550 5G Overview
The unlocked M6 Pro 5G mobile hotspot has the same core design as the other versions of the M6 and is based on, and most similar to, the MR6500 from AT&T in terms of features, performance, and hardware.
Here's a quick rundown on the current Nighthawk M6 variants:
M6 (MR6110) $309.99 - An AT&T hotspot using the X62 modem. It supports Wi-Fi 6 and does not support mmWave 5G.
M6 (MR6150) $699.99 - Unlocked, multi-carrier Netgear version of the MR6110.
M6 Pro (MR6500) $459.99 - The AT&T flagship hotspot that includes mmWave support and uses the X65 modem. Supports Wi-Fi 6E.
M6 Pro (MR6550) $999.99 - The unlocked, multi-carrier Netgear version of the MR6500 (and covered in this article)
M6 Pro (MR6400) $349.99 - A Dish Project Genesis hotspot similar to the Unlocked M6 Pro, but without mmWave support.
Cellular Capabilities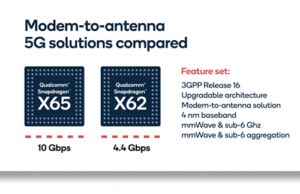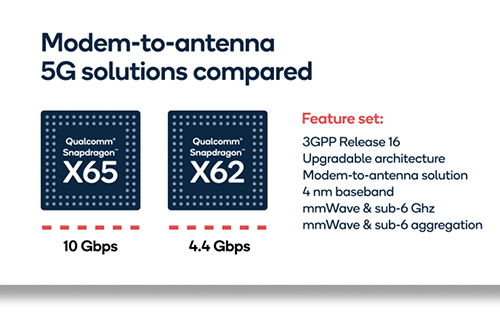 The M6 series of mobile hotspots utilize Qualcomm's fourth generation X62/X65 cellular modem based on the 3GPP's 5G NR release 16 cellular standard.
This standard and the modems that follow it have significant advantages over previous generations and are what we consider to be the first 5G modems that are more "future-proof" compared to older designs. The MR6550 uses the X65 modem, which is faster than the X62, with peak theoretical speeds of 10 Gbps.
Netgear claims that the MR6550 can reach up to 8Gbps by combining 800MHz of mmWave spectrum, but that would be under ideal conditions, and, as we'll see later, the USB, Wi-Fi, and Ethernet interfaces on the M6 Pro can't reach those speeds.
But the performance of this hotspot can make the best of whatever the local tower can offer, and it should perform very well.
For LTE, the MR6550 is a Category-20 device with peak theoretical speeds of 2 Gbps, which is near the peak of what LTE can offer.
The new MR6550 supports the following cellular bands:
Sub-6GHz 5G: n2, n5, n7, n12, n14, n25, n29, n30, n38, n41, n48, n66, n71, n77, n78
mmWave 5G: n260, n261
4G/LTE: 1, 2, 3, 4, 5, 7, 12, 13, 14, 25, 26, 29, 30, 40, 41, 46, 48, 66, 71
This covers all the major bands for AT&T, T-Mobile, and Verizon, including newer important cellular bands such as Band 14/n14 for AT&T, Band 71/n71 for T-Mobile, and n77 for Verizon and AT&T.
At launch, the hotspot is only certified on T-Mobile, but is compatible with AT&T, Verizon, and all major Canadian carriers. Certification on Verizon and AT&T is expected in the future.
Why An Unlocked Hotspot?
You may be wondering why it might be worth it to pay a premium for an unlocked mobile hotspot device. Why not buy, for example, the AT&T version of the M6 Pro, pay for it, unlock it, and use it on other carriers?
The problem is that mobile hotspots sold directly by the carriers intentionally do not support the frequency bands for other cellular carriers. The AT&T version of the M6 Pro only supports AT&T cellular bands. It doesn't support critical bands for Verizon (like band 13) and T-Mobile (like band 71). There are some bands used by all three major carriers, so the AT&T M6 Pro will work on other carriers, but only on those bands.
We've made a chart showing which LTE and 5G bands each version of the M6 supports - as you can see, the unlocked versions support the core and secondary bands for all three carriers, while the carrier-branded versions do not.

Millimeter Wave Support
One of the major differences between the M6 Pro and the standard M6 is support for mmWave 5G.
mmWave 5G is extremely short-range but very high speed. Because of the short range, mmWave is currently only deployed in parts of major cities and crowded venues like stadiums and airports. Because of the technical limitations of this spectrum, it's best used in denser urban areas.
While it's nice to have complete 5G coverage, mmWave just isn't that important to our audience of RVers and boaters who generally don't spend a lot of time in high-density urban areas.
Antenna Ports
Like the other hotspots in the M6 series, the MR6550 comes with two TS-9 antenna ports for an external antenna. However, antennas should only be used when necessary since they come at a cost for high-end mobile hotspots.
The two antenna ports only allow for 2x2 MIMO while the hotspot itself supports 4x4 MIMO internally, so using an external antenna can halve speeds in good signal areas. Additionally, the antenna does not work with mmWave frequencies and, therefore, cannot extend the short-range of mmWave signals.
But having the option for an external antenna is a nice feature for nomads, as the additional gain of an external antenna can help get a usable signal in remote areas where the cell tower is distant.
HPUE
Like some other M6 mobile hotspots, the unlocked M6 Pro supports High Power User Equipment (HPUE).
HPUE allows the device to transmit at a higher output power under certain conditions, but only on specific bands - in this case, only one band, n77. n77 is new mid-band spectrum for AT&T and Verizon and provides a good balance of speed and performance. n77 will be a critical band for AT&T and Verizon into the future, and HPUE should make it easier for the M6 Pro to connect to that band at greater distances.
Wi-Fi Capabilities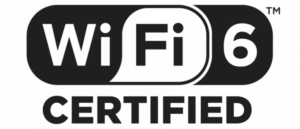 Like the AT&T version, the new unlocked M6 Pro supports Wi-Fi 6E.
Wi-Fi 6E is an extension of the Wi-Fi 6 standard that can theoretically more than double Wi-Fi speed by using 6 GHz spectrum.
To take advantage of this extra speed, you'll need devices that also support Wi-Fi 6E. The downside is that adoption of Wi-Fi 6E so far is limited, and it seems many device manufacturers may skip supporting Wi-Fi 6E and instead wait for Wi-Fi 7.
Additionally, the unlocked M6 Pro is a dual-band device, meaning it can only support two Wi-Fi bands simultaneously and only in the following configurations:
2.4 GHz & 5 GHz Wi-Fi
2.4 GHz & 6 GHz Wi-Fi
It can not simultaneously support 5 GHz & 6 GHz Wi-Fi, so if you want to use 6 GHz, all of your 5 GHz devices will have to connect via the slower and more crowded 2.4 GHz frequency.
Another downside is that the 6 GHz Wi-Fi is not supported when the hotspot runs on battery power, and it must use an AC adapter with the battery removed. 6 GHz Wi-Fi will not, for example, work if a laptop USB port powers the hotspot.
On the plus side, the hotspot does feature an "In-Home Performance Mode" that claims to boost Wi-Fi coverage. This mode increases the power of the Wi-Fi radios for greater range, but requires removing the battery and operating the device using the power adapter. While intended to provide more coverage from homes (Netgear claims it will cover up to a 2000 sq. ft home), it could be handy for those with larger RVs or boats and those who need connectivity further away from their RV or boat.
Ethernet and USB Connectivity
The Nighthawk M6 Pro has an Ethernet that can support 2.5 Gbps speeds, but these speeds can only be activated when the battery is removed, and the hotspot is connected to a power adapter.
That extra performance requires connecting to a router or computer that also supports 2.5 Gbps Ethernet, which is still a relatively rare feature.
When the battery is in the hotspot, the Ethernet port supports 1 Gbps speeds.
USB tethering is supported via the USB-C port, and Netgear claims peak speeds of up to 5 Gbps, assuming, again, the device you're tethering to and the USB on that device can support those speeds.
Like the other M6 models, the hotspot can also be used as a battery bank to charge other devices using the same USB port.
Member Exclusives Below:
 Bonus Member Only Content Available!
We go extra for our premium members - who make this resource center possible (did you notice the lack of 3rd Party advertising?). We have included some additional information in this news article just for our members - analysis, guidance and/or insider tips.
If you're not yet a member, please consider joining us. Extra content like this is one of the many perks we offer - in-depth content, guidance, discounts, alerts, classroom and more.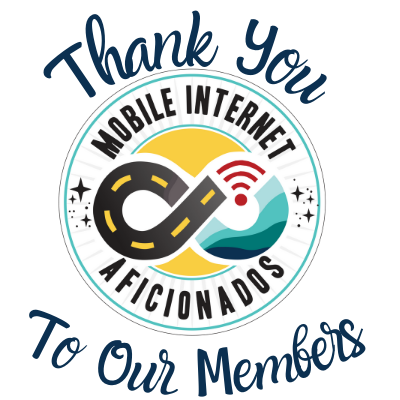 If you are already a member, please log in above to see the special content we have prepared for you.
Summary
The M6550 is the top multi-carrier hotspot available today and checks all the boxes we look for when evaluating hotspots. But the price makes it a poor value for most of our audience considering the alternative options.
The cost is, for example, roughly the same as buying the flagship hotspot device from each of the three major carriers combined. And the $999.99 price brings it to the price level of enterprise mobile 5G routers, like the Peplink BR1 Pro 5G, which comes with an older X55 cellular modem, but is a full-featured router with network capabilities far beyond any mobile hotspot device.
From a value perspective, it's hard to recommend the MR6550.
A better alternative for an unlocked multicarrier hotspot is the standard unlocked M6 (MR6150). This hotspot was released last fall at $799, but the price has since been reduced to $699. For most of our audience, the additional capabilities of the new M6 Pro are not worth a $300 price premium over the standard unlocked M6.
However, for those who need or want the best future-proof multi-carrier 5G mobile hotspot available today, and want to focus on a single device, then the unlocked M6 Pro might make sense.
Additional Resources
Related MIRC Content
Related News Stories: