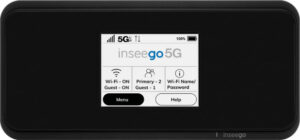 The Inseego 5G MiFi M2000 (model M2000B) hotspot is T-Mobile's first flagship-level hotspot. The 5G MiFi M2000 was released in mid-December 2020.
The device itself uses the same base cellular modem and hardware as the Verizon MiFi M2100 5G UW. However, despite sharing the same base hardware, there are some major differences. The M2000B model for T-Mobile does not support mmWave frequencies but it does support more LTE and Sub6 5G bands than the Verizon device.
Specifications
Model Number: M2000B
# of Connected Devices: Up to 30
Control Panel and Default Password:
Control Panel: http:/my.MIFI/ or http://192.168.1.1
Default Password: Initially, it is the same as the default password for your M2000 primary network. Tap Wi-Fi Name/Password on the Home touchscreen of your M2000 to view the password.
USB Tethering Support: Yes
Supported Networks and Bands:
Sub-6GHZ 5G: n2, n41, n66, n71
mmWave 5G: Not Supported
4G/LTE: 1, 2, 3, 4, 5, 7, 8, 12, 13, 14, 17, 25, 26, 28, 29, 30, 38, 39, 40, 41, 42, 46, 48, 49, 66, 71
LTE-Advanced Carrier Aggregation: Yes, 7-band
MIMO Support: 4x4 MIMO
Other Ports: USB Type C
Wi-Fi Technology / Frequencies: 802.11 a/ac/b/g/n/ax - 2.4GHz and 5GHz
Battery: 5050mAh (Removable)

Claimed Battery Life: Up to 24hrs, battery expansion available
Can Be Powered Without a Battery: No
Battery Part #: 40123133 (Inseego Model #: 160006)
Battery Purchase: Amazon

Dimensions: 5.9" x 2.2" x 0.7"
SIM Card Type: Nano
Retail Price: $336.00
---
News, Videos, & Status
Our team has the M2000 in active use, but our more thorough review of this device can be found in the very similar version for Verizon- the Inseego MiFi M2100 5G UW.
Related News Stories:
Peplink Product Line Update: Major Changes to the MAX Transit Line, MAX BR1 Pro 5G Hands-On, New Maritime Antennas, and More! Posted on: November 10, 2021
Verizon and AT&T Delay C-Band 5G Launch to Address FAA Aviation Safety Concerns Posted on: November 8, 2021
A 3G Shutdown Update - Verizon, AT&T, T-Mobile & Sprint Posted on: October 26, 2021
T-Mobile iPhones to Show "5G UC" Icon To Indicate Next-Generation 5G Performance Areas Posted on: September 22, 2021
WiFiRanger Firmware Update 7.1.0b11 - Performance Improvements, Simplified UI, Bug Fixes, Preparing for Future 5G Modems Posted on: September 21, 2021
---
---
---
Purchasing Options