Key Points:
Verizon has turned on C-Band coverage in many areas across the country, and aims to have over 100 million people covered by the end of January.
AT&T today announced a much more limited C-Band roll-out, with service in just 8 metro regions.
Meanwhile - T-Mobile has announced that it has enabled 5G Carrier Aggregation, enabling faster speeds and better coverage for its own already existing Mid-Band 5G network.
These Mid-Band 5G rollouts are the key to truly next generation 5G capabilities. But not all 5G devices fully support these new technologies!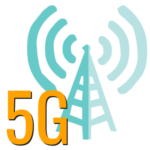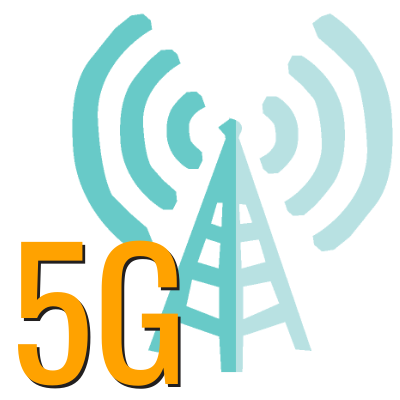 We have been tracking the emergence of C-Band 5G since the FCC auction for this valuable spectrum began in 2020 - and the past few months have been a roller coaster featuring last minute delays and much drama around the potential for C-Band to interfere with some older radar altimeters.
This battle has pitted the airlines and the FAA versus the cellular carriers and the FCC - and it has been a mess that for a while threatened to completely derail Verizon's gigantic $53 billion investment in C-Band spectrum, leaving T-Mobile an opportunity to pull even further ahead in delivering truly next-generation 5G performance.
But today is the day, after much delay, that C-Band launches - and the FAA gets out of the way.
So now that C-Band is turned on - just what has changed for AT&T and Verizon?
And how has T-Mobile responded, now that the other carriers have some mid-band spectrum of their own?
Here's all the latest...
C-Band Spectrum Video
Subscribe to our YouTube Channel
Why C-Band Matters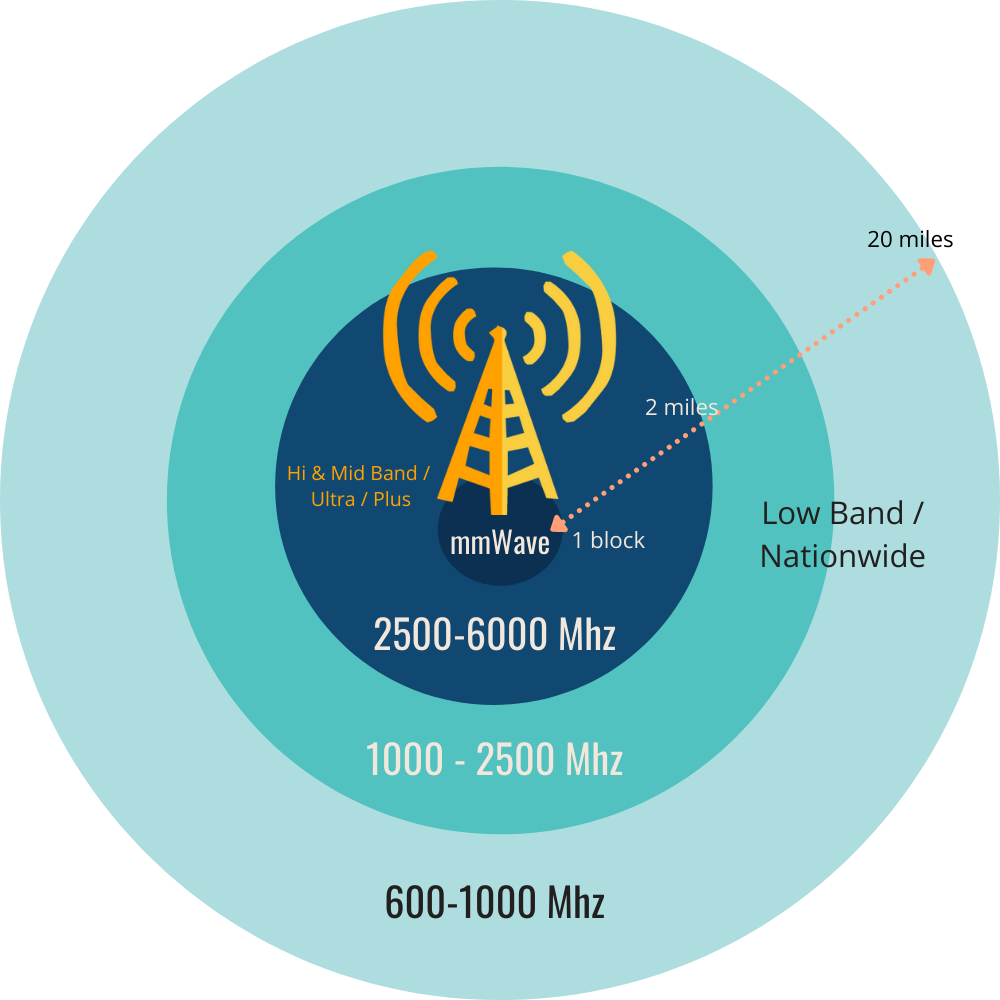 The C-Band spectrum that the FCC auctioned off in 2021 is the 280 MHz between 3.7 GHz and 3.98 GHz - a chunk of airwaves that is suitable for deploying extremely fast 5G with much better range than mmWave.
This is considered by carriers to be mid-band "Goldilocks" spectrum - fast enough to deliver a 5G experience that substantially outperforms even the best 4G, but long range enough to matter in places beyond just the core urban areas where mmWave makes sense.
Up until now, other than Sprint's mostly unused legacy spectrum, there has been very little of this mid-band spectrum available for 5G usage in the United States.
But now with C-Band, AT&T and Verizon are about to roll out their next generation networks in a big way.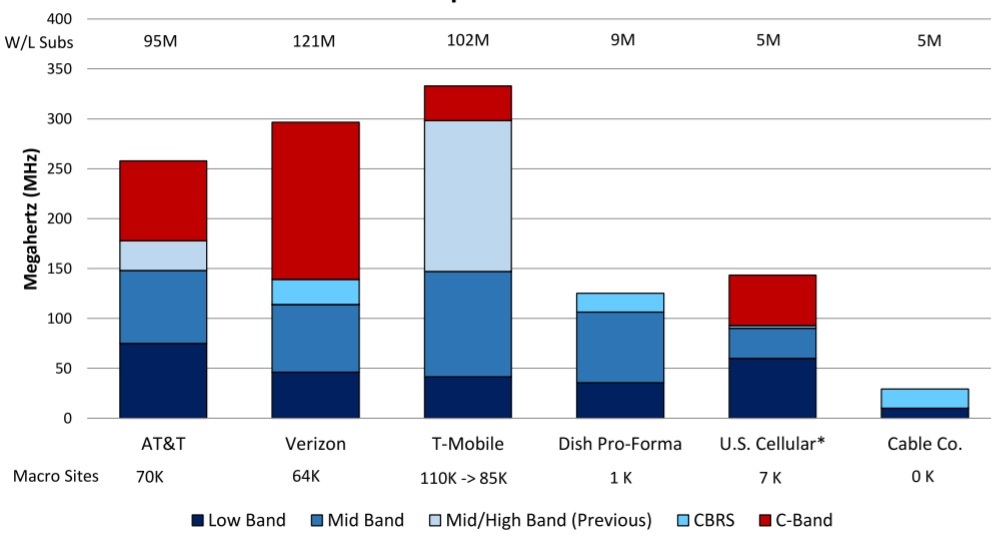 But... C-Band Is Relatively Short Range!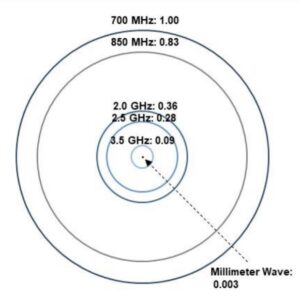 It is true that C-Band has massively more range than mmWave 5G, but it still only covers a tiny fraction of the area that can be covered with slower low-band spectrum like the 600 MHz band n71.
This means that carriers will need to build a LOT more towers to cover any given area with C-Band 5G.
In the short run - C-Band will probably be most important for bringing a massive influx of capacity to congested urban and suburban cellular networks, and for deploying fixed residential internet service over cellular.
Longer range rural C-Band coverage will probably take a lot longer to roll out, and will require a lot of new infrastructure to be built.
In other words - as exciting as C-Band is, it might not be critical for many RVers and Cruisers any time soon.
But for those who venture into congested areas - C-Band compatibility will become extremely nice to have!
To really dive deep into understand what spectrum is, and why it matters - see our featured guide:
Understanding Cellular Frequencies - Our guide will help you understand what different frequency bands are, and how the differences between them can be so critical.
Verizon's Massive C-Band Bet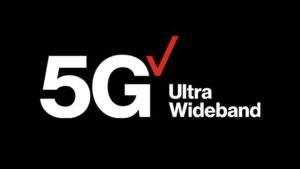 Verizon bet big on C-Band spectrum, spending $53 billion last year to acquire the rights to the largest swath of C-Band spectrum nationwide.
This spectrum is slated to be the foundation for Verizon's 5G Ultra Wideband network, and Verizon has been rushing to upgrade towers to support C-Band - initially planning to launch in December, and then earlier in January.
Today, Verizon at last flipped the switch - and it looks to be a big rollout:
"This month, more than 100 million people in 1,700-plus cities around the nation will have access to speeds up to 10x faster than 4G LTE via Verizon 5G Ultra Wideband network. This means nearly one in three Americans live in areas where they could experience the transformative speed, reliability and power of 5G Ultra Wideband on the go, or at their homes or business."
We still do not know exactly where Verizon has turned on C-Band, though social media is filling up with some reports of people discovering "5G UW" indicators and vastly increased Verizon performance in places that were previously lacking.
Verizon had promised to have coverage maps available at launch, but due to a last minute adjustment agreed to with the FAA to temporarily expand the "exclusion zone" around airports, it seems that Verizon has had to go back to the drawing board with maps and it may only have turned on some limited areas today.
But by the end of January we expect maps will be available and the first wave of C-Band rollouts will be complete, and Verizon's network in many areas will at last be worth calling "next generation".
Verizon will continue expanding C-Band coverage in the years ahead, and is currently forecasting coverage for 200 million people by the end of 2023.
AT&T's Slower C-Band Roll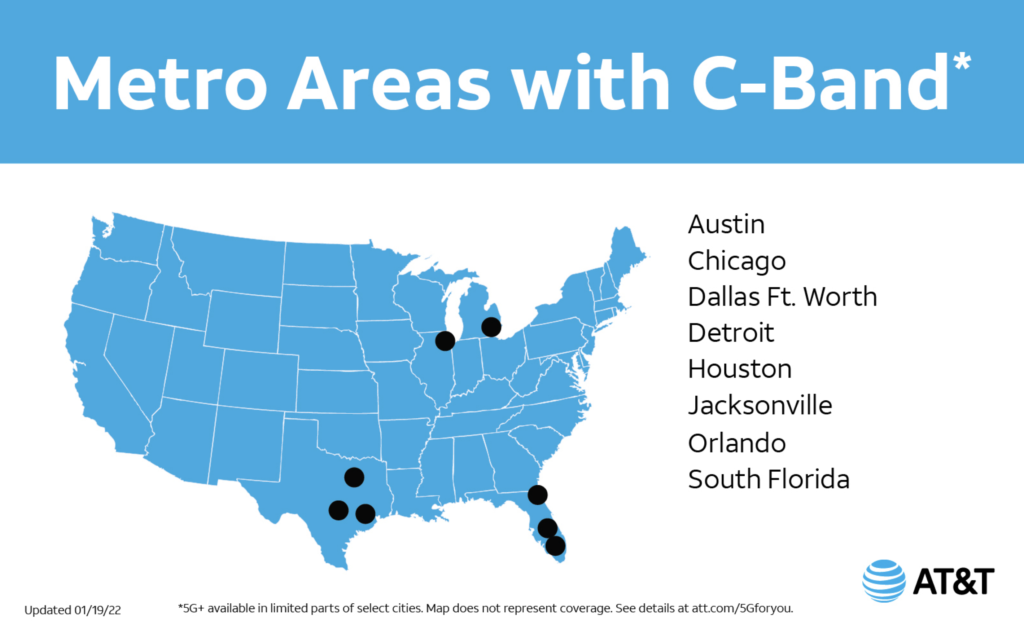 AT&T also turned on it's C-Band network today, but it appears to be moving forward at a much slower pace than Verizon.
Here is AT&T's statement on C-Band:
"The key thing to understand about C-Band is that it provides a great combination of ultra-fast speeds and wide geographic coverage.
AT&T 5G already reaches more than 255 million people in more than 16,000 cities and towns, and AT&T 5G+ (using mmWave) is live in parts of more than 40 cities and nearly 30 stadiums and venues. C-Band spectrum complements those existing capabilities perfectly. Today's introduction begins in limited parts of 8 metro areas across the U.S. It will expand rapidly as our thoughtful and efficient deployment ramps up throughout the year."
C-Band is critical to AT&T's future, but much of the C-Band spectrum AT&T purchased will not be cleared for deployment until the end of 2023. This means that C-Band is a much lower priority for AT&T than it is for Verizon.
But AT&T customers should be thinking ahead - planning for the day when C-Band (n77) compatibility is critical.
T-Mobile Leads With 5G Carrier Aggregation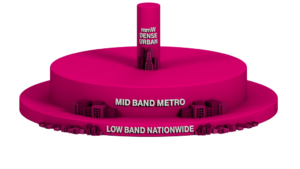 T-Mobile also has some C-Band spectrum slated for use in 2023, but thanks to its purchase of Sprint - T-Mobile already controls a huge swath of mid-band spectrum (band n41) that it has been able to take advantage of already - dubbing it the "Ultra Capacity" (5G UC) network.
Because it has had such a head start in acquiring 5G spectrum, T-Mobile has pulled way ahead in deploying 5G.
T-Mobile now claims that its "Extended Range 5G" (600 MHz band n71) "covers nearly everyone in the country – more than 310 million people across 1.7 million square miles".
And it has been rolling out mid-band rapidly too, saying that as of today "More than 210 million people are covered with Ultra Capacity 5G" (band n41).
But now that Verizon is starting to play catch up, T-Mobile has announced that it is beginning to enable these 5G bands to be combined to enable even more speed and range.
Here is T-Mobile latest claim:
"T-Mobile's industry-leading 5G speeds are only getting speedier. The Un-carrier announced today it's launching new capabilities with 5G Carrier Aggregation (NR CA), now combining two channels of 2.5 GHz mid-band spectrum for greater speed and capacity. If you're not an industry-insider, that means T-Mobile basically took two highways and merged them into one superhighway. Now traffic can go much faster with less congestion and more roadway/capacity. ... Early tests show 2.5 GHz NR CA can improve speeds by approximately 20%, and that devices reach speeds greater than 100 Mbps twice as often as those without NR CA!"
This basically enables a new layer of turbo-boosting in 5G UC enabled areas.
But more exciting for nomads who are frequently further from cell towers, T-Mobile has also announced:
"Additionally, T-Mobile has expanded NR CA with 2.5GHz and 600 MHz to cities across the country. These capabilities are live across much of T-Mobile's network today."
Combining longer ranger 600 MHz 5G with short range mid-band 5G enables the long range connection to be used from your uplink to the tower, and the mid-band connection can then be used for downlink over a much longer range than would be possible otherwise.
But this capability requires the absolute latest 5G modem chips (the Qualcomm Snapdragon X60 or better) - and at the moment T-Mobile says that only the Samsung Galaxy S21 and the iPhone 13 are compatible.
Eventually AT&T and Verizon will also begin taking advantage of 5G carrier aggregation too, but T-Mobile is definitely continuing to lead when it comes to deploying 5G technologies.
For more on 5G carrier aggregation, see our featured article:
5G Industry Update: 5G Routers, Hotspots & Antennas Are Here – But Should You Wait?
Device Compatibility Concerns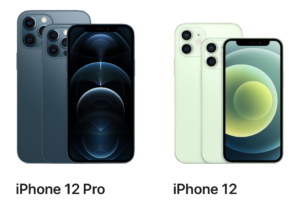 Though C-Band is a huge technological leap over earlier 5G technologies, not all devices are going to be compatible.
Smartphones
Verizon spokesperson George Koroneos shared this initially very short list of currently supported devices:
"The full power of 5G Ultra is now available on the following phones in select areas: iPhone 12 and iPhone 13 series, 5G iPads, Galaxy S21 series, Galaxy Flip3 and Fold3. No software update is required. Additional phones will receive a software update in the coming weeks."
Not every Verizon 5G device will receive the needed software updates however.
Verizon has published a compatibility list, saying:
"Most devices manufactured in 2021 and some devices manufactured in 2020 are compatible with our 5G Ultra Wideband coverage/network, which now includes mid-band (C-Band) spectrum."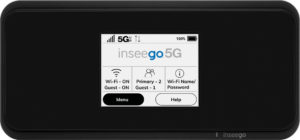 AT&T hasn't yet published an official list of C-Band compatible devices, but says that it has 17 C-Band compatible devices in the AT&T online store. Digging down to find band n77 compatibility listed in the specs for each device is required to know for certain.
Mobile Hotspot Devices
As we warned about when it launched in September 2020, Verizon's flagship 5G Jetpack mobile hotspot, the Inseego MiFi M2100 5G UW was lacking official mid-band support, and "the long-term 5G capability of the M2100 might prove to be limited."
George at Verizon has confirmed to us that indeed, "the Inseego M2100 is not compatible with our expanded network."
This is a real sting for those who invested $399 in this flagship mobile hotspot.
As we have warned about since it launched - the Netgear Nighthawk 5G Mobile Hotspots MR5100/5200 is also NOT C-Band compatible, and we have not yet heard any indication that AT&T and Netgear will offer a software update to enable this.
For T-Mobile, their 5G hotspot the M2000 is based on the X55 chipset, and will not support the new 5G carrier aggregation being rolled out.
Hopefully now that C-Band is live, the carriers will be moving to update their date device lineups with new more capable devices. We are already tracking some coming through FCC certification and will update once more is known on their release.
Cellular Routers

Peplink's 5G routers (like the Pepwave MAX BR1 Pro 5G, Insty Connect and MoFi which we are testing) have radios that officially support C-Band (5G band n77), but they are not yet officially Verizon or AT&T certified for mid-band usage.
We will be looking for first-hand reports to see if routers like this will be allowed to connect to these new mid-band network with an already activated SIM card, or whether they will remain limited to slower low-band Nationwide 5G and 4G/LTE.
What is certain is that no current cellular routers will be able to take advantage of T-Mobile enabling n71 + n41 carrier aggregation to combine the range of low-band with the speed of mid-band. The Qualcomm X55 modem found in all current cellular routers just is not capable of this.
For more on why you might want to wait for the next generation of 5G routers, see our featured article:
5G Industry Update: 5G Routers, Hotspots & Antennas Are Here – But Should You Wait?
5G Finally Gets Real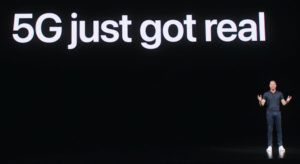 As 5G networks start to mature and mid-band 5G networks begin to get deployed, 5G service in many places will be going from "not much better than 4G" to "woah, that's fast!" by the end of 2022.
And more important than raw speed is the extra network capacity that this new technology enables.
This is an exciting time to be watching this technology evolve.
But some parts of the country will be waiting until 2023 for this C-Band 5G performance bonanza, and especially in more rural areas it will take time for towers to be upgraded to really make C-Band worthwhile.
So C-Band is indeed an exciting development in the evolution of cellular technology - but don't get TOO excited just yet.
This stuff takes times, and the real benefits for most will be coming in the years ahead.
Further Reading
And here is all of our recent C-Band related coverage: