Key Points:
Verizon has launched four new prepaid data plans with caps of 150GB, 100GB, 25GB, and 5GB.
Plans are available standalone or can be added to other prepaid lines with a $30 multi-line discount.
Data plans can be used in tablets, hotspots, or routers.
Back in July, Verizon's postpaid division rolled out new data-only plans with caps of up to 150GB for mobile hotspots. Today, Verizon's prepaid division has rolled out similar plans with some slight differences.
We expected Verizon to make some changes in their prepaid offerings, and have been eagerly awaiting an announcement. These plans replaced Verizon's data plans that included just 30GB of data for $65/month (with autopay) as the highest data offering.
New Verizon Prepaid Data Plan Video
Prepaid Data Plans Details
There are four new data plans available through Verizon Prepaid as of today, offering data caps of 150GB, 100GB, 25GB, and 5GB per month.
Pricing & Multi-Line Discounts
The pricing is as follows, each for a 30-day billing period. The first listed price is for a standalone line, the second reflects the inclusion of the $30/month multi-line discount:
5GB - $40 / $10
25GB - $60 / $30
100GB - $80 / $50
150GB - $100 / $70
The first line on the account can be either a phone or data device, meaning that you can have multiple prepaid data-only lines. An interesting option might be stacking two 150GB data plans for a total of $170/month for 300GB of high-speed data ($100 for the first line, $70 for the second).
On prepaid, customers can have up to 10 lines of service. However, do keep in mind that prepaid smartphone lines do not receive multi-line discounts anymore. Those were replaced with a Loyalty discount in June 2020. These new data plan lines do not qualify for autopay or loyalty discounts.
Prepaid plans are subject to fees and taxes (which vary by billing and service address). There are no activation fees to get started.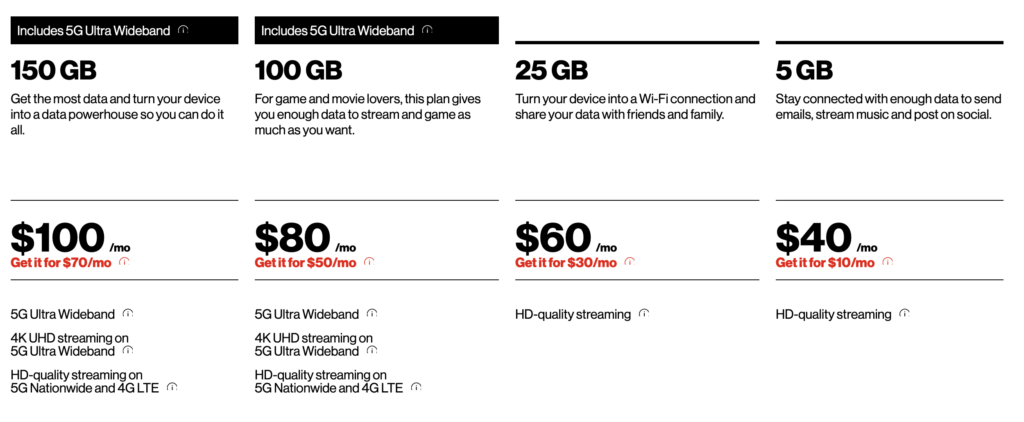 Plan Features
These are data only-plans and include no voice or text. All data is available for shared use (hotspot) whether the plan is provisioned via a data-sharing device like a hotspot or router, or through a tablet.
All of the new plans feature 5G nationwide and 4G LTE data access. The 100GB and 150GB plans also include 5G Ultra Wideband (UW) coverage.
On these plans, once the data cap is reached, speeds are throttled. When on 5G UW, speeds are throttled to 3 Mbps. When on LTE or 5G Nationwide speeds are slowed to 600 kbps.
All data on these Verizon prepaid data plans is always subject to network management deprioritization. The plans function at a lower priority than postpaid, and Verizon states that data may be slower than other traffic during times of congestion.
Video streaming is at 4K when on 5G UW. When on LTE or 5G Nationwide video streaming is capped at 1080p on cellular-enabled tablets and at 720p when using a hotspot or router.
Verizon prepaid plans do not include any international roaming (including Canada/Mexico). International travel passes are not available for use on these plans.
Device Compatibility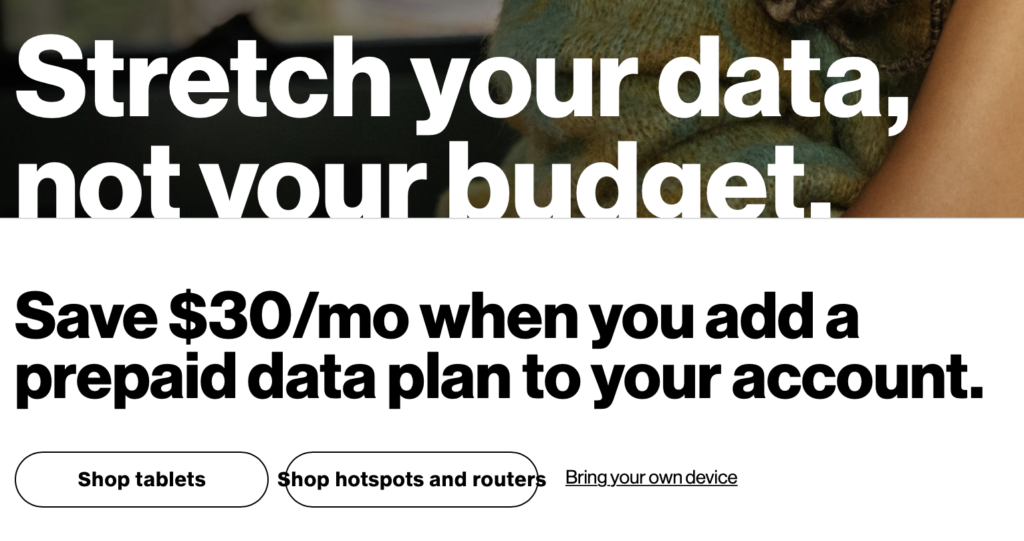 In an interesting twist that we've not seen before, these prepaid plans are specifically labeled for use on tablets, mobile hotspots (like a Jetpack), and routers.
While Verizon has never restricted the use of data-only plans in cellular embedded routers (like a Pepwave, Mofi, Insty Connect, Winegard, WiFiRanger, or Cradlepoint), they also have never specifically noted this device type as eligible.
Activation on routers has been difficult to navigate in the past. This language shift leaves us hopeful that they are better preparing to handle this device category and more easily allow the direct activation of routers.
The prepaid page seems primed for selling Verizon-branded mobile hotspot devices (ie. Jetpacks) and routers, although no routers are listed for sale currently. Bring Your Own Device (BYOD) is supported.
We ran some IMEI checks with our test routers to see if they were supported, and our Pepwave Max Transit Duo came up as a valid device. However, no other routers in our testing inventory passed their check.
Hopefully, Verizon is working on improving their official device support and the modems they have in their database to make this easier. In the meantime, to activate these plans on a router that is not in their database, you may need to first activate it on an approved device, then move the SIM to your router. Or you may have success in finding a helpful rep who knows how to activate devices that are not listed in their database.
For more information on selecting a hotspot or router device, start here:
Guide to Selecting A Data Device
Comparison to Postpaid
Verizon rolled out fresh postpaid data-only plans back in July 2021. There are some key differences to know about when deciding whether prepaid or postpaid is right for you.
Pricing & Data Limits
The biggest differences are apparent in the lower-tiered plans. On postpaid there are options for 15GB ($20/mo) and 50GB ($40/mo). These postpaid plans are only available when added to an account with an unlimited smartphone plan, but are eligible for a 50% discount when added to accounts with premium-level plans. If you have postpaid unlimited smartphone plans and are seeking these lower cap data plans, postpaid is likely the best pricing option.
Lets look at the higher cap 100GB & 150GB options - the choices that most data-hungry nomads will be considering:
150GB: Postpaid $110/mo / Prepaid - $100/30 day
100GB: Postpaid $90/mo / Prepaid - $80/30 day
Keep in mind, with each option, there is a multi-line discount available of $30 per billing period. Either way, there is only a $10/month difference between postpaid and prepaid.
Is that price savings worth it?
Key Prepaid & Postpaid Differences
Here are the key differences between the plans:
Priority - The prepaid plan is already a lower priority than postpaid, and is always subject to network management. This means speeds could be slower than other traffic in times of congestion. Verizon is known to be more congested than other carriers in many markets, and network management can be quite noticeable. Postpaid will get better data performance in congested markets.
Coverage Map - Verizon's prepaid and postpaid coverage maps have some slight differences, as not all of their LTE roaming partners are included with prepaid. We have tracked past issues with Verizon terminating prepaid accounts for excessive roaming when in these areas (without any indication of roaming).
Activation Fees - Prepaid has no activation fees, whereas Postpaid has a fee of $20 (online) or $40 (store) per line. This makes prepaid more flexible for turning on and off for seasonal travelers.
Billing / Credit - Prepaid is paid in advance and does not have a credit check involved, and postpaid is paid at the end of the billing period and requires a credit check. Prepaid is a 30-day term, and Postpaid is on a monthly basis which can results in a slight difference from month-to-month in how many days of service are included. Prepaid is a viable option for those who can't pass a credit check, including international travelers.
Multi-Line Discounts - Both postpaid and prepaid options can be added to existing lines of service for a $30/month discount. However, with Postpaid the first line must be an unlimited smartphone line. With prepaid, the first line of service can be a data-only plan.
International - Prepaid plans do not include any international roaming or ability to add it on. Postpaid plans included 512MB of usage a day in Canada & Mexico, and Travel Passes can be purchased at $10/day for usage around the world.
Extra Data - The postpaid versions of the plan have the option to add on extra high-speed data for $35 for 5 GB. Prepaid does not have this option.
Throttling speeds and video resolution are the same across these postpaid and prepaid options.
Summary
These new plans bring Verizon's prepaid offerings in line with Verizon's current postpaid data-only plans. It's an interesting twist to see specifically stated support for mobile routers on the new prepaid plans, especially since we've not yet seen that in their postpaid equivalents
A quick comparison of the current biggest bucket data-only options across the major carriers shows that Verizon's new Prepaid 150GB plan (when added on to another line) is the best value by GB on the market today:
For those seeking the flexibility of a prepaid plan, it's great to see large data bucket options available. As such, we've added our Top Pick designation to these plans.
However, the savings of going with these prepaid plans over Verizon Postpaid's data plans are minimal - and we recommend postpaid for those seeking priority-level data.
These plans are available online at Verizon's Prepaid Data Plan page, and in-store. They can be activated within MyVerizon if you are an existing prepaid customer.
 Bonus Member Only Content Available!
We go extra for our premium members - who make this resource center possible (did you notice the lack of 3rd Party advertising?). We have included some additional information in this news article just for our members - analysis, guidance and/or insider tips.
If you're not yet a member, please consider joining us. Extra content like this is one of the many perks we offer - in-depth content, guidance, discounts, alerts, classroom and more.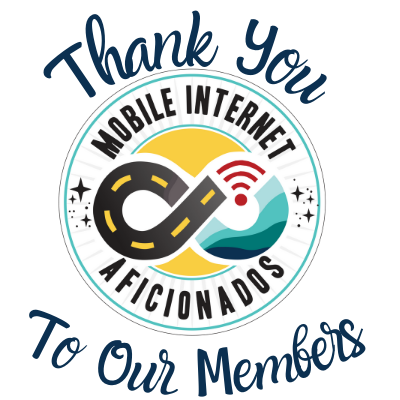 If you are already a member, please log in above to see the special content we have prepared for you.
Additional Resources
Related News Stories
Related Guides