Last week Verizon updated its line of postpaid smartphone plans increasing mobile hotspot caps and tweaking other features, but Verizon also placed a high-speed usage cap for Verizon's 5G Ultra WideBand (5G UW) network, which is a downgrade from previous plans that offered unlimited high-speed 5G UW mobile hotspot. At the time we went to press, Verizon didn't make it clear what would happen with retired and legacy plans that had the unlimited mobile hotspot benefit, but reporting by Ars Technica and PC Magazine confirmed that all legacy plans would lose unlimited 5G UW mobile hotspot.
The carrier confirmed to PCMag that later this month, hotspot data allowances will start to apply to subscribers on the carrier's fastest 5G network. This change will apply both to people on existing plans and those on the carrier's new plans, the carrier said.
Ars went into more depth and noted that even older plans where customers could pay an extra monthly fee for 5G UW would be capped as well:
For the "Beyond Unlimited" Verizon smartphone plan that has existed for a few years, customers currently have 15GB of hotspot data at 4G LTE speeds and unlimited "5G Ultra Wideband" hotspot data. Going forward, the C-Band and millimeter-wave spectrum will both be included in what Verizon calls Ultra Wideband, and Verizon will no longer provide unlimited Ultra Wideband hotspot data to those who currently have it. Beyond Unlimited plan subscribers will instead get a total of 15GB of high-speed hotspot data regardless of which network slice they're using and will face hotspot data slowdowns after using that up.

Beyond Unlimited isn't the only package affected by the hotspot change. For any other affected plan, Verizon told us that "people on plans with 5G Ultra Wideband mobile hotspot will transition to having an allowance based on their plan." Thus, whatever limit you have on 4G hotspot usage will soon apply to all 4G and 5G hotspot usage combined, without any separate unlimited allowance for millimeter-wave hotspot usage.
So the result is disappointing - an attractive unlimited mobile hotspot feature is being ended right before 5G UW starts to become much more useful.
But strangely, Verizon's Prepaid Unlimited Plus smartphone plan still shows the unlimited 5G UW mobile hotspot benefit: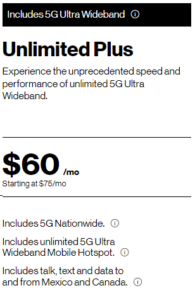 This is likely an oversight and we expect that Verizon will probably change the terms of prepaid plans to eliminate unlimited high-speed mobile hotspot before Verizon launches its C-Band network on January 19th, 2022.
Key Mobile Internet Related Considerations:
Verizon is capping high-speed mobile hotspot use for its 5G Ultra Wideband Network, a change it is making for new and all legacy and retired postpaid plans.
Verizon is launching its C-Band network, which will be considered part of 5G UW along with Verizon's high-speed but very short-range millimeter-wave network that's only available in parts of a few urban cores.
Verizon prepaid plans with the unlimited 5G UW mobile hotspot feature have not yet been changed, but we expect Verizon will do relatively soon.
For more information:
Updates Made to our Content as a Result of This news:
Related Updates: