Key Points:
Verizon Prepaid is offering a 25GB smartphone plan with full mobile hotspot use for *$35/month at Walmart only
*The $35/month pricing is available after 9-months based on a Loyalty pricing scheme - the initial price is $50/month
Limited time offer - slated to end 6/30/21 - but once purchased plan is locked in at 25GB
Verizon Prepaid is offering a 10GB data boost to their 15GB smartphone-based plan at Walmart stores only for a limited time. This brings the total high-speed data allowance of the plan to 25GB - which will remain as 25GB even after the promo period ends.
Verizon Prepaid is Verizon's own direct prepaid branch. Verizon Prepaid plans are sold directly through the Verizon Prepaid website, Verizon stores, and a few large box-type stores - including Walmart. Promotions often vary by location of purchase.
Video Story
Plan Details
Verizon Prepaid's line-up currently offers a 15GB smartphone plan which includes unlimited talk, text, and 15GB of high-speed data which is available for use either on the phone device or via personal mobile hotspot.
This is a smartphone plan and permitted devices are restricted to smartphones only.
By purchasing the 15GB plan through Walmart, new customers get an additional 10GB of bonus data per month - for a total of 25GB of data available for use on the phone or via mobile hotspot from the phone. Even after the promotional period ends, and new customers can longer participate in the promo, those who secured it and continue to make on-time payments will continue to enjoy 25GB of data rather than 15GB.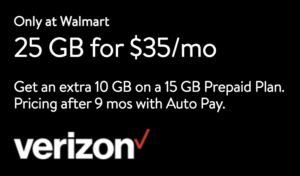 This plan has access to Verizon's 5G Nationwide network when used on a phone that is compatible with Verizon's 5G nationwide network.
After the high-speed data bucket allowance is used up for the month, data speeds are slowed to '2G' - 128 kbps. Verizon Prepaid plans are always subject to network management - and are prioritized behind postpaid customers on both the 4G/LTE and 5G Nationwide networks.
Video streaming is capped at 480p on both 4G/LTE and 5G Nationwide networks.
Plan Pricing & Promo Period
Verizon Prepaid's +10GB on 15GB (25GB) plan is available only via purchase at a Walmart store, but details of the plan are noted on Walmart's website. You must purchase a SIM card or device through Walmart in addition to the plan.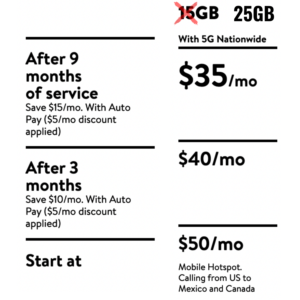 This plan is subject to Verizon Prepaid loyalty pricing, where the monthly cost decreases at set intervals up until the 9-month point when the price bottom's out at $35/month before taxes and fees - with an additional autopay discount of $5/month.
The Loyalty Pricing schedule for the plan, with the $5 autopay discount applied is:
First 3 months: $50/month
Months 3-9: $40/month
Months 10 & beyond: $35/month
This promo is slated to expire on 6/30/21 and is for new customers only. Those who purchase the plan with 25GB of data will continue to receive 25GB of data/month for the life of the plan.
Thoughts & Tips
Verizon Prepaid offers some decent plans for light data users. With their loyalty pricing, their plans are not as compelling for short-term or sporadic data seekers. Those who are looking for a longer-term option will see a greater value once the monthly price decreases at the 3 and 9 month marks.
If you're thinking about grabbing a Verizon Prepaid plan - do be aware that different promotions are offered on the same plans through different outlets. At the time of this writing, Verizon Prepaid is offering a 'Third Month Free' promo for any plan purchased directly through Verizon Prepaid (website or store) - including our Top Pick Jetpack 30GB/$65 Verizon Prepaid plan.
Do note that this 25GB/*$35 (*after 9-months) plan is designed for smartphone use only, although hotspotting from a smartphone device is very much permitted.
AT&T Prepaid also offers a Walmart exclusive 25GB smartphone plan for $40/month without autopay from month one with no loyalty discounts.