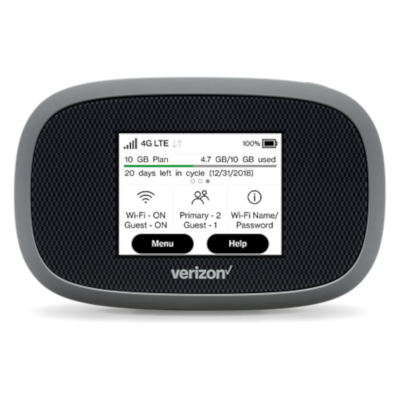 The MiFi 8800L Jetpack by Inseego was released in October 2018 (our news story), replacing the MiFi 7730L as Verizon's flagship mobile hotspot device.
Even though it looks nearly identical to its older sibling, the 8800L is a major forward in terms of raw cellular capability - and it was the first device to bring gigabit-class LTE technologies to Verizon's Jetpack lineup.
With 5G technology looming on the horizon, this hotspot perhaps represents Verizon's LTE performance pinnacle in the pre-5G world.
Specifications
Model Number: Inseego 8800L
Control Panel and Default Password:
USB Tethering Support:

WiFiRanger Tethering: Works Great
Pepwave Tethering: Works Great (except for Surf On-The-Go)

Networks supported:

Verizon LTE Bands: 2, 4, 5, 13, 66
Global Roaming on LTE Bands: 3, 7, 20, 28
LAA Bands: 46, 48 (CBRS)
4G/3G: HSPA+ 850/1900/2100MHz - Global roaming supported.

LTE-Advanced Carrier Aggregation: Yes, including LAA
MIMO Support: 4X4 internal, and 2X2 external

LTE Performance Category:

Category 18 (Max Theoretical Speed: 1200Mbps Down / 150Mbps Up)
Cellular Antenna Ports:

2x TS9 'Test Ports' (not official antenna ports), overwrites internal 4x4 MIMO antennas
Right port is the primary port, for uploads.

Other Ports: USB-C

Wi-Fi Technology / Frequencies:

802.11 b/g/n/a/ac - Simultaneous 2.4GHz and 5GHz

Simultaneous 2.4GHz/5GHz Range (reported): 50-70ft
5GHz Range (reported): 40-50ft

Battery

Claimed Battery Life:

24 hours hotspot usage, multiple days standby
Can Be Powered Without a Battery: No
Battery Part #: 40123117

Dimensions:

4.5" x 2.8" x 0.75" / 5.71 oz
SIM Card Type: 4FF / Nano SIM

Retail Price:

$199.99 / $99.99 (w/ 2-year contract)
There is One (Minor) Downgrade from the 7730L...
One difference of note compared to the MiFi 7730L is that the MiFi 8800L drops support for CDMA cellular technology, which means that it is NOT compatible with Verizon's legacy 3G network. This would have been a major red flag a few years ago, but it is growing extremely rare to find areas where Verizon has 3G and no LTE coverage.
But if you do know that you will be spending time in any of these places - do keep this in mind before upgrading. Verizon has extended the shut down of their 3G network until late 2020.
---
Review & Testing Status
We have had the 8800L in continuous testing since it first came out. Our full review & tutorial is posted below for our members.
Our members are also encouraged to actively share their own experiences in the comments.
Content included in the member area below:
8800L Network Drops & Reboot Issue - Now Much Improved!!
When the 8800L launched in October 2018, many early adopters discovered it to be an exceedingly unreliable device - dropping connections often and rebooting multiple times per day.
It was like an exotic sports car: fast, but flakey.
We actually worked with Inseego for months to beta test a series of fixes that resolved the issues, but it wasn't until August of 2019 that Verizon FINALLY pushed an update incorporating these fixes out to all 8800L owners.
If you have an 8800L, it should have been updated automatically. To be sure - go to your Jetpack Menu, select 'Software Update' and click 'Check for Update'. The download & installation process may take several minutes.
When are you are done, your firmware should be:
eSW Verizon: 1S (as shown on the Jetpack's About screen)
Multiple reports indicate that doing a factory reset (accessible from the settings menu) may be beneficial after installing the update. A poll we conducted after the update indicates that about 90% of 8800L owners are experiencing notably better reliability after the update, but there are still some lingering issues.
Here's our coverage fo the update: Verizon Finally Releases 8800L 1S Firmware Update
---
If you've been waiting for the issues to be resolved before purchasing an 8800L and you are protecting a grandfathered plan (such as a gUDP or pUDP) - remember that you need to purchase via 3rd party. Do not purchase a device direct from Verizon, or you risk losing your grandfathered plan!
---
---
Potential Alternatives to Consider:
For other popular mobile hotspots on the market - here are our featured options:
---
This Review Contains Additional Member Exclusive Content

We are honored to be able to present the above overview for free without 3rd party advertising or sponsorships. We are not paid by the manufacturer of this product to provide this listing or review, and nor are we selling this equipment or plan (purchasing links are provided below as a courtesy and some may be affiliates).
Our members have funded this resource center and any extensive hands on time
we have spent with the product to review it.
The in-depth portions of this review are made available to them which might contain: hands on testing notes, field testing data, user interface tour, product analysis, comparison to alternatives, setup tips, video tutorial, insider tips, vendor discounts and fellow member experiences.
If you're a member, please log in to continue with this review.
If you're not a member.. please consider joining us!
---
Purchasing Options
To purchase a replacement battery:
The guides below have been hand-picked to help further your education about selecting mobile hotspots and best utilizing them in your mobile internet setup.