The MiFi 8800L Jetpack by Inseego was released in October 2018, replacing the MiFi 7730L as Verizon's flagship LTE mobile hotspot device.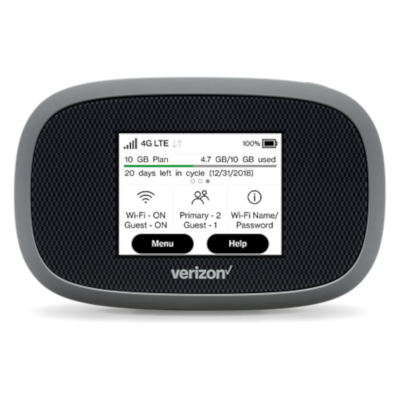 Even though it looks nearly identical to its older sibling the 7730L, the 8800L is a major step forward in terms of raw cellular capability - and it was the first device to bring gigabit-class LTE technologies to Verizon's Jetpack lineup.
With 5G technology infiltrating the 4G/LTE world, this hotspot represents Verizon's LTE performance pinnacle in what was once a pre-5G world. It is still Verizon's top LTE-only hotspot device and worthy of consideration for those without 5G on their radar.
In September 2020, Verizon released the MiFi M2100 5G UW, which includes mmWave and low-band 5G support, but also a Cat-22 LTE modem - at double the price and lacking antenna ports. For LTE Verizon applications, the 8800L remains our top pick.
Specifications
Verizon's 8800L Software Update Log Page
---
News, Video & Status
We have thoroughly tested the 8800L. Our full review & tutorial is posted below for our members.
Our members are also encouraged to actively share their own experiences in the comments.
Video Overview:
News Stories:
---
For other popular mobile hotspots on the market - here are our featured options:
---
This Review Contains Additional Member Exclusive Content!
We are Honored to be Member Funded!
No ads, no sponsors, no selling (but may contain affiliate links)
Our members fund our in-depth independent reviews.
This entry may contain additional member exclusive content such as testing notes, field testing data, user interface tours, comparisons to alternatives, analysis, tips, videos and discounts.
Members also get interactive guidance, alerts, classroom and more. 
Content included in the member area below:
---
Purchasing Options
Purchasing Links & Disclaimer
We don't sell stuff, we are primarily member funded. Some links below may be affiliate links (see our disclaimer), which also helps fund MIRC.
The vendors displayed below provide larger discounts to our MIAs that we have negotiated instead of displaying affiliate links while they are logged in.
MIA Discounts - Learn & Save!
Our Mobile Internet Aficionados (MIA) get special discounts from the below vendors. Members please check for discount codes before ordering. With savings up to 11% off, you could save more than your membership cost!
To purchase a replacement battery:
Mobile hotspot devices are small, self-contained units that receive a cellular data signal and transform it into an internet connection. They are a cellular modem and router combined. Most can create their own personal Wi-Fi network.
They are typically designed with a specific cellular carrier in mind and require a suitable cellular data plan of their own to operate. You might see them called Jetpacks (Verizon's term for them) or MiFi (Inseego's name for them).
Here's a quick video going over the features of a hotspot, and what makes one better than another:
The guides below have been hand-picked to help further your education about selecting mobile hotspots and best utilizing them in your mobile internet setup.