The MiFi 8800L Jetpack by Inseego was released in October 2018, replacing the MiFi 7730L as Verizon's flagship LTE mobile hotspot device.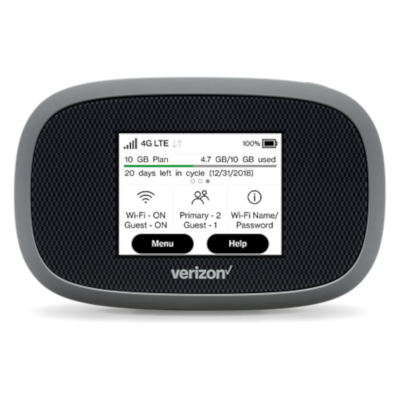 Even though it looks nearly identical to its older sibling the 7730L, the 8800L is a major step forward in terms of raw cellular capability - and it was the first device to bring gigabit-class LTE technologies to Verizon's Jetpack lineup.
With 5G technology infiltrating the 4G/LTE world, this hotspot represents Verizon's LTE performance pinnacle in what was once a pre-5G world. It is still a flagship LTE-only hotspot device worthy of consideration for those without 5G on their radar.
In September 2020, Verizon released the MiFi M2100 5G UW, which includes mmWave and low-band 5G support, but also a Cat-22 LTE modem - at double the price and lacking antenna ports. For LTE Verizon applications, the 8800L remains our top pick.
Specifications
Model Number: Inseego 8800L
Control Panel and Default Password:
USB Tethering Support:

WiFiRanger Tethering: Works Great
Pepwave Tethering: Works Great (except for Surf On-The-Go)

Networks supported:

LTE-Advanced Carrier Aggregation: Yes, 5-band, including LAA
MIMO Support: 4X4 internal, and 2X2 external

LTE Performance Category:

Category 18 (Max Theoretical Speed: 1200Mbps Down / 150Mbps Up)
Cellular Antenna Ports:

2x TS9 'Test Ports' (not official antenna ports), overwrites internal 4x4 MIMO antennas
Right port is the primary port, for uploads.

Other Ports: USB-C

Wi-Fi Technology / Frequencies:

802.11 b/g/n/a/ac - Simultaneous 2.4GHz and 5GHz

Simultaneous 2.4GHz/5GHz Range (reported): 50-70ft
5GHz Range (reported): 40-50ft

Battery: 4400mAh, 16.7 WhrLi Ion battery

Claimed Battery Life:

24 hours hotspot usage, multiple days standby
Can Be Powered Without a Battery: No
Battery Part #: 40123117

Dimensions:

4.5" x 2.8" x 0.75" / 5.71 oz
SIM Card Type: Nano

Retail Price:

$199.99
Verizon's 8800L Software Update Log Page
There is One (Minor) Downgrade from the 7730L...
One difference of note compared to the MiFi 7730L is that the MiFi 8800L dropped support for CDMA cellular technology, which means that it is NOT compatible with Verizon's legacy 3G network. However, where this would have been a major red flag years ago, in today's world it is growing extremely rare to find areas where Verizon has 3G and no LTE coverage. And, 3G isn't long for this world as Verizon refarms for 5G.
For more information on Cellular Evolution, see our guide:
Cellular Evolution: 2G Thru 5G, And Beyond!
---
News, Video & Status
We have thoroughly tested the 8800L. Our full review & tutorial is posted below for our members.
Our members are also encouraged to actively share their own experiences in the comments.
Video Overview:
News Stories:
---
---
Content included in the member area below:
Deep Dive

Verizon Hotspot Comparison Grid
Hardware Features Explained
Hands-on Testing Results
Software & User Interface
Recommended Settings
Outstanding Issues
Getting an 8800L
---
Purchasing Options
To purchase a replacement battery: