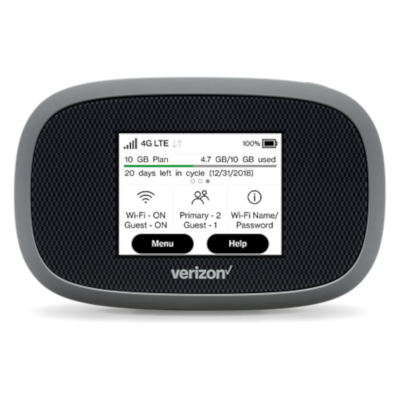 The MiFi 8800L Jetpack by Inseego was released in October 2018 (our news story), replacing the MiFi 7730L as Verizon's flagship mobile hotspot device.
Even though it looks nearly identical to its older sibling, the 8800L is a major step up in terms of raw cellular capability - for the first time bringing gigabit LTE technologies to Verizon's Jetpack lineup.
With 5G technology looming on the horizon, this hotspot perhaps represents the LTE pinnacle of the pre-5G world.
Warning: 8800L Network Drops & Reboots - Fix Coming?
June 11, 2019 Update: Our contacts at Inseego had told us Verizon might push the new firmware by end of May. But that has now come and gone - and they tell us Verizon has pushed the release date to 'TBD'. We'll update as soon as we get reports of folks receiving it. It will be an automatically pushed update by Verizon direct to your device.
We have the new firmware direct from Inseego, and here is the information to confirm if you have received the update or not:
SW Verizon: 1R (as shown on the Jetpack's About screen)
MiFi OS version: 2.100.9.1a
Modem firmware version: SDx20ALP-1.22.7a 1 [2019-05-08 11:00:32]
---
Background: Since the release of the 8800L, we have been fielding a number of reports of network dropouts and spontaneous reboots of this device. As best we can tell, not all units are impacted, as many have had no issues at all. But for those who are impacted by the issues, they can make the unit unreliable.
We have been in direct touch with Inseego on this issue since mid-November and have sent them several member's logs. And we have beta tested multiple beta firmware flashes for them.
As of the May final release candidate firmware they sent us to test, we have noticed a significant improvement in stability on our end (not perfect, but much improved). We have sent them further reports. They sent a firmware candidate update to Verizon in May, and it looks like it'll soon be pushed as an automatic update by the carrier to all 8800l devices.
Until these issues are resolved, it may be wise to hold off on purchasing this Jetpack model if you want to avoid potential problems.
Alternatives: If performance and coverage are important to you, we'd recommend considering acquiring a used/refurbished 7730L instead of Verizon's very entry level and basic MHS900L Ellipsis that is currently being offered. And then plan to upgrade to the 8800L once the coast is clear.
For actively tracking & reporting these issues and potential fixes, members can interact in this Special Announcements Thread:
8800L Issues Thread: Who Is Experiencing Reboots and/or Dropouts?
Specifications
Model Number: Inseego 8800L
Control Panel and Default Password:
USB Tethering Support:

WiFiRanger Tethering: Works Great
Pepwave Tethering: Works Great (except for Surf On-The-Go)

Networks supported:

Verizon LTE Bands: 2, 4, 5, 13, 66
Global Roaming on LTE Bands: 3, 7, 20, 28
LAA Bands: 46, 48 (CBRS)
4G/3G: HSPA+ 850/1900/2100MHz - Global roaming supported.
3G: NO support for Legacy Verizon CDMA network

LTE-Advanced Carrier Aggregation: Yes, including LAA
MIMO Support: 4X4 internal, and 2X2 external

LTE Performance Category:

Category 18 (Max Theoretical Speed: 1200Mbps Down / 150Mbps Up)
Cellular Antenna Ports:

2x TS9 'Test Ports' (not official antenna ports), overwrites internal 4x4 MIMO antennas
Right port is the primary port, for uploads.

Other Ports: USB-C

Wi-Fi Technology / Frequencies:

802.11 b/g/n/a/ac - Simultaneous 2.4GHz and 5GHz
Battery

Claimed Battery Life:

24 hours hotspot usage, multiple days standby
Can Be Powered Without a Battery: No
Battery Part #: 40123117

Dimensions:

4.5" x 2.8" x 0.75" / 5.71 oz
SIM Card Type: 4FF / Nano SIM

Retail Price:

$199.99 / $99.99 (w/ 2-year contract)
There is One (Minor) Downgrade...
One difference of note compared to the MiFi 7730L is that the MiFi 8800L drops support for CDMA cellular technology - which means that it is NOT compatible with Verizon's legacy 3G network. This would have been a major red flag a few years ago, but it is growing extremely rare to find areas where Verizon has 3G and no LTE coverage.
But if you do know that you will be spending time in any of these places - do keep this in mind before upgrading.
---
Review & Testing Status
We have several review units in our testing line-up, an are currently doing extensive testing relying on the MiFi 8800L Jetpack versus other Verizon compatible devices.
Our initial review & tutorial is posted below for our members.
Despite the ongoing issues, we are tentatively giving the 8800L a 'Top Pick' status - mostly because it's the only technologically advanced option Verizon directly offers (the MHS900L is an extremely basic modem) and many have had no issues at all.. We also feel the issues should be resolved by an eventual firmware update.
Our members are also encouraged to actively share their experiences in the comments.
Content included in the member area below:
---
Potential Alternatives to Consider:
For other popular mobile hotspots on the market - here are our featured options:
Learn More About Selecting LTE Hotspots
---
More Information Available to our Members

We are honored to be able to present the above overview for free without 3rd party advertising.
In thanks for funding this resource center our members have access to any further notes, analysis, insider info, member experiences and/or our full in-depth review of this product or offering.
If you're a member, please log in above to read the review.
---
Purchasing Options
To purchase a replacement battery:
The guides below have been hand-picked to help further your education about selecting mobile hotspots and best utilizing them in your mobile internet setup.