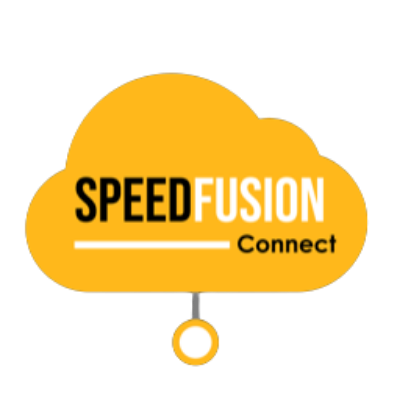 SpeedFusion Connect is an offering allowing you to buy cellular data directly from Peplink.
SpeedFusion Connect automatically works across many carriers in the Americas and Europe - giving Peplink devices that support it a quick and easy way to get online. The plan is activated on an embedded SIM in the router, so no physical SIM card is required to get service.
SpeedFusion Connect is primarily intended to be used for devices that only need a little bit of data, or as an on-demand backup to another (much cheaper) primary plan.
SpeedFusion Connect is currently available for only a handful of Peplink products - including the MAX Adapter, MAX Transit Pro E, MAX BR1 Pro, and the Balance 310X. It will eventually be built into many or all of their future cellular routers - allowing for an always-available on-demand backup data plan that works across multiple carriers, and around the world.
SpeedFusion Connect can be purchased on the Peplink online store. It comes bundled with SpeedFusion Cloud data, plus an allotment of between 10GB and 1TB of LTE data, for time periods ranging from 90 days to 3 years. Data pricing is a very expensive.
In the USA Verizon, AT&T, and T-Mobile are all supported for connectivity. It also works in several other countries.
Plan Information
Currently Available Plans:
10GB/90 days - $100
50GB/180 days - $480
100GB/365 days - $950
250GB/365 days - $2250
500GB/2 years - $4250
1TB/3 years - $8000
Plan Specifications:
Carrier Networks Used: Verizon, AT&T, T-Mobile
Carrier Relationship: Reseller
Plan Types Available: Data only
Device Types Permitted: Peplink routers only
Unlimited: No
High-Speed Mobile Hotspot Use: N/A
Throttling: Not specified
Network Management: Not specified
Video Streaming Resolution: Not specified
5G Access: No
eSIM: Yes
Device Purchase Required: Yes
Plan Period: Varies by plan
International Roaming: Yes. Pepwave's list of available countries.
Domestic Roaming:
Data Roll Over: No
Overage Charges: No
Lines permitted per account:
Extras: SpeedFusion Cloud storage
---
News, Videos & Status
Related News
---
Purchasing Options