Peplink is a large and respected company in the high-end mobile networking space, particularly well known for providing cellular connectivity for everything from fleets of vehicles to cruise ships to dispersed corporate offices.
While Peplink's Pepwave cellular integrated routers are not specifically designed with individual mobile users in mind, Peplink does offer solid and well-supported products that many advanced users have grown to rely on.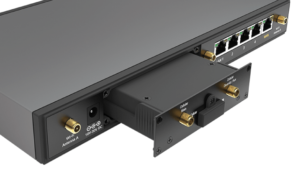 In March 2020, Peplink released the Balance 20X which is marketed as a cellular backup solution for offices with wired connections. However, the Balance 20x can be used as a dedicated mobile router since it runs on DC power, has an integrated cellular modem with the option of adding a second modem, plus all the benefits of Peplink's Primecare.
Additionally, the Balance 20X has a more advanced architecture than the MAX Transit and includes USB for tethering, ample ethernet ports, and an upgrade path for more advanced cellular thanks to a "Flex" expansion module that functions similarly to Cradlepoint's MC-400 modules. This Flex expansion module allows the addition of a second modem to give the router dual-modem capability and also the promise of a 5G modem in the future.
For an overview of the full Pepwave product line (and a look at some of the software features in common across different devices), see our gear center entry:
Product Lineup: Pepwave Product Line by Peplink
Table of Contents:
---
Specifications
Model: BPL-021X-LTE-US-T-PRM (North American Version)
Router Specs:

# of Connected Devices: Up to 60 (recommended)
Wi-Fi Router: Simultaneous 802.11ac
Control Panel and Default Password: Not specified
USB Tethering Support: Yes

Cellular Modem Specs:

Supported Networks and Bands:

LTE Bands: 2, 4, 5, 12/17, 13, 14, 66, 71
2G/3G: WCDMA/HSPA+/DC-HSPA+: 2, 4, 5

MIMO Support: 2X2
LTE Performance Category: Category 4
(Max Theoretical Speed: 150Mbps Down / 50Mbps Up)
Cellular Antenna Ports: 2x SMA
SIM Slots: 2

Dimensions: 6.3 x 10.3 x 1.3 inches, 1.74 pounds
Other Ports: GPS Antenna, USB WAN
Power Source: DC 10V - 30V
Outdoor Rated: No
Special Features: Primecare Eligible - Bonding, Data Usage Tracking, Auto Failover, Integrated GPS, and Band Locking
Retail Price: $399

Modem Expansions: Cat-6 ($249), Cat-12 ($399), Cat-18 ($499)
---
Review & Testing Status
We have received an evaluation unit courtesy of Peplink in July 2020, along with their brand new PUMA 401 4x4 MIMO antenna. We are integrating it into testing - but given Peplink's proven history and the flexibility of this option, we are giving it a Top Pick status.
Members can follow along with first impressions here:
Video Overview & Related Articles:
Peplink's New Pepwave Puma Antenna Line - With Sub-6 5G and Band 71 Support Posted on: August 26, 2020
Peplink Router Firmware 8.1 Brings SpeedFusion Cloud Bonding & More Posted on: August 14, 2020
Peplink Balance 20X Router - An Intriguing New Option for Mobile Users Posted on: July 21, 2020
Peplink Provides SpeedFusion Free For 90 Days In Repsonse to COVID-19 Posted on: March 24, 2020
An Overview of T-Mobile LTE Band 71 and Compatible LTE Modems & Routers (WiFiRanger, Gli.Net, Mofi, Pepwave, etc.) Posted on: March 13, 2020
Pepwave Cellular Routers Refreshed with LTE Cat-18 Modems, T-Mobile Band 71 Posted on: February 19, 2020
Geek News Alert: Peplink Removes Throughput Limit For SpeedFusion Bonding Servers Posted on: November 12, 2019
Pepwave MAX Cellular Routers Refreshed with LTE Cat-12 Modems, AT&T FirstNet Compatibility, and More Posted on: August 5, 2019
Balance 20X Features
The Balance 20X router comes with an integrated cellular modem plus an expansion slot for a second modular modem, giving the router a dual-modem capability when a second modem is installed.
An unfortunate downside of the Balance 20X is that the integrated modem is only available as a Category-4 LTE device, a disappointing low-end option that we would normally not recommend. But at least the Cat-4 modem does support newer important cellular bands, including AT&T's Band 14 and T-Mobile's band 71.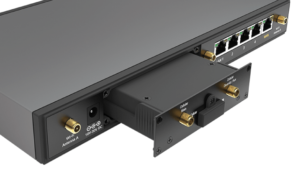 However, the disappointment with the Cat-4 integrated modem is balanced by the inclusion of an expansion slot allowing the addition of a second module modem.
Peplink offers three modular modem options:
a CAT-6 modem, for $249
a CAT-12 modem, for $399
a CAT-18 modem with 4x4 MIMO, for $499
Adding one of these modem modules turns the Balance 20X into a true dual-modem router, and the Cat-18 option can turn the Balance 20X into a Gigabit LTE powerhouse capable of taking advantage of 4x4 MIMO antennas.
Category 18 modems are "gigabit class" LTE modems, capable of combining up to 5x different frequency bands via carrier aggregation. Cat-18 modems also rely on 4x4 MIMO antennas for improved reception in weak areas and potentially doubled speeds in strong signal areas when compared to what 2x2 MIMO is capable of.

Category 18 is near the pinnacle of 4G/LTE evolution - and represents just about the best pre-5G cellular technology available.
But in the future - the Balance 20X will be able to go even further. Peplink has announced plans to release a 5G modem module for this upgrade slot in the future - making the Balance 20X the first affordable cellular router with an upgrade path to 5G.
Processing Power
Another major benefit of the Balance 20X is upgraded internal hardware and processing power which provides peak routing throughput of up to 900 Mbps (more than double what the comparable dual-modem Pepwave MAX Transit offers).
This advanced internal hardware, combined with the expansion module, means the router should be able to support typical 5G cellular speeds in the future once a 5G modem module becomes available.
This upgradability gives the Balance 20X some future-proofing that most other currently-available routers lack.
USB Tethering
Another great additional feature on the Balance 20X is a USB port for tethering a USB modem, mobile hotspot device or smartphone - a feature that is absent from most Peplink mobile routers. This adds a third option for a cellular connection, and when you factor in the WAN ethernet port - that means you can bring up to four connections together for load balancing, or to bond via Peplink's SpeedFusion bonding service.
Office Form Factor
Because the Balance 20X is designed for an office environment, it has a different form-factor than Peplink's mobile routers, which come with ruggedized metal enclosures and are designed for reliability in a wide variety of transportation scenarios.
The Balance 20X is therefore not as durable as dedicated Peplink mobile products, but for most RVers and Cruisers with climate controlled interiors, this shouldn't be a huge issue. The biggest concern is the operating temperature range, which is recommends usage between 14 and 112 degrees.
Other standard features of the Balance 20X include 5x Gigabit Ethernet ports, 802.11ac Wave 2 Wi-Fi LAN, and a GPS port. Although not designed for mobile use, the Balance 20X can handle an input voltage of 10 to 30 volts, so it's easy to wire into vehicle DC power too.
Unfortunately, the router does not support Wi-Fi-as-WAN like most Pepwave mobile routers do.
Bonding Connections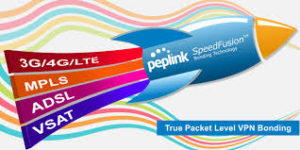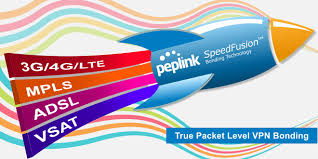 The Balance 20X also supports Peplink's SpeedFusion bonding technology, which lets you combine multiple connections into a single high-speed connection.
The variety of potential connections available with the Balance 20X makes this feature even more appealing.
The SpeedFusion bonding feature is enabled as part of Peplink's PrimeCare subscription. Like other Peplink products, one year of PrimeCare comes with the purchase of a new Balance 20X. If you want PrimeCare (and bonding capability) after the first year of ownership, it's available for $49/year.
To learn more about Bonding & Load Balancing, check out our guide:
Combining Connections: Bonding & Load Balancing
Summary - An Affordable Future-Proof Option
The Balance 20X offers a lot of great features, flexibility, and future upgradeability for a modest $399 starting price point - a truly great price for a cellular integrated router.
We only wish it had a default Cat-6 internal modem and WiFi-as-WAN enabled.
Hopefully, the Balance 20X is the first in a line of Peplink products evolving to bring faster underlying technology and a 5G upgradable path to mobile users.
Peplink has sent us a Balance 20X unit with the Cat-18 modem expansion module for evaluation, which we will be testing and running through its paces against the other router options we have in house.
We'll be sharing our hands-on findings with our premium members below.
---
Potential Alternatives to Consider:
For other popular mobile routers on the market we are tracking - here are our featured options:
Learn More About Selecting Mobile Routers
---
This Review Contains Additional Member Exclusive Content

We are honored to be able to present the above overview for free without 3rd party advertising or sponsorships. We are not paid by the manufacturer of this product to provide this listing or review, and nor are we selling this equipment or plan (purchasing links are provided below as a courtesy and some may be affiliates).
Our members have funded this resource center and any extensive hands on time
we have spent with the product to review it.
The in-depth portions of this review are made available to them which might contain: hands on testing notes, field testing data, user interface tour, product analysis, comparison to alternatives, setup tips, video tutorial, insider tips, vendor discounts and fellow member experiences.
If you're a member, please log in to continue with this review.
If you're not a member.. please consider joining us!
---
Purchasing Options
Members, be sure to check our Member Discounts page.
---
Related News Articles:
The guides below have been hand-picked to help further your education about selecting & using mobile routers.