Peplink is a large and respected company in the high-end mobile networking space, particularly well known for providing cellular connectivity for everything from fleets of vehicles to cruise ships to dispersed corporate offices.
While Peplink's Pepwave cellular integrated routers are not specifically designed with individual mobile users in mind, Peplink does offer solid and well-supported products that many advanced users have grown to rely on.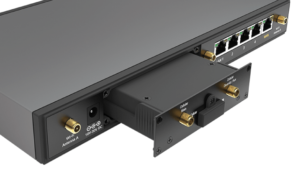 In March 2020, Peplink released the Balance 20X which is marketed as a cellular backup solution for offices with wired connections. However, the Balance 20X can be used as a dedicated mobile router since it runs on DC power, has an integrated cellular modem with the option of adding a second modem, plus all the benefits of Peplink's Primecare.
Additionally, the Balance 20X has a more advanced architecture than the MAX Transit and includes support for USB tethering, ample ethernet ports, and an upgrade path for more advanced cellular thanks to a "Flex" expansion module that functions similarly to Cradlepoint's MC-400 modules. This Flex expansion module allows the addition of a second modem to give the router dual-modem capability and also the promise of a 5G modem in the future.
For an overview of the full Pepwave product line (and a look at some of the software features in common across different devices), see our gear center entry:
Product Lineup: Pepwave Product Line by Peplink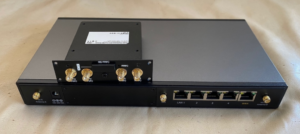 Specifications
Model: BPL-021X-LTE-US-T-PRM (North American Version)
Router Specs:

# of Connected Devices: Up to 60 (recommended)
Wi-Fi Router: Simultaneous 802.11ac
Control Panel and Default Password: Not specified
USB Tethering Support: Yes

Cellular Modem Specs:

Supported Networks and Bands:

LTE Bands: 2, 4, 5, 12/17, 13, 14, 66, 71
2G/3G: WCDMA/HSPA+/DC-HSPA+: 2, 4, 5

MIMO Support: 2X2
LTE Performance Category: Category 4
(Max Theoretical Speed: 150Mbps Down / 50Mbps Up)
Cellular Antenna Ports: 2x SMA
SIM Slots: 2

Dimensions: 6.3 x 10.3 x 1.3 inches, 1.74 pounds
Other Ports: GPS Antenna, USB WAN
Power Source: DC 10V - 30V
Outdoor Rated: No
Special Features: Primecare Eligible - Bonding, Data Usage Tracking, Auto Failover, Integrated GPS, and Band Locking
Retail Price: $399

Modem Expansions: Cat-6 ($249), Cat-12 ($399), Cat-18 ($499)
---
News, Videos & Status
We received an evaluation unit courtesy of Peplink in July 2020, along with their brand new PUMA 401 4x4 MIMO antenna. We completed testing and our full review is available to members below.
Here's our first look video at the Balance 20X:
Recent Related News Articles:
---
Potential Alternatives to Consider:
For other popular mobile routers on the market we are tracking - here are our featured options:
Learn More About Selecting Mobile Routers
---
Member Exclusive Content Below
Deep Dive

Pepwave Product Line-up Video
Balance 20X Features & Limitations
Testing Notes
---
Purchasing Options
Members, be sure to check our Member Discounts page.