Key Points:
The Netgear Nighthawk M6 and M6 Pro are the new flagship hotspots on AT&T's 5G network.
The M6 series are the first mobile hotspots to feature Qualcomm's X62 & X65 modem chipsets, and the M6 series will most likely support AT&T's upcoming 5G "Andromeda" spectrum when it comes online.
The M6 Pro is also the first mobile hotspot with support for Wi-Fi 6E, allowing local Wi-Fi networks to be hosted on the 6 GHz frequency band.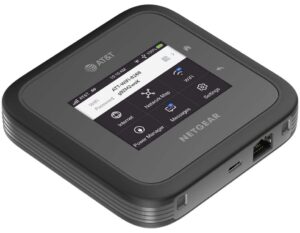 AT&T and Netgear today announced two new flagship 5G mobile hotspots - the Netgear Nighthawk M6 and Nighthawk M6 Pro.
Both hotspots are the first to come to market featuring the Qualcomm X65 modem chipset - enabling some significant future-proofing improvements over the X55 modem that has been used in all 5G hotspots and routers to date.
But while the Nighthawk M6 seems to be limited in some key ways, the Nighthawk M6 Pro paves new ground with new technologies like Wi-Fi 6E and 2.5 Gbps Ethernet.
So what makes these new flagship hotspots different than the Nighthawk M5, which first came out in 2020.
Netgear Nighthawk M6 & M6 Pro First Look Video
Nighthawk M6 Pro: The New Flagship
The Netgear Nighthawk M6 Pro is AT&T's new flagship - likely designed to showcase AT&T's emerging C-Band 5G+ network and "Andromeda" spectrum that is going to come online starting this summer.
Only devices based on the X62/X65 (or newer) modems will be able to connect to Andromeda, all older 5G devices will be left behind by AT&T's next major 5G network evolution.
Here's what bands the new Nighthawk M6 Pro supports:
Sub-6GHz 5G: n2, n5, n12, n14, n30, n66, n77
mmWave 5G: n260
4G/LTE: 1, 2, 3, 4, 5, 7, 12, 14, 29, 30, 46, 48, 66
This list features all the bands AT&T is currently using - and it is pretty safe to assume that AT&T's upcoming Andromeda spectrum will be supported as well once that new chunk of C-Band is officially launched later this year.
But if you are hoping to use the Nighthawk M6 on other carriers in addition to AT&T - it is not a good fit, with critical Verizon and T-Mobile bands missing entirely on both 4G and 5G.
World's First Wi-Fi 6E Hotspot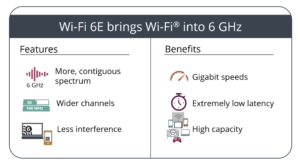 Also new in the Nighthawk M6 Pro - Netgear is proud to announce that the M6 Pro is the world's first Wi-Fi 6E compatible mobile hotspot.
Wi-Fi 6E is an extension of the Wi-Fi 6 standard that was first approved back in 2020 (see our news story) - designed to more than double the capacity of Wi-Fi networks by using 6 GHz spectrum.
So far - there are almost no devices that support 6 GHz Wi-Fi 6E, primarily just a few high-end gaming laptops and routers. So it is interesting to see Netgear jumping ahead to offer this emerging technology in a hotspot.
Unfortunately - Wi-Fi 6E on the M6 Pro is a feature that will likely prove useless to most.
The main limitation is that the M6 Pro can support either 2.4 GHz & 5 GHz Wi-Fi, or 2.4 GHz & 6 GHz Wi-Fi. But it can not simultaneously support 5 GHz & 6 GHz Wi-Fi, meaning that enabling 6 GHz Wi-Fi means leaving the bulk of your connected devices that are not 6 GHz compatible stuck on slow 2.4 GHz.
And complicating things even further - 6 GHz Wi-Fi is not supported when the hotspot is running on battery power.
Also New: 2.5 Gbps Ethernet
Another first in a hotspot - the Nighthawk M6 Pro's Ethernet port supports 2.5 Gbps speeds - an important consideration since mmWave 5G has the potential to exceed the capabilities of a more traditional 1 Gbps Ethernet port.
Of course - the catch is finding a compatible device to plug this into, though 2.5 Gbps Ethernet is beginning to become somewhat more prevalent.
One downside is that the 2.5 Gbps speeds are only active when the hotspot has external power and the battery is removed.
USB tethering is supported as well, in addition to the Ethernet connection.
Antenna Ports, Hurrah!
The Nighthawk M6 series continues Netgear's tradition of including two TS-9 antenna ports on their hotspots, making it easy to improve your signal by using an external antenna.
But do keep in mind that using an external 2x2 MIMO antenna bypasses the internal 4x4 MIMO antenna, so in some locations with a stronger signal, the external antennas will actually negatively impact performance.
Nighthawk M6: Artificially Limited?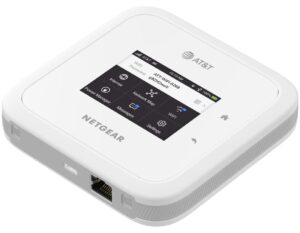 The Netgear Nighthawk M6 is externally almost identical to the M6 Pro, other than a white case and slightly smaller touch screen.
It does however lack the Wi-Fi 6E capability, and the Ethernet port is capable of 1 Gbps, not 2.5 Gbps.
The most critical difference between the M6 and M6 Pro is in the cellular support.
Here's what bands the new Nighthawk M6 supports:
Sub-6GHz 5G: n2, n5, n12, n14, n30, n66
mmWave 5G: none
4G/LTE: 1, 2, 3, 4, 5, 7, 12, 14, 29, 30, 46, 48, 66
The M6 actually uses the Qualcomm X62 chipset, which is the value-oriented little brother of the X65. The X62 has slightly lower peak performance for both 5G and LTE but is otherwise the same as the X65.
Additionally, the M6 does not include support for mmWave 5G, and no band n77 (C-Band).
AT&T explains the cellular advantage of the M6 Pro this way:
In addition to both hotspots having access to our fast, reliable, secure AT&T 5G, the Nighthawk M6 Pro is also 5G+ capable. We recently introduced a new flavor of 5G+ (Mid-Band) enhanced spectrum that will provide both a great mix of ultra-fast speeds and geographic coverage, so you can stream your favorite TV show, download the latest movie and more where 5G+ (Mid-Band) coverage is available in limited parts of 8 metro areas in the U.S.
AT&T labels as "5G+" areas with either super-short-range mmWave 5G (n260), or mid-band C-Band (n77). This is AT&T's premium 5G experience.
mmWave support requires expensive specialized internal antennas, and this likely explains why the M6 Pro costs so much more than the M6.
But C-Band can use the same antennas as the other 5G bands AT&T is supporting - so it makes no sense to disable C-Band compatibility in the Nighthawk M6 other than to try and better differentiate the M6 Pro.
The manual for the M6 and M6 Pro as well as the Netgear Data Sheets show both hotspots supporting band n77 - with the only difference in cellular specs between the two hotspots being mmWave.
UPDATE: We reached out to AT&T to inquire about the lack of C-band (n77) support and a spokesperson told us that the M6 will support C-Band. This is great news to hear.
Getting the Nighthawk M6 & M6 Pro
The Nighthawk M6 Pro will be available directly from AT&T for $459.99, and business customers can get it for $349.99 with a two-year agreement.
The Nighthawk M6 will be available directly from AT&T for $309.99, and business customers can get it for $224.99 with a two-year agreement.
These are attractive prices for flagship caliber 5G hotspots.
The AT&T sales page is live as of today - but it is unclear how soon inventory will reach the AT&T online or retail stores.
It is unclear right now whether or not you will be able to buy the new Nighthawks without an active AT&T 5G plan. Legacy plans that are not 5G compatible might not be allowed to buy these hotspots without giving up their old grandfathered plans.
Our member-exclusive section below has further analysis to help to choose between the two models - and thoughts on whether or not to upgrade.
We have acquired both a M6 and M6 Pro, and our team will be sharing hands on testing notes of these new hotspots with our members.
Member Exclusives Below:
 Bonus Member Only Content Available!
We go extra for our premium members - who make this resource center possible (did you notice the lack of 3rd Party advertising?). We have included some additional information in this news article just for our members - analysis, guidance and/or insider tips.
If you're not yet a member, please consider joining us. Extra content like this is one of the many perks we offer - in-depth content, guidance, discounts, alerts, classroom and more.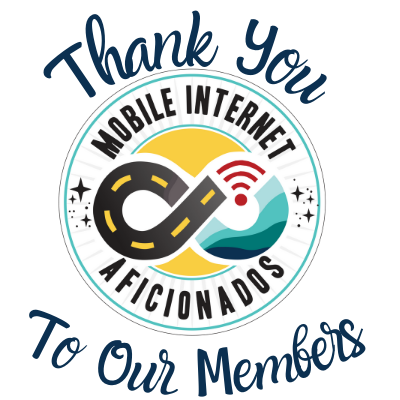 If you are already a member, please log in above to see the special content we have prepared for you.
Further Reading
Related News: