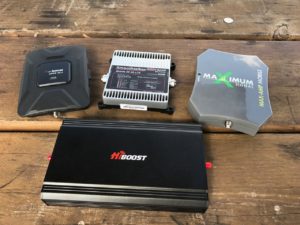 HiBoost USA (a division of Asian manufacturer Huaptec) brought the Travel 4G LTE Booster to market in late 2016. In mid 2018, they had a version of the 4G OTR antenna licensed from Antenna World for use with their booster.
Though the brand may not be widely recognizable, the HiBoost is more affordable than other similarly spec'd boosters.
We included the HiBoost in our early 2017 round of hands-on booster testing, and the HiBoost with OTR in our Spring and Fall 2018 rounds.
---
Specifications
Gain: 50dB
Impedence: 50 Ohm
# of Devices Boosted: Multiple
LTE Bands Supported: 12 (17), 13, 5, 4, 2
Uplink Frequency Range: 698-716 / 776 – 787 / 824-849 / 1850-1910 / 1710-1755
Downlink Frequency Range: 728-746 / 746 – 757 / 869-894 / 1930-1990 / 2110-2155
Exterior Antenna: Magnetic mount with 10' integrated cable, SMA end.

Optional higher gain OTR antenna with 15' integrated cable

Internal Antenna: Patch antenna with 10' integrated cable, SMA end.
In Motion Usage: Yes
Power Supply: 12v
Booster Dimensions: 4.7" x 7.8" x 1.4"
Warranty: 3 Year
List Price: $349.99 | $428 w/ OTR Antenna
---
Included in this Review
Free/Public:
Member Exclusive Content / Review:
---
Review & Testing Status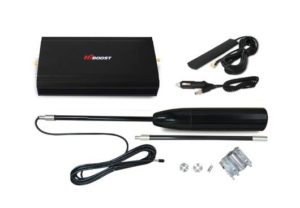 Huaptec USA sent us an evaluation unit of the Travel 4G LTE booster, which we compared head-to-head against its closest competitors in early 2017- including the weBoost Drive 4G-X, Max-Amp Mobile, and Smoothtalker.
In 2018 they sent us their new OTR antenna to test, which we did directly against the weBoost Drive 4G-X OTR and weBoost Drive 4G-M with OTR.
Members can access our raw field testing results here:
While the HiBoost without the OTR antenna was of average performance, with the new OTR antenna we found several locations where it performed admirably making the combo a worthwhile alternative to the weBoost 4G-X OTR..
Our detailed hands-on review and analysis of the HiBoost is featured in our members-only section below, including a video overview focused on 'Optimizing Your Cellular Signal' showing all of the candidates in the early 2017 testing round in action head-to-head and our OTR antenna comparisons.
---
Unboxing Video
Here is our unboxing video of the HiBoost just after it arrived, along with a few initial first impressions::

Our deeper analysis and impressions are in our members-only section below.
---
Potential Alternatives to Consider:
For other booster options on the market worth comparing this model to - here are our featured options:
Learn More About Selecting Cellular Boosters
---
Related News Articles:
This Review Contains Additional Member Exclusive Content!
We are Honored to be Member Funded!
No ads, no sponsors, no selling (but may contain affiliate links)
Our members fund our in-depth independent reviews.
This entry may contain additional member exclusive content such as testing notes, field testing data, user interface tours, comparisons to alternatives, analysis, tips, videos and discounts.
Members also get interactive guidance, alerts, classroom and more.
---
Purchasing Options
---
Related News:
Cellular boosters can be quite useful for boosting the signal to a smartphone to get a more solid phone call. But when it comes to enhancing cellular data performance, things get more complicated.
Because of a technology called MIMO (multiple in multiple out) that is essential to LTE and 5G data, often times the internal antennas on a smartphone or hotspot don't benefit from an amplified signal. Boosters also only cover a handful of the frequency bands the carries use for data.
But a booster can play a role in a mobile internet arsenal - as they excel during times when you are really far from a tower, or where upload speeds are important (such as video broadcasting).
For more on understanding boosters vs. MIMO - check out video:
For more on signal enhancing, including understanding boosters and the many forms they come in - follow up with our guides: