This device or plan has been discontinued or we consider it obsolete. While current owners of this device or plan may continue to find performance to be adequate for the foreseeable tech-future, we do not recommend upgrading to or purchasing it.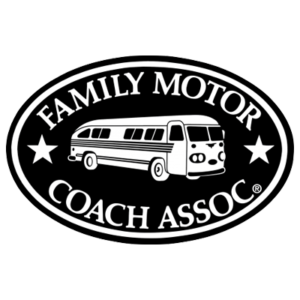 The Family Motorcoach Association offers two data plans to their members that may be of interest to RVers. One is on Verizon and one is on Sprint.
This guide focuses on the Verizon based data plan offered by FMCA.
This plan is only available to FMCA members.
FMCA Verizon Plan Information
The FMCA and Verizon have partnered to offer 25GB of LTE speed data, then unlimited but very slow hard throttled data through the end of the month reported to be at 2G speeds.
The plan includes the current flagship mobile hotspot device purchased upfront for a penny.
This member-only plan requires a minimum of 2 years remaining on the membership. This qualification is automatically checked before sign-up via their website.
For a new FMCA member, this is an upfront $160 cost to join for two years. Be sure to sign up for the Verizon plan within 30-days, or risk no longer meeting the requirements of having 2 years left on your membership.
Existing members who have less than 11-months of membership left will need to renew for 2-years to qualify, a $145 expense.
Once you meet the FMCA membership qualifications, you then will be handed off to Verizon to set up the plan. They will require a 2-year contract with a $175 pro-rated early termination fee should you cancel beforehand.
Currently Available Plan:
Plan Specifications:
Carrier Networks Used: Verizon
Carrier Relationship: Directly Partnered MVNO
Plan Types Available: Hotspot
Device Types Permitted: Hotspot
Unlimited: Technically, although only 25GB is at high-speed
High-Speed Mobile Hotspot Use: All
Throttling: 2G speeds after 25GB
Network Management: None
Video Streaming Resolution: 720p
5G Access: No
Device Purchase Required: Yes
Plan Period: 2 Years
International Roaming: No international usage is included.
Domestic Roaming: Yes
Data Roll Over: No
Overage Charges: No
Lines permitted per account: 1
---
News, Videos & Status:
We have not tested an FMCA Verizon plan.
Videos:
News Updates:
---
Potential Alternatives to Consider:
Some of our TOP PICK Cellular Data Plans to also consider:
Learn More About Selecting Cellular Data Plans Explore Our Comparative Pricing Grid
This Review Contains Additional Member Exclusive Content!
We are Honored to be Member Funded!
No ads, no sponsors, no selling (but may contain affiliate links)
Our members fund our in-depth independent reviews.
This entry may contain additional member exclusive content such as testing notes, field testing data, user interface tours, comparisons to alternatives, analysis, tips, videos and discounts.
Members also get interactive guidance, alerts, classroom and more.
Purchasing Options
Links Provided for Convenience
We do not sell any gear or equipment. These links are provided to make your shopping easier, and we do not endorse any specific vendor. Unless otherwise disclosed, only Amazon links are affiliate links (see our disclaimer).
To remain unbiased as possible, our primary source of funding comes from our premium members, and we have negotiated higher discounts from some vendors instead of accepting affiliate relationships.
Getting the Plan
You must contact FMCA by calling Member Services at (800) 543-3622 or online at FMCA.com.
For the Verizon plan specifically, after you have confirmed or renewed your FMCA membership, you can proceed to their Verizon Sign Up page - which will direct you to Verizon to set your plan up. Be sure to use the same e-mail address your FMCA membership is under so that you can be verified. You'll then be dealing directly with Verizon at this point, and need to pass their account qualifications - including a credit check.
Any special requests (such as adding the line to an existing account, not purchasing a Jetpack you might not need) should be directed to the carrier.
Shopping for Cellular Data Plans
Finding the right plans for your needs is no easy task - quite simply mobile travelers using cellular data as their primary way online is not how most carriers have designed their plans. Many of us want plans that provide copious amounts of data.
Understanding the different plan terms (like network management, throttling, hotspot data, video resolution) is key to determining if a plan will meet your needs or not. You also need plans that are suitable for use in the device you want to use them in - such as smartphone, mobile hotspot device or cellular embedded router.
To learn more about shopping for dataplans, check out these key guides:
As heavily as the carriers push their "Unlimited' data plans - you'll quickly discover that most have limits. Here's a video going over what you need to know about unlimited plans, including 3rd party resellers plans that you might find on the internet:
But a data plan alone will not keep you online - it's only one part of the equation. You also need the right gear and signal enhancing strategy.
For more education on assembling a cellular centric mobile internet setup, head on over to our collection of guides: