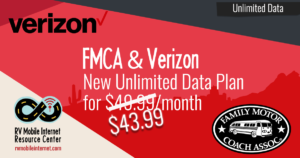 Last week's huge news story was the Family Motor Coach Association (FMCA) launching an amazing deal on Verizon unlimited data hotspots - just $43.99/mo for an unlimited hotspot data plan that was well more than an order of magnitude cheaper than anything you could get from Verizon directly.
With a deal that good - the FMCA's intended soft-launch went viral, and the deal was soon being covered by major online news sites.
BGR Media even ran a sensationalist feature saying "There's a secret way to get unlimited Verizon hotspot data for $50 a month!" for "RC Owners", and the news just kept spreading from there - even getting picked up as a featured story by Google News.
The FMCA scrambled all last week to keep up with the flood of orders, but it was all for naught.
The FMCA this afternoon issued this statement in their forums and Facebook Page:
VERIZON WIRELESS PLAN UPDATE
"As you may have heard, FMCA had been working with Verizon to offer a special rate on an unlimited wireless data plan. After the "soft launch" of this plan to a test group of FMCA members (before the planned launch to all members), Verizon called FMCA and told us to pull the offering. Verizon officials indicated that they will not be honoring any of the orders that had been entered during this test period. We are still working to see whether FMCA and Verizon can put together an advantageous plan for FMCA members, but at this point we are not certain what will result from discussions with Verizon officials."
Boom - gone. Every order placed to date has been canceled.
This means if you got in on the deal last week, you will not be charged - and you will not be receiving your Jetpack later this week or in July, as promised.
The FMCA / Verizon plan has been shut down before the first hotspot had even shipped out.
So... Just what happened?
June 21 Update: Apparently, the July issue of the FMCA's magazine was sent to press before their announcement could be pulled. In place of the sign-up page they had announced, they have issued their own statement about what happened: FMCA's Verizon Unlimited Plan Statement
What Went Wrong?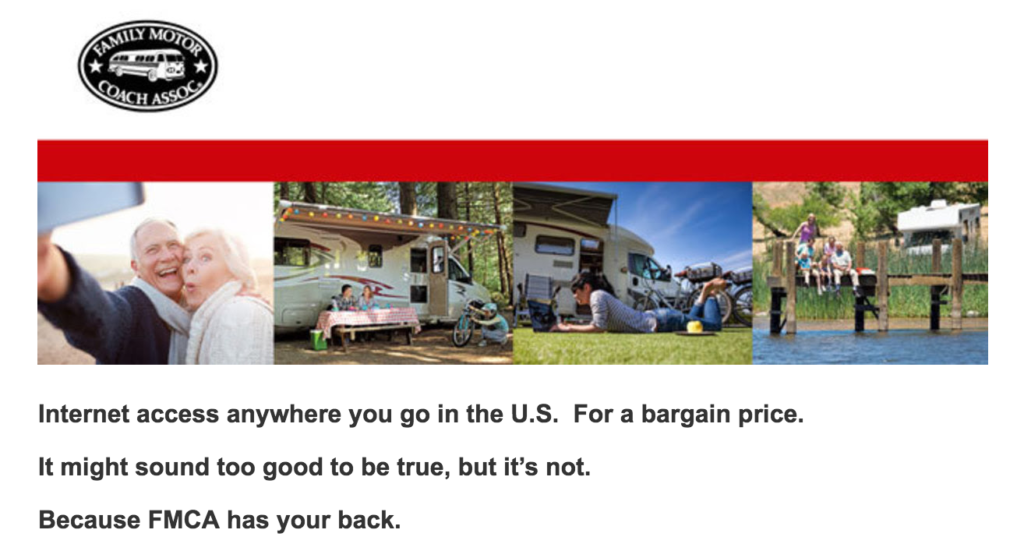 To be clear, the FMCA has not directly communicated with us since last Thursday, despite our multiple calls and e-mails requesting official information that we could help disseminate to those impacted.
We are piecing things together from past direct communications, our experience covering past similar deals, public statements posted by the FMCA, and feedback from members attempting to place orders.
To the best of our knowledge, the FMCA has been working on this offering with Verizon for months - and we've heard some FMCA members report that it was actually first talked about at the FMCA booth in Quartzsite in January.
The offering first came to our attention in May when a few attendees at the FMCA Branson rally told us that it was previewed there, and they asked us about our opinion of the new plan.
We called immediately and spoke briefly with the FMCA Executive Director Chris Smith, and were then eventually able to speak with the FMCA Director of Membership Services. She confirmed the details as they were known at that time, and that the official launch was imminent.
However, she let us know that they were already taking orders from members "in the know" via the phone.
She authorized us to share this information with our premium members, but asked that we not run a public story at that time.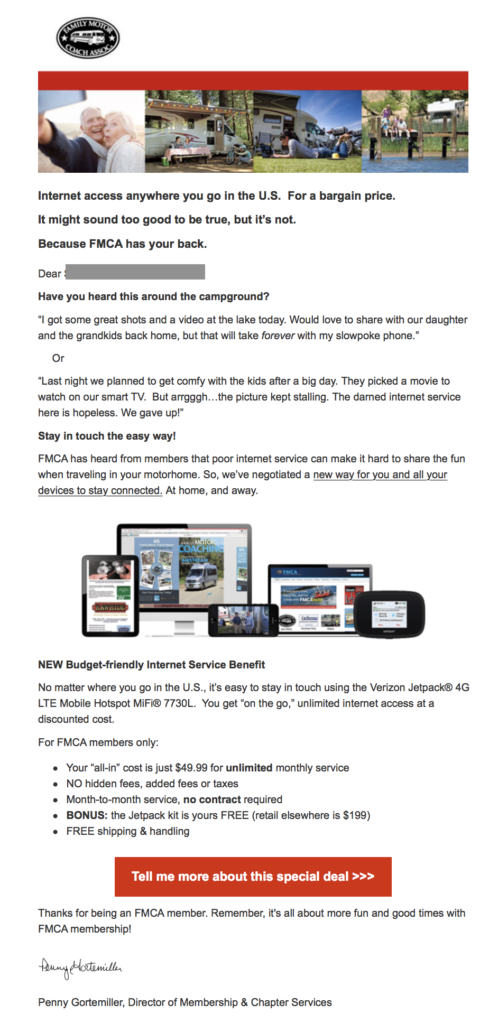 We let her know that a deal like that would be HUGE news, and she promised to keep us in the loop before they took signups public so that we could make sure we had all the details right when we ran a public story.
And then, last week Tuesday the FMCA sent out a promotional email to their membership seemingly officially launching the program.
They took their signup page live as well - publicly accessible and searchable via Google.
Our inbox was starting to flood with inquiries asking our opinion of the plan.
We tried contacting the FMCA again for a statement about the launch, but no one was able to return our call - so we ran our public story with the details as presented on their sign-up page. The next day, FMCA Executive Director Chris Smith at last reached out.
He was happy to answer our questions - and thanked us for the coverage.
Behind the scenes it turns out this was actually intended to be a "soft launch" before the FMCA rolled the plan out to their entire membership later in the month, and the offer to signup was sent to only 5,000 FMCA members.
But the announcement email made no mention that this was still a secret or limited offer, and neither did the signup page.
In a publicly posted FMCA forum thread on Friday, Chris Smith (smithy) actually chimed in to console rightfully upset existing members who weren't notified before the public: "It is a shame one of our members leaked the story to Technomadia." (Technomadia,com is the personal travel blog of the founders of this site.)
We believe this to be an very unfair statement, as nowhere were those who received this e-mail asked to keep this secret.
The Launch Goes Viral
We ran our story last Tuesday with the details, and the warning:
We have tracked a LOT of data plans over the years here, and some of the 'too good to be true' ones have indeed not lasted long.

Anyone remember OmniLynx? Karma? Millenicom?

Always keep in mind that these data deals are 'no contract' - and that goes both ways, and anything can happen down the road if Verizon decides to back out behind the scenes.

However, the FMCA is a highly reputable organization with a long history of negotiating great deals for their members. This isn't a fly-by-night operation.

And even considering the worst case - with no upfront cost, you end up with a free hotspot and some unlimited data while it lasts.

Just always be prepared that these deals can go away with little notice, and always have a back-up option for getting online aboard.


With such an insanely good offer (even a free $200 hotspot!) - there was no downside to sign up with the FMCA, and the word was spreading well beyond the RV world into various online deal sites and forums.
The FMCA was absolutely crushed dealing with the demand for signups, and the FMCA even lowered the price from $49.99 to $43.99 "to allow more people to take advantage" of it.
But we were seeing way too many similarities with the ill-fated OmniLynx deal from 2015, and we even asked the FMCA explicitly about it. Executive Director Chris Smith replied:
"I did catch wind of that deal gone bad. The only stipulation Verizon set forth was that anyone signed up has to be a member of FMCA. We are verifying that they are, so for now I have no concerns."
But then it all came crashing down - and by late Wednesday last week new orders were being promised a July ship date instead of June, and then on Friday the FMCA pulled the sign up page entirely and posted that they were no longer taking orders.
It was indeed an OmniLynx situation all over again - only this time Verizon stepped in to kill it before it even got out the door.
It seems that the FMCA didn't understand just how much demand there would be for an unlimited Verizon hotspot for this ridiculously low price, with the only barrier to entry being a $60 FMCA membership fee and being willing / able to claim to own a motorhome.
It's not just motorhome owners who would be interested in this deal, but cord cutters, rural dwellers, and travelers of all kinds. And the FMCA had no way to keep a lid on it once word started to spread.
It is as if the FMCA had worked out a deal to offer $2.00/gal off of all fuel purchases for members (and heck, we'll give you a free full engine tune up too!) - and was then surprised to discover every driver on earth suddenly wanted to join their organization.
No wonder "Verizon officials" stepped in to pull the plug.
We've been told that the FMCA is working to put together a new and different deal with Verizon, and we wish them well (update, according to their new statement, that deal was not advantageous to their members, so they have passed on working further with Verizon.)
With better managed expectations (on both sides), hopefully they will be able to work something out that Verizon will let them run with.
Joined the FMCA Just For This?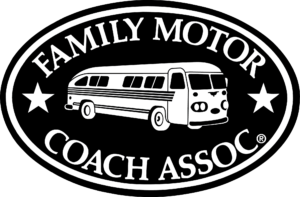 If you joined the FMCA just to be able to take advantage of the hotspot plan, you should have no problem requesting a refund to get your membership fee back.
If you joined between June 12 and 16, 2017, solely for the Verizon offer and/or you do not own a motorhome, please call us at (800) 543-3622 for a full refund. - FMCA Announcement
But before you cancel, we do encourage all RVers to give the FMCA as a whole a fair chance - and to check out the FMCA's other benefits.
The FMCA's discount on tires, travel assistance, road side service, mail forwarding, and magazine are amongst the benefits too.
We are convinced that the FMCA did not set out to commit fraud or pull a bait-and-switch on anyone - and they just had no idea just how quickly this deal would go south. Or that there was a point that Verizon would step in to limit who could sign up.
We are actually glad it imploded so quickly - before the FMCA had shipped devices (like the OmniLynx situation).
Having Verizon pull the plug a month or two after launch would have been an even messier situation.
---
Here's a quick video recap of this story:
---
Grandfathered Verizon Unlimited Plans Remain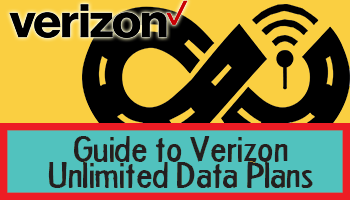 The classic grandfathered Verizon UDP lines remain (for now) truly unlimited - and these plans are still the best way to get unlimited tethering data on Verizon's network.
These legacy plans are NOT subject to tethering limits, or even to the 25GB "Network Management" slowdown on congested towers that the FMCA plan was going to be impacted by.
For those who need a lot of tethering data - there is no better Verizon option out there.
As best we can tell - these grandfathered plans without any of these new limitations will continue to be honored - IF they are still under contract.
However, in the past few months we have seen Verizon actively terminating high usage customers with OUT of contract unlimited data plans, and Verizon continues to shut down vendors who are caught renting out these lines.
We have been providing in-depth guidance in the member forums and in our Verizon UDP Guide on the current best practices on how to get these plans, and keep them under contract.
Other Unlimited Tethering Options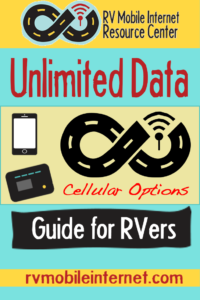 Verizon has made things increasingly difficult - but other carriers have actually recently made unlimited tethering much easier.
Here's some of the current best options:
AT&T's new Unlimited Plus plan allows you to add mobile hotspot lines for as little as $20/mo (if you only have one smartphone line, the addition of a hotspot line switches the plan to a multi line account for a minimum price of $145/month) - and while these lines are subject to network management after 22GB, they are NOT subject to any throttling or hard caps on usage.
And AT&T's Connected Car plan and Mobley device enable unlimited hotspot usage for just $20/mo - no smartphone line required. This special pricing was launched as a limited time promotion until July 2017. The Mobley is reported to be in stock online at AT&T this week (but is frequently out of stock). And some folks have been acquiring the Canadian VM6200 version off Amazon for $179 and successfully activating it.
T-Mobile's One+ International plan for $95/month includes unlimited high speed mobile hotspot use from a smartphone, and remains a great option.
We are also tracking several other unlimited data options that are not direct from the carriers, which can be found in our Unlimited Data Guide.
These plans, and unlimited data options from other providers, are constantly changing - so do be sure to keep your eye out for the latest developments.
Further Reading: