Back in June, the Family Motor Coach Association (FMCA) soft launched a new benefit for its membership - an unlimited Verizon hotspot plan for $43.99/month, with no throttling or caps. The plan even included a free 7730L mobile hotspot device.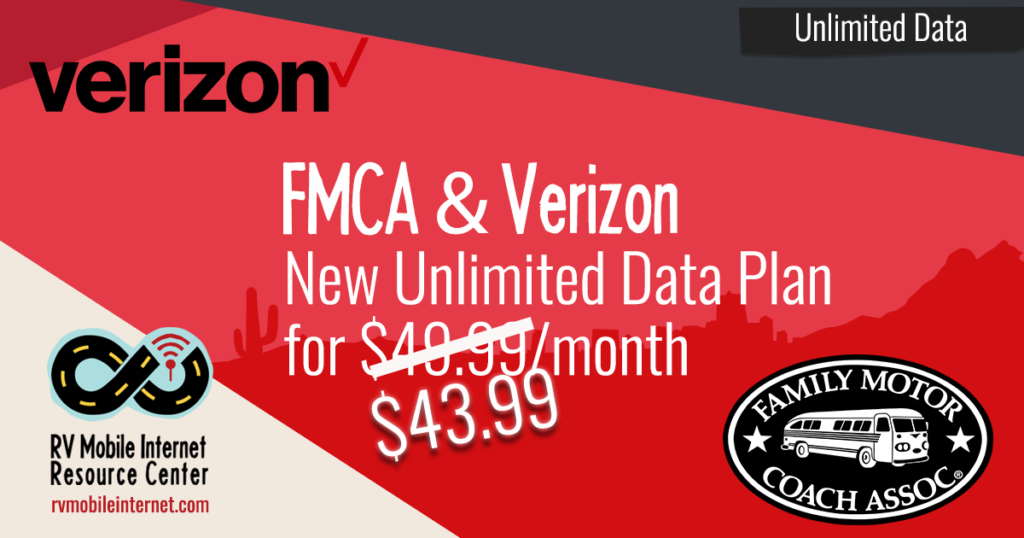 It was a deal that seemed too good to be true - and indeed it was.
Before they could even ship the first batch of devices, Verizon terminated its agreement with the FMCA because behind the scenes the plan was a government contract not eligible to be resold.
But today, the FMCA is back to try again - with a newly negotiated plan with Verizon.
While they're still calling it "unlimited," this time there are a lot of limits attached.
---
The video version of this story:

Enjoy Video? Suscribe to our YouTube Channel
---
Details of the new FMCA Verizon Plan

The FMCA shared with us in advance the details of the plan they are rolling out, starting today.
And while they say in their FAQ document that this is a newly negotiated deal to offer their members a "larger benefit" - go in eyes wide open.
This plan has some interesting details and downsides to consider.
Here's the Basics:
Price: $49.99/month PLUS taxes & fees, no activation fee
Speed: Full un-throttled LTE speed for the first 25GB of data, then unlimited but "hard throttled" data through the end of the month
Contract & Qualifications: Must sign a 2-year contract with Verizon AND have at least 2 years of membership prepaid with the FMCA
Device: Includes a 7730L Mobile Hotspot (late 2018 update: they're now shipping the 8800L), purchased upfront for a penny
Coverage: All of Verizon's US domestic coverage map, including domestic roaming, but no international
So let's break it down...
Pricing
The pricing for an unlimited data plan at $49.99/month would be fantastic, even with added on taxes & fees.
However, as you'll see below, this plan is not really unlimited - making this essentially a 25GB plan, at least for those who only value high speed data.
That brings the price to $2 per GB.
For comparison with other Verizon options:
Verizon Tiered Data Plans: Verizon directly charges $130/month for a 20GB or $205/month for a 30GB data-only hotspot plan. In comparison, FMCA's Verizon pricing is still a great deal if that's all the data you need.
Verizon's New Unlimited Plans: Verizon's Beyond Unlimited smartphone plan can add on a Jetpack data-only line for just $20/month that includes 15GB of high speed mobile hotspot use (and unlimited 600 kbps afterwards). And of course, each smartphone lines also includes 15GB of high speed hotspot use. For those already with an unlimited smartphone line with Verizon, it's probably easier to just add on a hotspot line (or two).

Update: Verizon has since offered 'Above Unlimited' which includes 20GB of high speed hotspot use on smartphones, but Jetpacks remain at 15GB.

MVNO/Reseller Plans:

Xfinity Mobile: Comcast Internet customers can sign up for a Xfinity Mobile smartphone plan (which uses Verizon's network) with 20GB of high speed data, reduced to a usable 1.5 mbps afterwards, for just $45/month. Hotspot is allowed on this plan.

Grandfathered Legacy Unlimited Plans: High bandwidth consumers can seek out a grandfathered legacy unlimited data plan with Verizon. While harder to get and maintain to own, rental lease options are available from $120 - $250/month.
NEW - Verizon Prepaid Jetpack Unlimited Plan - $65/month
In November 2018, Verizon released a prepaid unlimited Jetpack plan for $65/month. It's unlimited unthrottled data, always subject to network management, and video is at 720p. But overall, it's a great value - and pretty much makes the FMCA Verizon plan much less appealing.
For our current top pick Data Plans:
Best Data Plans for RVers & Cruisers
For those who don't need copious amounts of data and don't have an existing Verizon unlimited smartphone plan or Comcast Internet service - the FMCA plan offers decent pricing to add access to Verizon's coverage map.
The other cost associated with this plan include the purchase of the hotspot device for a penny. You'll also have to factor in the cost of maintaining a FMCA membership (see below).
The monthly fee is paid directly to Verizon this time around, isolating the risk of this plan going away once you have it should Verizon & FMCA part ways (as they did back in June.) But it also means the plan is not available to Canadian snowbirds, as Verizon does requires a SSN and US billing information.
And it seems that existing Verizon customers should be able to add this line of service to their existing account without impacting other plans they might have.
There is also a one line per FMCA membership number limit.

At press time, the FMCA had not been able to confirm with us what a typical customer would be paying in taxes in fees - they figured around $2 a month, but their fine print implied it could be up to $10. Taxes and fees typically vary based upon your service address zip code.
Speed Limitations: The 25GB Cap
The biggest downfall of the new FMCA plan is the 25GB cap.

In the initial documentation the FMCA sent us, they had no clarity around what happens after you cross the 25GB threshold. We had to inquire several times, and honestly, the answers they were able to get from Verizon still leave us bewildered.
They did confirm that this is a HARD throttle - not just network management. Once you cross 25GB, your speeds WILL be slowed down through the remainder of the month.
But how much will speeds be slowed down? The FMCA had to go back to Verizon to get an answer for us, which was:
Throttle speeds after 25GB are 70kbps, possibly up to 2.7mbps (equivalent to about 2G, some may see 3G)
This is a HUGE range of possible speeds.
70 kbps is essentially vintage dial-up speeds, and not usable for much at all. You'll maybe get your e-mail to slowly check and get a website to load after a few minutes.
2.7 mbps however is suitable for SD video streaming and pretty smooth web surfing - it's an entirely usable speed.
So just what determines who gets what speeds and when?
Neither the FMCA or Verizon could give us guidance on this, just saying:
"The 1X speeds are between the 70kbps and 2.7mbps, there is no way to determine which they will receive at any given time."
The wording between the two responses leaves lots of ambiguity if speeds are throttled to 2G, 1X or even 3G speeds after the cap. And never have we heard of the carrier implementing a hard throttle with a range of possible speeds like this.
Given that when Verizon initially introduced their own unlimited plan with mobile hotspot use being throttled to "3G speeds" solidly defined as 600kbps - if the FMCA plan is throttled to '2G Speeds,' we have little confidence that anyone will see speeds much above 70 kbps very often.
We advise anyone considering this plan to consider it a 25GB plan, not anything closely resembling "unlimited".

Throttling Updates: We have a confirmed report in December 2018 from a member who went with this plan, and has reported the moment they passed 25GB they were hard throttled to .09 kbps (in the same location, they had been getting 15 mbps). We've had dozens of similar reports since.

In March 2018, TheMGRV.com tracked their plan and shared a graph showing the hard throttling immediately after crossing 25GB of usage:

Shared with permission from TheMGRV.com.
But at least you won't incur any overage charges if you pass the 25GB cap.
Qualifications and Contract
As before, this plan is only available to FMCA members, and membership is restricted to owners of self-contained RV's.
However, unlike the June deal - this member benefit requires a minimum of 2 years remaining on the membership. This qualification is automatically checked before sign-up via their website.
For a new member, this is an upfront $110 cost to join for two years. Be sure to proceed immediately to sign up for the Verizon plan the same day, or risk no longer meeting the requirements of having 2 years left on your membership.
Existing members who have less than a year of membership left will need to renew for 2-years to qualify, a $95 expense.
Once you meet the FMCA membership qualifications, you then will be handed off to Verizon to setup the plan. They will require a 2-year contract to get this pricing, with a $175 pro-rated early termination fee should you cancel before hand.
For truly awesome deals, signing a contract usually isn't a bad thing. It helps lock you into the rate longer term. And it should help alleviate concerns should the FMCA and Verizon not be able to work together in the future, that your plan won't be impacted.
However, we never recommend signing a 2-year contract on a plan that is just decent.
With as rapidly as the carriers are changing up their plans and constantly rolling out better deals, we advise keeping flexibility to switch plans as new options come up. And for many RVers, their needs are seasonal or shorter term.
Locking yourself into a $50+ per month commitment for this plan just doesn't make sense for a lot of people. So carefully consider this requirement and if this plan not only meets your needs today, but a year or more from now. And keep in mind that you can get out of the contract later by paying the Early Termination Fee (which should be pro-rated from $175 for the length of how long you've had the plan.)
Getting the Plan
If you're interested in the plan, you'll first need to sign up or renew your FMCA membership so you have a minimum of 2 years remaining. You can do that by calling Member Services at (800) 543-3622 or online at FMCA.com.
And then you can proceed to their Verizon Sign Up page - which will direct you to Verizon to set your plan up. Be sure to use the same e-mail address your FMCA membership is under so that you can be verified. You'll then be dealing directly with Verizon at this point, and need to pass their account qualifications - including a credit check.
Any special requests (such as adding the line to an existing account, not purchasing a Jetpack you might not need) should be directed to Verizon.
Summary: Nice Try
This new plan from the FMCA may be an appealing option for some of their membership - particularly those without high bandwidth needs and no other existing option for obtaining affordable Verizon data.
But for those with higher bandwidth needs to replace a home internet connection on the road, 25GB just doesn't cut it these days - and this plan will likely be of minimal interest beyond perhaps a back-up option. We recommend checking for more suitable options in our current Top Pick Data Plans Guide.