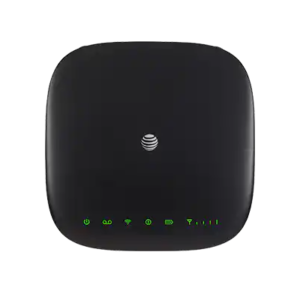 AT&T postpaid offers data & phone plans paired with their Wireless Internet Device.
Dubbed AWI (AT&T Wireless Internet), the plans and device are available for both consumers and businesses.
This pairing is available as a standalone plan on AT&T - you don't need to have an additional AT&T based plans.
These plans appeal to some nomads thanks to decently high data buckets.
---
AT&T Wireless Internet Router
In November 2017, AT&T quietly retired the Home Base cellular home router (read our review) and replaced it with the substantially updated ZTE AT&T Wireless Internet router. In Spring of 2019 the ZTE AT&T Wireless Internet Router was quietly replaced with a very similar device, manufactured by NetComm instead.
The AT&T Wireless Internet Router is the official companion device for the AT&T Wireless Internet plans.
This device still takes a cellular signal and provides a local Wi-Fi hotspot, as well as offering a standard phone jack to provide "land line" style phone service over cellular.
The device can only be activated on AT&T Wireless Internet plans (AWI).
Specifications
Model: ZTE MF279 or NetComm IFWA-40
Control Panel and Default Password:
Control Panel: http://att.wirelessinternet/ or http://192.168.0.1/
Default Password: "attadmin"
USB Tethering Support: N/A
Supported Networks and Bands:
LTE Bands: 2,4,5,12/17,29,30
4G: HSPA+ 850/1900/2100MHz
3G: UMTS
LTE-Advanced Carrier Aggregation: Details Unknown
MIMO Support: 2x2
LTE Performance Category: Category 16 (?)
(Max Theoretical Speed: Unknown since it's unclear if all the modems features are active in these units)
Other Ports: 1x Gigabit Ethernet (1000Mbps), 1x Analog Phone Jack
Wi-Fi Technology / Frequencies: 2.4GHz 802.11n and 5GHz 802.11ac
Battery:

Claimed Battery Life: (Primarily for short-term backup) 2.5 hours use, 1+ days standby
Can Be Powered Without a Battery: Unknown

Dimensions:

ZTE MF279: 5.4 x 5.43 x 1.18"
NetComm IFWA-40:

7.21 x 6.74 x 1.71''

SIM Card Type: Nano SIM
Retail Price: $199.99 / $169.99 refurbished
---
Review & Testing Status
We reviewed the original Home Base unit, however, we do not intend to obtain this new unit for testing.
---
Plans
AT&T offers Wireless Internet plans that include large data buckets and a hard-wired phone line. Voice is part of these plans - and cannot be separated from the plans.
The data plans offered are only available for AT&T Wireless Internet devices as designated by AT&T and can not be used on other types of devices. They are available for both consumers and businesses.
Pricing for currently available Internet Plans is based on capped usage:
50GB for $40/month (+$20/voice) =$60+ taxes

100GB for $80/month (+$20/voice) =$100+ taxes

*TOP PICK

*
In early 2017, a version of these plans were available as 'Rural' plans - and offered customers larger data buckets. The Rural plans are no longer available - but those on them have been grandfathered in. More info.
Details & Perks
Carrier Networks Used: AT&T
Carrier Relation: Direct
Plan Types Available: Data & Voice, Business Data & Voice
Device Types Permitted: AT&T Wireless Internet (AWI) device only
Device Purchase Required: No - but must have specific Wireless Internet Router
Mobile Hotspot Use: All
Throttling:

50GB/100GB plans and Rural Plans: No


Network Management:

(Retired) Rural plans are always subject to Network Management. Being designed for 'rural users' it is expected the towers used won't be overloaded. So, you're stuck being network managed.
Current Wireless Internet (50GB/100GB) may or may not be subject to Network Management. There is no language re: this practice on the Wireless Internet FAQ/TOS pages, and the reps we have talked to believe that the plans may not be subject to Network Management since there is no wording to designate such.

International Roaming: No
Domestic Roaming: 400MB/month
Plan Period: Month
Data Roll Over: None
Overage Charges:

For the 50/100GB Wireless Internet plans, if you exceed your data cap, overages are charged at $25 for 10GB, or you can elect to be automatically throttled to 128 kbps to avoid overages.
For the (retired) 250GB/500GB Rural Wireless Internet plans, if you exceed your data cap, overages are charged at $10/10GB.

Streaming: Unlike AT&T Mobile Share Advantage plans, these plans do not include any free video streaming on DirecTV Now.

Stream Saver (reduction to 480p) is on by default on these plans, but can be turned off.

Unlimited: No
History
While the above prices for large, completely hotspottable data buckets are worthy, in early 2017, some customers had access to even more (and cheaper) data, based on zip code - called the 'Rural Plan'.
In mid-February of 2017, AT&T began offering even more data on its Wireless Home & Internet Plan in select "rural" markets for a limited time... and by 'more', we mean A LOT more:
250GB for $60/month (+$20/voice) = $80+ taxes
500GB for $100/month (+20/voice) = $120+ taxes
The catch: the 250GB/500GB 'Rural' plans were only available for customers with billing addresses in certain areas (some zip codes in Missouri, Kansas, Michigan, Indiana, Ohio, Western PA, and Upstate New York).
Some RVers with other addresses had been able to activate the plan by finding the right representative, but results were mixed.
Reportedly, these 250GB/500GB plans are no longer available to anyone - and we warn folks who locked these plans in not to make any changes on them - or risk having the plan removed.
Once you had a line active, it will work anywhere that AT&T has coverage.
With all of these plans (10GB/50GB/100GB/250GB/500GB options), you are forced to pay an extra $20 in service charges for a home phone number with unlimited talk. There is not an option to drop the voice line. Unlike cellular smartphone plans, texting is not included.
---
Potential Alternatives to Consider:
For other featured cellular data plans ideal for RVers and Crusiers - here's some other options to consider:
Learn More About Selecting Cellular Data Plans Explore Our Comparative Pricing Grid
---
This Review Contains Additional Member Exclusive Content

We are honored to be able to present the above overview for free without 3rd party advertising or sponsorships. We are not paid by the manufacturer of this product to provide this listing or review, and nor are we selling this equipment or plan (purchasing links are provided below as a courtesy and some may be affiliates).
Our members have funded this resource center and any extensive hands on time
we have spent with the product to review it.
The in-depth portions of this review are made available to them which might contain: hands on testing notes, field testing data, user interface tour, product analysis, comparison to alternatives, setup tips, video tutorial, insider tips, vendor discounts and fellow member experiences.
If you're a member, please log in to continue with this review.
If you're not a member.. please consider joining us!
Purchasing Options
Selecting the right cellular data plan for your mobile internet needs is only one part of the equation. Here's some further guides on understanding the selection process as well as the additional gear you might need.