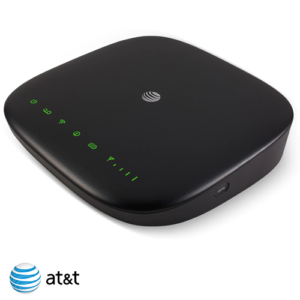 AT&T postpaid has offered AT&T Wireless Internet (AWI) plans to pair with their Wireless Internet Device since 2017. As of January 1st, 2022, these devices and plans - which were only available on specific devices designated as AWI or WHPI (Wireless Home Phone Internet) - have been discontinued.
These plans appealed to some nomads thanks to decently large data buckets (50GB, 100GB) and integrated phone service. Sometimes special versions were offered via promos or to certain locations in the U.S, such as a popular plan from 2017 known as the 'Rural Plan' that included 250GB or 500GB of data. The devices were also briefly offered as an add-on line to AT&T's Unlimited Plus accounts with unlimited data.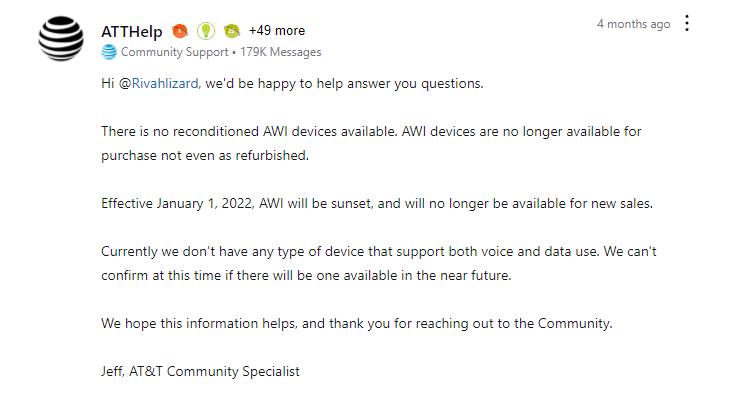 Customers using these plans will be grandfathered and permitted to continue to use the plans at their current pricing. However, there is not currently an upgrade path for the classification of device these plans are tied to.
According to AT&T customer service, there are no longer any AWI devices available new or refurbished through AT&T:
"There (are) no reconditioned AWI devices available. AWI devices are no longer available for purchase not even as refurbished. Effective January 1, 2022, AWI will be sunset, and will no longer be available for new sales. Currently, we don't have any type of device that supports both voice and data use. We can't confirm at this time if there will be one available in the near future."
For customers who utilize an AWI/WHPI device, and need a new device, the only current option is via a third-party retailer such as Amazon. At present time, AT&T does not support these plans being moved to devices classified differently.
Key Mobile Internet Related Considerations:
AT&T Wireless Internet data plans and Rural Internet plans were only available on AT&T Wireless Internet Routers (IFWA-40, ZTE MF279, ZTE Z700A/Homebase), and can not be moved to other routers or mobile hotspots.
While customers currently on AT&T Wireless Internet data plans, Rural Internet or Unlimited Plus plans are grandfathered and can continue to use their plan, there is no upgrade path. Replacing a dysfunctional device will now involve sourcing from a third-party reseller such as Amazon.
These plans are not to be confused with the more recently available 100GB prepaid plan for hotspots and routers from AT&T, which remain available for a large array of devices for $55/mo.
For those who are unable to source a new device or remain on this plan, see our current Top Pick data plan guide.
Video story:
For more information:
Third-party device retailer: Amazon
Updates Made to our Content as a Result of This news:
Related Updates: