Sample Mobile Internet Setup Explorer
Here you can explore some common mobile internet configurations, including some of the mobile internet setups of other RVers and cruisers.
Use the hover points to learn more about each component of a setup. And then browse the current featured options for each.
Remember - the sky (sometimes literally) is the limit in possibilities - so don't restrict yourself to just these samples.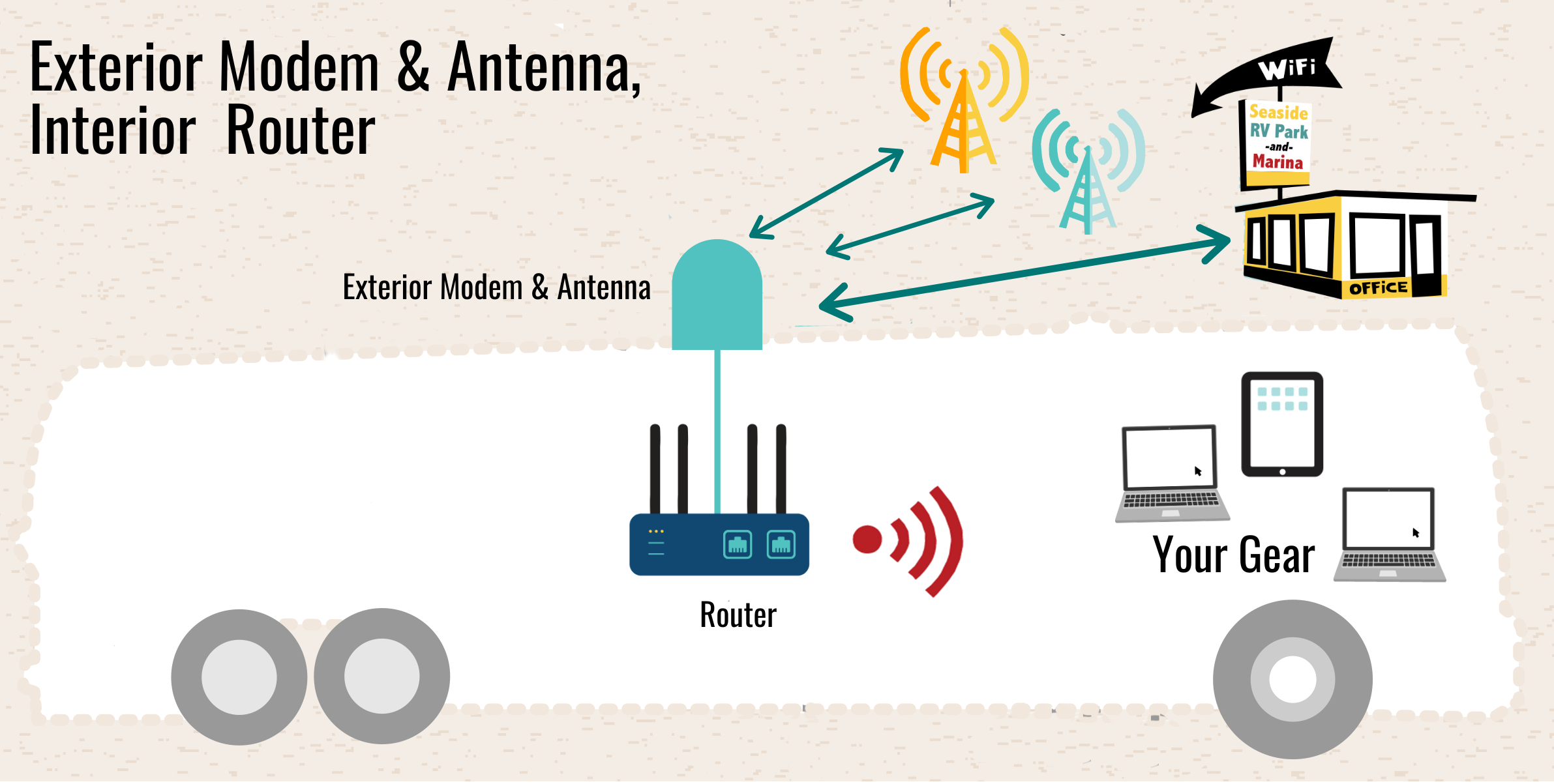 Carrier
Cellular service comes from the local tower managed by your carrier. You'll need a data plan to subscribe to service.
Exterior Modem
Placing the modem and antenna on the roof or outside minimizes signal loss over the cable, while placing the gear where signal is most likely to be.
By placing the cellular modem on the roof right with the antenna, potential signal loss is minimized while giving this setup a clear view of the sky to find a signal.
The interior LAN is then managed by a router, that may even support its own cellular options.
Minimizes signal loss by having the modem and exterior antenna outside where the signal is
Simple cable run, as usually just an Ethernet or USB cable is needed to carry the digital signal inside to the inside router
Some options even have the router on the roof, allowing a Wi-Fi LAN to be created with no interior router needed
Interior router may also support additional WAN inputs, including integrated cellular modems, USB tethering or Ethernet
Can be a pricey upfront investment
Difficult to upgrade individual components - even alternate exterior antennas (such as a higher gain directional) might not be possible
Using a cellular booster with outdoor equipment is difficult to impossible if needed
If SIM card slot is with the modem, changing data plans means climbing on the roof
Those who already have a solid idea of their mobile internet needs for the next few years ahead and are ready to jump into an integrated solution.
Below are options that place the modem and antenna on the roof. Some options include the interior router, for others it it is optional.
Data Plans for Cellular Embedded Routers
Below are some top data plans that are allowed for use in cellular embedded routers that you might want to consider. Or shop all the plans we're tracking.